You're totally addicted to being ripped off by hot bitches like Goddess Violet Doll. Good for you. Glad you know your place. Time to experience an intense bratty mind fuck unlike any other. Goddess Violet Doll won't make you stare at the wall, but She will suck you into a mesmerizing scam that'll leave you drooling and confused. This is next level shit. A brutal verbal beating that will con you out of your money and convert you into a Goddess Violet Doll addict for life. How is it possible? What the fuck is IN this ripoff clip?
19 minutes of seductive brainwashing content. Pay and watch every second!
You can buy this amazing clip on the video store of Goddess Violet Doll.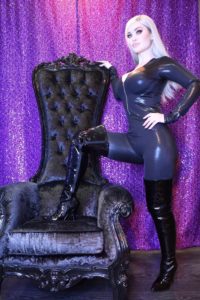 You cum too fast but this Valentines Day you're going to last for Goddess Alexa Divina. She teases you with Her long legs and pretty feet, round bubble butt, Her big tits, and luscious lips. You're going to stroke, pump, and jerk your cock for Goddess Alexa Divina when She says and how She says it. Goddess Alexa Divina knows you want Her so bad, one look at Her in this tight lingerie made your testosterone pump harder. Your cock is going to be so hard for Her, waiting to release at any moment on the edge.
Wanna know more?
Download this clip on the video store of Goddess Alexa Divina.
Valentine's Day is only a week away and this year you're going to make it all about Goddess Dommelia. Your wife is going to come second to Her needs. Goddess Dommelia will get gifts and tributes, she will get nothing. You will jerk off for Goddess Dommelia, and she will go to bed sexually frustrated. Goddess Dommelia is more important and you WILL be a good boy for Her by following the orders in this clip.
Now be a good slave to Goddess Dommelia and buy this clip from Her video store.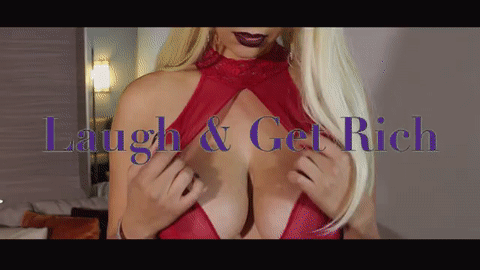 It's so easy taking money from you especially on a day like today. Isn't it funny how willingly you hand over your ca$h? Goddess Adrienne doesn't have to lift a finger… She just has to laugh.
Increase your addiction to Goddess Adrienne by downloading this exciting clip from Her video store.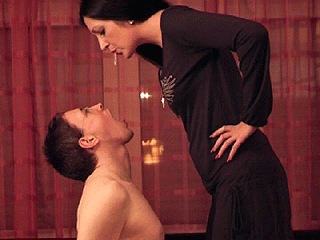 See Mistress Maria using Her slave as Her personal human spittoon. He is kneeling in front of Her and has to swallow everything that She gives him. Mistress Maria is spitting a few times into his mouth before She allows him to swallow Her whole spittle over and over again. See Her slave trying to leave his mouth open and stick out his tongue to take Her divine salvia into his mouth. He has to swallow every single drop of spittle that leaves Her mouth and you can see him drinking a lot of Her divine spittle. Then he is even allowed to taste some wine from Her mouth. He really seems to enjoy every drop that is coming out of Mistress Maria's mouth, because he knows that it is very precious.
Must buy clip for Spit Fetish & Femdom fans!
Know more by buying this clip on the video store of Mistress Maria.