What an amazing experience this was for this slaveboy! Getting the opportunity to do an audio interview with a woman as breathtakingly beautiful, and completely dominant as Mistress Helly, isn't something that happens every day.  Her voice is remarkably sensual and she is just a genuinely intriguing woman to interact with.  The interview flew by so quickly and I honestly never wanted it to end.  Being in the presence of Mistress Helly, even by audio for an interview, it's easy to see why men simply cannot resist her.  In person, god only knows how overwhelming she must be! Enjoy this glimpse into a stunning Dominatrix you simply won't forget.  She is beautiful, articulate and intelligent.  She is as cruel as she is beautiful, and she loves making men her prey.  Will you be her next toy to play with?
slaveboysmith: Hello Mistress Helly, how are you today?
Mistress Helly: I'm good thanks, and you?
sbs: I'm a little nervous but good otherwise.
MH: Aww…don't be. I don't bite. 😉

sbs: I think maybe you might, but then again, that's okay too.
MH: LOL I just punch and kick LOL
sbs: Ouch…I'll try to make sure I'm a good boy then. I'll ask my questions carefully and very respectfully.  In all the interviews I've conducted, the story behind how a particular Domme got to where she is now, adored by many slaves while dominating men is always a little different. What can you tell me about your journey to becoming one of the most sought after Dommes for admiring slaves to serve?

MH: It was a very gradual process and it all happened very organically. I worked as a dancer in Toronto…
sbs: Ah, a Canadian girl. I didn't realize that. I'm Canadian myself so this is even more exciting. I'm in Vancouver myself.
MH: Really? I lived in Vancouver myself back in the late 90's.
sbs: It's probably a very good thing that I didn't know that or I'd have been in a lot of trouble!
MH: LOL I loved it, but when I moved to Toronto I started working at a place called the Brass Rail where one of my regular customers would come in and pay me around $500 for half an hour to just sit there and massage my feet and he just had this major foot fetish. Eventually he started sucking on my toes and licking my feet and I just thought, "this is so great", and I loved it! I guess I started to attract a lot of those types of guys with a submissive streak that were just naturally drawn to me.
In 2005, I moved to LA and I started to do mainstream adult movies but I started feeling kind of fake about the whole thing. I never really was comfortable being a believable pornstar. I did really well and my career really took off which kept me in the business a little longer than I intended, but that kind of broadened my horizons in the BDSM community and people involved in it. I actually saw Brittany Andrews' feature on your site and she and I used to have a DJ duo together called BlondeTourAge, which is how her and I got together.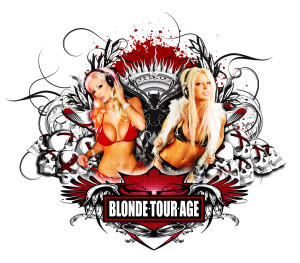 Of course, with Brittany having her extensive background in the fetish world really exposed me to more things and to Tara Indiana who I met through one of Brittany's birthday dinners. Tara and I had always talked about me coming in to do a Feature Domme run at Den of Iniquity. At the time though, I was still working as an adult actress, and I just didn't really identify with being a switch, being a submissive. But doing adult films kind of put me in that position and it never really fit for me. So doing that, I didn't feel I could be a really authentic Dominatrix at the time. I continued doing adult films until December of last year until I retired and moved back to Canada. At that point, I was just webcamming full time on StreamMates and I found that I really enjoyed the webcam regulars that were into the fetish side of things and the roleplays and I started attracting a lot of sissies and guys into JOI and then into CEI, and it just became something I really enjoyed. I like that it includes an intellectual aspect too because everything is being done on my webcam so I'm having to use my mind instead of using my body which is great. After doing Femdom webcam, I approached Tara last September and we decided that I would come out to LA and do a 4 day run at DOI and that was the 1st of me getting into real time sessions.
sbs: And is it safe to say that you enjoyed it and did very well?
MH: Yeah I did actually. My first ever professional realtime session was pegging an anal virgin. 😉 
sbs: Oh my!
MH: He'd been saving his ass for someone truly exceptional, as he put it, and he did really well. He was so tight at first but after an hour and a half I had him taking dick like a champ.
sbs: Wow! So I've obviously seen Femdom work online that you have done including a recent clip I reviewed of yours from FemdomEmpire.com called Slave Cum Extraction, which by the way, was unbelievable! What kind of fetishes do you like to explore with your slaves and I guess the follow up to that is, is there a difference between online or clips vs realtime sessions for this?
MH: The clips that we shot, those were the same kind of intensity as I would put into a real time session, especially the stuff I shot with Cybill Troy. We definitely weren't holding back at all for the camera.
sbs: I've seen some of her work and intense is definitely a good way to describe it!
MH: Yeah…that's the kind I like. I enjoy bringing that to every scene. I like taking a slave and pushing him to the very limit until I can smell the fear on him. Do you know what I mean?
sbs: I definitely do.
MH: The first time I did, my slave really pushed himself and took everything I could give him, and when it was done he just crumpled to the floor and I could just smell this mix of pain and fear and it was just so intoxicating that I knew I was doing what I was meant to do.
sbs: I'm almost speechless after that. If I wasn't nervous before I certainly am now! I've been on the other side of that relationship where you want to take more to please your Domme so badly and soon you've wandered past limits without even realizing it.
MH: Yes, that's happened for me a couple of times. I remember the first time I pushed someone beyond his edge was in a session with a mentor of mine, a leather Daddy, and we pushed one of his slaves a little too far. He didn't tap out or anything or use his safe word, but we left him crying and I actually felt quite bad about it.
sbs: Not anymore though, I'm guessing?
MH: LOL No, I've gotten quite used to it after making it happen again and again 😉 He was fine too, by the way.
sbs: You mentioned earlier that your first realtime session was with a virgin…anal virgin anyways…I don't know if it was his first time seeing a Domme, but do you prefer to see regular clients or first timers?
MH: I actually do prefer clients who have seen a Domme before, especially if I know the Domme they've been with because that gives me an idea of what their expectations are. For example, if I am seeing someone who's seen Cybill a lot, I know exactly how far I can push them.
sbs: How do you know when you have truly broken someone and are completely in control of them? Is there a look, or a tell, you see that lets you know you when you have a slave completely vulnerable?

MH: When they bleed LOL. Every once in a while you just see that little pinpoint of blood that escapes to the surface. I remember seeing that on one slave where I was doing a session and he couldn't really have any marks so instead of flogging or caning I focused on CBT which he could really take a lot of. I think I had the bull whip out and was whipping him and somehow that little bead of blood on the shaft of his dick told me so much…and also you can hear it in their voice. I can hear the trailing in their wails. There's something very animalistic about it. You can sense it. Everybody's different, but there's a pain reaction…the way they react to the pain and the way their body moves, it just takes them a lot longer to recover, they remain hunched over a bit longer, the way their wails are a little more drawn out, all those tell me everything I need to know.
sbs: I know watching Slave Cum Extraction, the clip that I mentioned earlier, okay actually, after watching it several times lol, I can see you carefully watching for a reaction and thoroughly enjoying every moan, every twitch of the body of your slave as you control him. It's very erotic to watch, to say the least!
MH: It is a very erotic experience. The scenes that I've done have so much realism and they just appeal to me so much.
sbs: Are the people in your personal life aware of your work? Does this pose any problems being as you are so high profile?
MH: I have a very small circle, which is how I like to keep it. Where I am is very isolated and conservative and I haven't had any issues with being recognized by anyone who didn't already know what I do.
sbs: That was actually my next question about whether you had ever been recognized in public and if so what kind of reactions do you get?
MH: Yeah, I've been recognized in public, more so in Los Angeles. It's usually fine and has only been creepy once where this homeless guy who was really high at the gas station made it a little weird.
sbs: Not really what I was picturing lol. I was thinking more along the lines of a married man falling to his knees to worship your feet or something, but then I guess reality isn't always as exciting as fantasy.
MH: Definitely not in that instance lol. Usually my fans are quite nice and very adoring. They get a little starstruck and are very worshipful towards me which is nice. 🙂
sbs: I imagine they would be. Well you're very worship worthy so that's not at all surprising to me.
MH: I know 😉
sbs: How could you not know? Now speaking of worship, what's the best way for a slave who's never served you before to show that they appreciate you and that they're sincere in their desire to serve?
MH: What I like to do is get them to introduce themselves to me on my webcam and they should definitely be prepared to get me an Amazon.ca giftcard to show me how much they appreciate me. It means a lot when someone gives more than they can afford to give to impress and adore me. Does that make sense?
sbs: Absolutely. It's a sign of appreciation and shows that they value your time.
MH: For sure, and that makes me so much more willing to give them the luxury of my attention. I also love it when they do things to humiliate themselves for me. I think you've been following on Twitter with my slave Travis, he sends me a little something every morning to make me smile.
sbs: Has it always amused you to have men humiliate themselves like that? Is it a powerful thing to have that kind of control?
MH: It is, kind of a test of their boundaries, but they give me hints and I pick them up. This means it's things that I know they want to do, but they're just looking for someone to give them permission to do it. I love getting them to do it. It's sort of a devil's advocate kind of thing in me 😉
sbs: I'm sure you can make men do many things they never imagined they would do, and you can be very persuasive I imagine.
MH: I love it though. And that's a great word for it; persuasion. I love to get men to a point where they want to please me by taking so much more than they thought they could.
sbs: Finding it very difficult to formulate my next question after that answer lol. What role does social media such as Twitter, Skype, etc. play in your business?

MH: I've found Twitter to be the greatest way for me to reach out to fetish fans and to convert a few of my mainstream fans into what I'm doing now. Instagram is good for reaching out to people that are all over the world. I find Twitter really good for the United States and Canada, but you really get Middle Eastern and European countries that cross over to using my webcam after seeing me on Instagram. I think because of the lack of censorship, Twitter is always going to be big in the adult industry and fetish scene for interaction between Dommes and slaves.
sbs: I think that's very true. I had seen you in clips before, I may even have seen one of your Cybill Troy clips you mentioned, but I didn't know that much about you until seeing you on Twitter and having my interest piqued to a whole new level. From there, I followed some of your Twitter links and the rest is history and that's why we're here today. 😉 
MH: Glad you found me…and I know you're very glad 😉
sbs: Most definitely. This has been such a pleasure and privilege. Thank you so much for taking the time to answer these questions. Is there anything else you would like to tell your admiring worshipers, and potential future clients, reading this interview?

MH: Just don't be shy. I'm very open minded and I've heard and seen it all. The best way to get my attention is to go to my webcam link and introduce yourself. Just come in and introduce yourself to me.

sbs: On their knees, I presume?
MH: Of course.
sbs: And one final question that I've asked of several Dommes before and the answers are always rather enlightening; if we were conducting this interview in person, rather than over Skype, how would it end?
MH: Hmmm are you sure you want to know? LOL Let's just say you'd be in the middle of my floor, huddled and broken, tears streaming down your face while thanking me for a life-changing experience.  Now crawl away pet.  You have work to do 😉 
She is the ultimate blonde bombshell and you owe it to yourself to explore her links below and get to know this incredible Femdom Goddess.  Mistress Helly is one of a kind and even a small amount of time in her presence is intoxicating.  Thank you again Mistress for allowing me to do this feature for you.  You have left a lasting impression that won't fade for a very long time, if ever!
Twitter: https://twitter.com/MistressHelly
Cam Models: http://hellymaehellfire.cammodels.com/
ManyVids: https://www.manyvids.com/Profile/351855/Mistress-Helly/
Instagram: https://www.instagram.com/mistresshelly/
Wishlist: http://www.amazon.ca/registry/wishlist/1QQRYOPIZ3ZG2
iWantClips Store: https://iwantclips.com/store/11117