Today's Feature Domme is the literally smoking hot Queen Secret Devose.  In every way, this deliciously busty Goddess will overwhelm and consume you.  I typically write my own introduction, but today, I step aside and give way to the Queen herself.  In her words, let her explain what is in store for you as you offer yourself to her and submit completely.  Enjoy!
"My name is Queen Secret and I am here to turn your darkest fantasies into reality. We all have a dark side buried within us. I want to bring those dreams and pleasures you fantasize about to the surface and make them happen. I am a fun and powerful woman of 31. I have been around long enough to know who I am and what I'm capable of, from the sensual core of My being to the downright nasty. Not sure what you want? Then just submit yourself to My hands. Together with effective communication I am sure we can find things to explore and open your mind."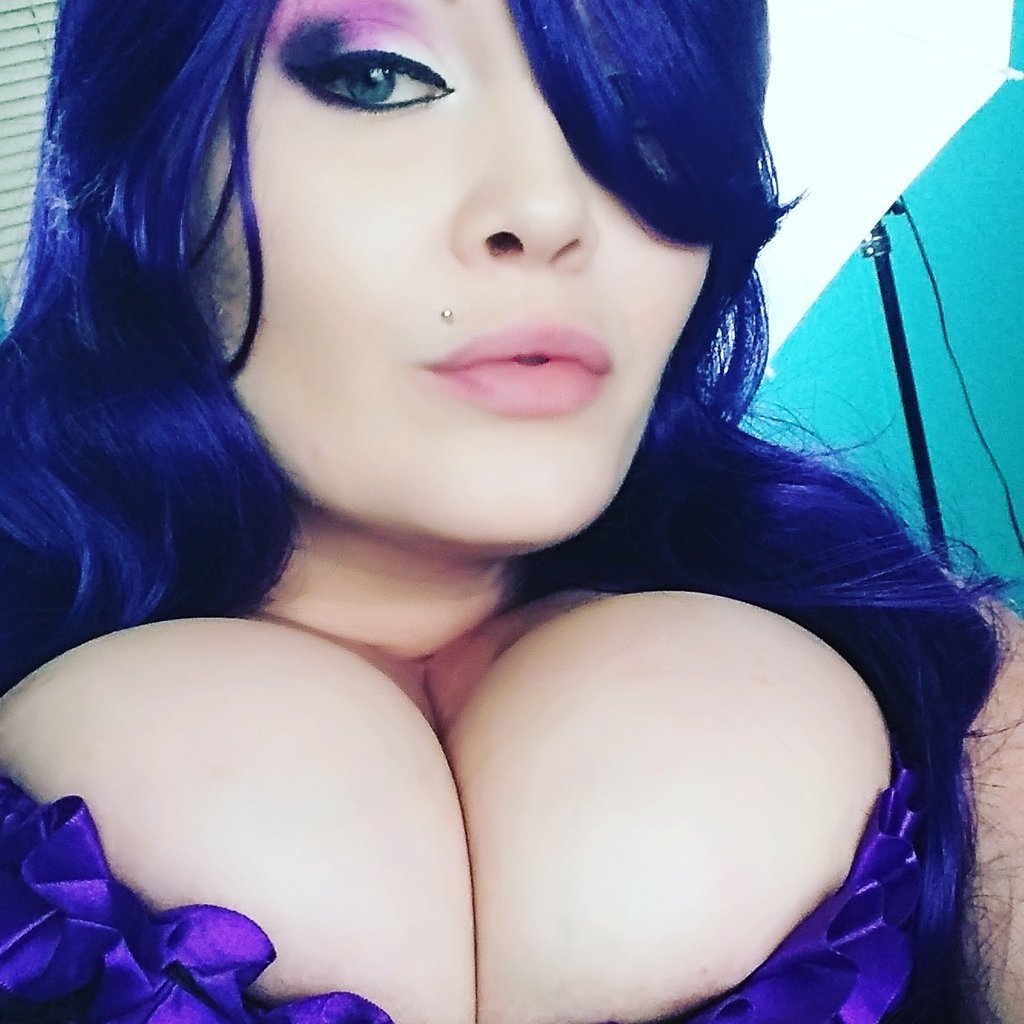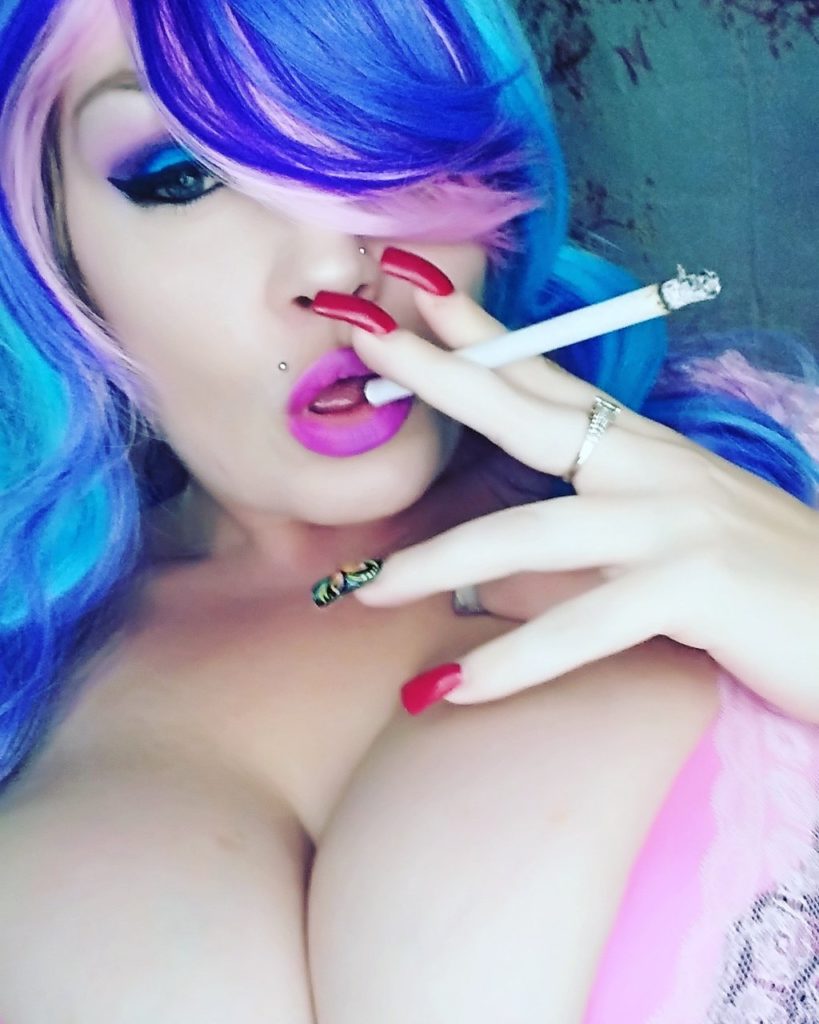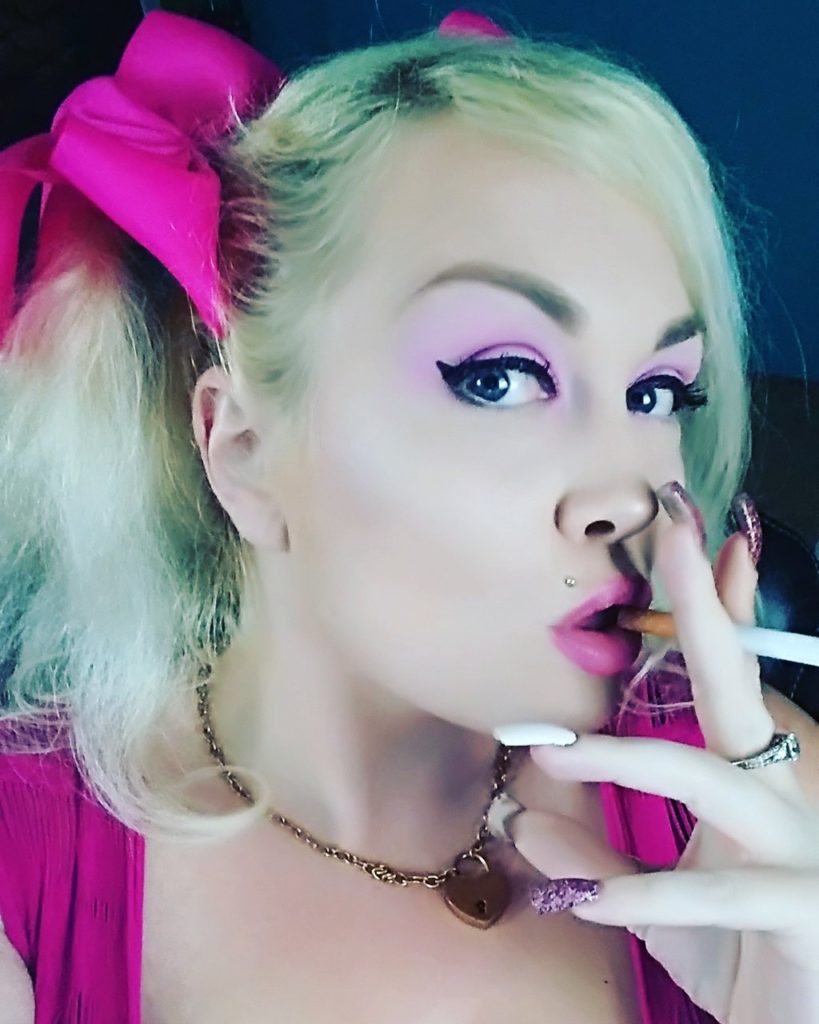 slaveboysmith: Joining me today is the very beautiful and wicked, Queen Secret. Thank you for allowing me to kneel down and ask you about yourself today. It is indeed a privilege for me.
Queen Secret Devose: That's your proper place beneath the feet of a superior woman.
sbs: Indeed, it is. How long have you been involved in the Femdom scene, Queen Secret, and what was it that drew you to it initially?
QSD: As a professional dominatrix I've been doing live sessions 16 years now. I started doing online for the past 2 years. But to hear my parents tell you, since I was 4 years old. My mother has literally pulled pictures out of me stuffing my brothers in between the mattress and box springs and jumping on them when I took a friend over to her house.  So I guess you could always say that it's been naturally in me. As a matter of fact, before I was even a professional dominatrix I turned my ex-husband into a cuckold. My theory is why be vanilla when you can be kinky?
sbs: Vanilla is never as exciting as kinky…I couldn't agree more. I had a look through your iWantClips store in preparation for this interview. Among many things that caught my eye, two left the biggest impression. I notice that smoking features prominently in your clips. Is that a niche you've chosen, or is it just a natural part of who you are as a Femdom Goddess?
QSD: Actually since I started doing online I have been overrun with smoking slaves. I already smoke my cigarettes back to back anywhere between two and three packs a day. The reason they are so obsessed with my smoking is because guys with smoking fetishes are pretty picky, sometimes from the lipstick to the type of cigarettes to your nails, how your makeup is, which direction you blow the smoke in and I pretty much hit all the nails on the head. Most of my clip requests are for smoking fetish and it is something I thoroughly enjoy doing from forced smoking to human ashtray. I've actually turned quite a few online slaves into real-time slaves performing it.
sbs: I mentioned two things particularly caught my attention. With all due respect…your breasts are magnificent. I can only imagine how you use them to completely destroy a man's will to resist.
QSD: Well I don't do nude clips but I like to do things that accentuate my breasts. I like to use them for a lot of hypnosis sessions.  Sometimes the pendant that hangs around my neck I use it as well but I noticed that slowly exhaling smoke with my head tilted to the side while rubbing my nice big soft breasts seems to drive them all wild. They can't help but buy more clips so I like for the main focal points to be my breasts and my smoking.
sbs: I think it's safe to say you've made sure our attention is fully focused, Queen Secret. Is there a particular type of slave who is drawn to you? Would that be different for r/t sessions when compared to online?
QSD: I get all types real-time and online from hypnosis to humiliation, smoking, foot worship, breast worship, ass worship, strap-on play, bondage, CBT and feminization. Pretty much if you name it I get it online and real-time, but like I said, since I came online slaves with smoking fetishes have flocked to me.  I was actually approached not too long ago about a guy that was posting my pictures and when I told him that those were mine and he needed to credit me for them he flipped out.  He had no clue and was so excited to be able to talk to me. Apparently all of my pictures are being taken from social media and put on smoking forums everywhere, which I'm not complaining about as long as they credit me for my work.  So my fan base for the smoking is ridiculously amazing and I always like to provide new looks with each clip. I try not to do the same twice.  I cannot honestly say that I have a favorite kind of slave because I enjoy all fetishes 😉

sbs: Can you describe the feeling you have when you have a slave completely obedient and existing to serve you? Is it still a rush or something you've become accustomed to?
QSD: Somewhat like a rush.  Sometimes I feel this primal thing growing in my stomach and ends up coming out of my throat as a growl. That may be a little weird to some but I can't help it when I'm really in the moment and really into it. To be honest, there is nothing better than doing a real-time session.  The connection and the power exchange is all way more intense.
sbs: Not weird at all! I'm imagining you with a strapon growling in my ear and if that's weird, then I'm a HUGE fan of weird! lol
QSD: That's exactly how it goes down.  I like weird too.
sbs: When you have a slave completely under your spell, is there some kind of "tell" that let's you know you've broken their will to resist?
QSD: Just the look in their eyes, I think.  The eyes are the window to the soul and when within my grasp I will always own their soul. I usually slowly exhale some smoke in their face while lightly running my nails along their jawline, looking them in their eyes as I speak and you can see them open up. You can see the need to completely submit and in that very moment is when I say, "you're mine now".  From that moment forward they beg to give it all.
sbs: Mmm I think you may have just pushed some of our readers over the edge with that response! Weird is definitely erotic! You obviously love what you do, but if you weren't a Dominatrix, what might Queen Secret be doing instead?
QSD: Instead? What do you mean? There is an instead????  I've never even considered the fact that there might have been an instead. Truth of the matter is, I have absolutely no clue. My life has revolved around BDSM so long that I've never even considered anything else.
sbs: Well I think there are many slaves worldwide that wouldn't know what to do with themselves without your Femdom guidance, so it's best you haven't considered other options. Speaking of those slaves, how might a slave reading this, wishing to kneel before you as I have today, best show their sincere intention to be a good boy for you?
QSD: Tribute, of course. And then loyalty above all else.

sbs: Tribute and loyalty. Those sound like two pillars of what makes a slave worthy of serving such perfection. Any final words for your admiring followers and those that wish to crawl before you and offer themselves?
QSD: Yes, don't ever be afraid to take a chance because I'll turn your darkest fantasies into a reality.
sbs: Mmm that sounds rather inviting. With your permission Queen Secret, may I ask one final question please?
QSD: You may little slave.

sbs: If we were conducting this interview in person, with me kneeling before you as I ask questions, how would it end?
QSD: With me placing my fingernail underneath your chin, lifting your head up, moving my lips real close to your ear and asking you if you are prepared to take the next step.