Today's feature Goddess really needs no introduction.  She is one of the most beautiful and seductive women you could ever imagine, and Mistress Brittany Marie is everywhere in mainstream adult content and Femdom alike.  She is the girl next door gone perfectly wrong.  She is cute, but cruel.  Seductive and sadistic.  Putting labels on a Domme this beautiful and desirable is dangerous, slaves.  Don't let her stunning young looks deceive you…Mistress Brittany loves toying with men and using her overwhelming beauty to get what she wants, but she also loves leaving men gasping for more as they suffer in frustration as you'll soon read! Enjoy this glimpse into the world of one of the hottest women I have ever had the pleasure of featuring for DommeAddiction!
slaveboysmith: For any who follow you, it is very evident you control men with ease.  Has that always been the case?
Mistress Brittany Marie: Formally speaking, no. I officially stepped into the Femdom realm almost 2 years ago when I opened up my iWantClips store, but I've been in the adult scene since 18 and did modeling, even pageants, long before that. Even when I was doing more "vanilla" work, I was still doing Femdom work; I just didn't make it available for everyone. Controlling men has always been a natural thing and it's always fun when they have no idea that it's happening to them, until it's too late.
sbs: Are you naturally dominant in every aspect of your life, or is Femdom more a roleplay for you when interacting with slaves?
MBM: I am naturally dominant, but I don't walk around with a strap on and paddle all day either. *laughs* That is saved for my clips and slave interactions. So I would say that yes, it sort of is roleplay, but at the same time it's not. I just amplify my dominant personality for certain situations.  
sbs: Not all women are created equally, obviously, and you are most definitely as Alpha as they come.  What do you say to women who are jealous of your success, or bothered by the lifestyle you are afforded by your admiring slaves?
MBM: I say, if you've got, then flaunt it. Use it to your advantage. I think most women outside of the scene get jealous because they see all the things, money, and free time that I have. Not realizing that while fun and enjoyable, it's still a job, just not the typical 9 to 5 that they have. Honestly I don't care if they are bothered by my lifestyle or not, quite frankly that's their problem, not mine. I'm usually enjoying life too much to even notice, let alone care. I think what they are bothered by most though is seeing their boyfriend or husband stare at me while out in public 😉  Or who knows maybe they recognize me from their boyfriends/husbands computer and see where all his money is going and not being spent on them.
sbs: Is there a specific type of slave you find is drawn to you? Can all submissive men be persuaded to slip across that line into financial domination? 
MBM: Femdom is such a broad spectrum. I don't think there is really a specific type of slave that is drawn to me. While they all share the same kink of Femdom, that umbrella opens up much wider to other kinks. I think they come to me because I draw them in with my style, as there is no "formal rulebook" and each Domme is different and unique.
sbs: Do you prefer to break and enslave men who might resist, or use well-trained ones that are already broken in?
MBM: I don't think anyone who seeks out a Domme is going to resist, they are coming to Me and seeking Me out after all. However, like any man, they do need to be reminded of their place, and punishment will happen if they are not being obedient or meeting My standards and expectations.
sbs: Beyond financial domination, which is an obvious favorite, do you have other specific fetishes you enjoy exploring with your slaves?
MBM: Other than financial domination I really enjoy tease and denial, humiliation, verbal abuse, sensual domination, being the bratty Princess, forced bi, and any type of worship category. Even I still amaze myself with what I can get men to do behind closed doors; sometimes even publicly if they are lucky 😉
sbs: Can you describe the feeling you have when you have control of a slave, desperately doing whatever it takes to please you? Is it a rush, or just an expected outcome you've grown used to?
MBM: It's always expected that My slaves do whatever I please; although, yes, it is always a rush. It's hard to describe really. It's almost like you can feel the power running through your blood.  All while having a devilish smirk on your face and a twinkle in your eye, knowing you're destroying a man 😉

sbs: How can you tell when you've completely broken someone and they are unable to resist you?  Is there a "tell" of some kind that lets you know you've taken total control?
MBM: In most cases you can tell. They do things before I even have to tell them, they anticipate my wants, and sacrifice everything. If they are maxing out credit cards, dipping into savings, taking out loans, and doing anything and everything to please me before asking for anything from me, time and attention included, I know I have complete control. I'm in their mind, they've surrendered, and everything they have and more is mine.
sbs: Have you ever been recognized in public? If so, how does the slave react to seeing his ultimate Goddess in person?
MBM: I've never been recognized by a slave in public that I know of. I have however, been recognized for my other work. A lot of recognition came shortly after my Playboy appearances. While most of those were flattering with guys wanting a photo together, some even had an issue of Playboy wanting to be signed, and those that would be in their car screaming my name waving and smiling. There were also creepy encounters that made me become a gun owner. *laughs*
sbs: For slaves looking to impress you, what is the best way for them to show you they are sincere in their desire to serve and spoil?
MBM: Always tribute before contacting me. Or at the very least, make a clip order. Compliments are ALWAYS best said in a tribute or gift note. It's never a good idea to ramble on in a message how you want to serve, devote, and give everything to me when you've never even purchased a damn clip. Don't be that guy; they never get an answer, let alone a chance to serve.
sbs: Is there anything else you would like to tell your admiring worshipers reading this interview?
MBM: Buy more and spend more. Indulge in me and you'll never look back to what your life once was. One never really lives and enjoys life until they submit.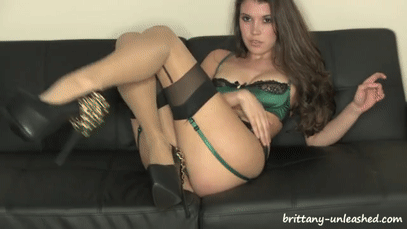 sbs: If you would oblige me one final question…if we were conducting this interview in person, how would it end?
MBM: I'm sure your palms would be sweaty, quick shallow breathes, and a giddiness in your voice from being in my presence. You would be on your knees, of course, surrendering yourself to me.  Begging me to take your wallet from your hand, control your mind, and make you mine.  I would take what's rightfully mine, give you a wink and smirk and walk right out the door. Leaving you wanting more, wanting to crawl after me, but instead, you stay on your knees with a hard stiff one trying to make sense of what just happened. You want to stroke, but don't because you didn't gain permission and still want to please me. Then that night, the day keeps replaying in your mind, as I continue to dance around in your thoughts making you ache and throb even more, leaving you wanting more.
Links to Mistress Brittany Marie: