From an early childhood education degree to webcam modelling and now a force in the Femdom community, today's Feature Domme has excelled everywhere she has gone! It was truly a pleasure to sit down with Goddess Vicky Vixxx and interview her for DommeAddiction, and today you will learn more about this amazing woman.  Her resume includes beginning as a Webcam Model, and leading to her becoming a Professional Dominatrix, Fetish Model, Fetish Producer, Magazine Publisher, Model Mentor, Party Planner/Hostess, and a true Exhibitionist. She is truly an astonishingly bright, intelligent, and obviously beautiful woman.  Are you ready to bow before Femdom royalty? Kneel and take in her every word, drink in her erotic beauty and intense dominance.  Goddess Vicky doesn't accept just any slave into her harem of admirers.  Will you be worthy?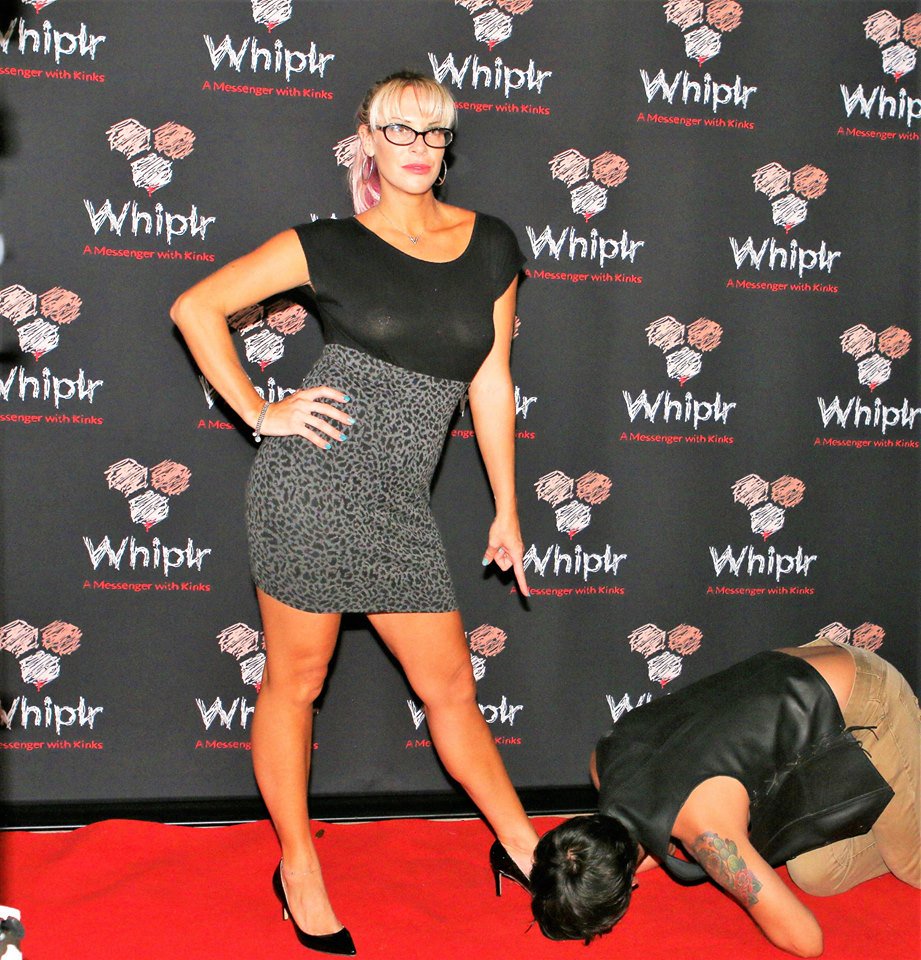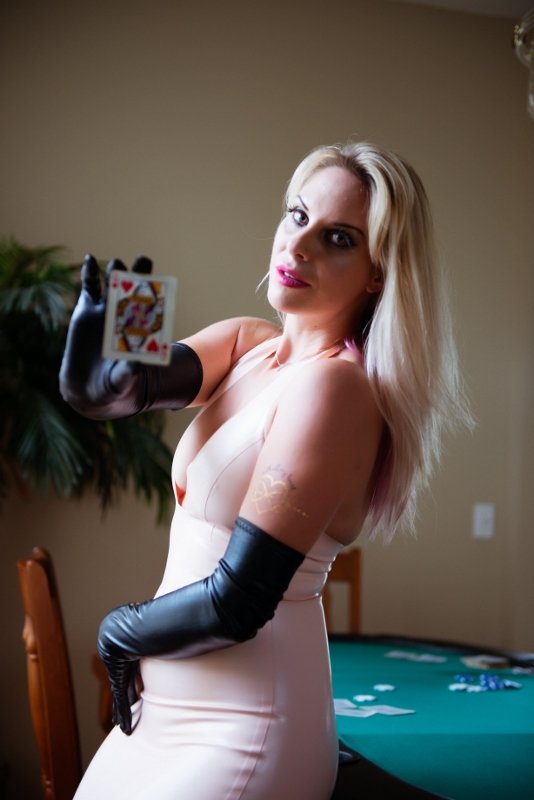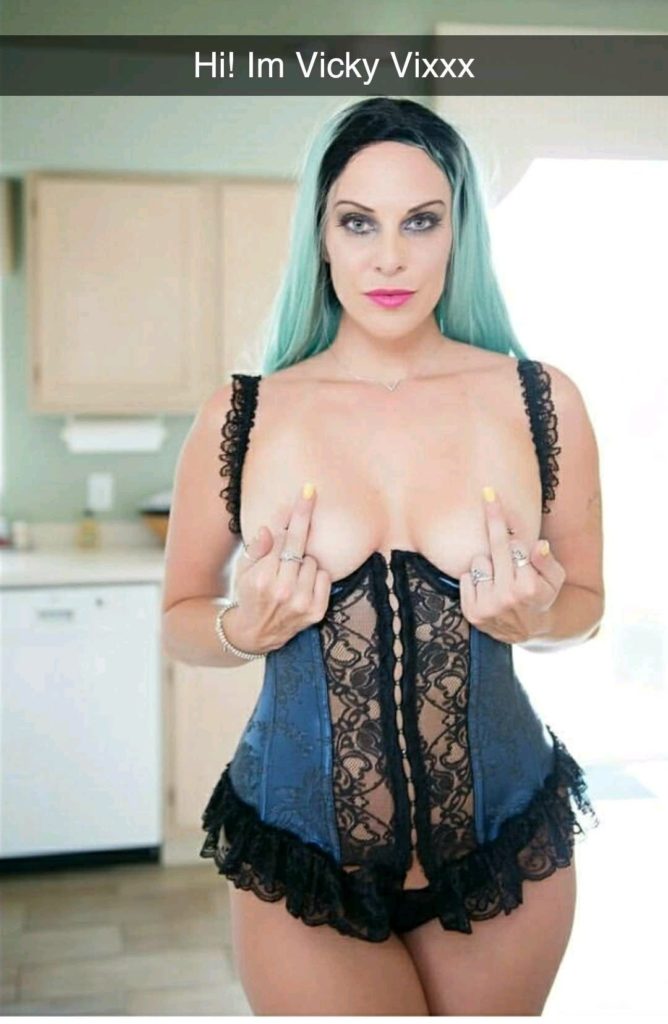 slaveboysmith: Joining me today at DommeAddiction is the beautiful and talented Goddess Vicky Vixxx. Goddess, it is such a pleasure to kneel in your presence. You are a legend in the adult industry and we at DommeAddiction are so pleased to bring you to our readers.
Goddess Vicky Vixxx: Looks like you know how to approach me on your knees. You are off to a good start! There are some amazing ladies I call friends on this website and I'm happy to be included.
sbs: Thank you so much Goddess, and I will remain kneeling entirely while in your presence. I'm so glad you enjoy our site. We truly do love what we do. Let me begin by asking how you got your start in the adult industry in general, and specifically in Femdom.
GVV: I started as a webcam model back in the end of 2010. I was pretty vanilla sexually but always open-minded. I started getting request for fetishes and Femdom shows. I had little experience or knowledge about fetishes, specifically having to do with female domination. I knew very little about what BDSM and being a dominatrix was, but I wasn't totally in the dark. I've always been a bossy dominant and sometimes selfish person so the whole brat girl thing really came naturally to me. At first verbal humiliation was a little odd to me because I was always brought up to be polite and well-mannered but I couldn't pass up the $ so I took every show I could get. When I realized this was something that men want, crave and will pay for I started really letting go and becoming the Domme I am today. The fact that I can make money being myself with a little extra kick had me hooked. I slowly made the switch from a vanilla webcam model to a fetish producer and dominatrix and that is what I do now full time.

sbs: Well it's very evident that you've made the transition very completely and effectively, Goddess. Is there a certain type of slave that is typically drawn to you? Any specific fetishes you seem to explore more than others?
GVV: Well besides the fact that I'm attractive and look like a Goddess, I think the fact that I'm so versatile draws you worms to me. I'm able and willing to cater to fetishes that are harder to find like racial and religious humiliation/domination. I like doing twisted and controversial custom orders. I'm secure with who I am and I'm not afraid of what someone may think if I cater to certain fetishes or roleplay that others won't touch.
sbs: Mmm it sounds like those of us that might have that taboo fetish rattling around our brains should be approaching you to see it come to life! I know our readers are likely very familiar with a slave's experience and the aptly named "sub space" that is sometimes achieved in session. Is there a comparable for a Domme when a session goes just perfectly?
GVV: I absolutely love doing RT sessions and seeing the subs reaction to my dominance. It's almost like I get a little high from using my power over you submissive men. Normally every session ends with me on my power high. I would also like to mention that I think my sessions go well because of my booking process. I require my clients, especially the first time booking a session with me, to provide references to ensure my safety along with a $50 booking deposit. If they can not provide references or have not done a RT session before they have to go through a longer screening process.
sbs: Reading your answer, it's easy to see that you truly love what you do, Goddess. Being a beautiful woman, you must have men fawning over you at every turn. Does having men bend to your will become routine, or does it still please you to have that kind of power any time you wish to use it?
GVV: I think men fawning over me has become expected but will never become "routine". I am still, and will always be thankful for the true subs that worship, serve, obey, and pay. There are so many timewasters out there these days so having reliable subs who allow me to use my power against them to get what I want and don't waste my time pleases me very much!
sbs: It is very true that too many men don't appreciate how valuable a Dommes time really is. For those reading this, sincere in their desire to serve and worship, how can they best approach you and show their desire to serve, Goddess?
GVV: I think I speak for all Dommes when I say MONEY TALKS. Now for me, a tribute of any amount, even a few bucks, it doesn't have to be a huge tribute will grab my attention. There are men willing to throw money at me for doing nothing so if you expect me to give you attention you MUST TRIBUTE! With that being said, I do have tasks for broke betas too like promoting me, making graphics for upcoming shoots with other models, etc. These are very rare and few and far between. Also, if you are broke and want to serve me, start by creating promo tweets every day with photos taken from my twitter and information like my wishlist link, pay link, and website that I can RT and save to copy and paste later. Something like this, "Get on your knees to worship, serve, and obey Goddess Vicky. Tribute here http://PayVickyVixxx.com  spoil her here http://SpoilVickyVixxx.com  and watch her clips here http://WorshipVickyVixxx.com "
sbs: It seems more than reasonable that slaves recognize that if they wish to have you notice them, they best make it worth your while. Is it only men who serve you as your slaves, Goddess, or are there adoring female submissives who also bow before you?
GVV: I sometimes dominate girls in my clips but for the most part my worshipers are male.
sbs: Do you always work alone, or have you done clips, or sessions, with other Dommes? Is there someone out there you particularly would like to work with?
GVV: Of course I work with other Dommes! I have done both clips and sessions with other Dommes. I know so many amazing dominant women in this industry it just simply wouldn't be fair to mention one or two.
sbs: Does the dynamic of a session change when working with another Domme?
GVV: Yes! No two Dommes and no two slaves are alike. There is no textbook way to be a dominatrix so we all do things a bit differently! I like the dynamic of double sessions because you feed off each other. As long as I'm still getting paid my hourly rate (You pay double I do not split the rate) I absolutely love double sessions. I like how every single session is different when you bring someone else in to play!

sbs: If you could have any well known celebrity in your dungeon, completely vulnerable and at your disposal, who would it be, and why?
GVV: James Deen……because karma 😉
sbs: From all that I've read about him I would assume a heavy course of suffering is in store for him in your dungeon, Goddess?
GVV: Yes! Celeb or not. Anyone who has molested or inappropriately touched another person I would like to see in my dungeon. I would have NO mercy on those entitled fucks.
sbs: Mr. Weinstein, you're next lol. Where do you see yourself in 5 years, Goddess? Anything upcoming that our readers should be aware of?
GVV: I see myself in 5 years even more successful than I am now. I see my brand continuing to grow and I see myself making residual income. I want to get to a point where the money makes itself for me. I love what I do so I don't think I'll ever stop!
sbs: I think I speak for many when I say, we hope you don't stop either, Goddess Vicky! Thank you so much for granting me the privilege of kneeling before you and interviewing you. Is there anything else you'd like to say to our readers at DommeAddiction?
GVV: Yes I'm always accepting new slaves, puppies, cucks and everything in between online and real-time. Don't be afraid to contact me if you have a question about a service or a purchase. Just remember compliments don't pay my bills, cold Hard Cash does.
sbs: Very good advice to future slaves and pets, Goddess. With your permission, may I ask one final question please?
GVV: Sure.
sbs: If we were conducting this interview in person, with me kneeling before you as I asked the questions, how would it end?
GVV: Since you have been polite and respectful I would give you the privilege of kissing my feet and send you on your way instead of spitting in your face.