"I'm a kinky, dominant fetishist who enjoys getting to the root of what makes you tick. I cater specifically to those who love rope bondage, OTK spanking, sensual domination, fantasy role play and heavy impact play but my range of skills does not stop there; I am practiced in all forms of BDSM play. While my feet are often the most coveted of my features, some of my favorite interests include: predicament and inescapable rope bondage, OTK spanking, caning, trampling and fantasy role play scenarios.
I'm fascinated by energy exchange and connecting to someone through their inner-kink. There's nothing greater than letting go and surrendering your will to me. I enjoy using my skills to tease and punish and derive endless amusement from utilizing the element of surprise to my advantage. You'll never know what's coming next.
My private sessions are a place where you can explore your most secret of fantasies in fetish and BDSM. I'm here to coach you through this mutual journey and unequivocally elevate your experience. You'll play by my rules and learn how to acquiesce to my demands.
Follow me down this path and we can explore our connection through the subtleties of foot worship, BDSM, and power exchange. The only question is, are you worthy?"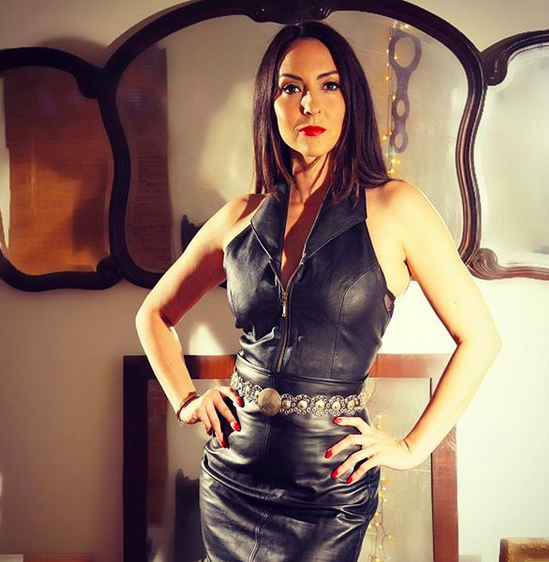 slaveboysmith: Joining me today at DommeAddiction is the absolutely beautiful Goddess Stella Liberty. Welcome Goddess, and thank you for granting me the privilege of kneeling before you and your exquisitely long and perfect legs.
Goddess Stella: You're welcome! I mean, how am I even supposed to respond to that, lol…
sbs: Any way you wish of course 😉 I'm sure you have men speechless often, so I guess I may be in trouble for doing it to you. Let me try to redeem myself by asking about your journey to become the Femdom Goddess that you are today. At what point did you know that you had the ability to control men and make them serve you?
GS: Hahaha, I've been bossing men and women around since I was about 4 years old. I suppose it is just in my nature to know how I want my environment to be, and how I want people to show up in my space. My mother always thought I'd be a director or an artist. I guess she was partially right! The notion of controlling men and making them serve me had always been something I viewed as a personality flaw but now I make it work to my advantage. Controlling men with my sexuality didn't start for me until I was well into my 30's. Being intelligent, articulate, competitive and beautiful was something I tried to downplay because I found men would always try to belittle me if I was more competent than them. So becoming a Femdom really helped me to step into my role as both provocateur and entrepreneur without the fear of holding back my ambitions and sensuality.
sbs: After watching and reviewing your Sister In Law homewrecker clip recently, I would say that we are all very happy you decided not to hold back your natural sensuality, Goddess. That clip is very erotic. Is that a fetish you enjoy exploring, and what others are your favourites, if I may ask?
GS: When I was first starting out I experimented with many topics that were common themes from my callers. Homewrecking is a really big fantasy that callers often request indulgence in. I'm going to have to say that I'm not particularly into that, mainly because I'm more interested in turning your wife into my slave/pet and keeping her for myself than stealing you away from her. I think I only made a small amount of those clips, maybe less than 5. It is not a common theme in my work. Also, true Femdom, is female superiority and I don't believe that screwing with the one woman in your life is the best use of my time. I'd rather teach her how to fuck you over. Are we talking about my favorite things to act out in video or in rt sessions?
sbs: That's very common I would imagine as often your fetishes aren't always what viewers seek. In rt, with a blank slate, what do you most enjoy, Goddess?
GS: My tastes change and evolve over time and I have many interests. For me it really depends on the person I am playing with and our chemistry. Some favorites at the moments include: Predicament and inescapable rope bondage & spanking, particularly over the knee, but I am also a huge fan of an array of spanking implements. I love wooden spoons, hairbrushes, and all sorts of paddles. Flogging, it is a lost art in my opinion. I love florentine flogging as part of a sensual domination scene. As far as roleplays go, I love being your mommy/teacher or boss. I'm nurturing and encouraging but can hand out necessary discipline when you need an attitude adjustment. I'm also a big fan of canes during heavy scenes and love how they play into certain roleplay scenarios quite effectively. I could go on and on for ages on what I enjoy!
sbs: Part of me really wants you to continue but let's circle back. You mentioned enslaving a wife. Do you find there are big differences between how you enslave male and female submissives?
GS: Well, of course there are differences between the motivations of male and female submissives. Each person is unique on top of that. It's like putting a puzzle together without knowing the final picture. The bonds I've formed with female submissives go much deeper than with males.
sbs: Can you describe the feeling you get when you have a slave, male or female, completely under your control, ready to submit completely? Is there a Domme equivalent to 'sub space' that you experience?
GS: Yes, there is an equivalent. But it differs from sub-space as I am mindful of every act as a top. Euphoria, connection & intimacy can arise with the right chemistry but I usually feel it after the session. If the session was right on, I feel energized and euphoric after play. And also the equivalent TOP DROP if I'm not mindful of it. But that usually only happens after several hours of heavy corporal play.
sbs: Can you please describe your ideal submissive?
GS: Submissive, quiet, obedient, grateful, helpful, high pain tolerance, consistent.
Goddess Stella & Star Nine Driving Every Man Wild With Lust!
sbs: Those sound like the perfect pet! Have you ever been recognized in public? If so, what was the reaction like of a slave being in the presence of his dream Goddess for perhaps the first time?
GS: I have been and it is usually horrible. It has happened a few times with foot fetishists, who after seeing me in public notify me via email or the like and ask for something dumb, like the panties I had on when they saw me. Another saw me at a non-fetish event and expressed his appreciation for my photos and work while walking by and then called out my name a bit too loud for my preference. It took me a bit to even realize what was happening. This was a vanilla setting. Remember, we have private lives as well, and most often the people around me in public are not privy to our work in this world. The best thing to do? Keep your head down and your mouth shut and if you just have to inform the Domme you saw her in public, send that note with a tribute to express your enthusiasm. Another love note from a stranger isn't something I often appreciate receiving, especially if I know that person now knows the market I shop at.
sbs: It's unfortunate that some lose sight of the fact that you are a person, not simply the embodiment of their every fantasy. Hopefully some have been respectful and thanked you financially for such a thrilling secretive encounter. What is next for you as a Femdom Goddess? Anything new planned for this upcoming year that eager slaves should be looking forward to, Goddess?
GS: Lots more Femdom content rolling out on my store, frequent travel sessions and me getting behind the camera more often to feature new and established women in the way I'd like to shoot them. It's great collaborating with other Dommes and performers and you'll see even more of that this year than last. Also, I'm super excited to announce I'll be shooting for Club Dom in March, something I am really looking forward to.
sbs: Some very exciting things to come, indeed! I've been a huge fan of Club Dom's work for a very long time. Their shoots are amazingly erotic and sadistically sexy! Looking forward to seeing those for sure. For those that are reading this, eager to show you their worthiness to serve, how can they best demonstrate their sincere desire to kneel before you, Goddess?
GS: If you're referring to booking a session, there's an application on my website that must be filled out before anyone contacts me. Tokens of sincerity can be offered through my Amazon wish list, and there are tribute buttons on my website as well. Simply hearing that someone wants to be devoted to me does nothing for me…actions speak louder than words.
sbs: Actions are what should be expected as I'm sure it is a wonderful privilege to serve someone as beautiful as you Goddess. Thank you so much for answering my questions today. If we were conducting this interview in person, with me kneeling before you trying not to stare as you dangle your heel seductively, how would it end?
GS: You're welcome! If I felt like lifting a finger, I'd either have you open your mouth so I could spit in it or I'd slap you across the face…if not both. But things usually end when I say they end. We're done here.