She is the Ebony Financial Domme you've been yearning for all this time.  Elite, expensive and extraordinary, Goddess Haven The Great is breathtakingly beautiful and utterly unattainable.  You will do things to please her that you never dreamed she could persuade you to do, and still she will demand more.  Insatiable, your Goddess will devour your submission and have you eager to hand over everything you have earned, or ever will.  How does she do it? One glimpse of her beautiful face and stunning body and you will have your answer.  Beauty controls weakness, and no one understands how to exploit men like you better than Goddess Haven The Great.  Kneel down, as I did in conducting this feature, and take a long look at what it will take to serve this exceptional Goddess.  You will want to please her.  You will beg to serve her.  And you will offer everything you are to simply have her notice you.  Thank you Goddess for granting me the ultimate privilege of interviewing you, and for allowing DommeAddiction to play a role in promoting your outstanding content!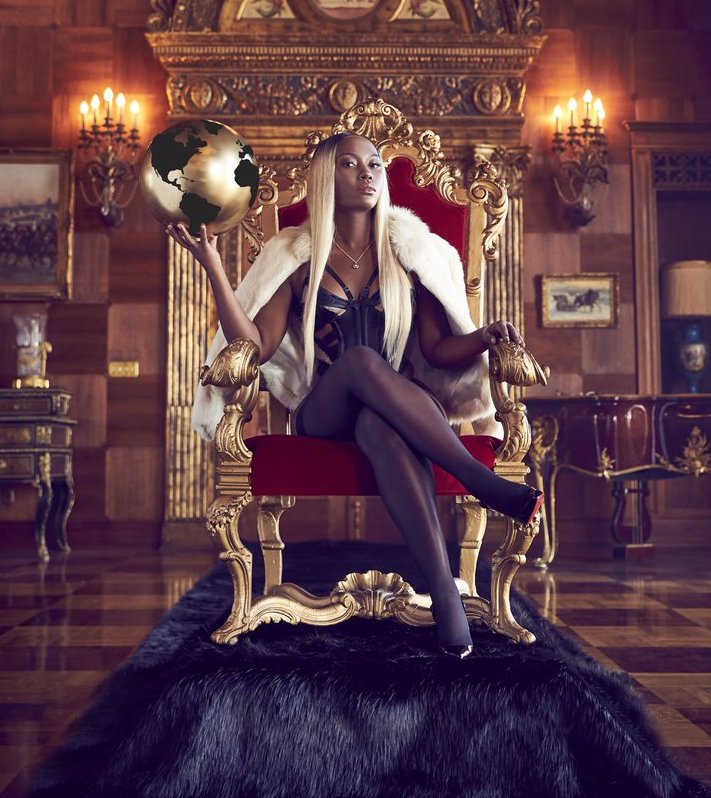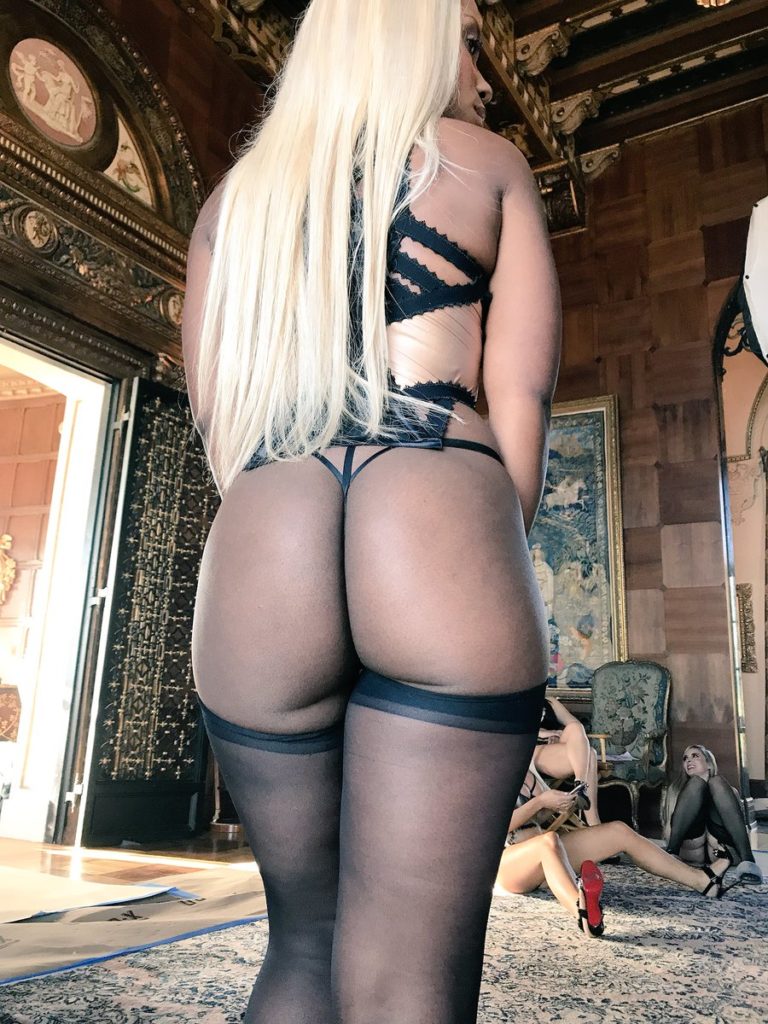 slaveboysmith: Joining me today at DommeAddiction is the extraordinarily beautiful Ebony Goddess of your dreams, the stunning Goddess Haven. Goddess, thank you so much for allowing me to kneel before you today and welcome to DA.
Goddess Haven: Goddess Haven The Great, why does everyone forget The Great?  It's a pleasure to kneel before me. You're welcome. Thanks for having me.
sbs: My apologies Goddess. Perhaps the "Great" is so obvious that we simply leave it unstated? How's that for trying to recover? lol It is indeed a privilege to kneel before you. If I may, I would love to hear your story of how you became the Elite Femdom Goddess that you are today. When did you first realize the power you held over men, and how did your journey begin?
GHTG: Nice save 😉 Hmmm, good question. I always find myself going back to when I was younger and telling my mother I'd never work a day in my life and that I'd "have slaves." Obviously as a child I had no idea how I'd bring that into fruition. Never in my wildest dreams did I even think back then that I'd literally have slaves…but here I am. Talk about speaking things into existence, right? I started off gogo dancing/bartending and got over the men who tried to make moves on me telling me how rude and demanding I was. I moved over to cam and hated that just as much. People had suggested Findom to me before but it went in one ear and out the other. Hating cam so much I then did research on having sugar daddies and that didn't sound any better lol so I decided to research Findom and here I am! In my rightful place!
sbs: Standing over us and looking magnificent. Does the attention you must receive from admiring men every day become bothersome and routine, or is there still an element of being the center of attention that pleases you?
GHTG: I can't receive attention if I'm not paying attention. If you didn't send any form of currency there is a 99% chance I never even looked your way. With that being said I don't find it bothersome at all because I don't allow idiots who don't pay me to bother me. 🙂 I'm always the center of attention. It's my natural habitat.
sbs: That seems more than fair. If slaves wish for your attention they must pay for it. Is there a particular type of slave, or fetish, that you find typically is drawn to you, Goddess?
GHTG: Boys who are into ass worship are typically drawn to me.
sbs: Well, I will confess, it's certainly obvious why that is! My goodness. If I may say, very respectfully, your derriere is truly divine!
GHTG: Thanks! I worked hard for it! Hahaha
sbs: Your hard work is very evident to any slave privileged enough to kneel as I am and take in your magnificent beauty, Goddess. Do you session with slaves online only, or real time as well?
GHTG: I love real time! It's so fun and comes to me naturally but I don't session often. I'm pretty pricey! I charge 1k/hr LOL Although I do enjoy it I just so happen to make more money online while doing less.
sbs: I'm sure an opportunity to interact with you in any way as a slave would be extraordinary. When you do have a slave in a real time session, completely under your spell and willing to do anything you demand, is there a "tell" that lets you know a slave is yours?
GHTG: When a slave is naked, vulnerable and on his knees shaking and can barely utter the words "yes Goddess" I know he's mine and under my spell.
sbs: My god…that visual image of you standing over a trembling slave is extremely powerful. Can you describe the feeling you get, bringing a slave to such a vulnerable position? Is there something comparable to "sub space" for Dommes?
GHTG: It's a high for sure. I feel like I'm on top of the world. Invincible, can conquer anything and damn sure any man. It's so hot knowing I hold so much power, that this creature fears me yet also has a boner for me hahaha.
sbs: Indeed, fear and arousal is an intoxicating mix. Do you only have male slaves that submit to you, or have you had female subs as well, Goddess?
GHTG: I've had female subs approach me but I never take them on. Doesn't feel right for me lol.
sbs: It would be unimaginable to think that at least some women wouldn't feel the desire to submit to you. But they're safe, at least for now. You were featured in a recent iWantEmpire photoshoot alongside some fellow Elite Dommes. What was that experience like and what do you see moving forward in your alliance with the folks at IWE?
GHTG: I love iWantEmpire, IWC is so much deeper than a platform to me now, they're family. I'm so blessed to have met/worked with such an inspiring, genuine and uplifting group of girls. The experience was one I'm definitely thankful for and one I'll cherish forever. (Ew, I'm getting sappy) but seriously! I can't wait to watch IWC continue to grow, I can't wait to continue watching Nikki succeed and I'm even more excited to grow along side with them and be a part of their brand!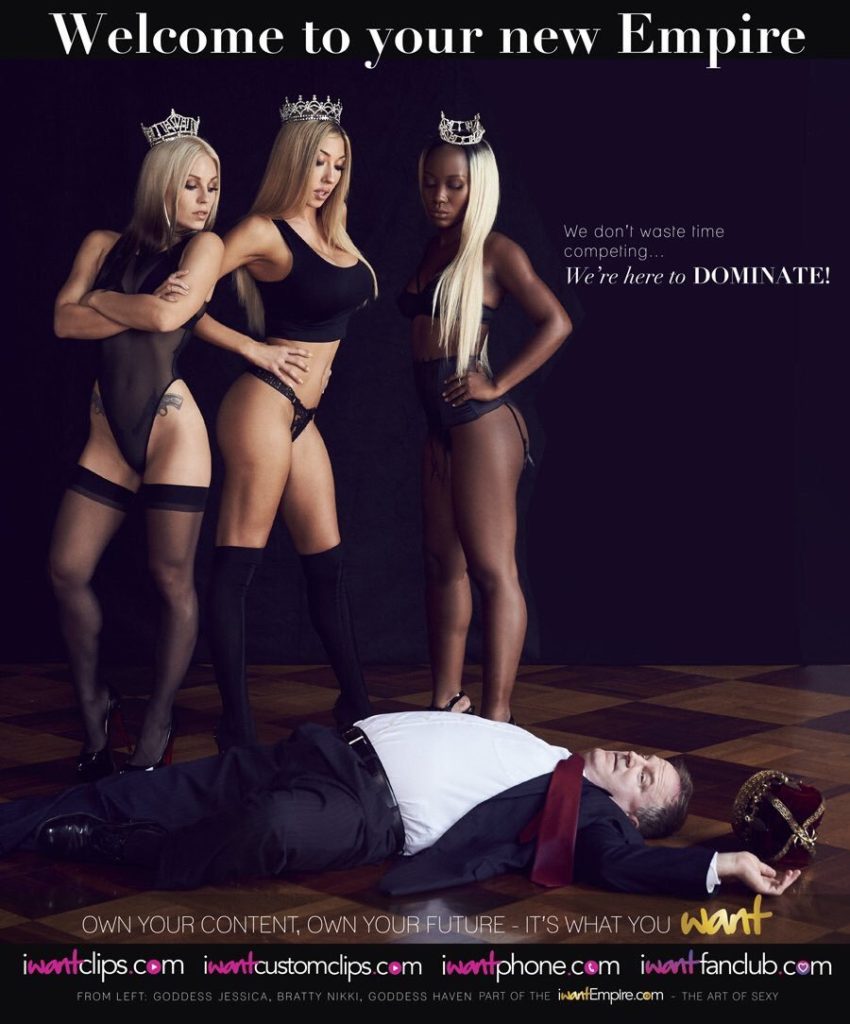 sbs: Nikki, of course, is Bratty Princess Nikki, and anyone who has follows me knows how much I cherish her both as a woman and a Domme. Can you share with our readers who else was involved in the photoshoot and how it all came to be?
GHTG: She's an amazing woman! Riley Reyes, Goddess Jessica, Jenna Sativa, Tasha Reign, Allie Eve Knox & Lauren Phillips. Nikki had a vision and she made sure she brought it to life. She wanted the shoot to focus on women empowerment and taking over our rightful place in the world. Being on top, being your own boss, etc. I was honored that Nikki reached out to me and felt I was the perfect fit to help her represent that!:)
sbs: I couldn't agree more. That list reads like a who's who of Femdom. I've had the privilege of promoting and serving many on that list in varying ways and enjoy the thoughts of continuing. IWC certainly does seem to be stepping to the forefront of the clipstores race and they have certainly got the powerful women like yourself to rise to the top. Now speaking of Bratty Princess Nikki, you and she were featured in the January edition of Glamour magazine.  What can you tell our readers about this amazing experience and opportunity?
GHTG: It was showcasing different women in sex work and the different types of sex work. It also focused on how sex work changed our lives for the better/made a difference and what benefits we've reaped.  It was refreshing to focus on the positive rather than the typical negative stereotypes.  Here is the link to the article in Glamour magazine.
sbs: I found it very enlightening to read, indeed.  So what is next for you, Goddess? Any upcoming plans or future goals in Femdom?
GHTG: Rebranding! I'm in the process of that at the moment. Creating a new website because I don't know if anyone has noticed but mine hasn't been updated since I was 19 lol and I'm 24 now! I plan to push my brand further, work harder, film more and all that good stuff. Oh yeah and I'd love to top my personal goals! Like turning that 46k day into a 100k day this year, maybe? Yes that'd be nice. Hahaha
sbs: I don't doubt for a moment you will achieve whatever you desire, Goddess. You will have willing subservient men excited to do whatever it takes to help you reach your goals as well. For those reading this, eager to kneel before you and serve, how can they best demonstrate their sincerity and willingness to serve you well?
GHTG: Like I said in the beginning, don't ever approach me without tribute, seriously. Approaching me with tribute shows you respect me and understand what I'm about. Don't even contact me asking HOW to tribute because I make it so clear in my bio and I just assume you're not taking my time seriously lol. I like my subs eager and willing to please.
sbs: That is more than reasonable Goddess, and thank you so much for granting this interview to us. It is such a privilege to be in your presence. With your gracious permission, may this slave ask one final question please?
GHTG: Yes you may.
sbs: Thank you Goddess. If we were conducting this interview in person, with me kneeling before you obediently as I asked the questions, how would it end?
GHTG: Hmmm I'd probably have you lay on the floor and have the ball of my foot to your neck so I could hear you mumble your last question hahahah.