With so many erotic and sexy newer clips being released, it's easy to overlook some of Goddess Jessica's hottest work from the past.  Case in point, today's clip review of an incredibly sexy homewrecker style tease clip, The Hotter Sister.  Can you imagine the torment of dating Goddess Jessica's sister while, the entire time, all you can think about is how hot she is? She's sitting across from you while your girlfriend takes an eternity to get ready to go out.  Yet, no matter how long she spends on herself, she'll never be as hot as her younger, sexier sister.  Jessica is the perfect blonde Temptress.  Her sexy red heels match her pouty lips and tiny panties.  Her skintight blue dress hugs her every curve, and those legs…well, you just can't stop staring at those long, tanned and perfect legs, can you? She knows you can't help but stare.  She's caught you more times than she can count.  It's okay though…she likes that you stare at her and get hard every time you think about her.  Every time she calls you a good boy it slays you, and you become even more pliable and easy to manipulate.  Your girlfriend's hotter sister has you wrapped around her little finger, and she loves to fuck with you.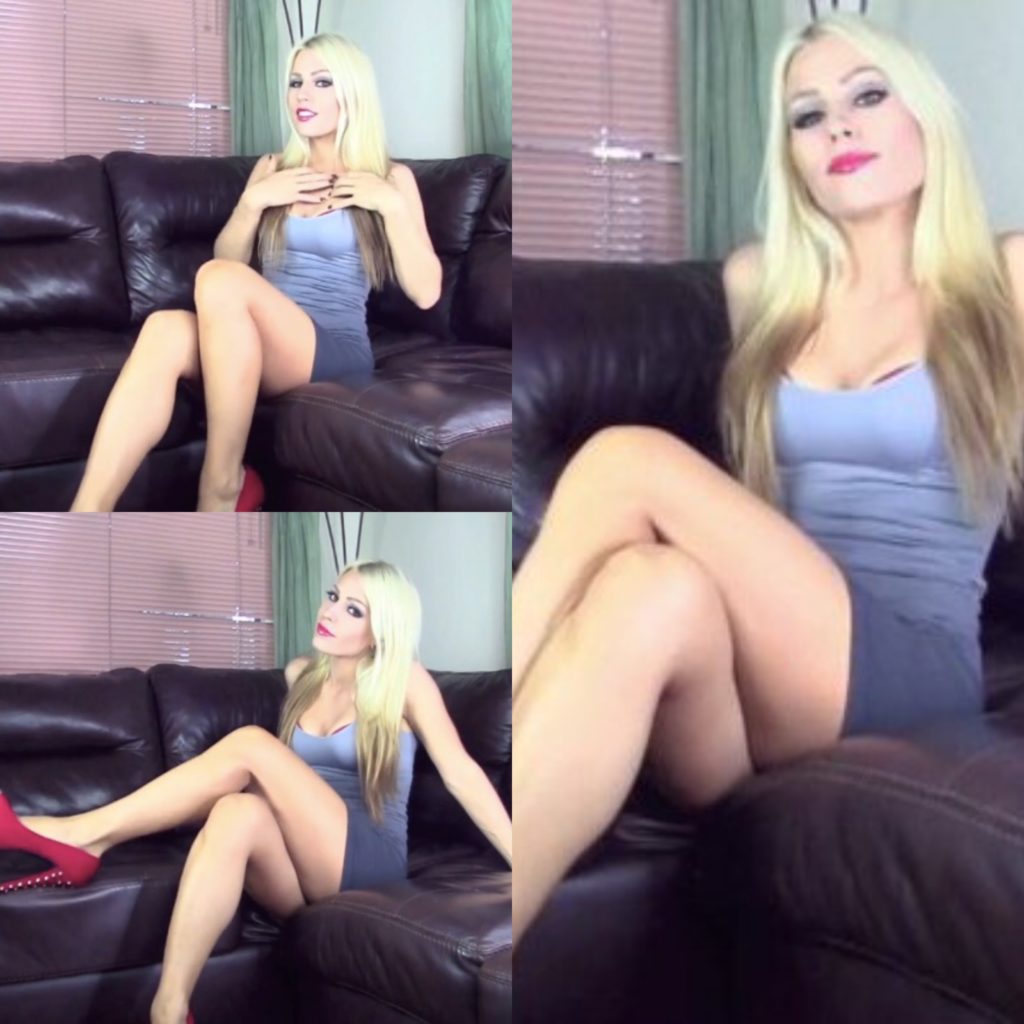 The instant your girlfriend left you alone with her hotter sister, Jessica, you were in trouble.  She has you mesmerized as she crosses and uncrosses those perfect legs and calls you her good boy.  Taking sibling rivalry to an extreme, Jessica has you kneel before her as she stands over you and admires the hard bulge in your pants.  And soon enough, with your girlfriend upstairs, you obey Jessica's command to take out your cock and begin to stroke.  There's nothing you won't do to hear those two words that own you, "good boy".  Be Jessica's good boy and stroke that cock she owns.  You might be dating her sister, but let there be no doubt who owns you.  You belong to Goddess Jessica.  She can do whatever she wants with you.  Say her name.  Say "yes Jessica" and make her very happy.  When you're out tonight with your girlfriend, every time you see Jessica, you're going to throb.  You'll wait with anticipation for her every command and live on that edge of pleasing her and hearing her call you her good boy.  You want the hotter sister, but all you can do is obey. You're dating your girlfriend, but your cock obeys the one and only Goddess Jessica.  You will think of her and say your name in your mind, or out loud, no matter the consequences.  Obsess and obey.  Do whatever she says no matter the situation.  Now put that cock away and zip yourself up. Your girlfriend is coming downstairs and the wickedly sexy hotter sister is excited to have her "good boy" at her beck and call tonight.

Looking irresistibly gorgeous, Goddess Jessica, once again, shows why she is the ultimate Seductress.  She can have whatever she wants, get you to do whatever she commands, and take control of any situation, with a simple sly smile, sensual word and overwhelming tease.  She is the epitome of sensual domination and mindfucking.  This is one of my all time favourite clips of Goddess Jessica's, and watching it once even, you'll see why.  Enjoy! 
Clip Name: The Hotter Sister

Date Reviewed: August 30th, 2017

Cost of the clip: $9.99