Naked and bound, gorgeous slavegirl, Janna Hicks, looks absolutely perfect as she lays in wait as her Queen, the stunning Mistress Taylor Knight, stands over her.  With her legs spread, her shaved pussy is fully available to her Mistress, as are her huge, perfect tits.  Janna loves her Mistress and there is nothing she wouldn't do to please her dominant lover.  She, like so many of us, loves Mistress Taylor's exquisitely beautiful feet.  In session and in clips, Janna has often licked and kissed and sucked those pretty toes, but today, the toes will explore her body intimately, leaving her trembling and shaking as she cums hard in an earth-shattering foot-gasm like you've never seen.  With her pussy already visibly wet, Janna softly moans as Mistress Taylor slides her foot down her body and begins to toy with her pussy.  Watch those pretty painted red toes slip inside that soft wet pussy and imagine how good it feels from both perspectives.  Pressing down firmly against Janna's clit, Mistress Taylor moves her foot in circular motions that have Jenna moaning more and more.  This clip is erotic Femdom sex at it's hottest! The chemistry between Mistress and slavegirl is palpable, and it's obvious that whenever Mistress Taylor decides to, Janna will be pushed over that edge and cum hard for her Mistress' perfect feet.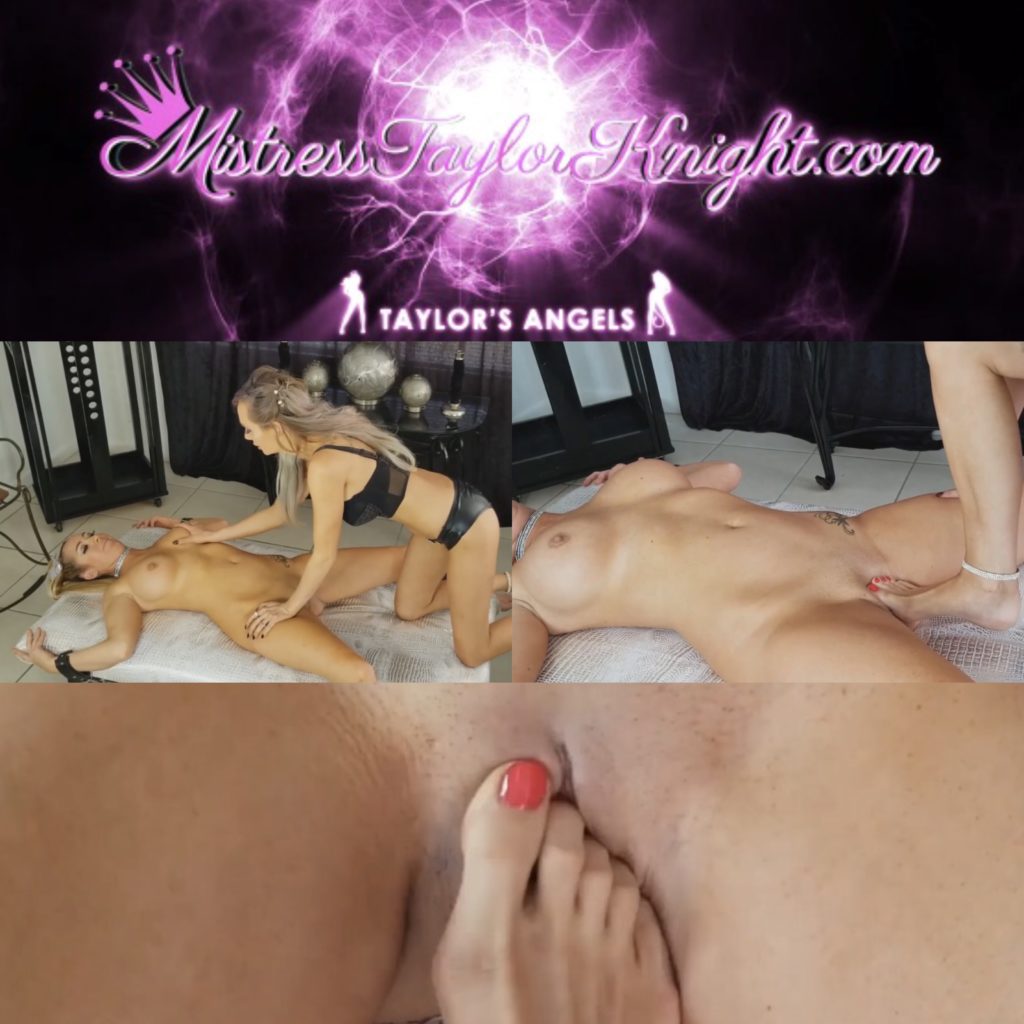 With an intensely intimate view up close, watch as Mistress Taylor begins fucking her slavegirl with her toes and see just how wet they get as she does.  Hear Janna's breathing quicken and her desperate moans of pleasure intensify under Mistress Taylor's perfect touch.  "Oh my god, yes!" is all that Janna can say as her Mistress' rubbing and pressure increase.  She's ready for her amazing foot-gasm, and all that remains is for Mistress Taylor to decide if she will grant it.  With Janna practically begging for mercy, Mistress Taylor decides that enough edging has been done and it's time to cum.  As she pushes down against Janna's clit harder and with faster circles, her slavegirl cums hard soaking her Mistress' sexy foot.  Thanking Mistress Taylor for her amazing foot-gasm, sexy slavegirl Janna smiles in a way that only a truly devoted and loving slavegirl can once receiving such pleasure from her Superior.  Mistress Taylor loves to play with her sexy pet, and using her perfect feet to make her cum is just one of the naughty, wicked games these two play.  Don't you wish you could join in?

Clip Name: Footgasm On My Slave Girl!

Date Reviewed: October 18th, 2017

Cost of the clip: $10.99