Gabriella is Mistress Dahlia's little slutty crossdressing bitch, and today, she's dressed in a schoolgirl skirt, wig and stockings.  She's not a very feminine looking little whore, but what she lacks there, she makes up for in her eagerness to serve and obey Mistress Dahlia, and her huge pink strapon, more specifically. 
Mistress Dahlia looks resplendent in black leather and thigh high boots.  Her beautiful breasts look so inviting in her leather body suit.  Pushing her slut to her knees, calling her a bad girl, Mistress thrusts her huge strapon into her throat.  Her lipstick is all over the dick and she continues to deepthroat it like a pro.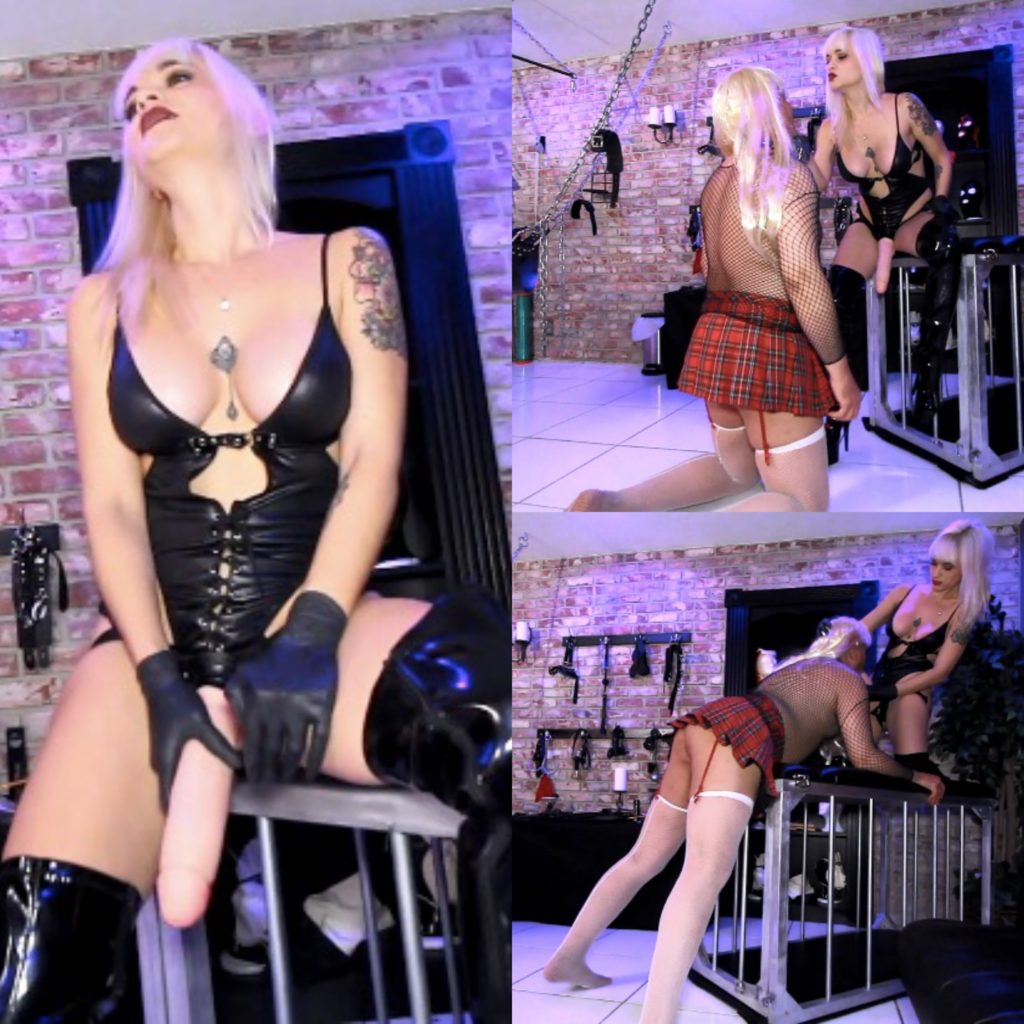 Bending over her cage, this slutty schoolgirl continues to suck Mistress Dahlia's dick as she verbally humiliates her bitch.  Drool everywhere as the whore sucks the strapon into her throat.  Mistress Dahlia is making her slut a huge whore and has plans to rent out her holes for profit.  Speaking of holes, after throat fucking her slavegirl thoroughly, Mistress Dahlia walks around behind her schoolgirl crossdressing whore, and turns her attention to her ass.  First she plunders her slut's ass with a dildo, stretching her out for the strapon.  Her pink strapon is huge and she's not gentle at all.  She pounds her bitch's asshole deep and hard.  You'll love hearing her moan and groan.  She loves having her ass reamed and Mistress Dahlia is deep inside her gaping hole.  Grabbing her slut's collar, Mistress Dahlia rides her ass and shows her what a slutty little bitch she really is. 
If you're a crossdresser, or just like watching a slutty one get pounded, you're in for a treat.  Mistress Dahlia and her strapon are quite the combination!

Clip Name: Dahlia's Ass Slut

Date Reviewed: January 31st, 2017

Cost of the clip: $9.99