After meeting at a lesbian fetish shoot, beautiful Amy and Ava decide they want more time to explore each others beautiful bodies and have some intimate play time.  Living so close together, arranging to film together was easy, and today's feature clip is just one of several these two extraordinary beauties shot together for our enjoyment…and theirs!  In contrasting black and red peephole lingerie, topless and looking stunning, Amy and Ava lick, suck and worship one anothers feet in this sensual and teasing clip that will leave every one of us aching as we watch in awe.  Feel yourself begin to throb as they explore each others naked breasts with their gorgeous feet and discuss how much fun they can have together while their husbands are at work.  Licking and sucking one anothers toes, these two sensual Goddesses love to worship feet.  Sliding their hands up each others legs, they love to explore and play.  Let these two foot Goddesses bring your ultimate voyeuristic desires to life in this spellbinding clip that will make you ache between wanting to worship feet yourself, and having those soft wet mouths on you as they are on each others perfect toes.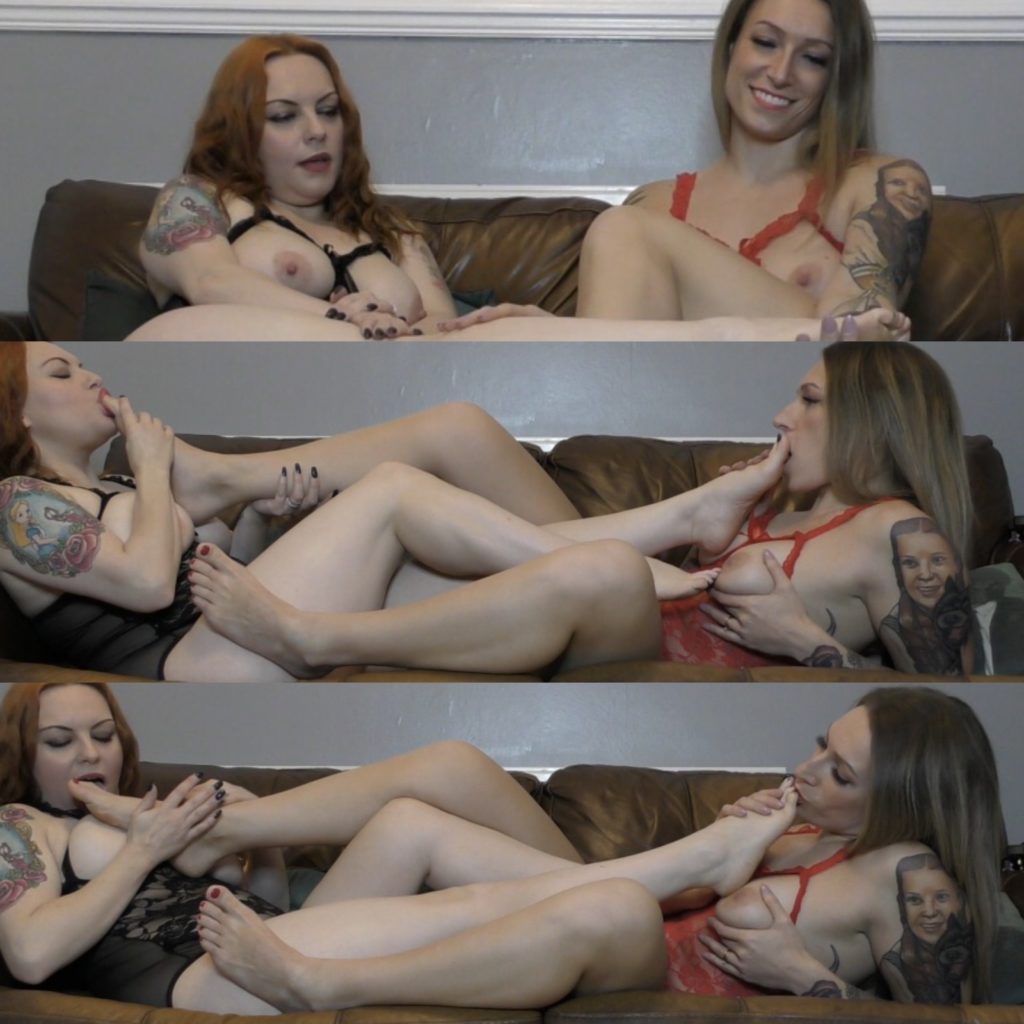 As Goddess Ava slides her tongue along Goddess Amy's wrinkled sole, she then takes so much of her size 3 foot into her mouth, you will moan with desire.  Sucking her foot so expertly, Ava's mouth is absolutely heavenly as you imagine what she could do to your cock.  Dream on slaveboy! These girls are only interested in playing with each other, making themselves soaking wet as they use their tongues to worship their beautiful feet.  Ava loves the way Amy's long black nails feel on her soles, and how her mouth devours her feet.  Her moans of desire are real, and you can only imagine what happened once the camera was turned off.  This is just the warmup for these beautiful foot worshipers, and once they've got one another soaking wet and ready to play, you'll be shown the door and left to imagine what they must be up to now.  Perhaps in other clips shot together, you will be given a glimpse of just how much these two sexy neighbours enjoy playing together and driving men like us crazy with lust!

Clip Name: Amy & Ava Worship Each Others Feet Topless!

Date Reviewed: December 24th, 2017

Cost of the clip: $4.99