There's really very little I can say that you won't already determine from watching the clips and seeing the images presented from my recent session with the erotically super-charged Goddess Stella Sol.  If you listen closely, what you hear in my responses to her is absolute desperation and obedience.  Add in a dash of mindfucking and you can pretty much surmise that I had one of the most amazing times of my life as a submissive in my session with Goddess Stella.  Plans are already in the works for a follow up session, and trust me when I say, it can't come quickly enough.  Which is more than I can say for what Goddess Stella did to me in our session.  She had me ready to boil over within mere minutes of starting.  Of course, being the consummate professional, Goddess ensured that she kept me on that edge for a VERY long time before granting me permission to explode!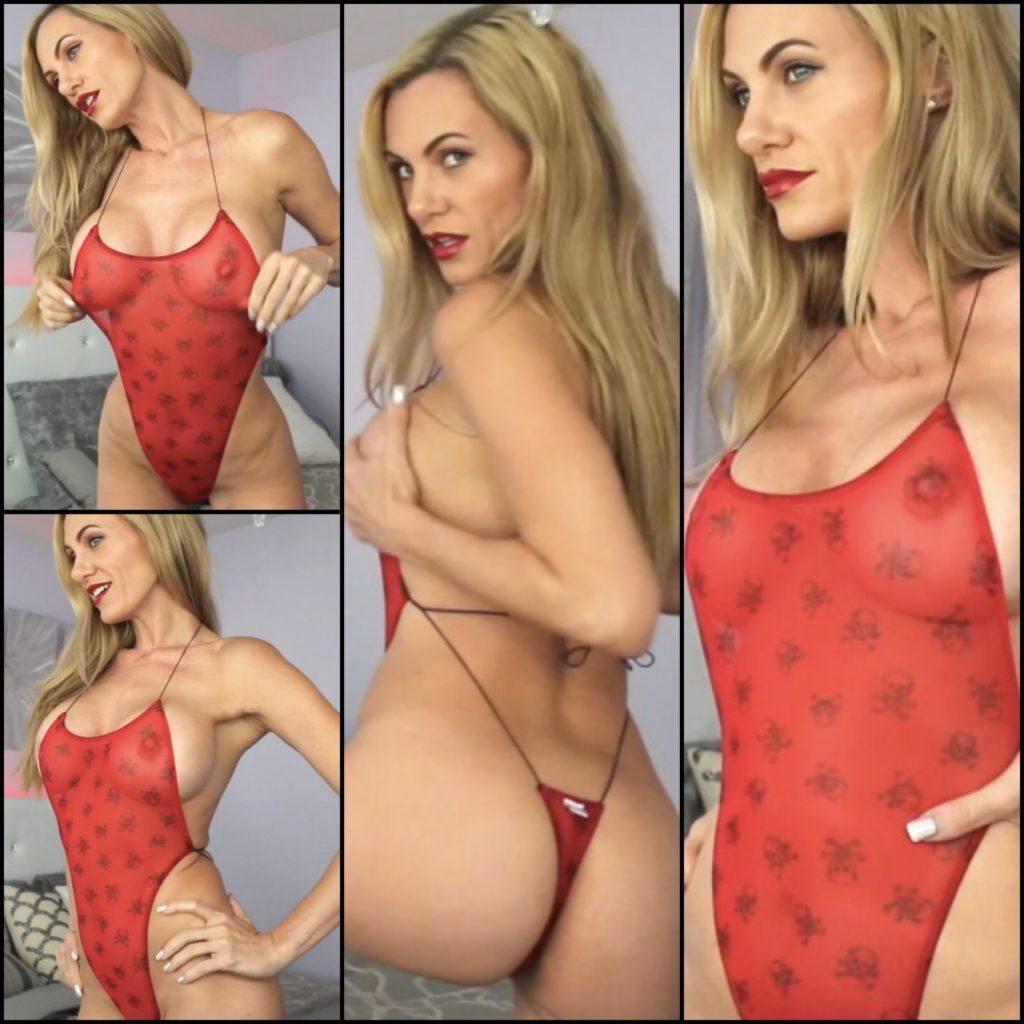 The moment she came on screen, I was fucked! Look at how beautiful she is! Look at that body, every curve perfectly sculpted to leave men like me absolutely in ruin.  Goddess Stella is sensual, strict and above all, a master at reading cues from weak men.  We didn't know each other well before the session began, but it didn't take her long to explore the surface of my fantasies before plunging me into the deep end.  JOI, teasing, perhaps some coerced bi…that was all I had to offer her and she took things from there.  And in an instant, she had me wrapped around her finger.  She began by telling me when I could stroke, and exactly how to.  I was told very strictly that to cum without permission would be unforgivable and I would be banished from serving her ever again.  Strong motivation to suppress that growing urge, to say the least! I held back as she teased me with her magnificent breasts, her perfect ass, and that beautiful face of hers with pouty painted red lips.  I was on edge, but containing myself…and then she brought out the dildo!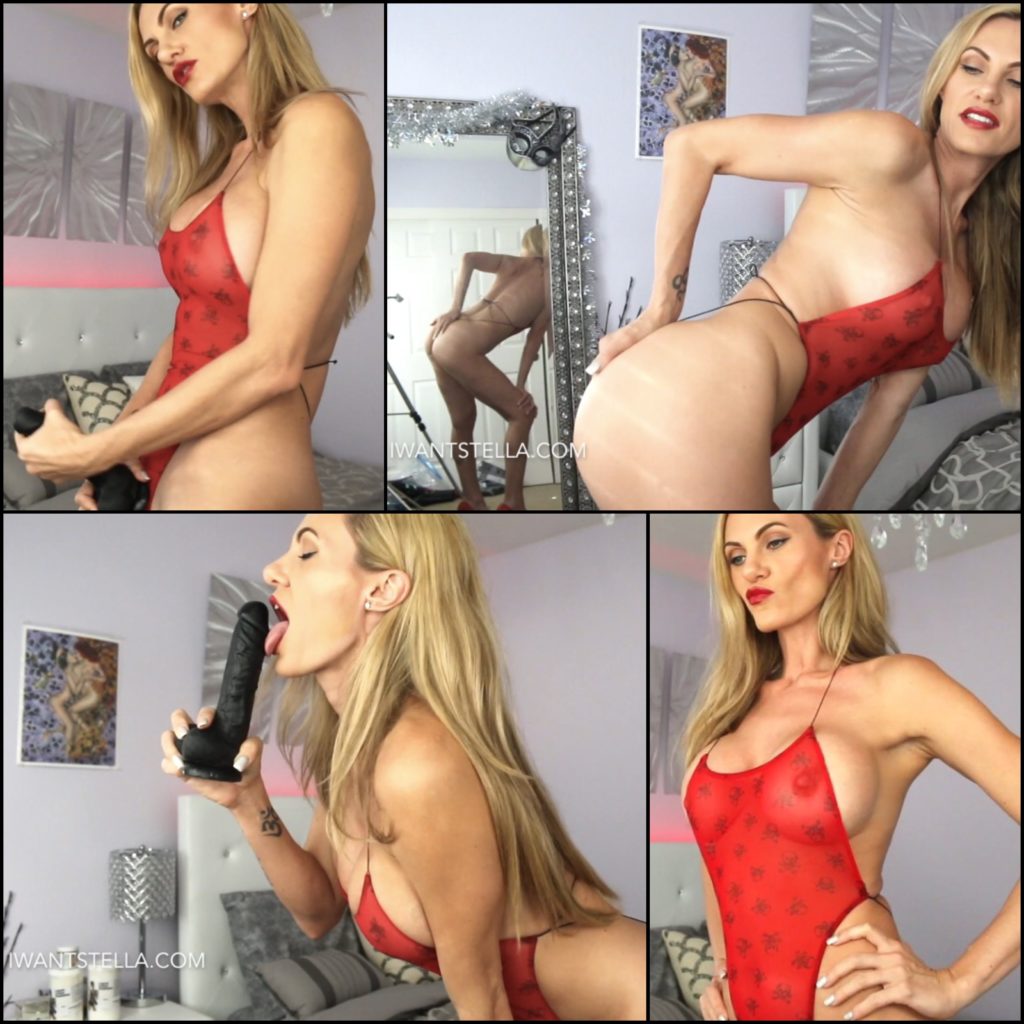 The second she mentioned cock, Goddess Stella turned up the heat.  Her huge black dildo went between her legs and she began talking of having me suck it and worship it.  If that wasn't enough, she took it upon herself to demonstrate exactly HOW I should worship it, and seeing her tongue gliding up and down that thick black shaft and then her lips wrapping around it, I almost lost control completely and had to beg her to allow me to strop stroking! I don't know if Goddess knows how close I came to being banished, but let's just say it was far too close to the edge for comfort.  From that moment on, it was only a matter of if, and when, she allowed me to cum.  In complete control, Goddess Stella continued teasing me as she playfully pondered my predicament and wickedly simulated her own orgasm while continually emphasizing that I was NOT to cum.  It was cruel and delicious and the essence of what Goddess Stella is about as a Femdom.  She controls through temptation and arousal.  As her slave, disappointing this perfect beauty is the last thing you could imagine ever doing, so you obey and you do whatever it takes to please her.  And as she stripped off her sexy red lingerie, she acquiesced to my begging, granting me permission to stroke faster.  I would receive permission to cum if, and only if, I agreed to eat every drop of it for Goddess Stella's amusement.  "Good boys eat there cum, don't you know, slaveboy?" she said playfully.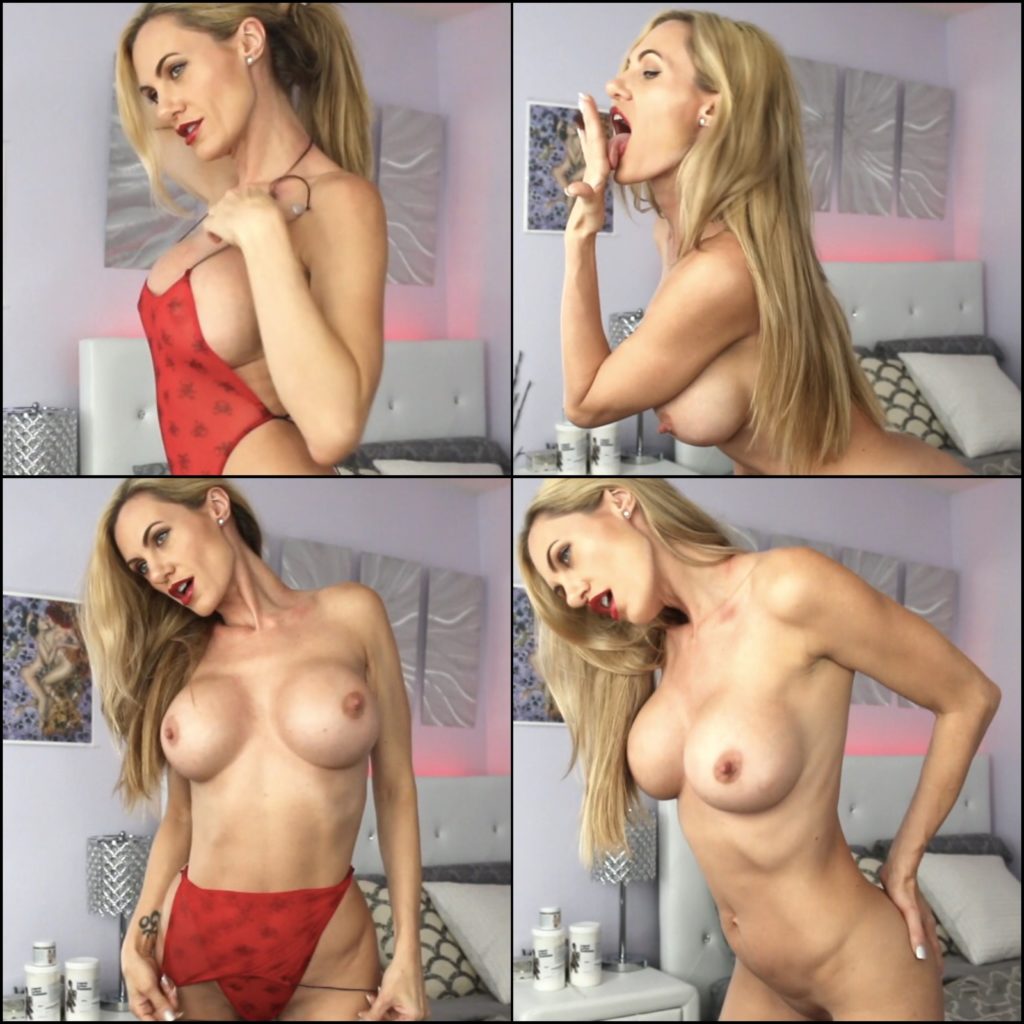 With her perfect body on full display, teasing her stunning breasts and sliding her hands up and down her flawless body, Goddess Stella brought our session to exactly where she knew it would end up when we started.  With me begging to cum and promising to eat every drop, she moaned softly and told me the words I had ached to hear, "cum for me slaveboy", and I really can't recall much after that.  She laughed after a few minutes and as you'll hear in the video below, commented on the fun noises I made as I came.  I'm glad to have entertained her, but I assure you, they were all involuntary.  Actually, almost every element of the session was involuntary.  From the moment I knelt before her, I was a puppet played masterfully by the delectable Goddess Stella.  For slaves seeking a sensual Femdom experience with an incredible mindfuck aspect to it, you will most definitely want to learn more about Goddess Stella.  She is a remarkably sexy woman.  Beautiful and dangerously alluring, you won't say no to her.  Pleasing your Goddess is your entire focus…as it should be! Until our next session, beautiful Goddess, thank you so very much for an experience of a lifetime.

| | | |
| --- | --- | --- |
| | Score  /10 | Comments |
| Ease to arrange | 9 | While it took a bit of time to bring this session together, remember that the best things in life are worth the wait.  Goddess Stella is an Elite, in-demand Goddess, and well worth any wait to kneel before Her. |
| Cam connection & sound |  10 | Crystal clear sound and picture, Goddess Stella was right there with me controlling everything.  Her Skype cam connection and  recording of the session are ultra-HD and absolutely perfect. |
| Appearance of Domme | 10 | Try your best to find anything about Goddess Stella that isn't absolute perfection.  Head to toe, in every detail, she is gorgeous! The consummate perfect 10.  Blonde, busty and beautiful.  There were moments in the session that I simply stared in awe at how stunning Goddess Stella truly is! |
| Willingness to accept input | 10 | Prior to the session, we discussed elements of it and not only did Goddess Stella incorporate my requests, but she took them further and wove them into the ultimate erotic experience. |
| Price | 10 | There are Dommes with lower rates than Goddess Stella, but you get what you pay for.  Goddess Stella is an absolute bombshell and her sessions are pure ecstasy.  The rate is more than worth the experience, and you will have zero regrets when you arrange a session.  Nothing can compare! |
| Overall satisfaction with session | 10 | If you haven't figured it out from my writing here, the images and the clips, this was perhaps the hottest Femdom cam session I have experienced.  What an amazing woman Goddess Stella is.  You owe it to yourself to contact her and arrange one for yourself.  Trust me, you will LOVE every second of your descent into addiction! |
Feed your growing addiction for Goddess Stella Sol by following these links: