With a firm word, she had me into position.  "Kneel!" was all Goddess Sonia needed to say to set the tone for a remarkably sexy cam session for this very lucky slaveboy.  Goddess Sonia is a woman not to be underestimated or taken for granted.  From my knees, she showed me why so many men fall before her, her beauty and sensuality tinged with cruelty an intoxicating mix.  I was transfixed by how easily she commanded me and did exactly as I was told.  Goddess Sonia is a woman you do not wish to disappoint, both because you worship and adore her, but also because you fear the outcome should you disobey.

As she granted me permission to stroke, I could barely hold back with her stroking her hands up and down her perfect ebony skin.  I love Dommes of all colours and creeds, but there is no denying that bowing before a powerful Black Goddess is something I will never forget or stop craving.  With her black boots and leather, Goddess Sonia was everything I could desire and so much more.  I obeyed her commands to stroke and stop.  I did exactly as I was told, and was rewarded with a simple "good boy" which nearly melted me.  Her voice is soothing, yet stern, and her every command had me scrambling to obey.  And when she revealed her magnificent black strapon she promised to use on me, I was spellbound!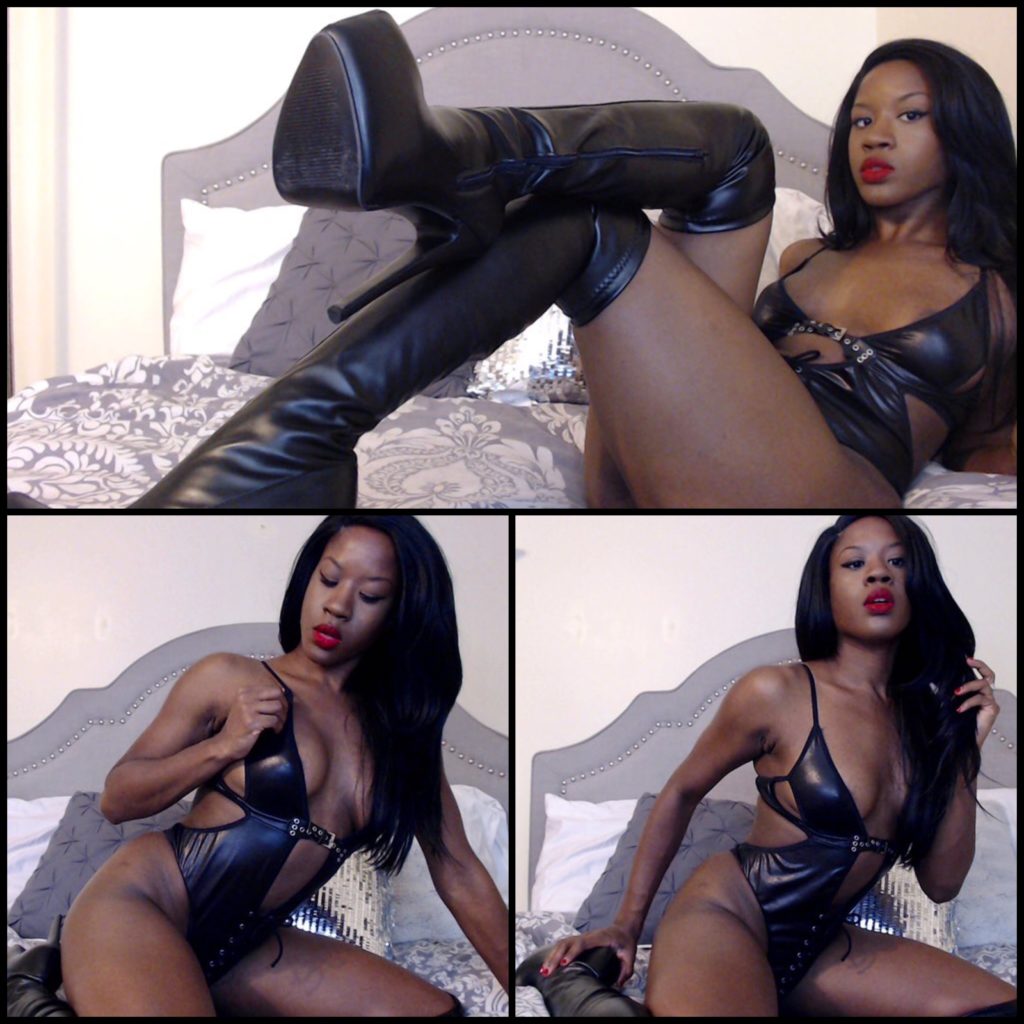 Slowly, deliberately, she stroked her hand up and down the shaft of her mammoth sized black strapon cock, as I gasped.  "Beg for it, bitch!" she said sharply and I began mumbling about wanting her cock and begging to suck on it.  She ensured that I had a dildo present for our session and I was to begin sucking it as she thrust her hips forward into the camera and simulated fucking my throat.  "Swallow it deep until your throat hurts, slut" she commanded, and I did so until I gagged repeatedly.  Goddess Sonia seemed to greatly enjoy my struggles sucking that big black cock, something I have no doubt she's enjoyed in person with many desperate men.  She spoke of how much she'd enjoy "opening me up" with her cock, and had me turn my attention to dildo fucking my own ass.  She told me I was not to be gentle…"I'm never gentle", she even said.  I trembled as I imagined this perfect Black Goddess shoving her huge BBC strapon deep into my ass hard and fast.  She would make me her bitch in no time, and I was to take every inch.  With my ass stuffed properly like a little slut, Goddess Sonia decided after some deliberation that she would allow me to cum while clenching down on the dildo.  "Cum the only way you'll ever be allowed with me, slaveboy, with a huge cock in your ass!" she said as she pushed me over that edge I'd been riding for seemingly forever.  I was shaking after I came and couldn't speak for a moment.  When I finally did, Goddess Sonia reminded me that now that I had tasted and been fucked by her cock, I was officially hers.  I offered no resistance and simply nodded in acquiescence.  When a woman as powerful and perfect as Goddess Sonia marks you as her property, you simply say "Thank You Goddess".

Ever since our interview, I'd been thinking ahead about a session with the very beautiful and dominant Goddess Sonia.  She is truly intoxicating to interact with and I loved every second of this session.  She blends the perfect mix of seduction and wickedness, leaving you aroused beyond belief, and terrified of disobeying her in any way.  With the feelings she evoked in me simply on cam, I can only imagine what a visit to her dungeon in Atlanta might be like.  I can tell you this, I will be thinking about this session for a very long time, throbbing and clenching my ass as I do! Thank you Goddess Sonia for making me your bitch…it is truly an honour!

| | | |
| --- | --- | --- |
| | Score  /10 | Comments |
| Ease to arrange | 10 | It was very easy to contact and arrange a session with Goddess Sonia.  No issues whatsoever.  She was professional and flexible. |
| Cam connection & sound |  10 | All her perfection in hi-def and her voice haunting my dreams.  Crystal clear and everything I wanted. |
| Appearance of Domme | 10 | So beautiful, so powerful and so sensual.  I was mesmerized from the moment we began until the session ended. |
| Willingness to accept input | 10 | I requested that Goddess Sonia wear her signature black boots and perhaps weave her strapon into our session.  She took it from there and made it perfect 🙂 |
| Price | 10 | Non-rushed, and very good value for the type of erotic dominance that Goddess Sonia brings to her sessions. |
| Overall satisfaction with session | 10 | Every day I think about this session and how badly I want to do a follow up.  Does that answer the question? Very satisfied and then some! |
Feed your growing addiction for Goddess Sonia by following these links:
Application to Serve Goddess Sonia