At Fetcon 2017 Mistress Taylor Knight decided to have a little contest.. She had so many girls that have been asking to be Taylor's Angels for sooo long… We all know that to become a Taylor's Angel you must go through 3 hazing process.. So when Mistress Taylor Knight came back to Her hotel after walking in the muddy, wet park Her feet were super muddy. Mistress Taylor Knight was like WTF She is not cleaning Her feet on Her own.. Then a light bulb went off, and She said HEY… Call a couple of the girls over that have been begging to be Taylor's Angels. If they can lick Her feet clean, Mistress Taylor Knight will allow them to go on to the next hazing process.. So We called Maria & Lizzy over. Not only were they so happy to be there but they REALLY REALLY enjoyed licking every bit of MUD off Her feet! Here them moan in excitement and swallow the mud as they beg and beg to become an angel..
This is a must buy clip for Mistress Taylor Knight's Addict, Foot Fetish lover & all around girl worship fans!
You can buy this amazing clip on the video store of Mistress Taylor Knight.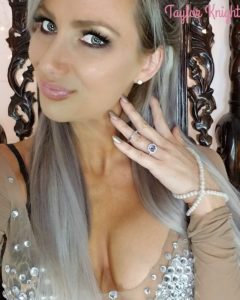 Goddess Tangent & Goddess Jasmine Mendez
Goddess Tangent has found a cute little maid for Her and Goddess Jasmine Mendez to play with. Goddess Tangent little slut maid is Natalie Mars a cock hungry TS slut who is currently in chastity. Goddess Tangent and Goddess Jasmine Mendez start by shoving their cocks in their sluts mouth, making her jerk and suck at the same time. The Goddess's want both of her slut holes filed so Goddess Tangent bends over Natalie and shoves Her BBC in her ass. Goddess Jasmine Mendez makes sure the slut has a cock in her mouth while she is fucked by Goddess Tangent. Goddess Tangent loosens Her sluts ass by shoving four fingers in her asshole getting it nice and stretched while she continues to suck on Goddess Jasmine Mendez's cock. Goddess Tangent gets Her sluts ass all stretched out then goes back to fucking her ass. The cock hungry slut eagerly sucks on Goddess Jasmine Mendez's cock while Goddess Tangent pounds her asshole. After the Goddess's are done filling up their new maids holes Goddess Tangent and Goddess Jasmine Mendez decide to keep the slutty maid.
Wanna know more?
Buy this clip on the video store of Goddess Tangent.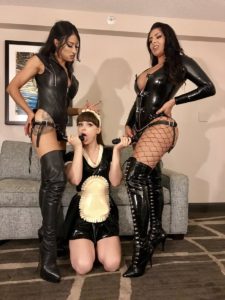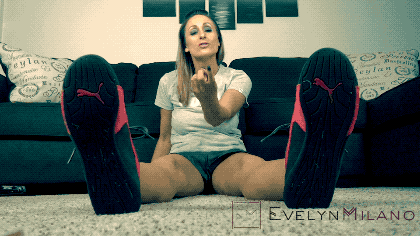 These shoes have touched more foreign soil than you will ever be, loser. They've climbed mountains. What do you do in your pathetic life? Oh, you just worship feet. Lick the foreign dirt off Mistress Evelyn Milano's shoes, and smell Her stinky socks, it's all you're good for. Worshiping something more valuable than your own life.
This clip is a total treat for Shoe Fetish & Femdom fans!
Download this clip on the video store of Mistress Evelyn Milano.
Just compare Mistress Karina to you… She is hot, young, and so powerful She can wrap you round Her little finger and begging to spend on Her! You, on the other hand- are old, repulsive, and spend your life jacking away to girls like Mistress Karina who are superior in every way!
Now be a good slave to Mistress Karina and buy this exciting clip from Her video store.
It's really very simple. Whatever Goddess Dommelia wants, She gets. It's always been that way. Goddess Dommelia knows how to get Her own way. And nothing's changed. You can't say no to Her, can you? Of course you can't… Look at Her. Goddess Dommelia is perfect.
Increase your addiction to Goddess Dommelia by downloading this clip from Her video store.