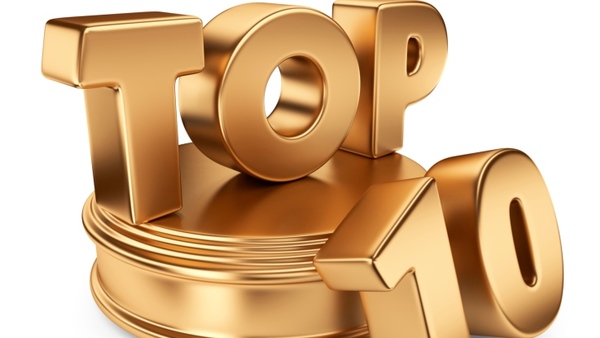 A huge thank you to all slaves and Dommes who submitted pictures for this feature.  All the images you see below were submitted to me via email and Twitter.  Out of nearly 100 submissions, I have selected and ranked the 10 you see below into the list in this feature.  Obviously the selections are highly subjective, as one may see something in a picture that another may not.  It's all in fun and with the intention to promote Femdom as THE way of life.  All the beautiful Dommes you see in these pictures, and many others not featured here, are superior to us and deserve our servitude and worship.  I've linked each Domme in these images via their Twitter feed.  If you're not already familiar with them, check them out and enjoy how amazing they truly are.  Thanks to all who helped to promote this feature via Twitter as well.  Enjoy the images that make it abundantly clear why we kneel and worship like the slaves we are. 
#10 – Featuring Mistress Natalie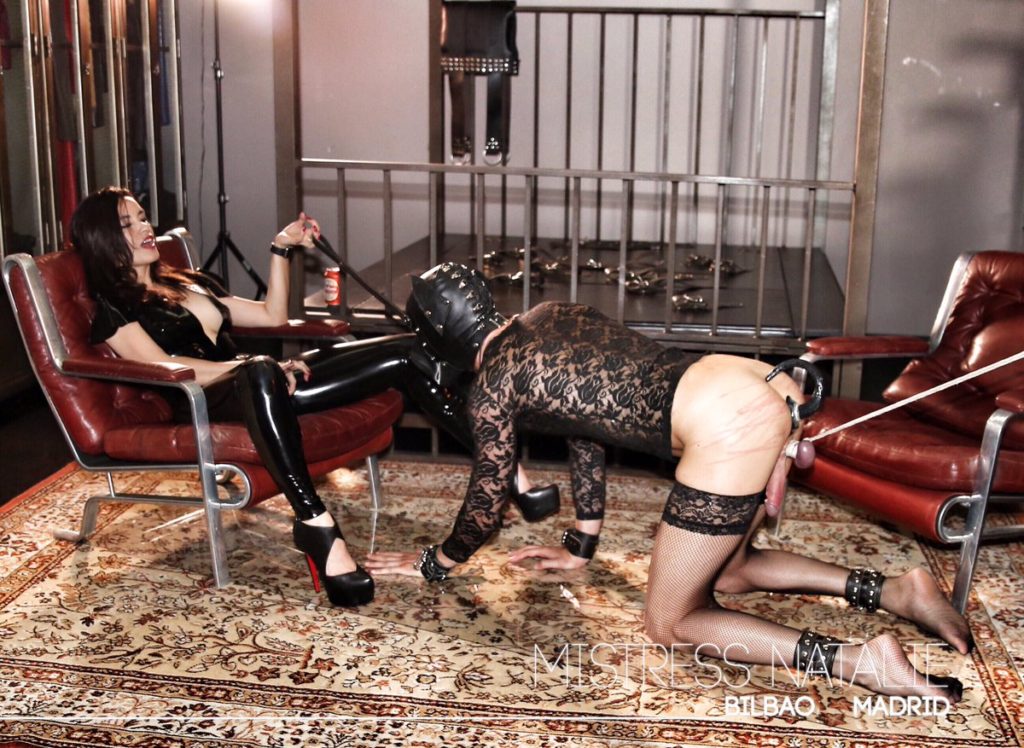 So much is happening in this image featuring the gorgeous & cruel Mistress Natalie.  With an inflatable butt plug in his ass, his cock and balls tied tightly, slave is teased with her pussy as Mistress entices him to pull at his rope, stretching his cock and balls.  Dressed in sexy black latex and showing her perfect cleavage off,  Mistress Natalie looks amazing.  Her slave is crossdressed in stockings and lace, face covered in a leather mask.  You can almost hear Mistress Natalie teasingly exhorting him to reach further for what he wants so badly.  So close…yet always out of reach. Tease and denial has never hurt more, or looked hotter!

#9 – Featuring Mistress Lexi Sindel & Mistress Cybill Troy

Either Domme by themselves would be breathtakingly beautiful and overwhelming, but together, the duo of Mistress Lexi Sindel and Mistress Cybill Troy are stunning.  Blonde vs Brunette, latex shining over perfect curves as both Dommes show off their substantial cleavage.  The look of superiority and power tells the viewer they are going to do whatever they wish and you'd better brace yourself.  These Goddesses love to play rough, and tonight they have you in their sights.

#8 – Featuring Princess Rene

The combination of the bratty look on Princess Rene's face, and the homewrecker wording in this Findom themed meme make it stand out so nicely.  Princess Rene is a woman who always gets what she wants, and one glimpse of her perfect beauty and entitled brattiness shows you exactly why.  Look into her eyes and try to imagine saying no.  I didn't think so. No matter the cost to your bank account or marriage, you'll always say "Princess Rene I will obey".
#7 – Featuring Goddess Ezada Sinn & Goddess Jasmine Mendez

Two of the most sought after and elite Dommes together make this picture an automatic in this feature.  Dressed head to toe in skintight black catsuits and boots, Goddess Jasmine and Goddess Ezada are stunning.  They show curves that will leave your mind swimming and your knees weak.  Look at the sly grins on their faces and you know they have something wicked and unimaginably teasing in mind for you.  It will hurt, frustrate and financially drain you…and you'll ache for more!

#6 – Featuring Mistress T

Mistress T is one of the most beautiful Dommes I've ever had the privilege of seeing in person.  She is sensual and demanding.  She blends eroticism with cruelty in ways you simply have to experience to understand.  The view from your knees, looking up those knee high boots and stockings is just the beginning.  Has Mistress T caught you, a lowly slave, drooling over her spectacular ass? Is that why she looks like she's going to make you pay a severe price? Or perhaps she's just feeling like it's time to introduce you to an even thicker strapon than you've ever experienced.  Whatever she has in mind, she's very clearly in absolute control and we wouldn't have it any other way. 
#5 – Featuring Goddess Jessica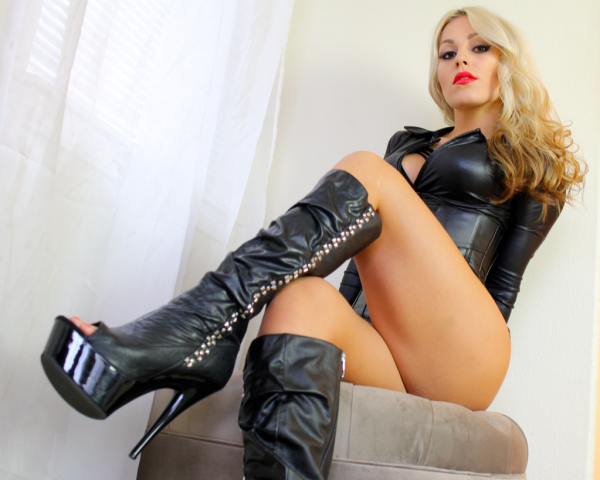 Of all the many pictures of the remarkably beautiful Goddess Jessica I've seen, this one always stood out.  So when it was submitted, I had little doubt it would find its way into this list. Flawless from head to toe, Goddess Jessica in black leather and boots will leave you trembling.  Add to this, the kneeling perspective in the image and the look of absolute domination and control on Goddess' beautiful face and you have a stunning Femdom image.  I can never get enough of Goddess Jessica pictures, but each time I see this one I find myself wanting to fall to my knees.  Anyone else feel that, or is it just me?

#4 – Featuring Mistress Nikita

Everything about this image makes me want to serve Mistress Nikita in session.  The shiny black latex hugging her spectacular body is enough to make a slave ache.  Those long red nails, sharp enough to leave marks no man could explain away to his wife, and that long raven coloured hair make Mistress Nikita one of the most beautiful Dommes of all.  Looking at the expression on her face, it becomes clear who she is and what she stands for.  She is in absolute control and slaves will break for her as she wants them to.  You may think you have limits, but Mistress Nikita will find your weakness, probe it and break you down until you're the perfect little bitch for her.  Look into her eyes…do you doubt you'd break?

#3 – Featuring Mistress Mandy Flores

The ring of candles make the worship almost ritualistic in nature.  And perhaps as Slave X bows before his perfect tormentor, Mistress Mandy Flores, it is a ritual of sorts.  Showing both adoration and absolute submission, her worshiper bows at her feet.  The dungeon lighting is perfect as the black boots and shiny dress hug Mistress Mandy's perfect curves.  The Slave X series of clips was precedent setting in both Femdom and legality, and seeing a slave completely broken by his superior in every way makes this image capture truly special.  I can't imagine any man who could resist breaking under Mistress Mandy's relentless blending of sensuality and physical dominance.  And really, why would you want to resist such a perfect beauty?

#2 – Featuring Mistress Brittany Andrews

The Queen of Femdom, Mistress Brittany Andrews, holds tight with the 2nd place picture submitted.  Those perfect breasts and blonde hair, that gorgeous face as she straddles her slave, bald pussy enveloping his mouth and nose.  What man wouldn't submit to such raw sexual power? Mistress Brittany's overwhelmed slave's outstretched hands and arms as he desperately tries to breath show just how serious Mistress is when she facesits a slave.  Having had the pleasure and terror of experiencing facesitting myself, I know how pleasure turns to panic in an instant as you realize the wet smooth pussy you've enjoyed the taste and scent of is cutting off your vital supply of oxygen.  In this office scenario it's not clear if the slave is supposed to be the boss or an underling. What is abundantly clear is that as Mistress Brittany smothers him with her beautiful pussy, she's in total control.  Now being completely honest, is there any man reading this who wouldn't willingly trade places with this lucky bastard in an instant? I didn't think so!

#1 – Featuring Goddess Ezada Sinn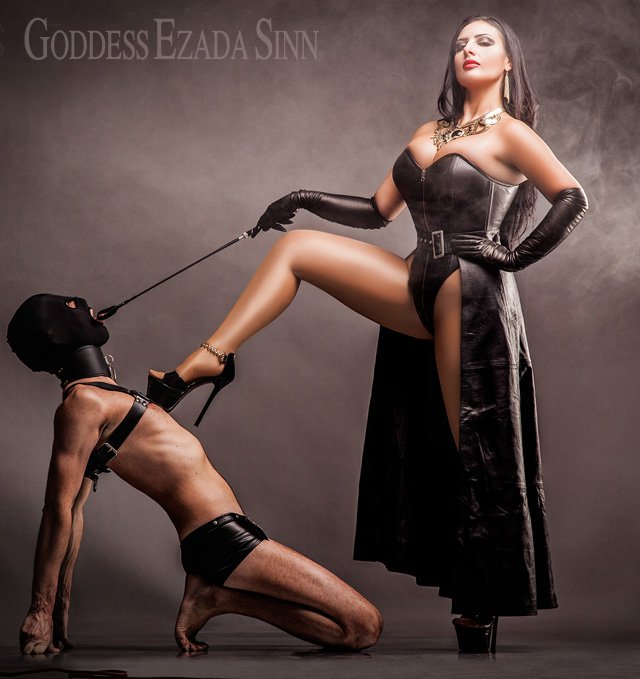 Goddess Ezada looks breathtakingly beautiful in this top rated image.  Her high heel pressed against her slave's chest as he knees awkwardly and kisses her riding crop.  Goddess wearing a sexy long black leather coat, open enough to show off her gorgeous long legs and the corset top shows offer her legendary cleavage too.  Her face tells you everything you need to know…men are her toys to control and own.  You want to be owned by Goddess Ezada Sinn after seeing this picture, don't you? You're not alone.  Goddess Ezada is one of the most sought after Dommes, and it's easy to see why.  There are so many amazing Femdom images of Goddess Ezada, but something about this one captures the eye and expresses total control, submission and female superiority.