Dressed in green latex catsuit and thigh high boots. Mistress Athena has this slave on his knees and She is going to allow him the honour of having his dick placed between them and allow him to wank. He is told how to thrust and he is allowed to cum when She says.
Be MISTRESS ATHENA's ADDICT!
You can buy this amazing clip on the video store of Mistress Athena.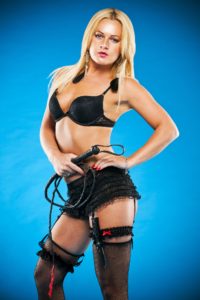 After giving Mistress Gaia's slave a good face slapping. She hooded him and chained him in the kennel where he remained overnight until She returns. Mistress Gaia is going to punish him for disobedience. With Her dressage whip to hand, he's going to feel it's stinging lash as She gives him some lessons in obedience. Mistress Gaia wants him to worship Her feet, and also become Her foot stool. As he receives his training, he will understand the power She has over him. As Her lashes get harder and harder, She continues to make him suffer. She enjoys hearing that swishing sound, as he squeals in pain and Her whip leaves it's mark as a reminder that he will obey Her at all times. He is fortunate to be allowed to enjoy the painful pleasure of receiving the autograph of Mistress Gaia…
Wanna know more?
Download this clip on the video store of Mistress Gaia.
Just a humiliation-free way to worship Mistress Bardot Smith. You know, other than the fact that you're paying to stare of Her dirty fucking feet while She ignores you.
Must buy clip for Foot Fetish & Femdom fans!
Buy this clip on the video store of Mistress Bardot Smith.
You've missed Princess Kaelin's perfect feet so much She thinks you could pop without even touching! Let's test is shall we? Princess Kaelin will keep you riding that edge until She finally lets you explode, hands free!
Increase your addiction to Princess Kaelin by downloading this exciting clip from Her video store.
Mz Kim got some great toys to keep you busy while She is gone on Her date. You're a good cuckie boyfriend, and She is such a slutty girlfriend, but… She is still going out on that date tonight. Mz Kim hasn't forgotten about you, though. She has got a collar for you. With Her name on it, to remind you who's boss. And oh, this butt plug. Yeah. Guess where that's been? Oh, and Mz Kim is going to tie you up to make sure that you focus on the right things… the big cock She will be getting while you sit at home.
A cuckold POV video to make you drool!
Know more by buying this clip on the video store of Mz Kim.