Plump PERFECTION. Goddess Crystal Knight's pucker make you want to jerk doesn't it? Her luscious lips make your dick hard and your imagination wanders. You fantasize constantly about how hot it would be to cum all over Her pretty lips. Sculpted to perfection from every angle. Goddess Crystal Knight smiles and these flawless white teeth lure you in deeper. She has the lips of a Goddess and you're going to pretend you get to cum hard ALL over them today!
You can buy this amazing clip on the video store of Goddess Crystal Knight.
Goddess Carly & Mistress Karina
Two powerful women in glossy, fully fashioned stockings, it's almost too much to handle for an inferior bitch like you? Their long legs, pointed heels and tight leather dresses accompany their divine stockings so well. Goddess Carly & Mistress Karina will have you on your knees, drooling and stroking your pindick for them.
Download this clip on the video store of Goddess Carly.
Goddess Stella Sol enjoys making men so weak for Her that they can't focus on anything but making Her happy enough to let them cum. This video will seduce you and make you a Goddess Stella Sol addict. She instructs you on serving Her as your Queen, encouraging you to jerk off slowly to start and then more and more until She decide it's time for you to pop. Goddess Stella Sol shows you Her beautiful, round, naked, perky tits to make your cock and balls rage with passion and desire for Her beauty.
You will love this video and will find it impossible not to play again and again!
Buy this clip on the video store of Goddess Stella Sol.
You know what you are deep down..a SISSY! You love Queen Carly and you want to be like Her and She is giving you the opportunity to dress you up and do your makeup! That's right.. you're going to turn a lot of heads on the streets tonight and you're going to suck a lot of dick. Exactly what you wished for. Mmm now let's get started Queen Carly's little sissy slut!
Now be a good sissy to Queen Carly and buy this exciting clip from Her video store.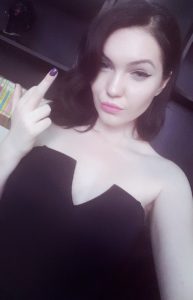 Goddess Prima makes Her slave inhale Her vapor, covering him & filling his mask with dense clouds of opulent white smoke. Men wish they were so lucky… so close to Her lips–but knowing that this is as close to Her lips as they could even dream of getting. Hear him hit sub-space, breathing in Her air, Her breath, Her smoke. Did you know you could feel just as high as him, just watching? Just wishing? Let your eyes roll back like he did, let yourself relax, let yourself fall into a trance watching each big cloud. Lose yourself in Goddess Prima's smoke. Lose yourself in your dreams of taking in what She has exhaled.
You can buy this clip on the video store of Goddess Prima.