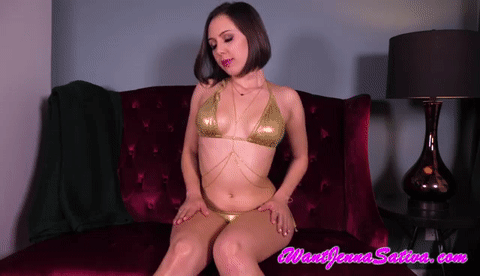 Goddess Jenna Sativa loves all the pretty things that decorate this gorgeous body. She hopes you brought Her a gift like a good boy. Thats the best way to serve your Goddess. You love to see a smile on Goddess Jenna Sativa's face and make Her happy. Nothing brings you greater satisfaction. Bow down, pay, and worship.
You can buy this amazing clip on the video store of Goddess Jenna Sativa.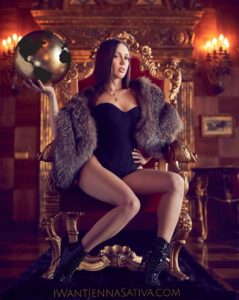 Miss Raquel Roper has had you locked up in that cage for so long. It feels like eternity. The slightest gesture, motion; sends you over the edge when you've been denied for so long. Exactly how She likes you. It takes little effort, to make that cock throb & fight it's confinement. The sight of Her natural cleavage causes your eyes to lock onto Her chest, unable to free yourself. Miss Raquel Roper enjoys using this weapon against you. Causing you distress, further sexual frustration as She slides a slender finger up & down Her cleavage. Your heart beat quickens as She bounces Her natural perky tits up and down, squeezing them together. You feel your face grow flushed, along with your trapped cock that finds itself in pain from the sight. Though you can't look away. You're helpless.
Increase your addiction to Miss Raquel Roper by downloading this clip from Her video store.
Experimenting with Princess Lizzi Blake's clamps, paddle, and Her hitachi, She teases you in Her fishnets and heels… Princess Lizzi Blake is a kinky for you in this video 😉 See how long Princess Lizzi Blake can take the Torment before She is begging you to let Her cum for you.
Know more by buying this clip on the video store of Princess Lizzi Blake.
Goddess Nichole Abrams knows how badly you have been wanting to do this for Her… You want to be Her good, naught fagg0t and cum all over your face for Her.. make a mess for Her. Goddess Nichole Abrams wants you to do this. She will make you do this. Goddess Nichole Abrams wants to see the cum smeared on your face and some on your tongue.
Now be a good slave to Goddess Nichole Abrams and download this exciting clip from Her video store.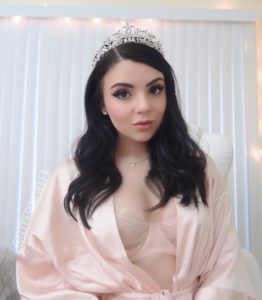 So you like luscious, sultry lips? Sit back, relax and focus on Goddess Anika Fall's lips, as She tells you that She knows how much you love them, and what you want to do with them. Let Goddess Anika Fall's lips drive you crazy & explode all over them!
This clip is a total treat for Lip Fetish & Femdom fans!
Buy this clip on the video store of Goddess Anika Fall.