Does Princess Bratty Nikki's legs make your heart beat faster? Good. She wants you to let the rhythm of Her sexy legs and mesmerizing voice go straight to your head. This is a long legs love spell, deepening your devotion to Her incredible legs. You must go deeper. You must obey Princess Bratty Nikki's perfect legs.
You can buy this amazing clip on the video store of Princess Bratty Nikki.
Typical male…. we are on a date and you keep staring at Miss Roxana Rae's tits! It's so rude! You can't even hold a conversation with Her without your dick getting hard. Miss Roxana Rae is so sick of your male ego that She is going to spend the rest of our date mesmerizing you to be Her slave and reprogramming your mind to do whatever She says when you hear your trigger word….. AssKisser!
Wanna know more?
Download this clip on the video store of Miss Roxana Rae.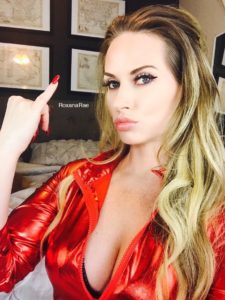 It's been a great 25 days of Christmas! Princess Natalya loves all the presents and She just can't get enough! Today, She is going to open a holiday gift from one of Her fans. Princess Natalya has an interesting reaction to the present. It might not be the reaction you expect. Princess Natalya admits, She is a very greedy girl. Princess Natalya will never be satisfied, and She will never have enough things. You might think that Christmas is about tradition, or family, or something stupid like that. Well, it isn't. Christmas is about the presents. And your job this holiday season (and always) is to give Her, your Bratty Princess, lots and lots of gifts to keep Her happy.
Now be a good slave to Princess Natalya and buy this exciting clip from Her video store.
It's Goddess Ava's favorite time of the year. She loves December. Lets put that Christmas bonus of yours to good use with a nice HARD pay to view drain. Don't know what that is? Well IWantClips has this amazing messaging option where Goddess Ava can CHARGE you to open up messages, pictures, etc. The options are endless. In honor of the holidays, Christmas and New Years we are going to drain you extra hard. Imagine how hot it will be… literally watching as She takes your hard earned money… one message at a time. Teasing you with pictures…with messages. Your instructions are simple, you are going to watch this clip & message Goddess Ava RIGHT afterwards asking Her to drain you. Then you will patiently wait to open Her response. Goddess Ava doesn't want you thinking about the money you are spending… the only thing you will think about is making Her happy & horny…
Strat spending by downloading this clip on the video store of Goddess Ava.
This is a sequel to "Melting Your Mind" that trains you using implanted, verbal triggers to push you into a deeper hypnotic state. Your last session with Princess Camryn has knocked something loose. You have been wandering in a daze. Was it real? Was it all a dream? Yet you find yourself here again.
Increase your addiction to Princess Camryn by buying this clip from Her video store.