Goddess Riley Reyes knows you like Her tiny short shorts. It doesn't take much to get you going and seeing Her perfect ass in these tiny denim shorts is what you want most.Well She is going to need you to be a good boy first and hand over some ca$h. You're too desperate to say no!! Look how closely they hug Her curves and ride up Her butt crack. It makes Her ass look so good that you want to stroke and pay your Goddess! Goddess Riley Reyes loves making you so horny and desperate to please!
You can buy this amazing clip on the video store of Goddess Riley Reyes.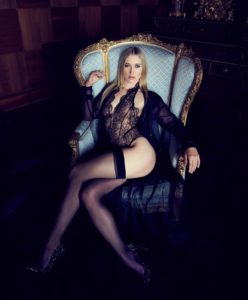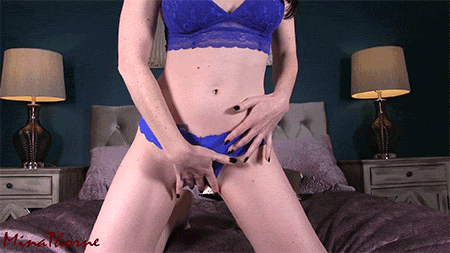 Hello panty perv, Goddess Mina Thorne knows you desperately want to worship Her panties that press so close to Her pussy. One thing you want that you can never have. It just makes it so much easier to tease you with because Goddess Mina Thorne knows how badly you want to be so up close and intimate with Her. Goddess Mina Thorne never allows slaves to worship the most intimate parts of Her body, but that tease and denial only amplifies your desire and desperation.
Wanna know more?
Download this clip on the video store of Goddess Mina Thorne.
Shiny ass drives you insane, try your god damn hardest not to get overly excited with this gif. Goddess Jasmine's pantyhose clad ass, legs and feet will drive you wild like nothing else ever has. Clinging to Her curves, tempting you deeper into addiction, getting you so hard that you could cum without even touching yourself. Did you really think that Goddess Jasmine could captivate your mind like this? Go on, stare at Her as She lures you deeper. Get hooked on Her pantyhose clad body. It makes you feel good right, so let it take over your thoughts and your strokes. This is for sure to drive you wilder than any of your dreams.
Increase your addiction to Goddess Jasmine by buying this exciting clip from Her video store.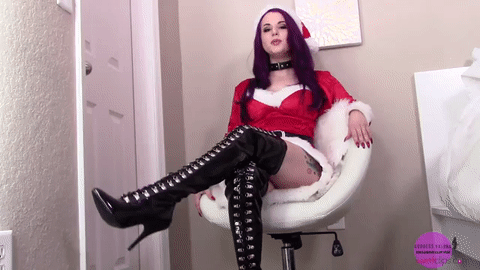 Goddess Valora is here to make sure that ALL you want for Christmas is to spoil Her! She knows that companies have you thinking you need to be buying gifts for everyone, but in reality, you need only buy for Her. Your one job on this earth is to make sure Goddess Valora is taken care of. Give thanks that you have such a divine Goddess and pay your loser tax!
Start spending by downloading this clip on the video store of Goddess Valora.
Princess Natalya has had a really bad week. She decides to kick Her slave in the balls to make Herself feel better. Princess Natalya makes the slave strip out of his clothes. Then, She lets him out of chastity so that She can kick him. Even though the slave knows that it's about to be in agony, it is still eager for release from chastity. Princess Natalya has had him in there a very long time.
Now be a good slave to Princess Natalya and buy this clip from Her video store.