You're an attention starved virgin loser, aren't you? So desperate in your actions. Dressing up as a sissy, spending obscene amounts of ca$h, fucking your ass on cam, posting humiliating selfies, sucking dildos and more! You'll do ANYTHING for Princess Ellie Idol's attention!! You're such a fucking LOSER!
You can buy this clip on the video store of Princess Ellie Idol.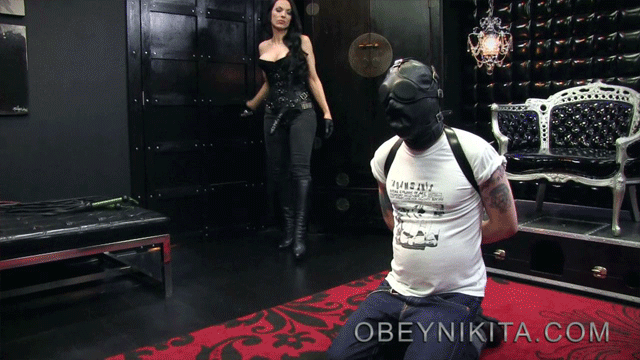 It was time to give Mistress Nikita's new import fuck hole a test drive. First, a little caning to make it feel at home and comfy and then a little fucking. Mistress Nikita is sure this wasn't the first time it shoved something up there, but it would be the first time Her cock plunged in… if it could! Its hole was so tight Mistress Nikita couldn't even coerce Her favorite dick past the outer edge. It should have known that everything is bigger in America! Mistress Nikita decided it wasn't getting off that easy, so She downsized… just a little… and went for it. There's nothing worse than a whore-boi that can't accommodate whatever She might want to shove in it. This was just the first step in training it to open up like a good little slut!
Know more by downloading this clip on the video store of Mistress Nikita.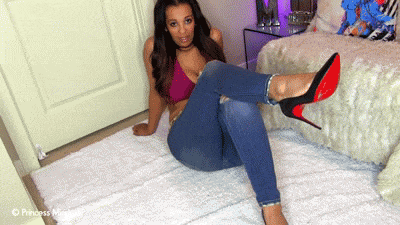 First Princess Mindy wants you to lick Her christian louboutin pumps… then She wants you to kiss each of Her toes, then you're going to lick the toe sweat off from in between Her toes and then you're going to repeat the process over and over and over… making you Her utter and complete foot bitch! Princess Mindy looks so snobby and sexy in Her tight jeans and little top… She is so curvy and exotic and clearly way too good for you – you're sooo lucky Princess Mindy is turning you into Her foot bitch!
Foot Fetish & Femdom fans will love this amazing clip!
Buy this clip on the video store of Princess Mindy.
Is this your hundred? Or is this one it? This one too? WRONG! It belongs to Goddess Valora now, bitch. All Hers. Looks like you have a little problem, huh? Here you are throwing money at Goddess Valora and here She is gloating about how broke you are now. That sounds like a problem. You know what Goddess Valora does about your problems? SHE MAKES THEM WORSE! Keep falling into this deep debt hole, loser! She is going to be laughing and rolling around in the money that you USED to have. HAHA!
Start spending by downloading this clip on the video store of Goddess Valora.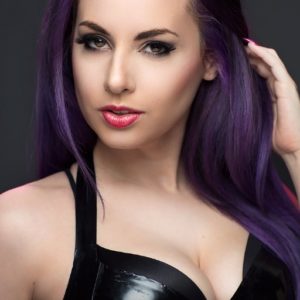 In this clip, Spoilt Princess Grace will explain how you're to approach Her if you want to become Her slave. Most importantly is of course a tribute, you don't exist to Spoilt Princess Grace until you do, so ensure you tribute Her, there and then not only on Fridays. You have to be of use to Spoilt Princess Grace, and earn your slavery. And ensure you worship and promote Her on social media.
Now be a good slave to Spoilt Princess Grace and buy this amazing clip from Her video store.
Miss London Lix knows you want to touch yourself for Her. It's so blissful to have Her here before you, clad in sexy stockings, garters, lace lingerie…a beautiful woman taking control of your cock, making you ache and drip. Miss London Lix wants it too, but She is putting a little JOI game spin on today's orgasm control session. Miss London Lix is going to set a timer for 18 minutes, and She is going to roll this dice. The number on the dice determines how many minutes of stroking you get…or not. You see, if the number is odd, it's hands off for that many minutes. Only on even rolls of 2, 4 or 6, will you be permitted the corresponding number of minutes of wanking. How much stroking will you get altogether? Will you be sat on your hands as your hard dick twitches? Will you be able to cum by the end of this long edging session? Will Miss London Lix follow Her own rules or play Her own mind games?
Only one way to find out is by buying this clip…
Download this clip on the video store of Miss London Lix.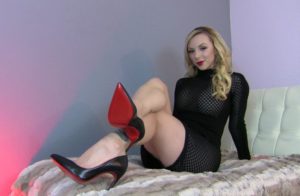 Goddess Amanda is your new Goddess and you live to serve Her, worship Her and do as you are told. Begin paying your tithes to Goddess Amanda. She gives your life purpose, happiness and fulfillment. You will thank Goddess Amanda every morning when you wake up, thank Her every night before bed and worship every moment that you can.
Increase your addiction to Goddess Amanda by downloading this clip from Her video store.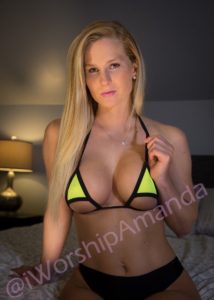 Goddess Stella Liberty & Princess Star Nine
Princess Star Nine and Goddess Stella Liberty met at AVN in Las Vegas a few months ago and worshipped one another's feet on stage for a demonstration of foot fetish. They connected right away and decided to meet up back in their home town for a day of foot play and video production. Watch them for the first time on film together as they candidly discuss their meeting while worshipping each other's nylon feet and legs. Watch Goddess Stella Liberty suck Her and Princess Star Nine's toes at the same time. Looks like it will be a very exciting day ahead!
This clip is an absolute treat for Foot Fetish & Femdom fans!
You can buy this wonderful clip on the video store of Goddess Stella Liberty.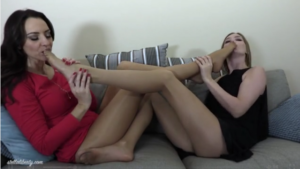 You are a weak, small, little man with one use only – to worship the one true Goddess. The feeling you experience when you are in your rightful place makes you so thankful. Today we are going to discuss your view from below. How the view of Goddess Saffron's powerful designer heel sends shivers down your spine. How the feeling of Her heel going deep to the back of your throat makes you harder than ever. Yes, that's right, how your teeny weener throbs with delight at every glimpse of Her overpowering presence. Oh you lucky slave. Today you are going to get licking. You are going to get licking clean the soles of Her divine shoes and gag on Her dangerous heel. Goddess Saffron is going to grind you down into a little nub. As your pleasure intensifies, the weaker you get, round and round in a vicious circle you go. Eventually you will be so weak, that you will be begging to give yourself to Her completely.
Wanna know more?
Buy this clip on the video store of Goddess Saffron.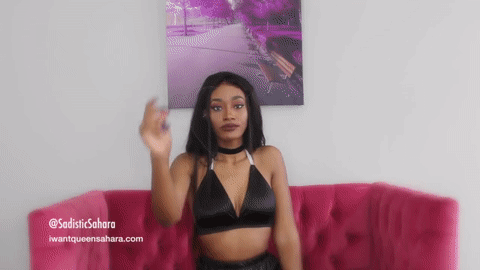 It's no secret that you would literally anything to please, amuse, and entertain Queen Sahara. Today? She wanna have some fun. Domination is all about giving up total control and exchanging power. Today is the day Queen Sahara breaks you the fuck down and turn your brain to mush. Today you'll be confused, yet come to your senses. By the end of this mind fucking clip it'll all make sense.
Come play with Queen Sahara!
Download this magnificent clip on the video store of Queen Sahara.