The moment I first laid eyes on Miss Sydney, I knew I was hooked.  She came to the door of the apartment building in a short top that clung tightly to her breasts and showed off her taut stomach.  Her cutoff jean shorts were so short, had she walked any further out of the lobby of the building, traffic accidents surely would have ensued.  Even in casual civilian clothing, Miss Sydney is devastatingly beautiful.  Few women actually look even more gorgeous in person than in their videos and pictures, but I can say that I was blown away by just how beautiful Miss Sydney is.  As I followed her to the dungeon suite, I will confess, my eyes wandered down to her world-class derriere and I was hard in an instant.  I don't think that condition ever subsided until the session ended, and even as I type this, it has returned.  Her manner is friendly and playful, but businesslike as she outlines to me what I am to do.  I am to strip naked, vulnerable, and place my clothing neatly on the chair in the corner of the dungeon.  When I have done so, I am to crawl into the cage she points to and await her arrival as she will be getting dressed.  As I was left alone there, I began taking off my clothing and folding it neatly as Miss Sydney instructed.  Disobeying her was never going to cross my mind.  She is strict, but more than that, she's so beautiful, you'd never want to disappoint her.  As I crawled into the metal cage, I struggled to fit my tall frame into it, but awaited her arrival with eager anticipation.  My heart raced and my cock throbbed as I heard her boots clicking on the hardwood flooring and she entered the room.  Straining my neck to look up, I was astonished by how spectacular she looked.  Her black, shiny, thigh high black boots, black bodysuit hugging her flawless curves, and that wicked smile.  This was going to be unforgettable.  I was in Miss Sydney's world now, and I was hers to do with as she pleased.

We had discussed taking pictures prior to the session beginning to include with this feature, and you will see the resulting images throughout.  With my phone, Miss Sydney snapped the picture you see above as she stood over me, and then proceeded to access my Twitter on my phone and tweet it out.  I believe she captioned the image "taking over this bitch's Twitter today" or something to that effect. Granting me permission to crawl from my cage, Miss Sydney instructed me to take photos of her as she posed.  I can only imagine how I looked, kneeling, throbbing with my cock standing at full attention, naked as I snapped pictures of this amazing Goddess as if I were some kind of photographer.  After checking to see that the images lived up to Miss Sydney's expectations, she announced that it was "time to play".  I was told to crawl over to the chair and I was bound at my neck, arms, thighs and ankles.  With each leather strap she buckled, Miss Sydney teasingly brushed her beautiful body against me.  She leaned close enough to give me the scent of her perfume and she sat on my thigh and let me feel her heat.  I moaned and spoke softly, until the gag was placed in my mouth.  At this point, Miss Sydney noticed that my thoroughly attentive, rock hard cock was leaking precum on the floor.  "You know you'll clean that up, right?", she purred in my ear as she leaned against me and flicked the head of my cock.  Toying with me, I groaned with every touch and when she placed her finger into my mouth through the gag, I hungrily licked my precum from her fingers.  I was spellbound and wanted desperately to please this beautiful Goddess.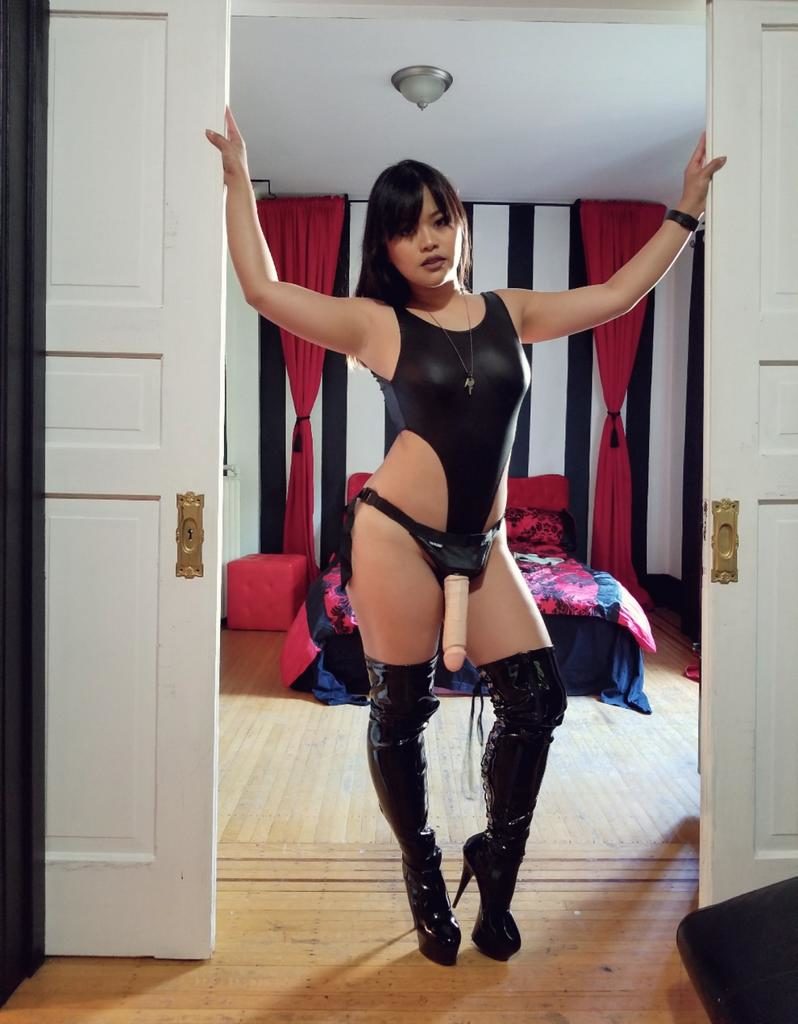 READY TO PLAY LITTLE BITCH?
"You know pegging is a fetish of mine" Miss Sydney said softly as she looked into my eyes.  Smiling, probing, she sensed the fear and excitement in my reaction.  It had been a very long time since my last experience with anal training, so I was naturally nervous and more than a little scared of what she wanted to fit inside me.  "You want to do it for me, don't you slaveboy?" she purred as she lightly stroked my throbbing cock and I nodded eagerly, mumbling "yes Miss Sydney" through the gag.  I was unbound and told to crawl to the bed.  Laying on my back, Miss Sydney erotically pulled on her black latex gloves and put on the first of two strapons she intended to "open me up" with.  With my legs pushed up to my chest, my wrists secured by straps to the bed, Miss Sydney began to explore me with first one, then two fingers.  Each time she pushed deeper, her eyes locked on mine, searching for my reaction.  It was one of the most erotic experiences I've enjoyed.  It hurt, definitely, but she was very persuasive and before long, my legs were pushed up and Miss Sydney was pressing the tip of her black strapon into me.  Slowly, gently and seductively, she pushed in deeper until she was fully buried in my ass.  Pressing there and holding for a few moments, she was so sexy as she spoke to me about how good it feels to have my ass taken and what a slut I was for her.  It was erotic humiliation at it's finest and I loved it.  When she began to thrust in and out slowly, I wanted to take more…wanted to stretch out until the larger strapon would fit, but the pain was too much for me to bear.  Pulling out, Miss Sydney announced that before our next session, she expected me to train and I wholeheartedly agreed.  Already, perhaps in the first instant I saw her, I knew this wouldn't be my last session with this beautiful Femdom Goddess.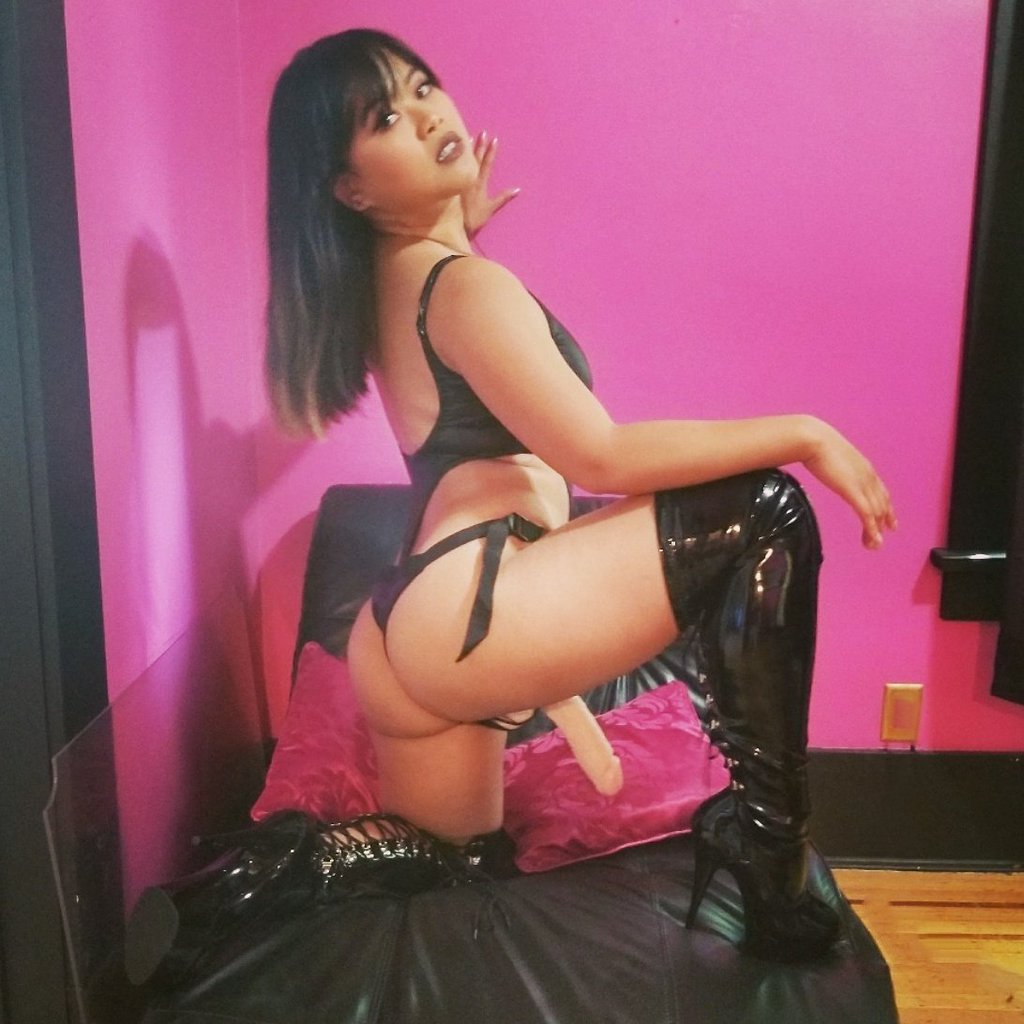 In arranging our session, one interest I mentioned was facesitting/smothering/ass worship and Miss Sydney granted me the greatest two minutes of my life.  After smothering me repeatedly with her absolutely amazing ass until I was gasping for air, she placed her ass just over my face and gave me permission to worship and kiss it for exactly two minutes.  While I did this, Miss Sydney snapped the picture you see below on her own phone, capturing the moment right before she allowed me to surface for a much needed breath.  I know that prior to my session with her, and meeting her in person, I was lustfully overwhelmed by Miss Sydney's perfectly formed, beautiful ass.  Nothing, I mean nothing, compares to seeing and feeling it in person, though.  As I kissed her perfect cheeks, I was in slave nirvana.  I could have stayed there for hours enjoying the privilege she granted me, but Miss Sydney wasn't finished playing with my ass just yet.  There would be no more strapons, but her fingers weren't done exploring this little slut's hole.  Drizzling oil down my still throbbing cock, Miss Sydney told me to stroke slowly.  She slipped her fingers inside me and began to probe my prostate and the feeling was like being turned inside out with pleasure.  As she played, her wicked smile drove me mad and I can still feel the way she looked at me as she fingered my ass.  She lightly humiliated me about being a good bitch and having my ass fucked, and as I stroked, she told me when to stroke and when to stop.  It felt amazing and I quickly built up to that edge of no return.  She made me hold back until I simply couldn't any longer.  With her fingers toying inside me and the hot oil stroking, I was so ready to explode.  With this drop-dead gorgeous Femdom Goddess pumping her fingers in and out of my ass, and stroking my cock, I anticipated the most intense orgasm of my life.  Miss Sydney was more than accommodating as she coaxed me to the edge, having me tell her exactly when I was ready to erupt so she could stimulate my prostate perfectly…at least that's what she told me.  At the moment of eruption, her latex gloved hand clamped onto my cock, her thumb pressed hard against the slit, and with her other hand, Miss Sydney proceeded to ruin my orgasm with two swift punches to my aching balls!!! As she released her grip on my cock, what was able to escape of my orgasm ran disappointingly down the shaft of my pulsating cock.  I have never experienced something so dominant and devastating, but it was the perfect way for our session to end.  It was also completely unexpected, though if I think hard enough, Miss Sydney may have said something offhand much earlier in the session about ruining my orgasm.  That said, I wasn't thinking about it when she did it, and my groans of agony made her laugh at my misery.

As the session ended, I cleaned myself up, dressed and walked with Miss Sydney to the lobby.  She granted me permission to kiss her hand and thank her for this wonderful experience, and we spoke of my next visit to her own dungeon in Seattle.  I look forward to being under her spell again as soon as I can and will be sure to have done some more training for the pegging Miss Sydney so delightfully enjoys of her slaves.  Trust me, pleasing her feels so amazingly good, and my only disappointment of this entire process is my own inability to do more to take her strapon longer and bigger.  I'll be ready to play again soon, beautiful Goddess.  This bitch loves his perfect Asian Goddess and cannot wait to kneel before her again!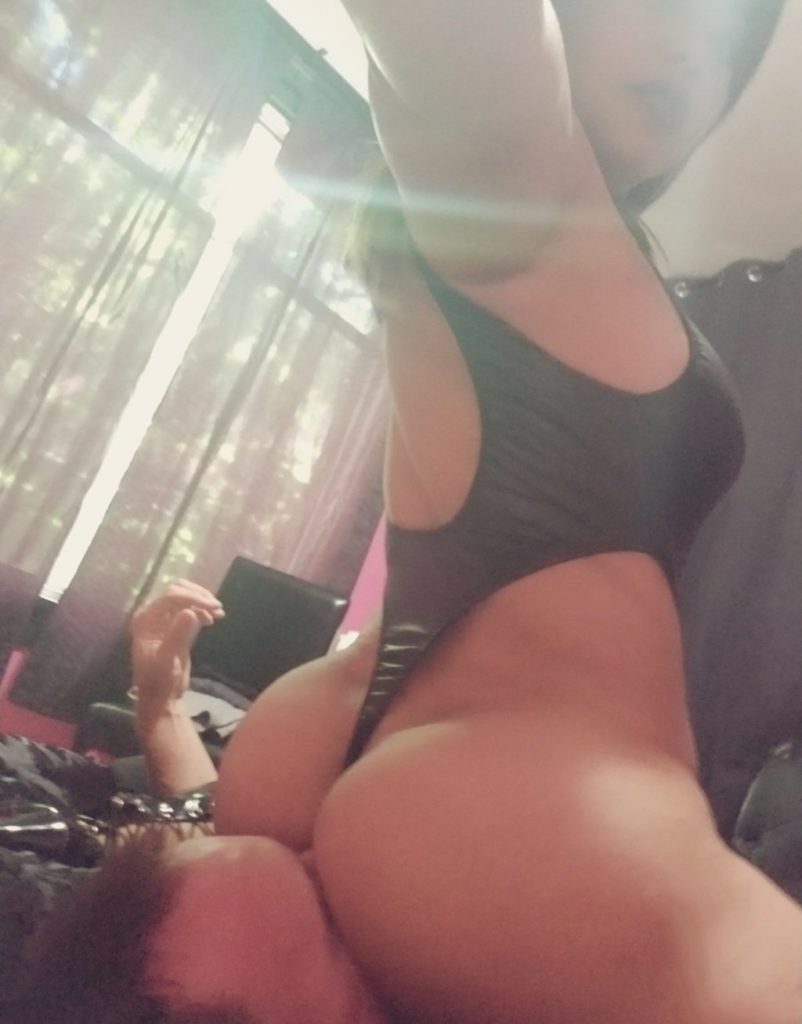 TWITTER: Click here

YOUTUBE CHANNEL: Watch here

VIDEOS: Go here

GET MY NEWSLETTERS: Sign up here
SKYPE SESSIONS: Go here 

WISHLIST!: Sign up here