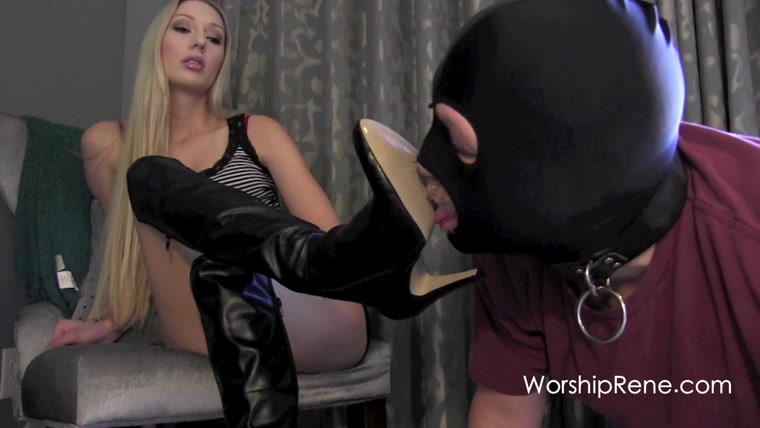 A quick search of Princess Rene's amazing Kinkbomb store, requesting JOI material, renders a grand total of a whopping 378 clips in about .002 seconds…about the time it will take her to take absolute control of your stroking habits! It's not just that she's likely the most perfectly beautiful woman you have ever laid eyes upon, that certainly makes it easier for her to take control, but it's the brilliant ways in which she creates scenarios and games in which she directs your stroking.  Make no mistake, when you buy a Princess Rene JOI clip, you hand over total control to your beautiful blonde Temptress.  You will stroke when she says, how she says and most importantly, you will cum on command, never before permitted.  And with that introduction, allow me to now share some of Princess Rene's finest clips in the realm of JOI.  Trust me, purchasing any of these classic clips will have you aching for more.  No one knows how to direct a man's urges better than this gorgeous Princess!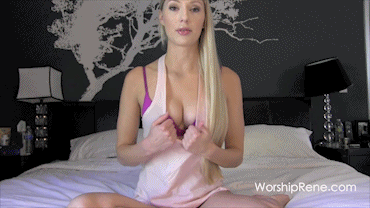 No one turns your jerking off into a playful game quite like Princess Rene can. And in this amazing clip, you will play several rounds of "rock, paper, scissors" against your beautiful Princess. Win and she'll let you stroke, lose and it's "hands off" little pet. Of course, all this play leads up to the ultimate showdown in which you play for the privilege of cumming, or leave frustrated and blue-balled. Are you ready to play Princess Rene's sexy stroking games? You know you win simply by buying this clip, right?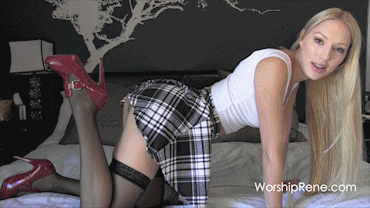 With just the perfect mix of taboo fantasy, humiliation and overwhelming temptation, Princess brings one of the most erotic fantasies to life in this sexy schoolgirl clip. One glimpse of the gif for this clip and you know you couldn't possibly resist stroking to Princess Rene's gorgeous perfect body in her naughty schoolgirl uniform. She's so young and so tempting, and she'll have you wrapped around her little finger as she tells you exactly how to stroke and feel the shame of this forbidden fantasy so many of us share!
She absolutely loves to have straight men jerk off to gay porn just to push their boundaries and take pleasure in the conflict she builds within you. Consider this awesome clip a compromise of sorts. A nice middle ground between straight and gay porn is the focus of today's seriously hot clip as Princess has you jerking off to chicks with dicks. By the time she's done conditioning you, you'll be searching for more beautiful Goddesses with perfect round tits, tight asses and huge cocks just ready to use your mouth and ass like a little bitch! Take out that cock and stroke as Princess Rene encourages you to explore your entire sexual spectrum. You do want to be a good boy and learn new tricks for your perfect Princess, don't you?
What's more exciting than slipping away and stroking your cock when you know you really shouldn't? When you take risks, it excites Princess Rene and it makes your jerking off all that more erotic.  Looking as hot and sexy as she ever has, Princess will have you whipping out that cock and stroking in the most dangerous of places, and you'll beg her for more. Let the thrill of risking getting caught mesh perfectly with the arousal of the hottest blonde Princess you've ever known and know that you'll jerk that dick as furiously as Princess will allow. This may be her hottest JOI clip of all. Are you ready to be sneaky and take a risk for your Princess?
Always creative, she's come up with another game for you and her to play, and this one will literally take your breath away! Forcing you to choose between life-sustaining breaths of air, and the pleasure of stroking to her exquisite beauty, Princess Rene will have your head spinning with lustful desire in this clip. Her little black dress is something to behold, and as she has you jerking off while holding your breath, she will intensify your sexual experience as only she can do. Surrender your cock, surrender your life. Put Princess Rene in control of everything and you know you'll experience pleasure beyond anything you've known. Yes boys, she's that good! This clip is a must buy for any Princess Rene disciple. Trust me, you will LOVE this clip!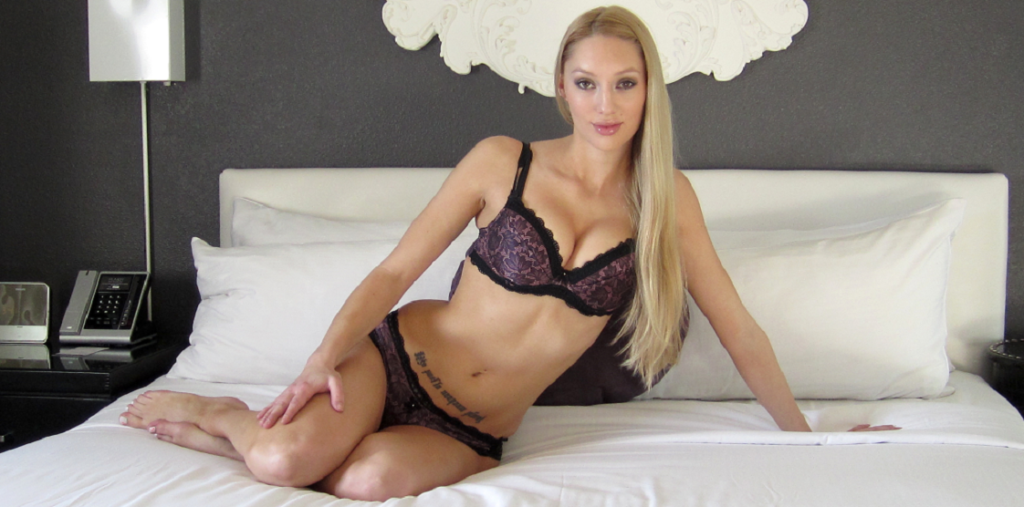 With so many hot clips to choose from, this is simply a hot sampling of what's in store for you when visiting one of Princess Rene's clip stores.  Join her member site for even more hot content and be sure to follow all her links to satiate your desire for more of this spectacularly sexy and beautiful Princess.  There's no one quite like her.  She is the ultimate JOI experience and your cock belongs to her.  Surrender all control to Princess Rene and learn your mantra as her jerkoff zombie: Princess Rene I Will Obey!