Look at Lady Mesmeratrix and give up: this is the only thing your should do. Let yourself fall into seduction, get hipnotised. Giving up is the only rule of our game: you must surrender. There is no return from seduction, no return from hipnosis. Give up, let your self go down until you reach Nirvana. A state of a deep trance, a state of ectasy. Lady Mesmeratrix is your ecstasy, She is your Nirvana. There is no return.
This clip includes binaural beats, hipnotic audio and spirals!
You can buy this amazing clip on the video store of Lady Mesmeratrix.
This dirty young pervert was caught in the act of raiding Goddess Vivienne L'Amour's panty draw and worse sniffing them. For his sins he is tied naked to a chair and left alone for several hours. The Goddess knows the culprit as a young very fit man with an abhorrence to smoking so his punishment is to be used as a human ashtray and have smoke blown all over him. She entices his as She removes Her lacey blouse and straddles him before leaving him in solitude.
Now be a good slave to Goddess Vivienne L'Amour and download this clip from Her video store.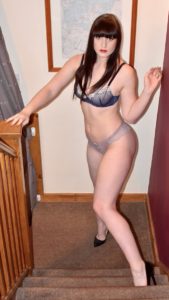 Only loyal, dedicated, and obedient submissives get the opportunity to clean Goddess Dominant Jade's home. If you're one of the lucky few, you'll know She pays attention to every little detail… so you'll need to make sure every single thing from top to bottom is clean to Her liking. Goddess Dominant Jade wants Her toilets sparkling clean… and if you don't do it right the first time, you are going to use your tongue the second. If you are into toilet humiliation, She loves making Her slaves lick the rim and bowl… fight it for even a second and your face will be completely submerged. Goddess Dominant Jade is in control, and you are chained to the porcelain.
This is a custom clip and you will love it!
Buy this exciting clip on the video store of Goddess Dominant Jade.
On another jerk off binge, aren't you, slut? Can't get enough of Princess Christy Berrie, can't get enough of all night jerk sessions. This is the final clip of your night and your orgasm is Hers once again. You're already so close to cumming, but you're going to keep it up, you're going to keep going. You're going to rub your cock raw, you're going to feel your heart race, you're gonna work up quite the sweat with your nonstop jerking. Won't be hard to do as you're down on your knees, worshipping every inch of Princess Christy Berrie, you dirty stroker slave. You're going to feel it tomorrow, jerk junkie, you're going to feel how raw, how chafed you are because of your dirty little addiction.
Increase your addiction to Princess Christy Berrie by downloading this clip from Her video store.
Its your lucky day. Make yourself useful and complete these humiliating tasks for Mistress Chloe Manson… if your beta ass can handle them!!
Know more by buying this clip on the video store of Mistress Chloe Manson.