Mistress Karina puts Her slave boy over Her nylon clad thighs and make him beg Her to begin warming his little ass up, making him thank Her after each strike. Mistress Karina spanks his ass hard over and over again to teach him a lesson he won't forget. He then worships Her sexy high heels whilst She sips champagne. Mistress Karina switch's to leather gloves and continue beating him until his little ass is bright red and sore!
Wanna know more?
You can buy this amazing clip on the video store of Mistress Karina.
Princess Natalya doesn't like the way you've been making Her feel uncomfortable at work. You can't be creepy around Her just because She is a 20-year-old intern. Princess Natalya knows Her rights. She is filing a sexual harassment lawsuit and She is going to take everything from you. You're going to be in big trouble. The only way Princess Natalya won't take this to court is if you agree to wear a chastity device. She needs to be in control of your dick. That's the only way She is going to feel comfortable at work. Princess Natalya is entitled to feel comfortable at work, and She is entitled to wear whatever She wants to the office. Even if it's a short skirt. That's why She is holding your key. Once you're locked up, Princess Natalya will go over Her rules for your behavior. Princess Natalya is going to add a few extra responsibilities to your job now that She owns you, creep.
Increase your addiction to Princess Natalya by downloading this clip from Her video store.
You love Dominatrix Alison's shiny thigh high boots and you would do anything to help Her keep them clean and shiny. Will you be Her shiny slut? Jerk to Her lovely boots and be Her shiny slave.
Must buy clip for Boot Fetish & Femdom fans!
Buy this exciting clip on the video store of Dominatrix Alison.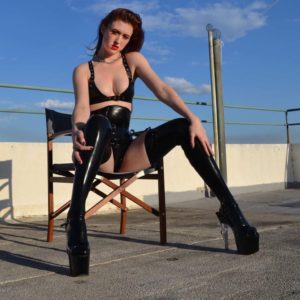 You're so desperate for attention but Goddess Lilith's video game is so much more important & interesting than you'll ever be. Since you've been a good boy Goddess Lilith will let you watch & worship as She plays. Isn't that a treat? Maybe one day you'll be Her seat as She plays! Until then, stay silent on your knees as Goddess Lilith continues ignoring your existence.
Now be a good slave to Goddess Lilith and download this clip from Her video store.
Time to pay for the privilege of being in Maitresse Monique's presence again with this foot-focused video! Featuring oil overload, toe wiggling, and showing off Her perfectly soft soles. As She gently smoother oil all over Her feet, and slide Her soles all over the screen, you'll become weaker. And weak is where Maitresse Monique likes you.
Know more by buying this clip on the video store of Maitresse Monique.