For my first experience using the iWantPhone service, I couldn't imagine anyone I'd rather enjoy an erotic PhoneSex experience with than the sensual & teasing Goddess Amy Wynters.  I have enjoyed a cam session with Goddess Amy, and purchased several of her sexy clips, but as she says herself, phone sessions are her specialty.  To say she didn't disappoint would be a massive understatement! Her voice is so sensual, so seductive and tempting, you can't help but fall deeply under her spell.  If after reading this review, you're still not convinced, visit Goddess Amy's iWantClips store and listen to her voice sample for yourself.  Trust me when I say, hearing her purring her demands in your ear is something to behold!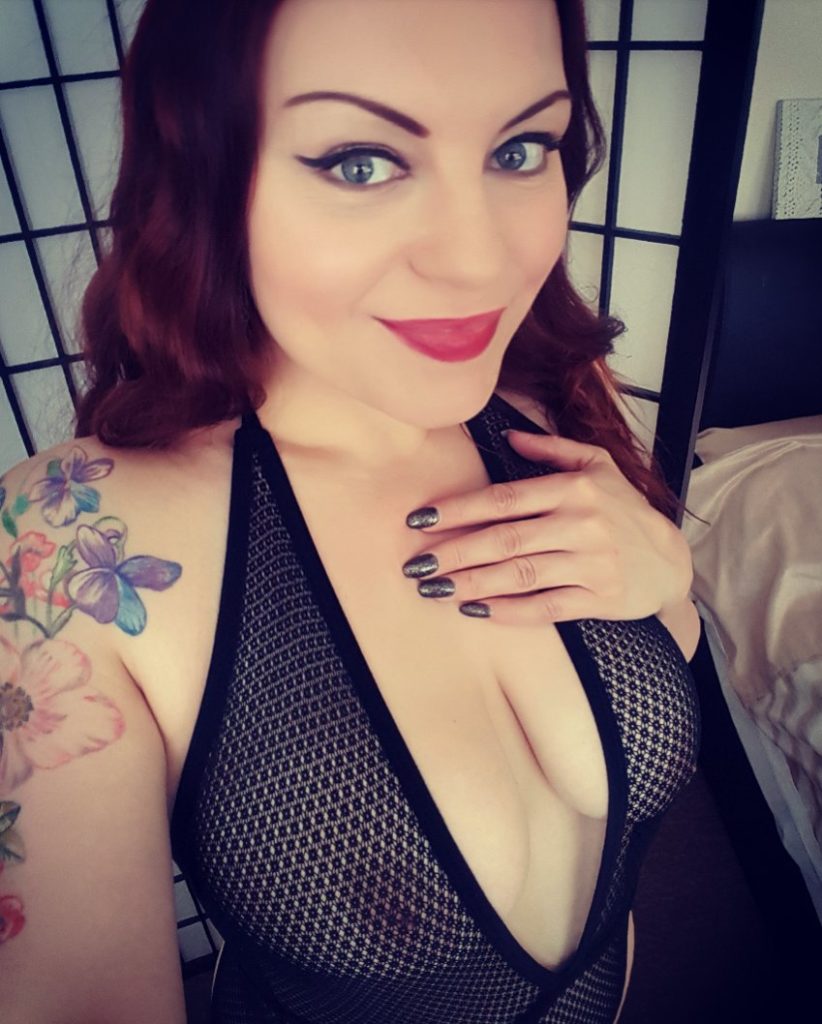 Before our session began, Goddess Amy sent me the picture above via Twitter DM with the instructions that I was to have it open and look at it during our phone session.  Talk about setting the tone! With her beautiful blue eyes, perfect sexy lips and those breathtaking breasts in view, Goddess Amy had me under her spell already.  Hearing her greet me with the title I have grown to love, "Hello bitch", was more than enough to ensure total compliance on my part! For some time now, Goddess Amy has taken great delight in inserting herself into my marriage and playing the part of the wicked homewrecker.  Without getting into personal details I don't wish to share, it is safe to say that Goddess Amy has been the puppetmaster and pulled my strings, so to speak, with ease.  Today's session focused on some very naughty things she demanded of me, and that I have subsequently carried out.  She is an absolute Master of manipulation, and hearing her giggle at my predicaments is truly intoxicating.  She knows exactly what excites and scares me, and she pushes my buttons expertly.  For the duration of the session I was spellbound by her voice, her commands and her truly erotic enjoyment of having me tightly wrapped around her little finger.  It's hard to put into words how completely mindfucked she had me during this session, but I will endeavor to try!
When this picture arrived in my Twitter DM inbox, I actually gasped! "Guess where this is going, bitch?" she purred.  Goddess Amy has used her amazing ass to tempt and seduce me previously, but today, if I wanted to worship her gorgeous ass, I would have to earn it.  A "hole for a hole" as Goddess Amy put it.  She told me exactly how she wanted her huge strapon sucked (no teeth, only lips, tongue and throat) and in great detail described how it would feel to be kneeling before her and swallowing every inch of her cock.  She told the story so vividly I could almost feel every vein in the shaft as it entered my throat! Of course my mouth was just the warmup as Goddess Amy giggled in delight as she explained that she wanted more.  Imagine how it feels to be told by a Femdom Goddess exactly how she's going to bend you over and take your manhood.  Imagine trying not to cum as she explains in her sultry British accent how it will feel to have her 8″ cock buried deep in your ass.  Can you feel her soft, perfect breasts on your back as she purrs in your ear "that's my good bitch, take Goddess' cock deep"? If you're not already a strapon slut, Goddess Amy will ensure that once she's had you in session, you'll be begging for it. Nothing breaks a man's ego faster than hearing himself begging to have his ass fucked harder, trust me!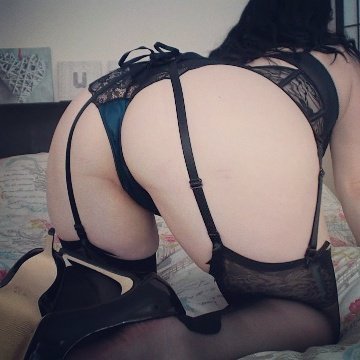 And speaking of asses, when Goddess Amy sent me this final picture and asked me what I was willing to do to worship her ass, I was speechless before muttering the word "anything" in desperation.  Her full, round, smooth ass cheeks make me throb instantly.  She knows that having her gorgeous ass hovering over my face, mere inches from heaven, is an easy way for Goddess to get everything she desires from this eager slaveboy.  Call it a weakness, a fetish, whatever you may, but when she dangles the opportunity to worship her ass before me, I become, in her words, her "good little bitch".  As I begged to have her smother me with her ass, Goddess Amy ensured that her homewrecking task she had demanded of me at the start of the session would be carried out exactly as instructed.  How could I possibly say no? With her ass smothering my face, Goddess Amy finally granted me permission to push myself beyond the excruciating edging she'd had me doing throughout our session, and allowed me to cum for her.  It was as intense an orgasm as I have experienced in a very long time, one that left me breathless, and completely mindfucked.  For some time after the session, I was left completely drained and spent.  In contacting Goddess Amy afterwards, she laughed as I told her of the state she had left me in.  Her response was to let me know that she had warned me and that she wasn't called the PhoneSex Queen for nothing.  Do yourself an immense favour and arrange a phone session with Goddess Amy.  Nothing you've experience before it will compare, I promise!

Links to Goddess Amy Wynters: