Faggot's Delight: Forced Bi Compilation
Once again, gorgeous Lady Fyre and her Alpha stud, Mr. Fyre, are driving slaves wild with desire they try so hard to suppress.  If you've followed their history of forced bi clips, you already know well how seductive and temping Lady Fyre is as she tempts, torments and humiliates you with your desire for Mr. Fyre's magnificent huge cock.

This wonderful compilation clip is only available for a limited time, and gives the viewer an opportunity to enjoy 5 previously released forced bi clips all together.  Buying the clips individually would cost almost twice as much, so this is an offer any cock-craving slaveboy can't miss!
By the time you're finished watching each of the sexy clips outlined below, any slave will be questioning what it is that really makes them throb, and know how badly they want to kneel before the ultimate Alpha couple of Femdom. 
This amazing compilation clip can be purchased through Lady Fyre's iWantClips, Kinkbomb or Clips4sale stores, but only for a limited time! Don't hold back, surrender to your lust, and enjoy!

Happy Holidays, Faggot

Gorgeous Lady Fyre is dressed as a sexy Santa's helper and she looks breathtakingly beautiful.  She teases with her spectacular ass and should have your full attention.  But admit it slut, you're eyes are all over that oiled up stud and his huge cock, aren't they? Lady Fyre knows you want to suck that cock.  She knows you're a faggot deep down, so your Christmas stocking is going to be stuffed with a nice load of Mr. Fyre's cum for you to lick up like a good little faggot. Happy Holidays cock lover!
Boss Makes You Take Stud's Cum
You're boss is absolutely gorgeous.  She's the hottest and sexiest redhead you've ever laid eyes upon, and you can't help but stare.  But somehow, rumor around work has it that you might love cock just a little more than you're willing to admit.  Lady Fyre is a wickedly cruel Humiliatrix and she wants to test your desires so she demands you watch closely as the stud from the mail room fucks her like you wish you could.  Watch closely and don't move or she'll fire your ass.  Of course, she knows where you're really looking.  Watching that glistening thick cock pounding in and out of her wet pussy, she knows what you really want.  And after her stud pumps his load all over your face, your secret is revealed.  You're a cum-loving faggot who wants that warm load in your mouth!
Service My Stud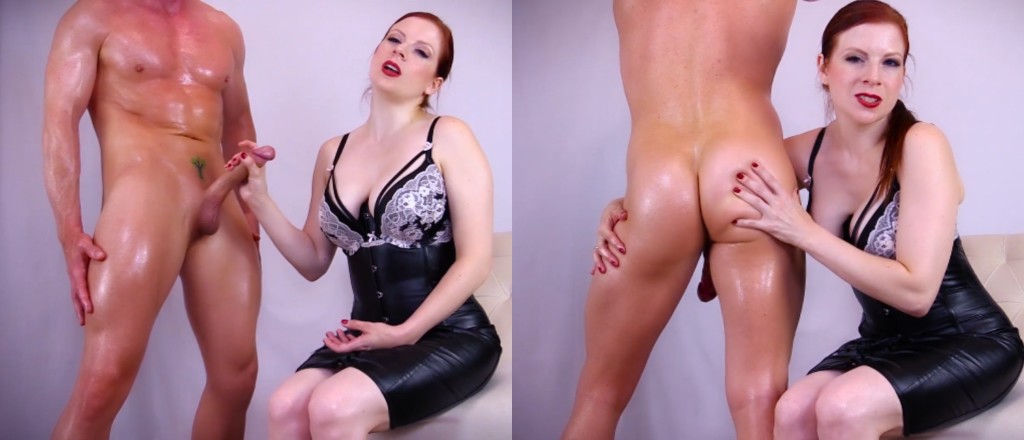 Oiled up and muscular, Mr. Fyre is the perfect Alpha male, and his gorgeous wife, Lady Fyre, knows exactly how hard it makes you to look at him.  Watch as she runs her hands all over that muscular body, stroking that amazing cock, squeezing that fine male ass you can't stop staring at, and admit that you need to worship this God.  Open your mouth and dream of tasting every inch of that perfect dick as it slides down your throat.  Suck him like a little slut until he shoots that hot load down your throat.  It's what you want…it's what you need.  Admit who you are and embrace your inner faggot!
Faggot For My Stud

Even as she teases you with her gorgeous tits and sexy ass, Lady Fyre notices your attention wandering to her stud's huge cock.  She knows you want it, but just can't admit it to yourself.  She's here to help you.  Stroke your dick just like Mr. Fyre is.  Exactly as he strokes, you stroke.  Imagine what it would feel like to have him pumping that cock in and out of you.  Suck him, bend over and let him own you. How far are you willing to go? It's obvious he arouses and excites you.  Do it.  Admit your desire.  You know Lady Fyre's hot stud has you lusting in ways no woman can!
Savor My Stud's Liquid Truth
Her perfect breasts are right there on display, she wants you to admire them and lust for them, but all you can do is keep looking over at the bulge in her stud's boxers.  Finally, after realizing that you want cock more than tits, she indulges you by taking Mr. Fyre's huge cock out and let's you admire and drool over it.  She knows the truth, she isn't offended, she knows that you want that gorgeous cock.  She wants you to be honest with her.  You're her slave, and you will reveal everything to her.  The truth is that now that you've seen that amazing cock, you want to suck it.  Admit it.  Put it in your mouth and give your Mistress full honesty.  Show her your true desire and suck that Alpha cock for your Mistress.  You'd rather have that cock in your mouth than those perfect tits, wouldn't you? Be honest about how much of a faggot you are and open wide so you can swallow that hot load of pleasure.  Good slaves never keep secrets from their Mistress, and today you're going to show Lady Fyre exactly what you are and what excites you.  Savor that load, every drop is a gift from her. Good boy!
Summary: After almost a full hour of staring at more cock than any slave could resist, after being tempted and teased about your lust for thick, glistening dick, if you're not a full-fledged faggot for Mr. Fyre's cock, you can officially say you're 100% straight.  But let's be real here…you don't buy this clip if you don't have a weakness for cock, right? This incredible compilation will take that weakness and break away any resistance and secrecy until you're revealed for what you really are…a cocksucking faggot slut! But it's okay, Lady Fyre is here to encourage and nourish your desires.  She's willing to make her Alpha God, Mr. Fyre, available for your viewing pleasure, admiration and servitude.  Get down on your knees and stroke for cock…beautiful, mouth-watering cock.  You know you want to suck it, swallow every drop, and maybe, bend over and have your slutty faggot ass pounded by it.  You're out of the closet now, slut, and you're a full-blown cock-craving fag for the Alpha couple like no other, Lady and Mr. Fyre. 
As a show of gratitude and submission, I recommend a visit to each of Lady Fyre and Mr. Fyre's wishlists.  Kneel down and offer a gift to your new Owners.