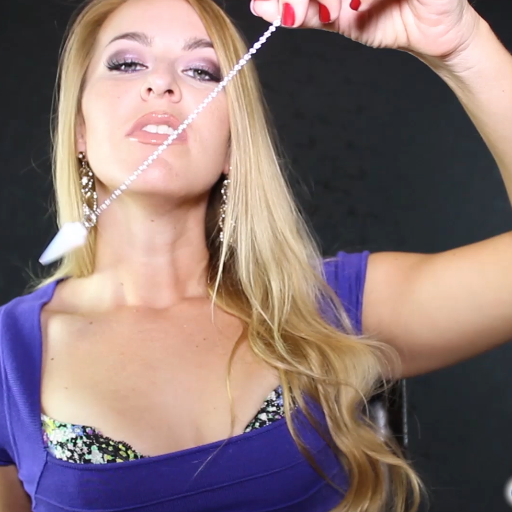 The first time I interviewed the wonderfully sexy and seductive Trixie Miss, I didn't know her all that well, but had admired her work for some time.  Her clips always caught my attention and the two that I had purchased were exceptional.  Her sensual style of domination is something that really pushes my buttons  and I thoroughly enjoyed the opportunity to produce a feature on her for my own blog.  As I've gotten to know Miss Trixie better, and as I've promoted her for an extended period of time, I've learned this long-legged blonde beauty is as intelligent as she is beautiful.  When I've enjoyed the privilege of DM messages with her, I've always felt she knew my own fetishes better than I understand them myself.  When she granted me to opportunity to interview her via Skype, as you're about to read below, I was both excited and a little nervous.  What was I getting myself into here?? As you'll read, Miss Trixie was rather gentle with me, but at times, toyed with me with the ease of a cat playing with a mouse.  I hope you enjoy this glimpse into the world of an extraordinary Domme as much as I enjoyed the opportunity to take my service of her to another level.  Trixie Miss is quite the woman!!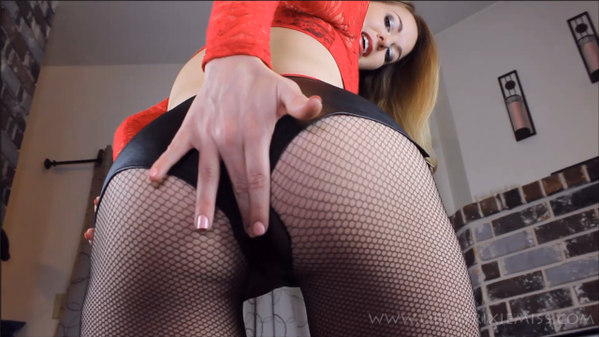 slaveboysmith: Today I have the rare opportunity, and privilege, of sitting down to interview the gorgeous Trixie Miss. Welcome Mistress, and thank you for allowing me to interview you in this way.
Trixie Miss: You're welcome. Try to keep yourself together 😉
sbs: I'll do my best, but as you know, I'm a little delicate at the moment given my denial training of late. Doing reviews of your clips and interviewing you are probably dangerous and should be avoided, yet I can't seem to help myself 😉
TM: In my experience you're always a bit delicate, but alright, go ahead.
sbs: In your presence, what man wouldn't be? In preparation for today, I looked back and can it really be a year and a half since our first interview for my own blog where I emailed you the questions?
TM: Could be, that sounds about right.
sbs: The introduction to that feature says that I'm just getting to know a little about you, and after 18 months of clip reviews, features and promotion, I would say that I have learned that you are a wonderfully sensual and addictive Domme that is irresistible. I'm sure I'm not alone in that assessment amongst slaves.
TM: Not alone at all. That is a good assessment.
sbs: Perhaps, yet maybe doesn't quite capture how alluring and irresistible you are. We spoke recently about styles of domination and the difference between sensual and strict styles. Where do you see yourself on a continuum between those two end points, Miss Trixie?
TM: I see and often portray myself as both, more so sensual. I prefer to train slaves to please me and bring out how that ultimately pleases them far more than anything else. As you've seen I can be stern and to the point as well.
sbs: You certainly can and are very effective in that fashion. I know other slaves would possibly disagree, but for me, being persuaded by a beautiful and sensual woman to do things I never imagined I would just to please her is so much more erotic and fulfilling than being ordered. Do most of your slaves seek one style over the other?
TM: I agree, it is much more erotic and fulfilling for both sides (sub and Domme). I would say it's a mixture of what subs seek but ultimately I train them to focus on serving me the way I enjoy, and that's to focus on making me happy. If they take an approach I do not enjoy and do not shift and adjust to my ways I tend to lose interest.
sbs: And from losing interest comes the worst punishment of all…being ignored by you. I will confess that I find you to be one of the most sensual Dommes on the scene. Your gifs for your clips and your style of clips are highly erotic and sensual. Do you have a favourite genre of clip you enjoy filming Miss Trixie?
TM: Exactly, losing my favor is the worst punishment there is. That's a really good question. I enjoy filming many different types and bringing in my sensual, teasing personality but probably my favorite to do is hypnosis, especially currently.
sbs: I can honestly say that when I began I thought the idea of hypnosis was a little bit of a stretch, but some of the clips that are being produced, with aural effects and visual effects as well are quite amazing. If my readers were looking to dip their toes into hypnotic suggestion, which clip do you recommend?
TM: I think I have many great ones to choose from so that's tough. 😉 First I might suggest "HIPnotized" there are some elements in there I do not use often, such as the pendulum. It is simple, sensual, and effective. If someone is curious about hypnosis, and enjoys the visual effects, that would be a great one to view.
sbs: I think from the clips of yours that I've watched lately, and many that I've reviewed, without perhaps even trying to be, you have a hypnotic quality about you. Your voice is very sensual and soothing, your movements are very deliberate and erotic. Does that come naturally as you use your incredible long legs, perfect body and beautiful face to completely overwhelm the viewer?
TM: Yes, it comes naturally, which is part of what subs tend to like about me so much I think. These are indeed hypnotic qualities and I've learned to develop them and use them even when subs are not under trance. I'm sneaky like that 😉 Simply running my hand across my body has become a trigger for many, and I've done this knowingly and on purpose
sbs: Almost diabolical in fact 😉 I have to say that watching your "Edging Mindfuck" clip before reviewing it, while on a strict regimen of edging myself, it was almost more than I could handle. You certainly do wonderful things for fishnets and heels 🙂
TM:. That's because they emphasize my amazing legs 😉
sbs: You do have the most amazing legs. May I ask how tall you are? It's hard to judge on film, but you look like a stunning Amazon Goddess with those sensational long legs.
TM: Haha, I look a lot taller than I am probably, especially with heels on. I'm 5 foot 6 inches
sbs: Wow…I'd have guessed at least 5'10" without heels, though Dommes look much taller when we slaves are where we belong…on our knees.
TM: True, height hardly matters when you're on your knees.
sbs: I notice in your Twitter feed, which I follow religiously as all good slaves should, that you do a lot of running. You're in amazing shape and look so beautiful. Is that your secret?
TM: Yes, I love running outdoors, almost too much lol. I have to really work at focusing on other things that I enjoy also, like strength training. During the summer I tend to wear myself out running and don't leave myself much energy for other things. I love having strong legs so it works out in the long run.
sbs: I may have missed it, but with those strong legs as beautiful as they are, have you ever done an scissorhold clips? I'm sure I can't be the only one reading about your legs who is thinking that, am I?
TM: LOL. No I haven't, mostly because I do not film with subs. Perhaps one day I'll consider it.
sbs: Do you see subs for sessions that are not filmed Mistress? I know some Dommes do, while others draw a line at clips only.
TM: I am very particular about who serves me in person. Currently there is only one sub I allow that honor. Others I might allow to meet me to give me cash in person if I feel like allowing that, but those are limited to short meetings that don't include any real sessioning. If you're wondering who that one sub is that you're jealous of right now it's @loserblueballs on Twitter 😉
sbs: I'm sure in addition to being a very lucky slaveboy, he will be thrilled at the shout out he's getting from you here. And yes, I think it's safe to say that anyone reading this will be very jealous 🙂
TM: Thrilled or nervous, I'm okay with both. :p
sbs: Perhaps a little of both blended perfectly together. I have to say, I checked out the clip you mentioned earlier, "HIPnotized" in your IWC store and if the pendulum doesn't hypnotize them the way you look in that little blue dress would surely do the trick. Wow!
TM: Yes, and my voice only sends all of that over the top.
sbs: It's been added to my wishlist and I suspect a review will be coming very soon for that. You're not going to have me do anything I could get into trouble over while I'm under your spell I hope 😉
TM: Me, get you into trouble? Would I do such a thing? 😉
sbs: Without even trying to you almost did while I was reviewing your "Fishnets Melt Your Mind" clip a while ago!
TM: haha… I guess you know the answer then, but only one way to really find out and you will soon enough. 🙂
sbs: You're a dangerous women Miss Trixie…but like a moth to a flame we just can't help ourselves. Thank you, again, so much for this privilege. You are quite a woman and everyone reading this would do well to check out every one of the links I'll be including with this feature. I assume there is still some room for a select few generous slaves to take their rightful place kneeling at your feet?
TM: I always have room for slaves that realize they must serve on my terms.
sbs: As I said each time when I've done a feature for you, Mistress, you are ALWAYS the Boss.
TM: Yep, always. Don't ever forget that slaveboy 🙂
If you're thinking I probably had to have a lengthy cold shower after this feature…you'd be 100% correct lol.  I warned you…she is as seductive and sensual as it gets and Trixie Miss knows how to completely disarm a man's defenses.  Check out the linked clips mentioned in the interview, and be sure to treat yourself to purchasing some of her amazing work.  And while you're at it, send your new addiction, the gorgeous Trixie Miss, a nice tribute to show her how much you appreciate and recognize her superiority.