One glance into her icy blue eyes, a glimpse of her tongue tracing the outline of those impossibly perfect pouty painted lips…that's all it takes.  In an instant, today's Feature Domme, Temptress Wonder, has you eager to fall harder under her spell.  Stare into those hypnotic eyes as the mindfucking begins.  Feel your resistance melt away as she tells you in her sensual voice that you are to become hers.  Fall to your knees as you begin to read about this gorgeous woman you won't be able to stop thinking about.  The fall into addiction will be steep and rapid, and it will make your head spin.  In just the short time that I have gotten to know her, Temptress has made it very clear…you will not soon forget this beautiful Domme.  Settle in and enjoy learning more about your new addiction, and as her seductive web wraps you up tightly, take comfort in knowing that no man can resist.  You're where you belong and Temptress Wonder will make very good use of you!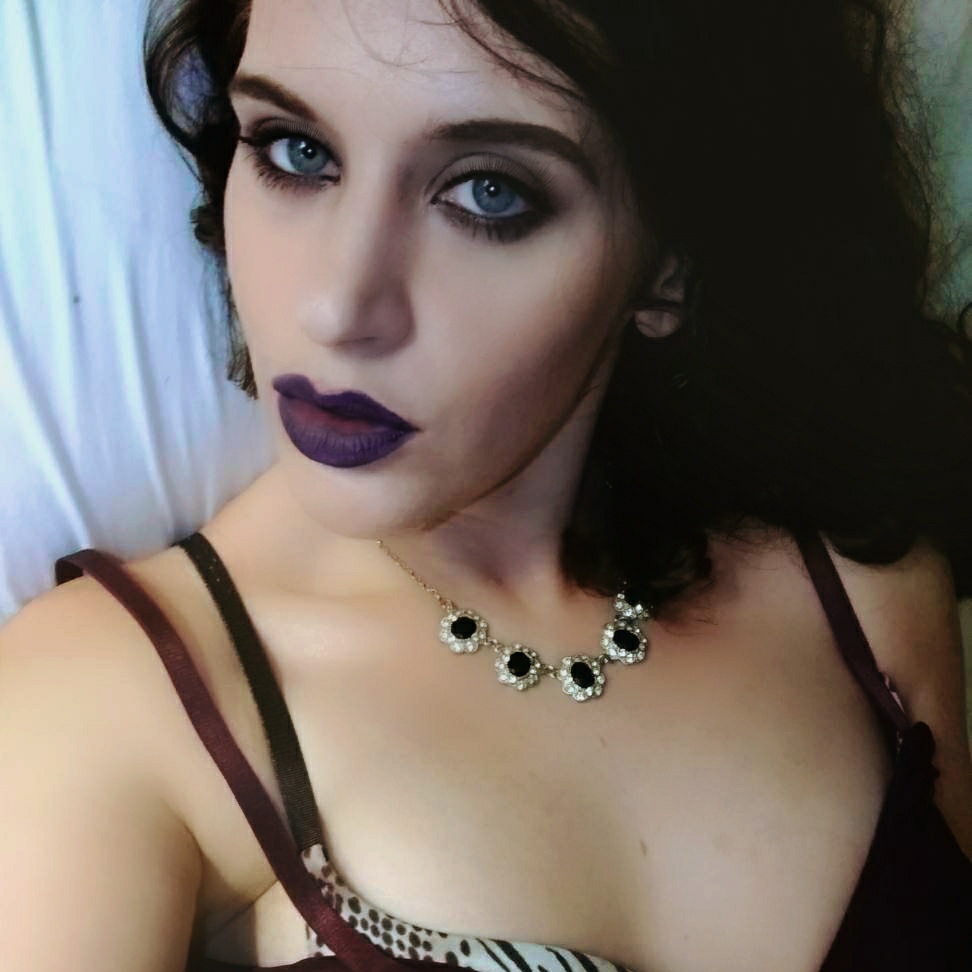 slaveboysmith: For any who follow you, it is very evident you control men with ease.  Has that always been the case?
Temptress Wonder: As a young lady, I always had a way to get men to do anything I say, buying me stuff, sending me money, one man even sold his car just to get me money, with nothing in return! Men flock to me and I love to put them in their place on their knees!
sbs: Are you naturally dominant in every aspect of your life, or is Femdom more a roleplay for you when interacting with slaves?
TW: I'm naturally a dominant, no one has ever been able to even become an alpha in my life, that's why I'm single, there can only be one dominant Alpha in my pig pen and that's definitely me!
sbs: Not all women are created equally, obviously, and you are most definitely as Alpha as they come. What do you say to women who are jealous of your success, or bothered by the lifestyle you are afforded by your admiring slaves?
TW: Jealousy is just another word for a woman with no confidence. If they are jealous and bothered by how I'm a confident, strong, dominant, alpha female then they really need to get a hobby! I've never been one to care what others think of me! Most of the women that tend to put there noses up to me, don't understand my world, they're too busy with there vanilla lives.
sbs: Is there a specific type of slave you find is drawn to you? Can all submissive men be persuaded to slip across that line into financial domination?
TW: Most of my slaves are married, they want a Domme to dominate their life because in there vanilla relationship they're the alpha and long for the role reversal. Most slaves will give their Domme anything if they are true and loyal, they want their Domme to be happy and pleased so they can be also!
sbs: Do you prefer to break and enslave men who might resist, or use well-trained ones that are already broken in?
TW: I have to admit I love being the first dong to break a slave in! (I see it as taking their virginity in a way) which gives me a thrill. But I have to say even well trained slaves still need some breaking into my world. It isn't that easy for well trained slaves because I see them as dogs that need redirection from their new owner!
sbs: Beyond financial domination, which is an obvious favorite, do you have other specific fetishes you enjoy exploring with your slaves?
TW: I would have to say some of my favorite fetishes are orgasm control, sissy training and role play. But every fetish to me is exciting, the only limitations I have are anything to do with bodily fluids.
sbs: Can you describe the feeling you have when you have control of a slave, desperately doing whatever it takes to please you? Is it a rush, or just an expected outcome you've grown used to?
TW: My adrenaline kicks in and I get the pleasure rush and a little wet, may I add!
sbs: How can you tell when you've completely broken someone and they are unable to resist you?  Is there a "tell" of some kind that lets you know you've taken total control?
TW: When a slave starts doing what I want instead of asking I know they are broken into my world especially if there is a strong connection, and they already know what they need to do to please me! The only question I want out of there mouth is how much do you want me to serve you today?
sbs: Have you ever been recognized in public? If so, how does the slave react to seeing his ultimate Goddess in person?
TW: Yes, I have been recognized from Twitter and from cam shows. They usually submit immediately asking to buy my lunch or dinner! I like when slaves recognize the Perfection in front of them and show respect without question!
sbs: For slaves looking to impress you, what is the best way for them to show you they are sincere in their desire to serve and spoil?
TW: Sending shows me respect before you approach and earns you points. Only disrespectful slaves write a Temptress like me thinking their comments would impress me. Words do not show respect, obedience, worship and tributes do!
sbs: Is there anything else you would like to tell your admiring worshipers reading this interview?
TW: My worshipers know how I am, I love to fill my needs and my slaves needs. All my slave relationships are most important to me. I live the Domme Life, this isn't a side hobby or role play, this is my life!
sbs: If you would oblige me one final question…if we were conducting this interview in person, how would it end?
TW: Well you finally know Temptress Wonder and her twisted world. Now on your knees! I want you on all fours with your collar on!