She's beautiful, intelligent and utterly charming.  It was my great pleasure and privilege to be in the presence of Spoilt Princess Grace in arranging this feature interview.  Settle in and get to know Ireland's greatest export…and your new addiction! As the Princess herself says, don't even think about resisting.  Some women are too gorgeous, too sensual and controlling.  Just accept that you will fall to your knees and give Spoilt Princess Grace everything she desires.  It's the natural order of the world.  You were destined to bow before her and do whatever it takes to gain her approval.

slaveboysmith: For any who follow you, it is very evident you control men with ease.  Has that always been the case?
Spoilt Princess Grace: I am the only girl in My family so naturally I was spoilt but I come from a very strict Catholic family. My parent's views on a women's role were very limited. I was never allowed to go anywhere. I was educated by nuns and for My childhood and teenage years, I was completely innocent.  I tried for years to suppress My desire to be treated like a Princess and hide My desire for money and power but I was miserable. It just didn't feel right.  I wanted to enjoy the best of everything.
I was always getting in trouble growing up for being too bossy and being too much of a Princess. I was always told a lady should always be nice and never demand anything for herself. This advice was the worse advice I ever got. I decided to abandon the limited role I had been given and claim My God given right to be a powerful Princess. I am delighted I did. I love this lifestyle and the freedom and power it gives Me and all the fantastic  experiences. There is never a dull moment. 
sbs: Are you naturally dominant in every aspect of your life, or is Femdom more a roleplay for you when interacting with slaves? 
SPG: Yes I am naturally dominant. Although  I am very feminine, polite and softly spoken I don't think shouting is needed to dominate someone. I am a perfectionist and I need everything to be the way I like it. I get this from taking control. This is not roleplay, it's just My personality. I am dominant but not an extreme sadist. I need to build a genuine bond with those who serve Me and it's very important to Me that anyone in My life is loyal and tries their absolute best for Me. This is expected from everyone from family, friends, slaves…no one can be useless…it's not acceptable to Me. If you are in My life taking up My time, you better be adding value to My life.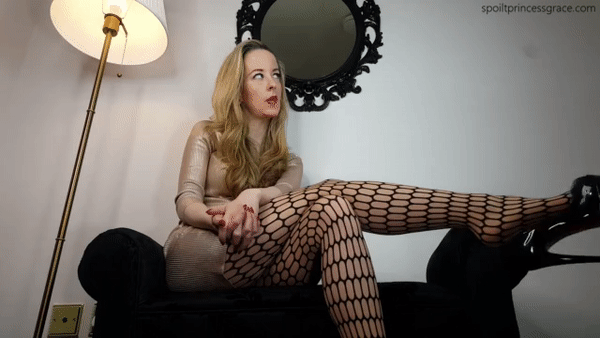 sbs: Not all women are created equally, obviously, and you are most definitely as Alpha as they come.  What do you say to women who are jealous of your success, or bothered by the lifestyle you are afforded by your admiring slaves?
SPG: I would never put other women down because together we are stronger. I am always open to double Domme sessions and learning from other Dommes. It hurts Me deeply that so many women are clueless and have been brainwashed to not know their value. I never had any interest in the casual sex/ hook up culture. Why would I give My body to a lazy stupid man who did not work hard to impress Me. In order for relationships to really work a women should be cherished, adored and kept safe by a man. She becomes his reason to exist, his purpose. 
If a woman is jealous or wants to judge Me, I will just block and move on to making My money. I don't have time for anyone not paying My bills or not adding to My progress. If you are not with Me, then you are against Me. Get out of My way.
sbs: Is there a specific type of slave you find is drawn to you? Can all submissive men be persuaded to slip across that line into financial domination? 
SPG: My slaves are highly intelligent, useful, well mannered and spoil Me with tributes. They respect the reality that I will not get naked for them and will never have sex with them. They know their place and they understand they are here to serve Me! If you are in My life you better be adding value and giving ME what I want!  I have had men tell Me they are not into Findom and then later they give Me thousands. 
Men that complain about how women should not want money are immediately written off as a waste of My time and I ignore any messages from them. I think it's hatred of women that brings about this stupid idea that it's not ok for a women to want something for herself.  If men can ask for their fetish to be satisfied then I will ask for mine to be satisfied. Ladies first!
sbs: Do you prefer to break and enslave men who might resist, or use well-trained ones that are already broken in? 
SPG: I have zero interest in men that don't work hard and that expect Me to break them. I don't have the time or interest. If a man comes to Me, he better be ready and willing to serve or he just gets blocked. I am really lucky in Ireland, there are not many FinDommes or Dominatrices here so I get to be really selective and choose the best slaves to serve Me.
sbs: Beyond financial domination, which is an obvious favorite, do you have other specific fetishes you enjoy exploring with your slaves? 
SPG: Yes Findom is amazing and gives Me immense pleasure. I enjoy lots of fetishes…too many to list but I will list a few; foot worship, C.E.I, pay and stroke, J.O.I, doggie training, role play, chastity training, Prank drinks, sissies, forced intox, gas mask and poppers.  Dinner with slaves at My feet is fun too as long as it comes with a big tribute!
Custom clips and clip making is really something I adore as it's very creative. I studied fine arts in university and now I am in university again doing psychology.  Anything that helps Me grow as a person and as an artist I really appreciate.  
sbs: Can you describe the feeling you have when you have control of a slave, desperately doing whatever it takes to please you? Is it a rush, or just an expected outcome you've grown used to?
SPG: When slaves follow tasks I give them, yes that's totally expected but when I get a huge tribute that's orgasmic! It's an amazing rush after a huge tribute or great worship session. For days after I am feeling high and think about it and smile. It really brings me great joy. My only regret is that I did not do this sooner but I was trying to be "normal".

sbs: How can you tell when you've completely broken someone and they are unable to resist you?  Is there a "tell" of some kind that lets you know you've taken total control?
SPG: They do whatever I ask. They try to stay away to protect their wallet, but they always come back. They can't resist…the bond is too deep and too strong. They need Me.
sbs: Have you ever been recognized in public? If so, how does the slave react to seeing his ultimate Goddess in person?
SPG: Yes, it happens because I have a lot of slaves. I do real time, online and clips . Ireland is a really small place.  I got noticed when I was out with My friends once. He was very polite and texted to tell Me he had seen Me and that it was an honour, but it would have been even more special if he could have bought Me the Louboutins he saw Me trying on. I let him buy them for me later and he went away happy that he got so lucky as to be useful to Me. I really enjoy when that happens.
sbs: For slaves looking to impress you, what is the best way for them to show you they are sincere in their desire to serve and spoil?
SPG: Effort is really important to Me. If a slave wants to show Me he cares he can send tributes for things he knows I love, even if it's something tiny like getting My hair blow-dry or a pedicure or he could take out a loan for Me and give Me the money and he can pay the loan off to show his true sacrifice. I love money, but not all slaves are rich. That's ok, they can save, get a second job, get a loan, sell things they own to do what it takes to please Me…to spoil Me as their Princess. 
sbs: Is there anything else you would like to tell your admiring worshipers reading this interview?
SPG: Send Me a nice tribute now and go binge on My clips. Don't bother trying to resist!
sbs: If you would oblige me one final question…if we were conducting this interview in person, how would it end?
SPG: It with end with you kissing My Louboutins and giving Me a tribute at My feet for the privilege of being allowed to be in My magnificent presence 😉