For the first time since we began bringing you feature interviews, I had the overwhelming privilege of interviewing not one, but two, beautiful Dommes simultaneously.  Not only that, but I was granted the privilege of a video interview via Skype with the gorgeous Domme Duo of Spoilt Princess Grace and Mistress Belle.  These two stunning Goddesses are centered out of Ireland, and their sexy accents will be just another element that will drive you wild.  In offering Double Domination sessions with one another, these breathtaking Goddesses take the experience of their slaves into overdrive! Both of these beautiful Dommes are enough on their own to leave a man's head reeling, but combine them together and the experience is something no slave will ever forget.  Princess Grace is as skilled in mindfucking as any Domme you will ever meet.  She controls slaves in session, be it online or in person, sensually teasing them into situations they might never dream of finding themselves.  Brunette Goddess, Miss Belle is more likely to conduct real time sessions in which she is equal parts cruelty and compassion.  She is more extreme in terms of physical domination, whereas Princess Grace specializes in mental domination.  Together, these two will leave you mindfucked and broken, completely and utterly drained.  It was my pleasure to catch up with Princess Grace and Mistress Belle in their hotel suite shortly after they finished a session together.  The ladies had been celebrating a rather successful day with champagne and room service when they granted me the privilege of interviewing them about their Domme Duo escapades.  Enjoy a glimpse into the world of two extraordinary women, and begin thinking about what it might be like to bow before them.  If you find yourself drooling, throbbing and feel your heart racing, perhaps you need to contact either Princess Grace or Mistress Belle to arrange a session.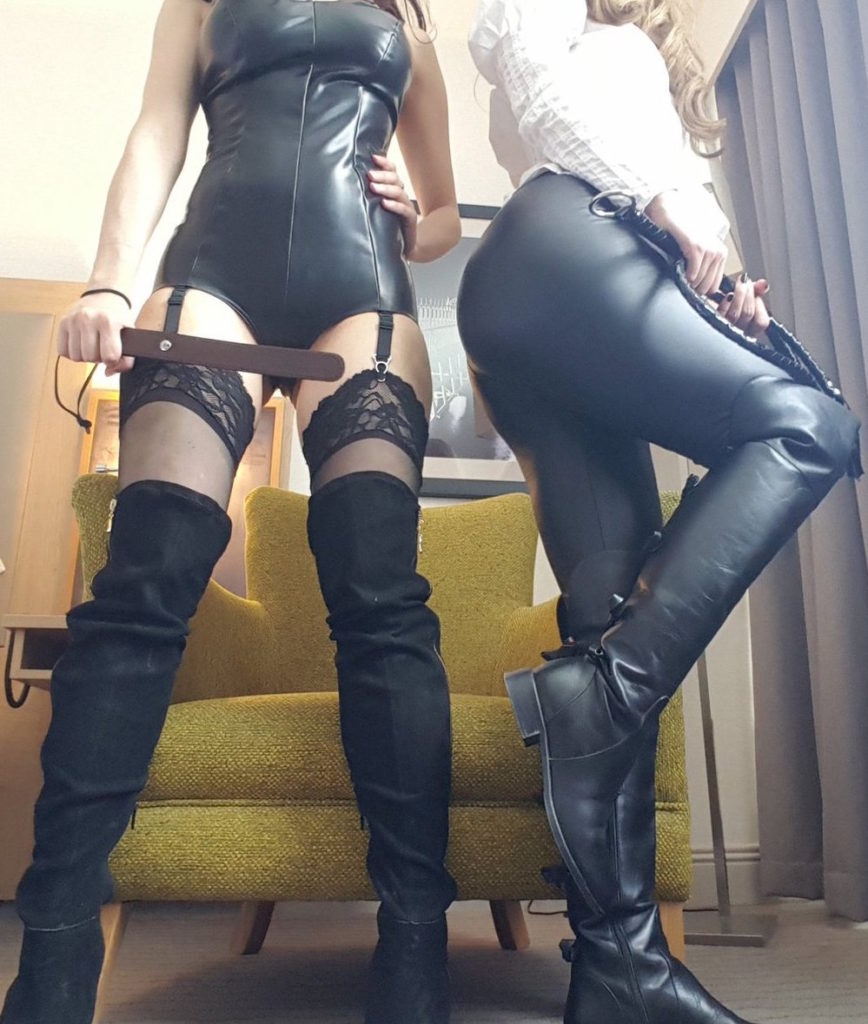 slaveboysmith: You two are obviously extraordinarily beautiful.  What can you tell our readers about the typical slave reaction to entering a session with you both waiting for them dressed so provocatively in your boots and jodhpurs or whatever else you've selected for that day? 
Princess Grace: They're quite nervous, aren't they? 
Mistress Belle: They're SO nervous! They can't even talk…lol Oh but today's slave did bring us a gift.
PG: Yes! He got down on his hands and knees and gave us a gift with a card containing his tribute.
MB: Even in a normal session, they just can't talk at first.  That's why we have to tell them what to do, when to kneel etc.  It's very intense for our slaves, of course. 
PG: So they usually just hand us their money right away…which is a good move (giggles from both Dommes).  Then we tell them the rules and we're ready to start the session.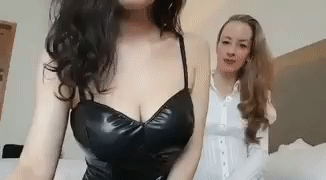 sbs: How does the dynamic of a session change having you both present as compared to single Domme sessions you have both experienced?
PG: It's brilliant actually because we tend to have quite different styles.  Sometimes we play "good cop, bad cop" where we'll really mindfuck with him.  Mistress Belle will give our slave a good whipping and I'll be like "aww but maybe he's sorry" or something teasing and sensual.

MB: As you say, it works really well.  I used to think I was the relaxed one in sessions, but I truly do love to be strict.  I like to make them do things for me, often extreme things and hard to bear.  Whereas Miss Grace is the fun part of it…the mindfucking part of the session.  Together it works really well because they know if they don't do what she tells them to I'll be there to punish their ass!

sbs: Suppose for a second that there wasn't an ocean separating us.  Can you walk me through the experience for me of arranging a session with you both? This is purely for the interview of course.  I don't have any current plans to travel…although… 😉 
PG: Well we do get an awful lot of timewasters who message us while jerking off, so we tell them if they're serious, go to my website and see what is expected of you if you want to session with us.  They can fill out the application form, tell us their fetishes and pay tribute.  Paying tribute shows us they are genuine and not timewasters.

MB: For me, I can spot a timewaster pretty quickly, so I don't tolerate any of that.  I won't chit chat with you.  The talk is short and to the point.  We allow a couple of messages before tribute, but then it's time to show they're serious.  We get a list of your fetishes and limits that will be taken into consideration.  It doesn't mean you'll get everything you ask for.  Only if it pleases us, and obviously respecting your limits.  The best way to arrange everything is to see Princess Grace's website which tells you everything about how to do it.  There's information on my website too.

sbs: What is one thing you two share in terms of interests and styles that make you the perfect Domme duo?
PG: We both love Findom!

MB: We love Findom and tributes so much (giggles). 
PG: We also love when a slave brings something to the session to amuse us.  Maybe he'll dance for us or maybe tell us a funny story or buy us books.  We like slaves that go that little bit extra.

MB: But generally we're very mean lol but we're giving them what they want, right? When we're in sessions there's a chemistry between us that the slaves can feel and that makes it even more intense.  Even though we have different styles, we're very fierce together. 
sbs: Let's play a quick little round of answers to who is most likely, shall we?
Most likely to be the bad cop?
PG: For the physical part it would definitely be Belle, but for the mental part it's definitely me.  So we can both be bad cops depending on what part of the session we're talking about.
MB: It also changes with online vs real time sessions.  I'm more of a real time session Domme and that changes me in terms of how I interact with a slave.  I'm quite strict in session so I'm usually the bad cop in real time, but Grace is crazy with the mindfuck.  Let's just leave it that there's no "good" cop with us (giggles)
Most likely to take amusement and pleasure over a slave's suffering?
MB: Both! Giggles…I do extreme pain and love watching them suffer.
PG: No, I don't think it would be both.  I like to take a step back and I let Belle do her thing.  And then sometimes Belle will take a step back and I do my thing.  So we're not both attacking a slave at once.  We don't want to overwhelm the poor slave lol. 
MB: Not at the same time, but what I mean is you don't go for extreme pain like I do.  We approach it differently.  You're not into those extremes but you go deep into the mindfucking and hurt them that way.  Between us both we make sure there's both physical and psychological torture…giggles!
PG: And I definitely do more online because I love gathering slaves from all over the world and having them worship me with gifts and tributes in Skype sessions etc.  I love knowing boys all over the world are mindfucked for me. 
MB: Her mindfuck really is absolutely perfect and works SO well online!
You're both obviously very beautiful and enticing, and a slave's arousal is inevitable, and even desired to make him easier to control. Which of you is most likely to end a session denying a slave any release?
PG: I love that because I love that they go away hungry still and that they're going to come back begging for more.  So it's probably more likely to be me lol
MB: Yeah…it really depends on the person and how I feel about them and how they behave in session.  I don't deny as much as her.  I don't leave slaves with blue balls as much as Grace does because, as I say, my real times tend to be more extreme, so I want to be nurturing and nicer towards the end of the session if they've earned it.
PG: Whereas I love to fuck with their minds!
sbs: What do you two have in mind for slaves that are reading this and dreaming of their opportunity to kneel before you? Any upcoming plans to tour…say to Canada? 😉
PG: Yeah…we're planning on going over to London at the end of the month and, yeah, I don't know, if there was interest I'd definitely be interested in touring other places.  Maybe Canada, America or even Dubai.

MB: For me, yeah, Dubai for sure.  We love to travel so that would be good. Touring is definitely in our plans. 
* it was at this time that room service knocked on the door and food was brought in.  We had a conversation about the fact that on the very table that the server put the food was one of Princess Grace and Mistress Belle's huge black dildos.  We're not entirely sure of what the server's reaction was, but it's safe to say he'll never forget that delivery!!!*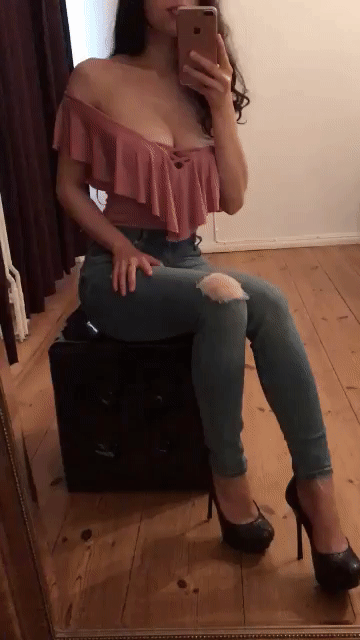 sbs: I always ask this question of each Domme I interview, so I don't want to break with tradition.  Princess Grace, Miss Belle, if I were on my knees before you both as we conducted this interview in person, how would it end?
PG: I would have you kiss my beautiful Valentino shoes (giggles) and it would be a privilege for you, wouldn't it slaveboy?

MB: And while you're kissing her shoes I might have to give you a nice hard spanking (more giggles)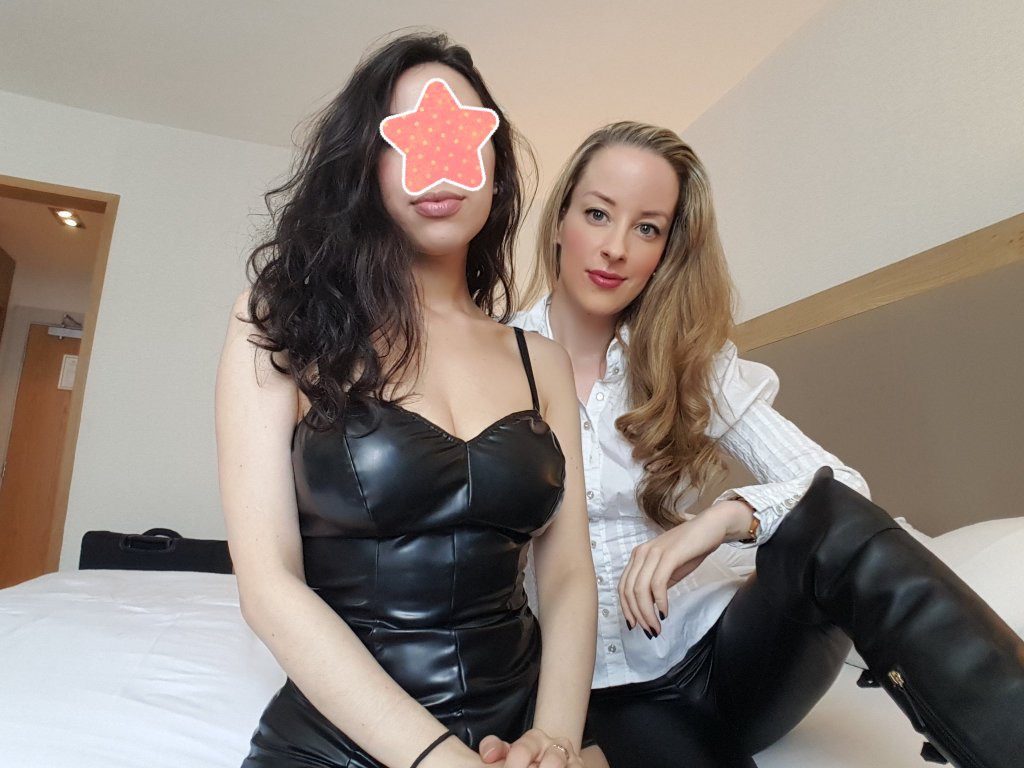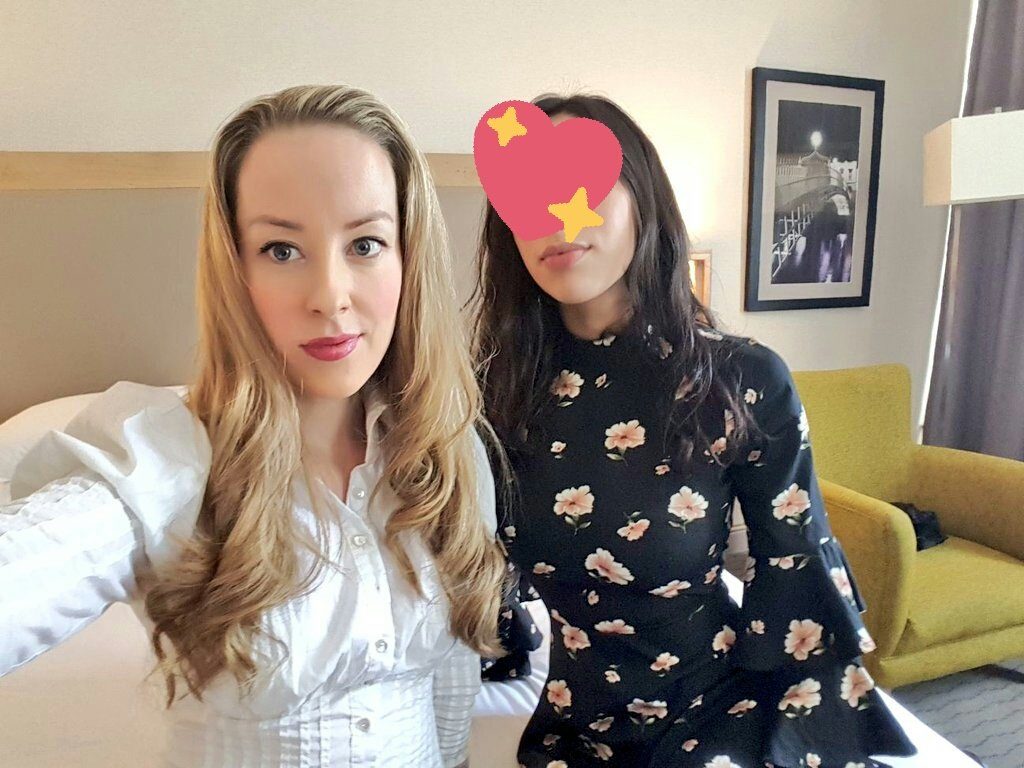 Twitter: Princess Grace   Mistress Belle

Website: Princess Grace   Mistress Belle