RussianQueenM is obviously elegant and controls men with ease. DommeAddiction had the distinct pleasure and privilege of interviewing the most gorgeous RussianQueenM. Get to know Her a little better in this Interview.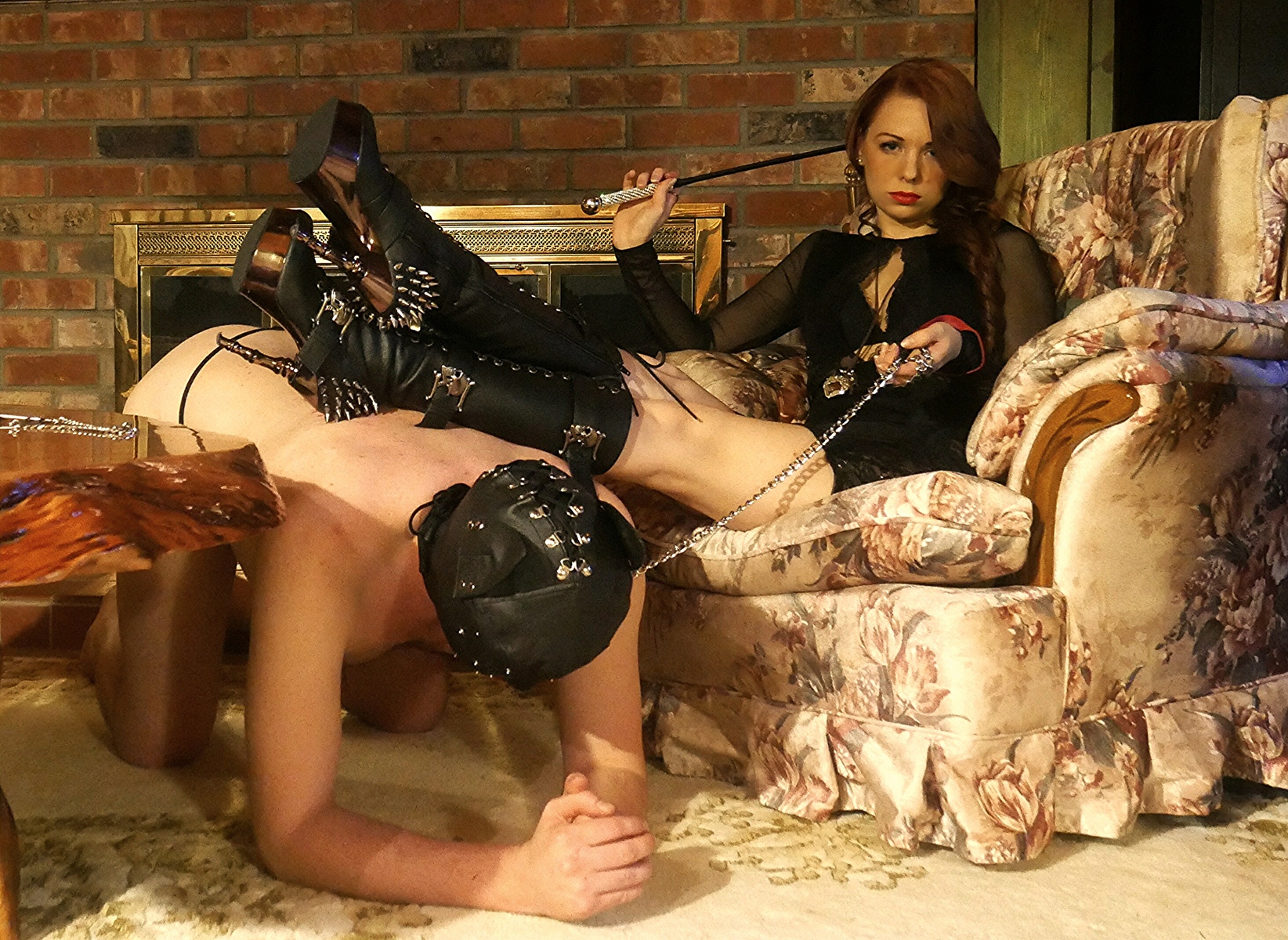 DommeAddiction: How long have You been a Dominatrix, and what was it that brought You to this role?
RussianQueenM: I worked as an independent elite escort for a few years until in December 2015 Miss Tanya Hunter @DeviousMissH, who is a professional Dominatrix in Vancouver, introduced Me to BDSM Craft by sharing a few books and Her professional experience with Me. From that I learnt that there are such men, who enjoy pain and humiliation instead of a regular vanilla service. It, in fact, brings them pleasure and they are willing to pay a generous tribute, without expecting anything in return, except what I allow. The moment I had My first strap-on session, I instantly felt that dominating was My second nature. It felt so good to finally be the one in control and use My power to reverse the roles. Once I made My first $1000 in just a day simply abusing and humiliating males, dressing them up and playing role reverse with My big beautiful strap-on, I absolutely fell in love with My new Profession and have been making My living doing that ever since. Due to My open mind and My divine feminine nature I allow My subs to express themselves freely without feeling judged, or discriminated against, for liking something different, that might be considered out of the social norm.
DommeAddiction: Would You say You are naturally dominant, or is it more of a role play when You are in session?
RussianQueenM: I am definitely Dominant by Nature, it must be My Russian blood. My mom was always the dominant one in our family and She showed Me a very good example of how to be a boss woman! I absolutely enjoy feeling superior, especially when it comes to My relationship with male species. I, in fact, do not allow them in My presence, unless they are paying or serving Me.
DommeAddiction: What skills do You think a successful Dominatrix such as Yourself needs to have?
RussianQueenM: Number one is being an intelligent and confident woman with experience, as it takes a lot of trust for submissives to put their well-being into your hands and you must be aware of their feelings during your sessions. Definitely non-judgemental attitude towards other people's fetishes and cravings is the number two. And number three is the ability to push other people's boundaries, knowing it helps them free their mind from social limitations.
DommeAddiction: Can You explain what makes a man want to be a slave?
RussianQueenM: Desire to serve and please a Woman, who represents pure manifestation of the Divine Feminine. All males are already slaves to Women due to the natural order but those who submit willingly will be spared when the Female Supremacy takes over.
DommeAddiction: What are Your favorite fetishes to explore with Your slaves?
RussianQueenM: Role reverse with pegging is My most favorite, of course, that is how I got My name as the Strap-on Queen. Owning man's ass is the ultimate domination of his manhood. It's the only way to make sure that a man will stay loyal to you and only you. Which leads to My second favorite fetish, Chastity. I love locking My male slaves up in chastity, which symbolizes their loyalty and obedience.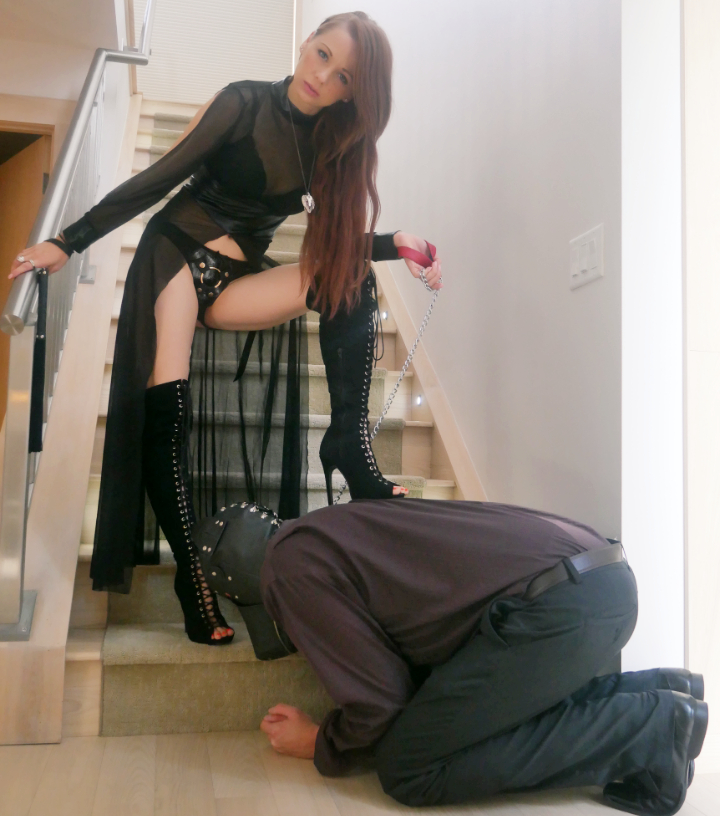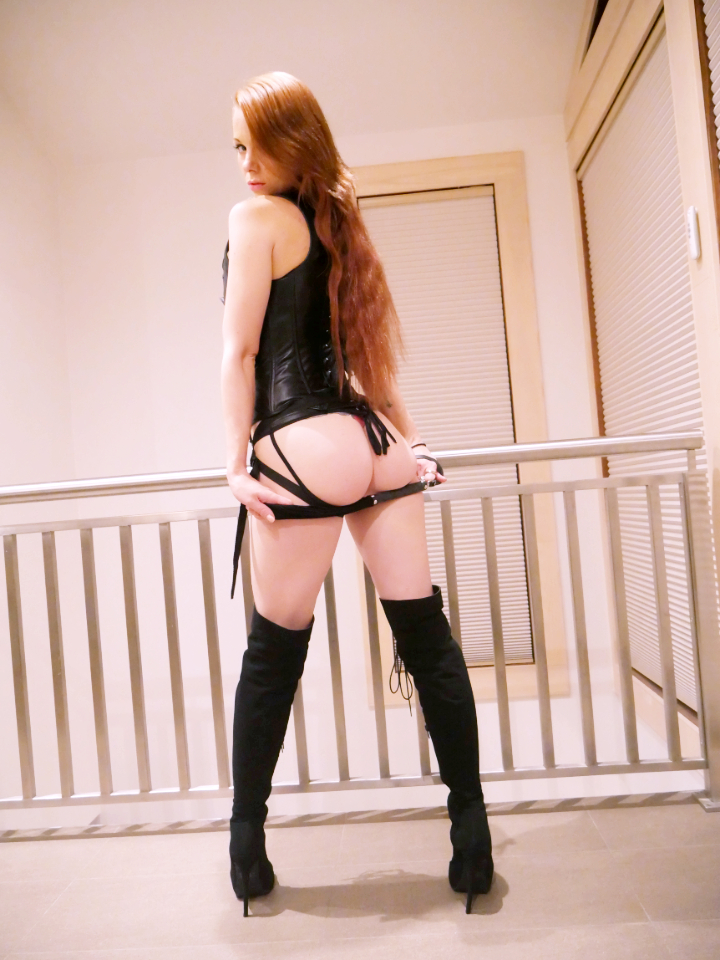 DommeAddiction: Is it different for You in person vs in online sessions?
RussianQueenM: No, I feel absolutely the same doing both. However, rt sessions get Me more excited because I actually get to torture pathetic males. At the end of the day, that is the ultimate reason why I love being a Dominatrix.
DommeAddiction: Are there any negatives involved in being a Dominatrix?
RussianQueenM: Dealing with too many stupid males on the phone and online regularly. And for that very reason I got Myself an assistant/ female pet, so I don't have to do it Myself any longer.
DommeAddiction: Do You ever do sessions with other Dommes involved?
RussianQueenM: Yes, My main partner in crime is @EmpressSparkle, who used to be My booking agent and now She is doing BDSM sessions of Her own and I am very proud of Her. I have done sessions with @DeviousMissH as well, who introduced Me into the BDSM World. And I am always open to working with other Professional Dommes, whose moral values I approve of.
DommeAddiction: What is the cruelest thing You have ever done to a slave?
RussianQueenM: I locked up My first chastity slave @ThaChast and left for Calgary. He had to go with his first chastity cage on to his doctor's appointment for a check up. To say the least, he was pretty embarrassed and I was laughing so hard when he was telling Me about his experience, because I was the only one who had the key to his chastity and it didn't even concern Me when I left him for a week, lmao! That was hilarious, but proved his loyalty. But the most brutal physical punishment I gave to My pucky slave in Victoria, who brought a real police stick for Me to beat him up for being a disgusting pathetic dog. The neighbours were probably wondering what was happening in My house that night.
DommeAddiction: How do You know when You have truly broken someone and are completely in control of them?
RussianQueenM: When they do everything I tell them without reasoning and hesitation!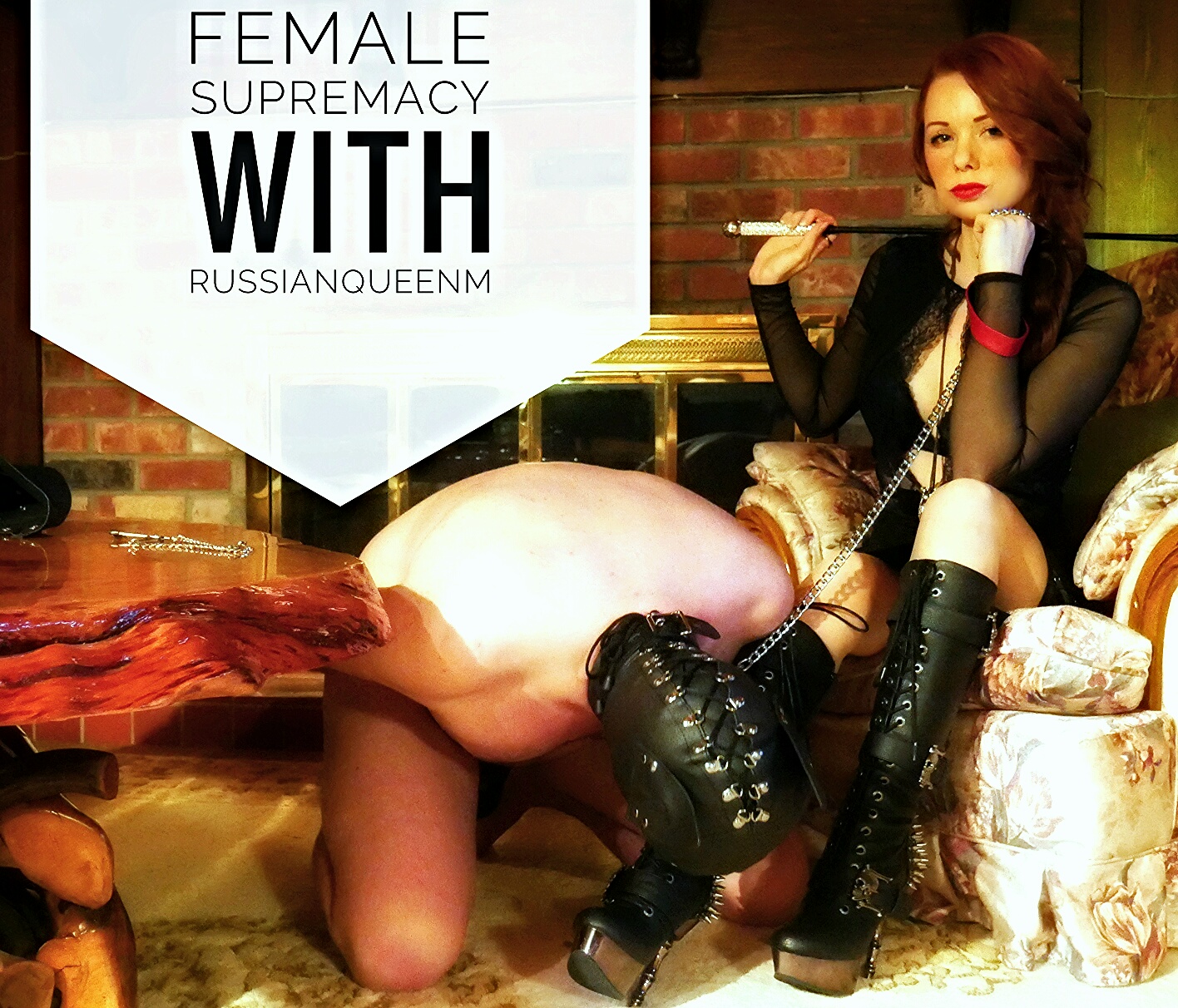 DommeAddiction: Do any of Your slaves serve You outside of sessions? ie. real-life slaves in everyday life?
RussianQueenM: All of My submissives and slaves serve Me one way or another. They bring Me My morning coffee and whatever else I order when they come for sessions. Pretty much anything I need I can request and they will fulfill My order. It's the way for Me to also check how submissive they truly are, especially with the new ones. I also own a female pet, who lives with Me now and serve Me as My personal assistant.
DommeAddiction: Have any of Your clients tried to reverse the power dynamic and top from the bottom with You?
RussianQueenM: No, they simply know not to mess with the Russians!
DommeAddiction: Are the people in Your personal life aware of Your work?
RussianQueenM: Yes, everyone in My personal life, including My parents, knows about My Profession and fully support Me. Being a Mistress, I live a very public life and I believe that there should be no need to keep secrets unless you are embarrassed to admit the truth!
DommeAddiction: Is there anything else You would like to tell Your admiring worshipers, and future slaves, reading this interview?
RussianQueenM: Tribute, Worship and Obey… it's the only way to warm up My heart!
DommeAddiction: Any Dommes in particular You're interested in working with?
RussianQueenM: I have been planning My trip to Europe in 2017 and would be happy to give some lucky slaves a Double "MM" treatment alongside with the most gorgeous UK Queen @MarissaLove_x! Also, I would feel absolutely privileged to work as a Domme Duo with My favorite UK rapper Aattilia Fabbrini @NarciNarciNarci on Twitter.
DommeAddiction: Have You always been dominant in Your interactions with men?
RussianQueenM: No, for many years I was trying to fit into a social image of an ideal housewife, being submissive and conforming to male mentality. Working as an escort I learnt a lot about male psyche and how it works. Having that knowledge puts Me in charge now and they must obey if they want to get anywhere near Me.
DommeAddiction: What can You tell me about Your journey to becoming one of the most sought after Dommes for admiring slaves to serve?
RussianQueenM: I'd say it was a Natural progression. Growing up in a small village in Siberia, Russian Federation I was not exposed to the BDSM world at all and knew absolutely nothing about the world of Kink and Freedom. I lived in USA, then moved to Canada. I worked a regular job and got married because I was influenced by My parents and society to believe that the ultimate goal in life was getting married and having children. A year and a half later I realized I cannot live with a man under the same roof for too long. In order to survive on My own I started working as an escort because My regular paycheck was not enough to cover the bills and My College tuition, which I was also attending full time while working. Ever since I started making good money with that I have been working for Myself and Myself only. And I would never again get a job for that matter. A few years of working as an Escort was enough for Me to learn all the nasty of the male kind. After I got fed up with that I discovered my BDSM passion and I absolutely loved the feeling of being in charge and I have been ever since. It's been almost a year since I completely stopped all escort sessions and I am fully enjoying My life of Virtue and that is why I demand Chastity on all My loyal slaves. If I don't need to have sex than they shouldn't either.
DommeAddiction: At what point did You first realize the power You held over men?
RussianQueenM: When I realized that I can support Myself financially by using their weaknesses to create Myself a good income and live a good life!
DommeAddiction: Is there one type of clip You enjoy making more than all others?
RussianQueenM: "Give a Snake a Break" with My loyal chastity slave @ThaChast. It was the first release I allowed him after I put chastity on this bad boy. He was so horny and excited like a puppy on a new bone. I was entertained to watch his body tremble in shivers from the amount of pleasure he experienced that day. Then I locked him back in the cage and sent him back out!
DommeAddiction: Cash or gifts? What type of tribute do You prefer from Your slaves to show they appreciate You and are sincere in their desire to serve You?
RussianQueenM: I'm only looking for useful, loyal and obedient slaves. Cash is King. But I also accept Bitcoins and absolutely love it! I require a $300 Tribute minimum for 1 hour of My valuable time. But if they want to impress and show appreciation they can also bring gifts such as flowers, chocolate, wine and sex toys (whips, plugs and strapons are My favorite).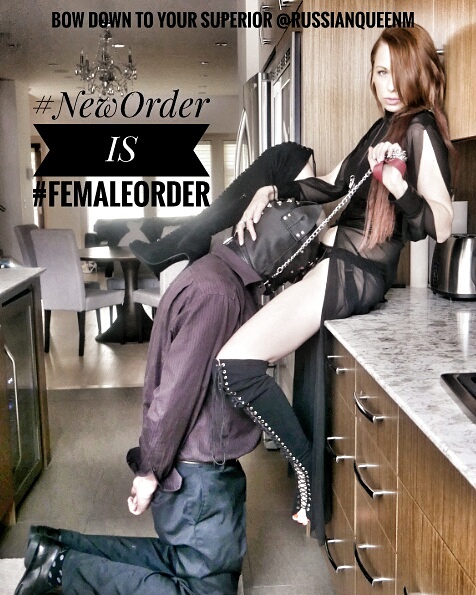 DommeAddiction: What role does social media such as Twitter, Skype, etc. play in Your business?
RussianQueenM: I have been using social media a lot since I got into BDSM. I love sharing the fun times from My BDSM sessions on Twitter @RussianQueenM and Instagram @QueenmDominatrix. It's also a great way to show new subs and slaves what I expect from them and what fetishes I enjoy the most to make sure they are the right fit for Me.
DommeAddiction: Can You describe how it makes You feel to know You have absolute control?
RussianQueenM: It feels so totally natural. It feels like it was meant to be and there could be no other way. And it makes Me evolve more and more with each new slave, who submits into My power!
DommeAddiction: Have You ever been recognized in public? How does the slave react to seeing his ultimate fantasy Domme in person?
RussianQueenM: I don't show up in public too much to be honest. I have never been approached by a sub in public, but if that ever happened I would expect them to bow down and kiss My feet like all proper slaves must do.
DommeAddiction: Can You tell me how my first session with You in person would look?
RussianQueenM: Pay Me $100 tribute, I do not describe details of My sessions for free.
DommeAddiction: Have You been told you make men nervous often?
RussianQueenM: YES. A lot actually. I think it's My Russian coldness that intimidates men so much.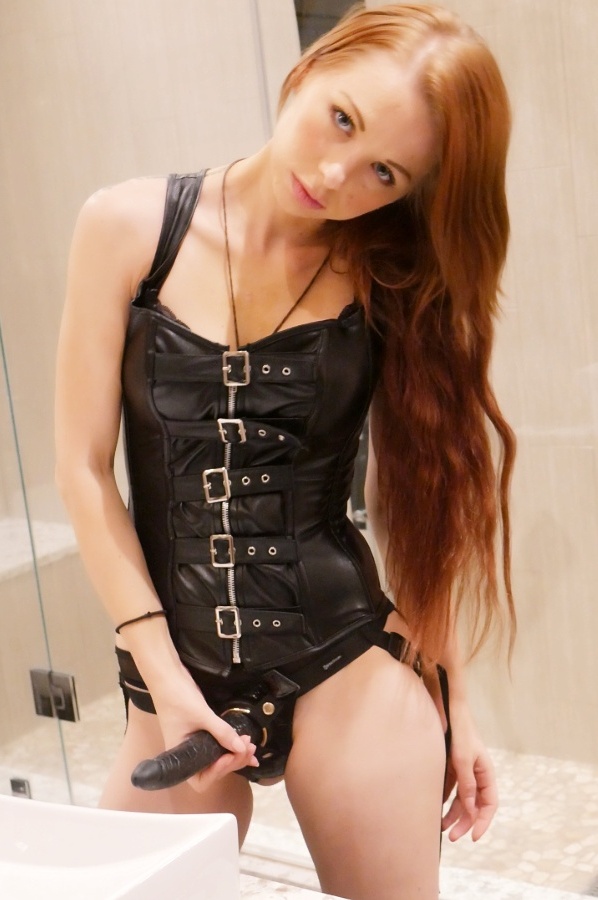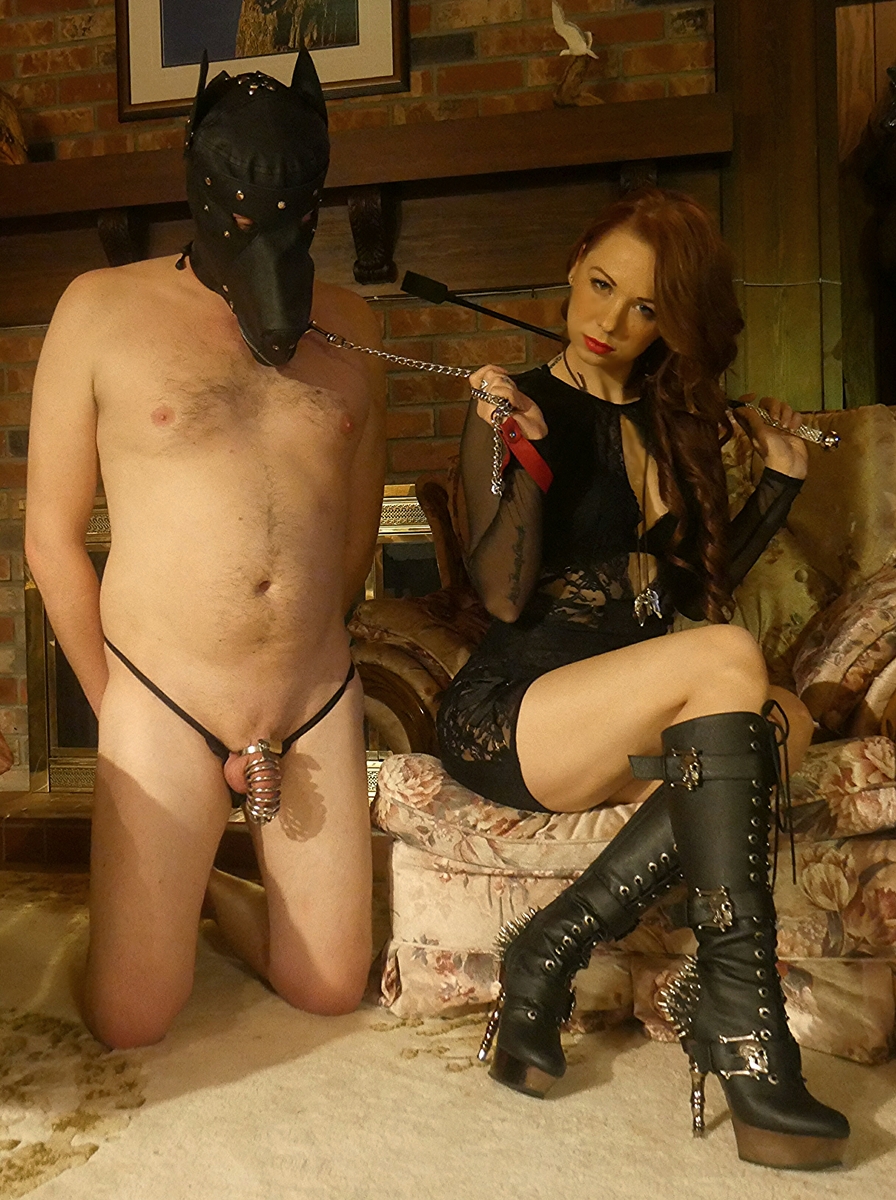 DommeAddiction: Is there a specific type of slave You find is drawn to you?
RussianQueenM: Yes. Intelligent, educated and with the money to spoil his Goddess.
DommeAddiction: Can all submissive men be persuaded to slip across that line into financial domination?
RussianQueenM: It really depends on what exactly those males are looking for. Everyone has a different passion and everything in life is possible. So why not?
DommeAddiction: If there was one thing You could change about being a financial dominatrix, what would it be?
RussianQueenM: Nothing, except get rid of all the fake losers who want to waste our precious time.
DommeAddiction: If we were conducting this interview in person, how would it end?
RussianQueenM: I would make you kiss My hand 3 times like every gentleman must do! I like to bring old school manners back!
DommeAddiction: What is the best way for slaves to show You they are sincere in their desire to serve and spoil?
RussianQueenM: They can buy all My clips at iwantclips.com and leave Me minimum $100 tribute! Till then I truly do not care about males and their existence in this world! Cheers!
Get Connected with RussianQueenM: