When I stepped away from promoting and serving Female Dominants some time ago, I missed many things about it, and hence, my return.  During that period of time, my colleague was blessed with the privilege of doing a feature interview with the breathtaking redheaded Russian QueenM.  She is beautiful, cruel and completely spellbinding.  She embraces her Russian heritage and as you will read, believes it makes her a more effective Domme for it.  Her beauty will disarm you, but make no mistake, this Canadian Goddess, with Russian roots, will have you humbled, broken and compliant in no time.  Sensual or strict, seductive or sadistic, Russian QueenM has every angle covered.  The question is…will you beg for mercy, or beg for more? Either way, you will enjoy the feature interview below.  Thank you to the gorgeous QueenM herself for allowing me to facilitate her return engagement to DommeAddiction.  When you're finished fawning over her every image, and every word, be sure to follow her links and show her what a good boy you can be. Also, be sure to check out her first feature, done beautifully by my fellow Domme admirer and servant @FemdomDaily here.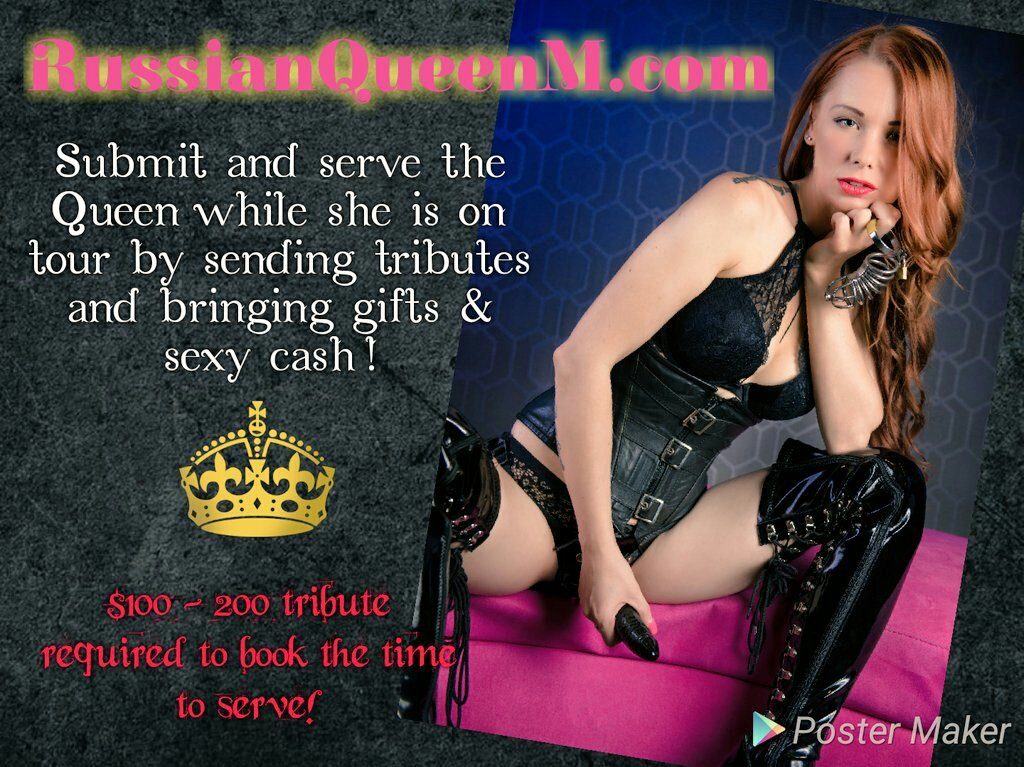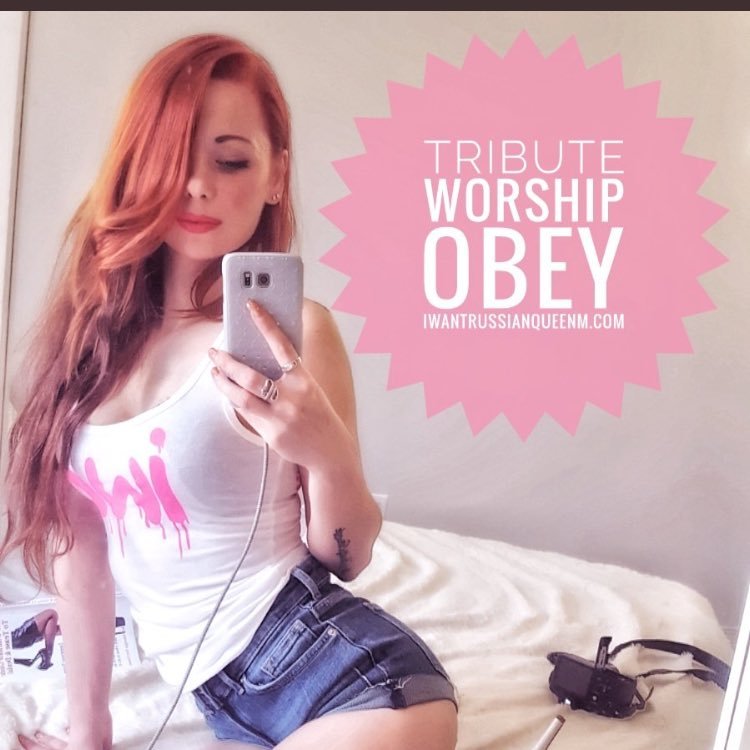 slaveboysmith: Today, as I kneel before her, I have the immense privilege of interviewing the very beautiful Russian QueenM.  Looking up her long boots, I'm going to try to keep my composure.  Thank you for granting me this interview Queen.  I promise I'll be a good boy.
Russian QueenM: You better be a good boy! Because I make bad boys cry!  🙂
sbs: Of that I have no doubt!
RQM: And thank you!
sbs: If I may, let's begin with your title.  Even the most overwhelmed of slaves can see that your ethnic background is included in your name.  Can you tell our readers why you included Russian in your name, say rather than just Queen?
RQM: That's a very good question. And I will be happy to tell you that I am 100% Russian, born and raised. I first moved to the US and left my home town in Siberia when I was 21. I lived there for a year then moved back home, where I was not satisfied any longer after experiencing the big lights of American cities. My parents live in a very small village type town and it was super boring there. So I made my way to Canada and have been living here ever since. I really enjoy living in Canada. It really is a great country to live in, but because I don't speak much Russian anymore and don't have much Russian influence in my life right now, I want to remember my Russian roots because the Old Mother Russia taught me good morals and values, which I am very proud of.
sbs: As a fellow Canadian, let me be sure to say we are more than thrilled you moved here! My experience with meeting Russian women is that they are confident, sexually advanced and very beautiful.  Although my sample size has been small, you would certainly seem to confirm my experiences, Queen M.  May I ask what the "M" stands for as well? Then I promise we'll move on from your name 😉
RQM: Thank you! I do believe that Russian women are naturally very strong and independent and can take care of themselves. I have seen it in my grandma, my mom and my sister. Yes, it as a total matriarchy when I was growing up. My mom ruled the household, there was no doubt about that. While my dad was always the provider. M stands for my first name, which is Maria. 🙂 I do not have the need to hide my name and all my subs know it, so I decided to include it into my title.
sbs: Very beautiful Queen.  It sounds like your childhood experiences shaped the strong woman that you are today.  That said, not all strong women go on to become Dominatrices.  Do you recall that seminal moment when you realized your superiority and knew that you could bring men to their knees, willing to do almost anything to serve you?
RQM: Yes, I know exactly when and how I made the switch from being fully submissive to fully dominant. I worked as an independent escort provider for a few years and saw the worst of men. Honestly, that side of this industry does not make people happier and I say this from my personal experience. I made the switch because I did not want to submit to dirty, scummy, greedy, lying cheating men any longer! Once I grew spiritually I could no longer continue doing that because it did not feel right. I met Miss Hunter in Vancouver, and she told me that there are men out there who absolutely enjoy pain and they love to submit. I never thought of dominating men before, as I was always submissive and ready to please others. I put on my first strapon and that was the most amazing feeling in my life! I don't even remember the guy I first fucked in the ass, and the strapon was not the best quality, but the feeling of taking control over a man's body took over me forever. I have not had vanilla sex ever since. My strapon is all my male sluts get from me!  And because I was submissive before I know what a good submissive should act like in order to please, so I am very particular about my slaves. Unless they can truly submit and do at least as good as I did when I was submissive, I do not accept them as my slaves. I reject a lot of men for the fact that they talk about submission, but for most it remains nothing more than a fantasy.

sbs: When you mentioned your strapon I immediately clenched but also throbbed.  It sounds like you've found your place in control of every man you meet.  Can you describe the feeling you have when you take control of a slave, desperately doing whatever it takes to please you as you bury your strapon inside him? Is it a rush, or just an expected outcome you've grown used to?
RQM: Lol. It's both. I am an empath, so I can sense how other people feel. And if they are nervous, I get that feeling. But if they are enjoying themselves, I can feel that as well. So when I make my boys orgasm with my big black strapon, I can feel the vibrational frequencies they experience and that is what gives me the thrill. It's like watching a woman orgasm in front of you, I'm sure your pindick would be hard and dripping just from watching it, right?
sbs: Kind of like it is now after reading your comments about your strapon.  My god that's erotic as hell Queen! I may have to visit Calgary one day soon 😉
RQM: Haha, trust me I know exactly which buttons to push to make a man scream and moan like a virgin losing her virginity!
sbs: OMG! Okay I'm really trying to keep my composure here and you're not making it easy for me!
RQM: But you will have to wait until October, as I am heading out for my East Coast Tour and will be gone for 2 months.
sbs: That will give me time to dream of how it will feel and how I'll live without it when you're not inside me 😉 Okay regrouping a little here…lol.  How can you tell when you've completely broken someone and they are unable to resist you?  Is there a "tell" of some kind that lets you know you've taken total control?
RQM: LMFAO! I'm a Dominatrix, I'm not here to make it easy for you boys, I'm here to push your boundaries! 🙂

sbs: You're doing a VERY good job at that beautiful Queen!
RQM: How do I know when I break a slave? When I get upset at my slaves if they do something wrong and they don't run away, because I can get pretty rowdy when I get pissed. And when I tell my slaves to leave because they are not up to my standards, but they don't leave because they have a deep need to prove to me that they can improve! It's when they don't leave no matter what because they know now that I am the one and only superior Queen for them, that is when I know they have become loyal to me, and me only. After that it becomes really easy. They simply do as I say! But they very well know not to piss me off.
sbs: That must feel amazing to have that kind of control over another person.  I think we've established your fondness for your strapon as a major part of your sessions.  Beyond your strapon, which is an obvious favorite, do you have other specific fetishes you enjoy exploring with your slaves?
RQM: Feet! I love having my feet rubbed and worshiped! I used to not like my feet and try to always hide it from my friends when I was a teenager and now I absolutely love my long toes and my boys absolutely love sucking on them! 🙂  And I love financial domination. I love having control over a man's wallet. My mom was in charge of finances in our household and my dad would give her all the money he made to decide what to do with it. I'm sure it has something to do with that.
sbs: I can imagine the privilege that must be for your admiring slaveboy.  I am in the process of working on a review of one of your ass worship clips in latex and I have to say…WOW! So many options for slaves who are going to so desperately want to be in your presence after reading this, if they weren't already.  For slaves looking to impress you, what is the best way for them to show you they are sincere in their desire to serve and spoil?
RQM: Thank you, I appreciate it! I really like how everyone who works with DommeAddiction.com is very professional and respectful.
sbs: My pleasure and thank you.  We love what we do.
RQM: And respect is the #1 priority for me! That is why "wannabe" slaveboys must learn respect first! So many men are so disrespectful towards the Divine Feminine these days. I will refuse their money and gifts if they do not show me respect. If they are respectful then they can send me a cash tribute, which is my most favorite, or buy me gifts off of my wishlist. Or simply go buy all my videos which is exactly what my UK puppy did last year and trust me he had my attention right away!
sbs: Words that I'm sure our readers will be following very attentively, if they're smart! Thank you again for taking time to answer my questions today, Queen.  I know you have to go as you have a radio show to do and are a very busy Dominatrix, but with your permission, may I please ask one final question?
RQM: Yes, you may.
sbs: Thank you Queen M.  If we were conducting this interview in person, with me kneeling before you as I ask the questions, how would it end?
RQM: I would tell you to kiss my feet while you are still on your knees and kiss my hand right before you leave. No hugs, lol. Some men actually try to hug me when they first come to serve me. I smile and say "Get on your knees, bitch!"