DommeAddiction presents to you The One True Alpha Size Queen of SPH, Goddess, Humiliatrix, Cuckoldress, Key Holder and Queen of Cocks, Large and small; Goddess Roxy owns them all.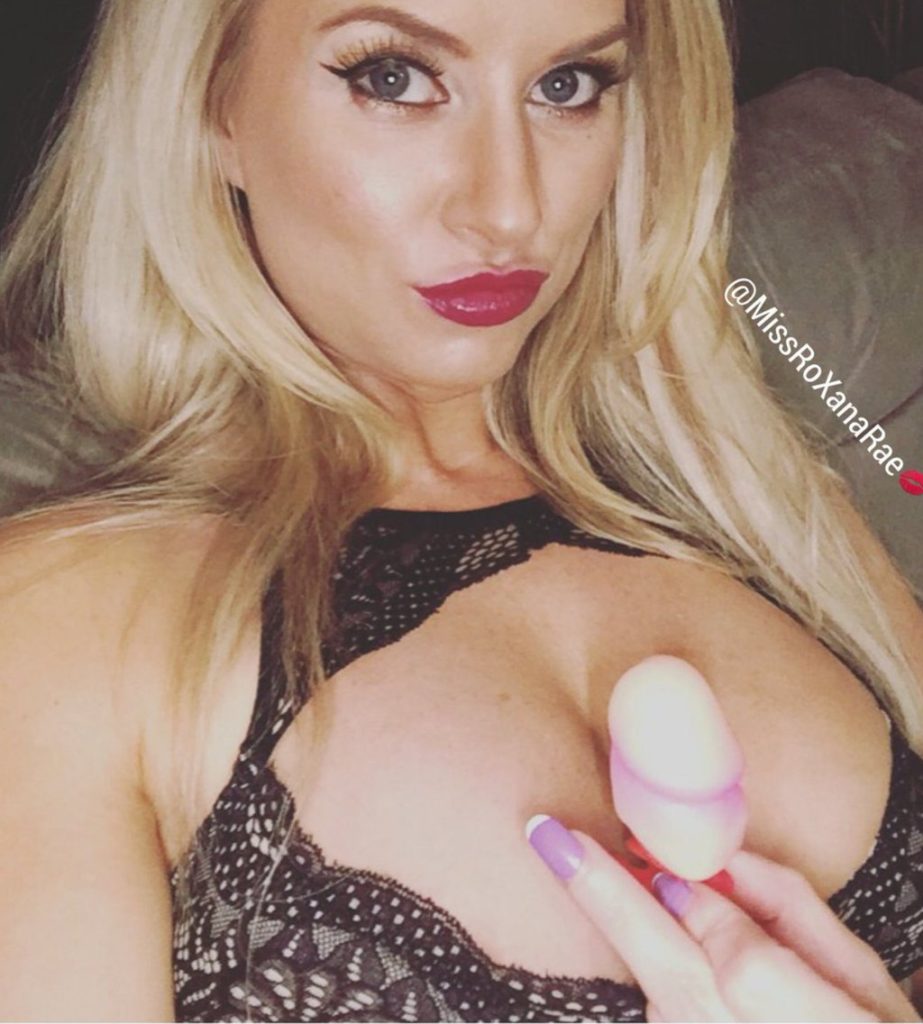 She is a lifestyle Domme so she is as true as can be. She has completely transformed her boyfriend  from a once confident aggressive man to a pathetic beta sissy cuckold in her worn panties everyday.
DommeAddiction: How long have You been a Dominatrix, and what was it that brought You to this role?
Roxana Rae: I have always been a Dominant Woman by nature. I am a control freak so that is where I tend to end up, in dominant positions. It wasn't until this past year though that I extended this aspect of my personality into taking complete control of My personal relationship by reducing my then boyfriend to My feminized submissive sissy slave, maid, cook and Secretary and transforming our relationship into an FLR (Female Led Relationship) demanding that he admit that he was too tiny (1.5 inch) to satisfy me sexually or be considered a man giving him the ultimatum to kneel at my feet in complete submission as my cuckold slave or be left out of my life completely. Without hesitation My once confident boyfriend was at my feet where he belonged. He looked so pathetic there that I slid off my pink satin panties informing him that since he wasn't a man, his place from that point on was to be on his knees at my feet in panties as My obedient sissy slave. His tiny little nub fit perfectly into the tiny panties and I began to realize how easily I could use My natural Dominance to turn men into my helpless little slaves. Thus I became a lifestyle Dominant Humiliatrix and soon there after I began accepting submissive slaves professionally and just like my boyfriend they proved helpless to resist the power and control of a Superior Dominant Woman.
DommeAddiction: You are naturally dominant, how does that effect your private life?
Roxana Rae: Being naturally Dominant was always beneficial in School and Professionally as I found myself in leadership and management positions due to my ability to control situations, Influence others and make them do what I want because of the confidence I have in my ability. Now that I have taken that Dominance to a new level as a Professional Humiliatrix, and Fem Domme, I have found that not only does controlling and owning men come naturally to me, but I truly enjoy what I do and men are in need of Truly Dominant Females to control them and Dominate them. It is simply a matter of stripping away the pride and ego that hides the submissive nature of men to worship, serve, and submit to Superior Dominant Alpha Females.
DommeAddiction: Are the people in Your personal life aware of Your work?
Roxana Rae: Other than my live in cuckold sissy slave/Secretary the answer thus far is no. I have kept my personal friends, family, and colleagues separate from my Profession as a Domme and Humiliatrix. My sissy is completely submissive obedient and whipped at all times but most people just assume that I am the Dominant Alpha in the relationship.
DommeAddiction: What  kind of skills do you think a successful Dominatrix must have?
Roxana Rae: A successful Professional Domme/Humiliatrix must have complete confidence in Her natural Superiority and Dominance over all men and be able to command the respect, obedience and control that is owed for the privileged of being in Her presence and opportunity to serve and worship Her Superior Beauty, Intelligence and Perfection.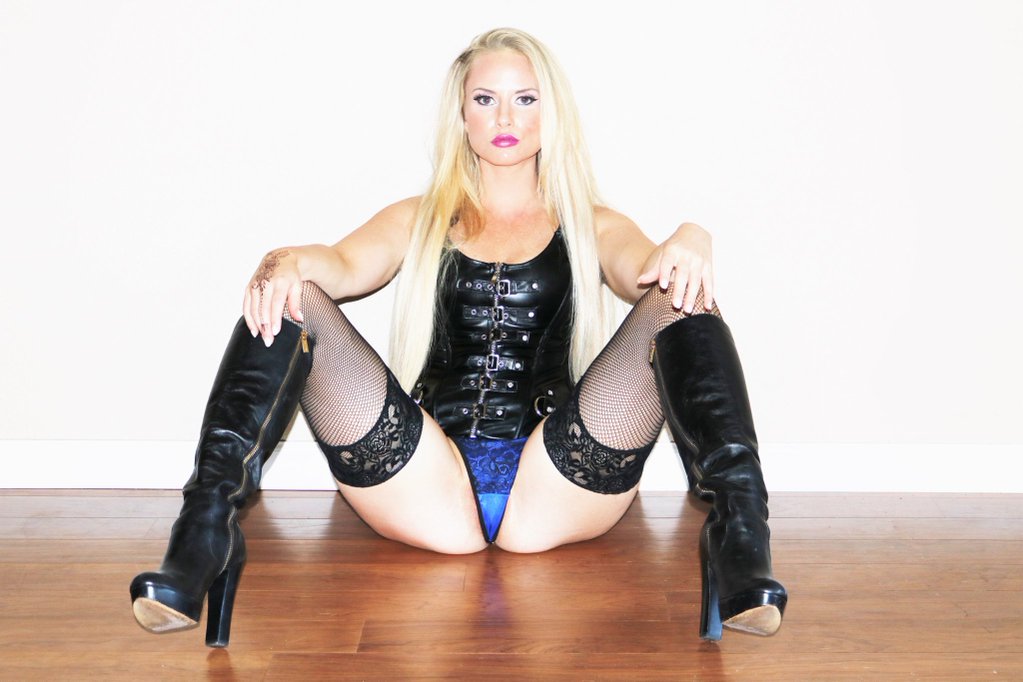 DommeAddiction: Can You explain what makes a man want to be a slave?
Roxana Rae: At their core, all men yearn for the guidance, control, and approval of a Strong Superior Dominant Woman. They may not admit it openly, but a skilled Domme can find any man's weakness and use it to reveal his true submissive nature and thereby take control and manipulate him into complete and total submission to Her will.
DommeAddiction: Would you please tell us about your Favorite fetishes?
Roxana Rae: As all of my slaves and pets know, I am the One True Goddess and Size Queen of Small Penis Humiliation. Thus SPH is my specialty and a extremely effective means of indisputably putting many of my slaves in their pantied place at My feet. I do however enjoy a wide range of fetishes employing many methods to dominate and control my slaves. I have many slaves locked up for me in chastity, I enjoy being a keyholder and having complete control of their orgasms a d manhood. I am also fond of foot, and ass worship slaves. My perfectly pedicures feet are irresistibly kissable and I have an ass that brings the strongest of men to their knees. I also enjoy the process of feminization for my sissy slaves both forced and voluntary, cuckold fantasies, financial domination, domestic slavery, humiliation, and of course as a Size Queen I enjoy evaluating my well endowed Alpha Men. I sell my worn panties and socks to lucky slaves and make clips regularly as well as custom clips for those with specific fetishes or requests.
DommeAddiction: What about fetishes You'd want to explore with Your slaves?
Roxana Rae: Custom clips are always a fun way to interact with my slaves. I obviously deserve to be worshiped and adored and therefore enjoy slaves who purchase items from my wishlist to wear for them in custom clips. I am also beginning a new series of hypnosis and reprogramming clips focusing on sissification, penis shrinking, Goddess Worship, etc.
DommeAddiction: Since You totally feminized your boyfriend, what is the difference for You between in-person vs. online sessions?
Roxana Rae: I completely feminized my boyfriend because he has an incredibly tiny micropenis that is honestly more like a clit than a cock. In my opinion anything under 6 inches is small, 5 tiny, 4 pathetic, 3 or less does not even qualify as a penis because it's too small for sex and should be put in panties at all times and treated like the clit that it is. Because Eric isn't even 2 inches I decided to completely strip her of all masculinity and transform her into my feminized sissy because she can't satisfy me as a man. Ultimately this forced Ericas complete submission and since taking complete control of her she has found her true purpose serving me as my maid, sissy, Secretary, girlfriend and cuckold now that she no longer lives a lie pretending to be a man she can embrace her submission and obedience as My sissy slave.
DommeAddiction: Seriously, Does size really matter and why?
Roxana Rae: Yes, unequivocally Size Always Matters! If you are less than 6 inches you should be in panties and accept your place as a submissive slave to a Dominant Goddess because you are not equipped to satisfy a Woman Sexually like an Alpha Male. A well hung Alpha Male always is superior to a small dick beta loser. Alpha men can fill up a Woman, stretch her out, bring her pleasure and deserves the pleasure of pussy, and blow jobs in return for his superiority. Beta boys must accept their roles as cuckold slaves embracing submission obedience and worship of their Alpha superiors. In turn they may be rewarded by being used for their tongues, their wallets, other skills and slavery. Alpha's play, beta's pay….that is the natural order of life, accept it losers, if the panties fit, then you have a beta clit.
DommeAddiction: Please tell us how losers that don't measure up to her standards can be of use to You?
Roxana Rae: Pathetic tiny dick beta's can serve as my slaves, sissy boys, cuckold, promoters, chastity bitches, and financial slaves. If you are under 6 inches expect to tribute for the attention of a Dominant Goddess like me, and expect to do it at my feet in a pair of pink panties. Tributes can be made via my PayPal at sissyinsatin@outlook.com. Beta losers can also spoil their Goddess via my Amazon wishlist, and purchase my clips or request custom clips to fulfill their pathetic desires.
DommeAddiction: What would You do if one of them tried to reverse the power dynamics and top from the bottom with You?
Roxana Rae: I have complete confidence and faith in the reality of Female Superiority. There is no topping this true Alpha Size Queen Goddess. Large or small, Roxana owns them all, so know your role or get used to being ignored.
DommeAddiction: What types of training do You offer to subs ?
Roxana Rae: Training is available online via custom clip training, feminization, foot, add, body worship, chastity/keyholding. Financial Domination, and general online slavery and humiliation tasks. Slave applications and chastity applications can be requested via my email sissyinsatin@outlook.com.
DommeAddiction: How can customers request custom clips?
Roxana Rae: Custom clips can be requested via my clip store on www.iwantclips.com under Roxana Rae. You may also directly inquire about a custom via my email sissyinsatin@outlook.com and would be paid for via PayPal at a rate of approx $10 per min.
DommeAddiction: How strong is your impact on slaves? Do You break their ego ?
Roxana Rae: The slaves I choose to own and enlist in My submissive Army are completely and hopelessly addicted to their one and only Goddess Roxana Rae. My slaves are completely stripped of all ego and masculine impulse of their own. They will submit completely and exist to serve at My pleasure alone as their true lives purpose and passion.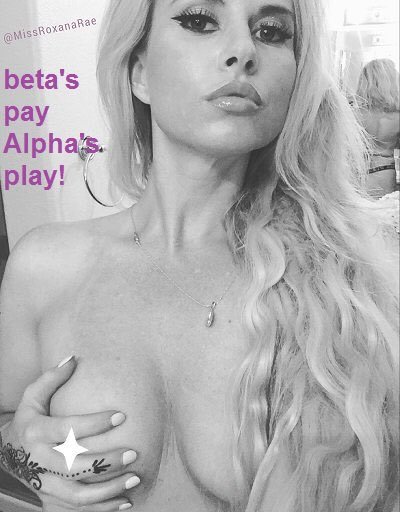 DommeAddiction: At what point did You first realize the power You held over men?
Roxana Rae: I first realized the power and control I have over men at an early age. Obviously my beauty has always attracted boys and men but my intelligence, confidence and Dominance enslaved them until they become dependent on my power and control over their lives. Boys worshipped Me, fell in love and when they bored me I broke their hearts by stealing the next. Now they just become my property, I use them, own them, dominate them, degrade them, humiliate them, enslave them, emasculate them and they worship and adore me for it.
DommeAddiction: Would You please tell us about your new projects ?
Roxana Rae: I have been experimenting with new and more advanced software and filming technology to continuously upgrade the quality of my clips. Specifically my recent projects have been developing hypnosis clips. I am also in the process of some potential affiliations to do clips as a Humiliatrix Fem Somme Model for some well known fetish sites, so stay tuned…..The One True Alpha Size Queen Goddess of SPH is in high demand so their are Big Things cumming soon for my subs, slaves and fans!
DommeAddiction: Is there one type of clip topic You enjoy making more than all the others?
Roxana Rae: My favorite clips are always of the PSH variety. Nobody knows how to put a tiny dick loser in his pretty pink panties like Roxana Rae, but I am always on the hunt for new innovative and creative ways to humiliate my devoted dinky dick dorks.
DommeAddiction: What is the cruelest thing You have ever said to a slave?
Roxana Rae: I force many of my submissive slaves to come to grips with the reality that they are complete and total failures as men and therefore must accept their new place as pathetic slaves and little dick losers.
DommeAddiction: How do You know when You have truly broken someone and are completely in control of them?
Roxana Rae: Lol, I know the minute I meet a man that if I choose, I will own him, consume him, enslave him and turn him into my patheticly pussy whipped pet.
DommeAddiction: Can You describe how it makes You feel to know You have absolute control?
Roxana Rae: It is impossible to explain the power, confidence, dominance, and control that a Superior Dominant Alpha Goddess possesses to a submissive beta bitch boy. It is beyond your grasp and ability to ever comprehend because you are not equipped to do so as a beta. Your role is not to think, not to decide, or even understand the extent of My Superiority. Your role is this alone, "My Purpose in life is to worship, pay, and obey the One True Goddess, Roxana Rae" This is your Mantra, your muse and your meaning in life.
DommeAddiction: Is there a specific type of boy You find is drawn to You?
Roxana Rae: I am every boy's type, every guy's fantasy, and every man's dream he will stop at nothing to see come true.
DommeAddiction: How does it feel to turn men into her helpless slaves?
Roxana Rae: It feels normal because I am a Superior Dominant Alpha Goddess, turning boys into my bitches is just what I do, it's what I've always done, it is how it is meant to be, I own you, and you worship me.
DommeAddiction: What is the best way for slaves to show You they are sincere in their desire to serve and spoil?
Roxana Rae: I am not unreasonable, I know that there are many submissive losers out their that can't afford to pay as much as they should for my attention. But I do expect my slaves to show their appreciation for My time and attention via tributes, wishlist gifts, and acts of devotion that are within their means. Don't be cheap though, you are already a loser and not worthy of My attention don't compound your pathetic position in life by being cheap. It is always best to make an initial tribute you can afford to my PayPal to get My attention and show you are not a time waster, so do it, I can't make it any more simple than that.
DommeAddiction: Is there anything else You would like to tell your admiring worshipers, and future slaves, reading this interview?
Roxana Rae: You already know your place, on your knees in submission at My feet. Deny yourself and continue to live your meaningless lie of a life. Accept your place, submit, serve, worship, pay and obey….and I will give meaning, purpose, and pride to your pathetic existence, you have no clue of the world that awaits you, bow down boy and your life will begin.
DommeAddiction: If we were conducting this interview in person, how would it end?
Roxana Rae: With My Patent Leather Pumps bursting the seam of your baby beta balls leaving you black and blue Bitch!
Alpha's Play, beta's pay!
Your Beautiful Bitch,
Goddess Roxy Rae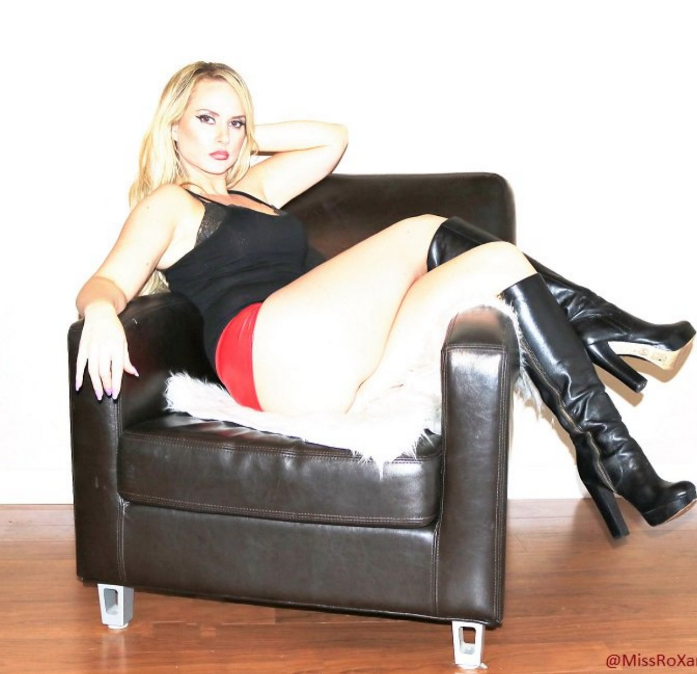 Get Connected with Goddess Roxana Rae:
@MissRoxanaRae on Twitter
Roxana Rae's Wishlist on Amazon