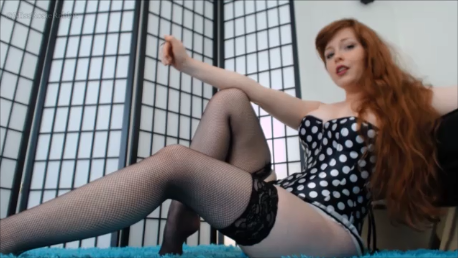 DommeAddiction: Rosie Rabbit, the beautiful Former camgirl who turned into a Soulless Ginger Domme. Thank you for doing this interview.
Rosie Rabbit: You're welcome!
DommeAddiction: Let me begin by asking about how long you've been a Dominatrix and what brought you to this role?
Rosie Rabbit: At this point, not long. Maybe a year or less? What brought me in is kind of a funny story. There is a family member who got outed as being a Dominatrix and I am obviously very open minded so the only reaction I had was curiosity. I browsed her site and all I could think was 'This is almost perfect. This is almost what I want.' She is more of a traditional dominatrix whereas I'm more toward the bratty, spoiled, egotistical spectrum, so I wasn't 100% sure that what she did was for me. After more digging I read about 'Brat Girls' and it was as if all the right pieces clicked into place. I had the tools to harness a power I knew was there, and harness it I did. I'm like a wizard. A very sexy, mean, bitchy wizard.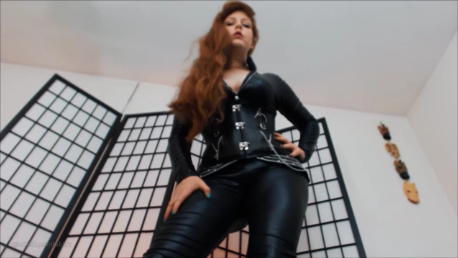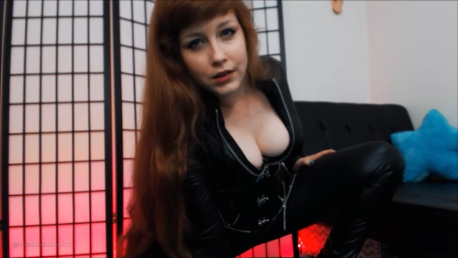 DommeAddiction: What can you tell me about your journey from being a camgirl to becoming The Soulless Ginger Domme?
Rosie Rabbit: It wasn't as smooth as I had hoped, but it was necessary. I went from being a top listed performer on a cam site to pretty much unknown to customers AND peers. I started from scratch; 0 followers, minimum 10 clips, no domme friends. Not everyone was thrilled that I went Domme-side and there was a teeeeeensy bit of drama, but I came out on top of it by holding my ground and raising my middle finger ever so directly. This journey was the right move for me and I haven't looked back except to check out my delicious rump!
DommeAddiction: Would You say You are naturally dominant, or is it more of a role play when You are in session?
Rosie Rabbit: If you had asked me this a few years ago I would have said I feel naturally submissive. Things change, though. No one is the same person they were years ago. I remember when the 'sub' thing faded. I was just tired of 'Doms' not properly giving me what I needed to remain in a submissive state. I always got irritated, thought they were cockslapping idiots, and it eventually blossomed into me being the dominant one. I feel now it's difficult to access the part of me that was once submissive. I got to experience both sides of the spectrum; to be the painter and the canvas. It's pretty cool!
DommeAddiction: At what point did you first realize the power you held over men?
Rosie Rabbit: Oh boy…lol! Well I kind of always have known I had some sway over men. Even as a submissive there was an element of control and desire I knew I could wield. Men have always been kind or submissive toward me. I didn't understand it then but I definitely do now! Camming was the first step. Talk about a HUGE confidence boost! Having to control a room of rowdy jerkaholics was a great lesson for me. I can't please everyone but I can sure as hell please myself, and those who want ME to have pleasure will always be around to ensure it. So I wouldn't say 'it's when I first realized' but more like the seed was there and just needed the right conditions to grow.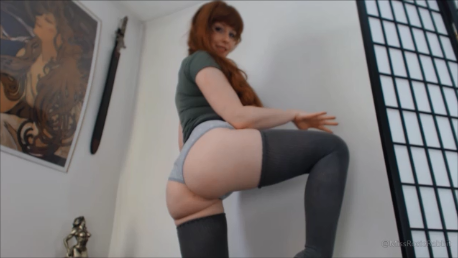 DommeAddiction: What skills do You think a successful Dominatrix such as Yourself needs to have?
Rosie Rabbit: A huge skill is realizing that there isn't just one way to do things and not all things will result in success. Patience, time management, creativity, etc. are all individual threads of a web we build. Enjoy yourself!
DommeAddiction: Can You explain what makes a man want to be a slave?
Rosie Rabbit: Pleasure. Isn't that the basis of most desires? Even lack of pleasure has it's own pleasurable virtues. Seeking out pleasure is a human thing, but how it is sought is on the person. Some say they want to feel useful, others need a dominant brat to get them off, and some want intense mental release! It all boils down to pleasure.
DommeAddiction: Ruined Orgasms is one of your favorite fetishes, what's the reason. How does it do to slaves ?
Rosie Rabbit: LOL! I can't think of a ruined orgasm without laughing a little. I have fun fucking with men, especially over something so enjoyable as an orgasm! The struggle, desperation, acceptance that they're my little submissive bitch, the begging, pleading, etc. is so much fun. It's a big jumbled mess of emotions on the slave's part while I'm a focused predator leading them straight into my trap, almost like a game. Like how am I going to fucking destroy this guy's hope of cumming like a regular, real man? With ease.
DommeAddiction: Any new fetishes to explore with Your slaves?
Rosie Rabbit: Always! There are fetishes I've merely dipped my toe into at this point like sissification and executrix. I really want to push forward with those. Other fetishes I'm still reading about/observing. One of the biggest is hypnosis! I've been asked to do hypnosis so many times I've lost count. Another thing I'd love to do is take a trip to NY or San Fran and do some serious public humiliation, potentially even as a double domme session (yet another thing on my wishlist).
DommeAddiction: Do you like to push limits, or you keep slaves in their comfort zone?
Rosie Rabbit: Either or, depending on the slave! Some are good just sliding in position and practically throwing me the reigns while others are cautious about their sensitivities. I will admit in my soullessness I am always tempted to roundhouse kick the door down and have my way…but I'm too in control to let things slip into unnecessary chaos. Still, the temptation is always there.
DommeAddiction: Have you been told you make men nervous often?
Rosie Rabbit: YES. More so now than ever! I've got a vibrant personality, I'm sexually free, and my sense of humor is just vile.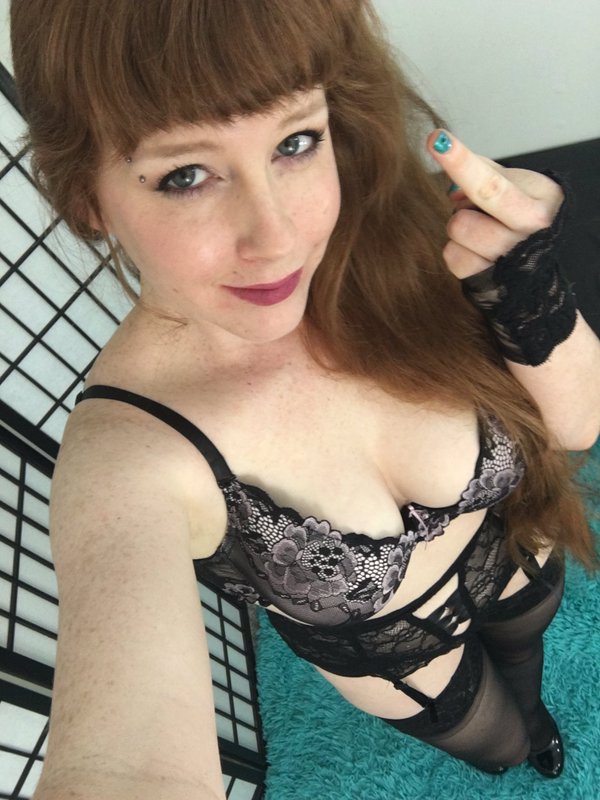 DommeAddiction: Your femdom style is very unique, what can you tell us about this ?
Rosie Rabbit: When I dominate someone, I want it to be fun. I'm all about humor. I LOVE to laugh! So of course I inject that into any scene I do. I don't think there is one video I've done that doesn't have me smiling a minimum of once! Anyone is welcome to buy ALL the clips and let me know, though, for science 😉 All in all, I'm very happy to know that my style is unique! To be honest I'm just being me. I entered the scene having not creeped on many girls at all because if I was going to be successful I was going to build it on my own back.
DommeAddiction: Do you have a clip that will be a good introduction for new slaves?
Rosie Rabbit: A ball crushing video. Hahahaha! Kidding kidding…maybe. I'm always updating and improving so I have no current 'intro' clips. The only one I did was when I first started where I list out expectations. My furniture was different, makeup different, hair different, and I had no mic for better sound. I would suggest creeping my twitter for a bit to get an idea and then just belly flopping into the clips. Sometimes being TOO careful sucks all the fun out of the adventure!
DommeAddiction: Have You met many other Dommes?
Rosie Rabbit: Not in person but I do chat with many online. I am actually quite friendly and social with other Dommes and am not opposed to meeting!
DommeAddiction: Any Dommes in particular you're interested in working with?
Rosie Rabbit: Who WOULDN'T I want to work with? I'm being totally greedy here. I want it all! LOL! I want to work with entry level no-names all the way to top killers in the industry and I would be so stoked to work with established companies for shoots! I want to learn more, do more, and be more!
DommeAddiction: What is the cruelest thing You have ever done to a slave?
Rosie Rabbit: It inspired me to do it again in a clip. I had a slave jerk, eat it, gag it back out, stroke with it, and eat it again. Pretty gross, right? He deserved it. He wanted to send me pictures…fuck no! I told him those were the only pics he got to stroke and ruin to for two weeks. He's still in my back pocket buying up all the humiliation content I have. Life is so good to me!
DommeAddiction: How do You know when You have truly broken someone and are completely in control of them?
Rosie Rabbit: I can't say. It's just a feeling…like a series of puzzle pieces fitting together to make a pretty picture.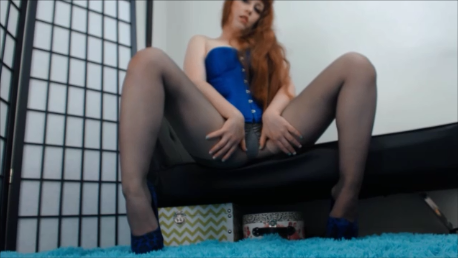 DommeAddiction: Have any of Your clients tried to reverse the power dynamic and top from the bottom with You?
Rosie Rabbit: Yes and it never works. I have no desire to submit to people just as I have no desire to chew a rock. The attempts are met with amusement and I actually laugh a little when it happens. Like, are they for real? Did their brain just break? Is it early onset dementia?! No. It's just losers trying to get a leg up and failing. Naturally. (yes I'm laughing right now!)
DommeAddiction: Are the people in Your personal life aware of Your work?
Rosie Rabbit: A few. I would love to be open to all and be free because adult work can be very isolating when it's all you do but can't discuss. I keep it private out of respect for people I KNOW would have a difficult time. If they come across it on their own I'll be honest and factual, but there are so many other things to talk about that I wouldn't say that I'm weeping in a solitary corner over it! This is where I appreciate the Domme community and spaces like twitter!
DommeAddiction: Cash or gifts? What type of tribute do You prefer from Your slaves to show they appreciate You and are sincere in their desire to serve You?
Rosie Rabbit: Cash. Gifts are nice and I like them, but between the two cash is always superior! Less mess, less fuss, less trouble- just instant gratification!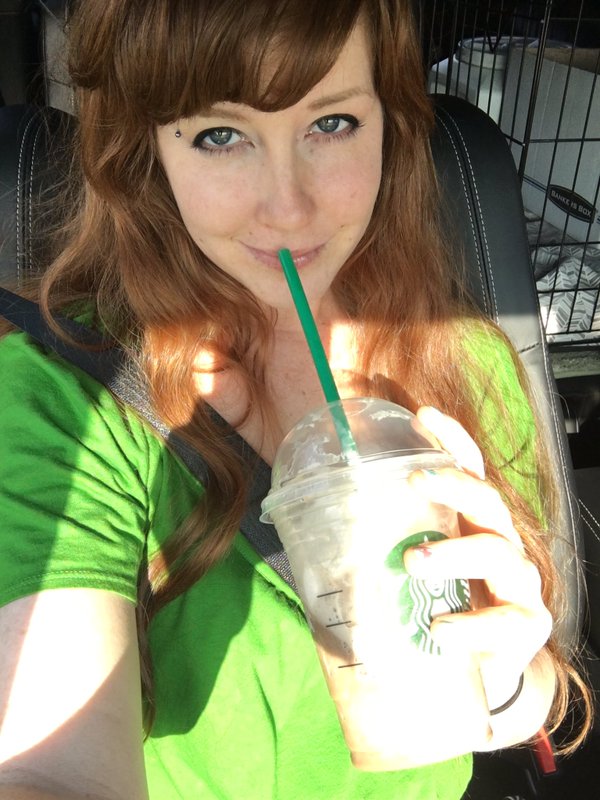 DommeAddiction: What role does social media such as Twitter, Skype, etc. play in Your business?
Rosie Rabbit: For me it's sizeable. I started from scratch, from follower 0, on twitter and have built it up over time. I have only advertised on twitter! I have not tried skype as of yet and at this point only started poking at tumblr.
DommeAddiction: Can you describe how it makes you feel to know you have absolute control?
Rosie Rabbit: It's a rush! Not like an out of control rush, but a very confident runway stomp! I feel like a Goddess. I am powerful!
DommeAddiction: How do you make sure they realize they are there to serve you, not the other way around?
Rosie Rabbit: It's all over and everywhere; what my wants are and what my ideal relationship is. Most men who approach me seem aware! I'd probably start laughing if someone told me I served them. I don't think I'd stop laughing for a while!
DommeAddiction: Have you ever been recognized in public?
Rosie Rabbit: Not to my knowledge! If you do see me let me know online first and ASK permission to approach me that way. There are circumstances where I'd allow it but they absolutely must be met first. Otherwise just stare like a creep because I know you can't help it, LOL. Weirdos.
DommeAddiction: Is there a specific type of slave you find is drawn to you?
Rosie Rabbit: Ones who really, really get off on how much of a mind fucking bitch I can be 🙂
DommeAddiction: Would you ever meet a slave in real life, or are r/t sessions something you have decided will not be in your future?
Rosie Rabbit: R/T sessions are an option under certain conditions. Those conditions depend on the person and the time. It'd have to be a person-by-person basis. I do think it'd be fun to venture elsewhere for public humiliation! Nothing like a powerful woman walking her toy on a leash!
DommeAddiction: Have you always been dominant in your interactions with men?
Rosie Rabbit: Not always, but there is a layer of domination I can't (and won't) shake out of my interactions. Sometimes the volume is turned up!
DommeAddiction: Is there anything else you would like to tell your admiring worshipers, and future slaves, reading this interview?
Rosie Rabbit: Every single one of you has a stupid cum face and it makes me laugh! Think about it the next time you get to that point. Think about me just laughing at you while you're trying to enjoy yourself while your face gets red and twists into a brainless monkey expression that I find hysterical and not sexy! LOOOOOL!!!
DommeAddiction: If we were conducting this interview in person, how would it end?
Rosie Rabbit: With me prying you off my leg because you desperately don't want me to leave 😉
Get connected with Rosie Rabbit:
Rosie Rabbit's Amazon Wishlist