From the moment I discovered the wonderful world of Femdom, today's Feature Domme has been one of my absolute favourites.  How could she not be? One look and it's easy to see why the amazing Princess Rene can enslave men so easily and thoroughly.  She is the blonde bombshell Goddess we have always dreamed of.  Her long legs, long blonde hair, perfect perky breasts and those gorgeous pouty lips combine to leave us weak, vulnerable and easily manipulated by our desire to please perfection.  And if that hasn't already left you drooling, her exquisite ass will haunt your fantasies forever! My time serving as Princess Rene's loyal pet was wonderful and she was actually my first ever Femdom interview back when I began doing these for my own blog.  It is a pleasure, and privilege, to bow before the perfect Princess once again and bring you this follow up feature interview.  She is intelligent, articulate and deviously seductive.  Read every word from those perfect sensual lips, and prepare yourself to be overwhelmed.  She is playful, yet cool, seductive, yet cruel.  Everything you think you know about Femdom, Princess Rene is at least one step ahead of you.

slaveboysmith: Joining me today at DommeAddiction is the one and only Princess Rene. Princess, it is indeed a privilege to be in your presence again. A lot has happened since my first feature interview with you. Thank you for this opportunity to catch up. As one who avidly follows you on social media, it's clear that you are a woman of the world. If you could travel to one place, paid for by loyal slaves of course, where would you go?
Princess Rene: I've been to over 25 countries and I have a lot of fun trips coming up this summer, heli-hiking in Banff, Canada, rafting in Yosemite, and lounging poolside in Mexico to name a few. It's hard to name one place I'd go, paid for by loyal subs, because I have a lot of trips I'd love to (and plan to) do! Somewhere super remote, luxe, and exclusive would be fab, like the Four Seasons in Bora Bora!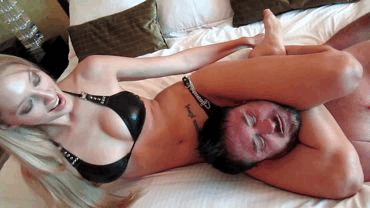 sbs: Yours is a lifestyle we slaves can only dream of…and work hard to provide for you, of course. All of this travel would of course include your man. Do you enjoy the cuckolding effect of having slaves know that you have a real man that has the life we could only dream of?
PR: Absolutely! It works both ways. It's a cruel kind of tease for my subs knowing that a real man is satisfying me with his big cock – and orally – while they can only dream of watching. Meanwhile, it's ever amusing for my man to hear about my latest domination exploits and financial conquests. We often high five or cheers or even laugh over the crazy large tributes I receive.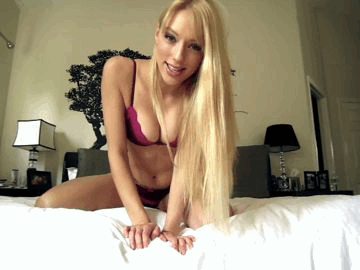 sbs: I think that response may have sent any cuckold readers scrambling to tribute you. Any who have knelt and worshiped you would describe the feeling as overwhelming lust and submission. Can you describe how it feels from your side knowing how devoted we slaves are to you?
PR: Being "served" can be amusing, entertaining, fun, or erotic. Don't think I don't notice the smaller tributes, because I do and they're cute. But when a submissive showers me with gifts or sends me a massive tribute, it definitely gets me hot. I'm no longer surprised by the idiotic and humiliating things a fan will do to garner my attention… just a couple days ago a guy bought some maxi pads and walked home from the store with one stuck to his forehead, only to come home, dildo his ass while humping a Fleshlight, licking out the Fleshlight to clean up after, all for my amusement (and his humiliation). For the record, he said it was the best orgasm he ever had. Anyway, I was saying, humiliating tasks no longer surprise me but a big fat tribute or an out of the blue wishlist haul will always, always, brighten my day!
sbs: It's not hard to imagine men doing whatever it takes, financially, or otherwise, to ensure your amusement and pleasure Princess. I think it's more exciting for slaves to know that you thoroughly enjoy our demise and servitude. We've touched on financial domination and humiliation, is there another fetish that is a must for serving you?
PR: No. But I dabble in all things Femdom, from foot fetish, which I really enjoy, to spit fetish, giantess, ass worship, forced bi, and lots more. Of course I'm lauded for my hundreds of creative and sexy jerk off instruction videos!
sbs: Your JOI clips are legendary Princess. We should all be buying every one, but if there was one clip of yours that is a "must have", which one would that be?
PR: One clip?! Come on, I have thousands. That would be like asking Beyonce which one song of hers someone should listen to. I recommend everyone to get over to http://humiliationbyrene.kinkbomb.com or http://clips4sale.com/26992 and spend some time perusing my store and seeing what strikes your fancy… which I'm assuming will be a lot!
sbs: Strikes…or strokes? 😉 Of course Princess, I can't even decide on my favourite of yours that I own…they're all amazing. During my time as your owned slaveboy, I became indoctrinated with an intoxicating mantra that I still recall fondly today…"Princess Rene I Will Obey". If you had to guess, what would the over/under be on the number of slaves who wake up every day with this as their first waking thought? Or perhaps, have it as a permanent reminder tattooed on their body even?
PR: Haha. Ummm I have no idea but I'm guessing it's A LOT! This is 100% serious, and I can take screenshots to prove it, but I have sold a million dollars in clips on Clips4sale alone! You can do the math but let's say each of my clips is on average $8.99. That's a whole lot of jerking and worshiping!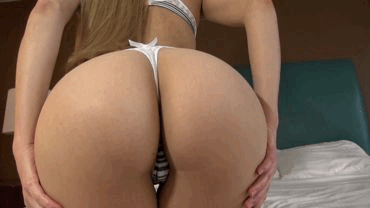 sbs: And a lot of obeying to be sure. One glimpse of you, with your perfect beauty and breathtaking body, and it's easy to see why. I've been spellbound for a very long time and it never eases one little bit. I mentioned tattoos in my previous question, and I would be remiss if I didn't inquire about the significance, and meaning, of your intriguing tattoo on your bikini line. Would you share with our readers what it translates to and the meaning behind just one small aspect of you that we slaves cannot stop thinking about?
PR: I have a clip which describes what my tattoo says and it's on Clips4sale.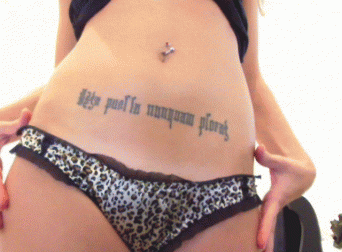 Buy Princess Rene's Sexy Tattoo Clip
sbs: I will have to make that purchase a priority, as will our readers I'm sure. It's a beautiful tattoo and looks amazing on your perfect body Princess. Your clips are incredible, and your online presence is all consuming to the huge numbers of slaves who adore and worship you. Do you grant the privilege of real time sessions of any kind, Princess? If so, what must a slave do to show they are worthy of such an opportunity?
PR: While on rare occasion I do allow a slave to serve me in real time, it's such a coveted and special station that I pretty much tell everyone that it's not going to happen and they therefore shouldn't bother me with asking. I have a super busy, happy life, why would I want some horny idiot buffoon in my presence? And, no, I don't need a maid! I have a full time (paid; non slave) housekeeper already.
sbs: I can imagine you must tire of constantly having men drool over you and offer you attention that is unwanted. We really can't help ourselves! It's very easy to become obsessed with you, Princess 😉 Speaking of which, what's one thing that your admiring slaves, who live for every chance to read your words and learn more about you, would not know about you?
PR: I'm pretty open and candid about my life so it's kind of hard to think of something my fans wouldn't know! Here's a fun fact: I'm so boring my favorite flavor of ice cream is vanilla (vanilla bean, really but my fave gelato is mint chip). Another interesting thing about me is that I've also been to over 25 different countries and have plans to go to more soon. I like to do adventurous things – from dogsledding on an Alaskan glacier to sliding down natural waterfalls in the Dominican Republic jungles to spelunking at Mt Etna, an active volcano in Italy.
sbs: I don't really want to imagine it, and I'm sure your admiring slaves won't either, but in a world where you did not become the world-class Femdom Goddess you are, what might you be doing instead, Princess?
PR: I got my Bachelor's degree in 2009 and wanted to work in education. I planned to teach abroad (possibly in Spain since that's where I did a semester abroad while in college) and then return to the states to be an actual teacher. But that is also around the time that I started my FemDomme career, which took off rapidly and I've been enjoying the perks ever since! I still do travel abroad fairly extensively and I definitely feel I'm still a sort of teacher… just in a totally different sense. I instruct my pupils on how they can better serve me! I also dabble in real estate investment and own several properties. Always gotta have a backup plan!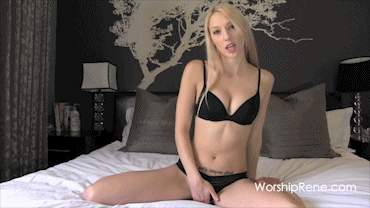 sbs: Thankfully, you have found your niche as the perfect Temptress of every man's dreams. You are a world-renowned Femdom Goddess, famous for wrapping men around your little finger with ease. What comes next for Princess Rene?
PR: I'm continuing to explore all the new & various ways by which I can take over your brains – from my app (available for android users & hopefully soon for iPhones too!) to 3D videography. I'm at the point now where I do this purely for fun — I only make the videos I want and only dominate those I feel worthy. I've made a lot of money over the years and made some great investments which means I get to be very picky in what I do in the world of Femdom. So, for all those reading, you'd better try hard to please me and stay in my good graces if you want any amount of attention from me!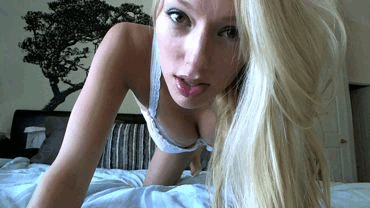 sbs: It seems appropriate that you've reached a point in your career that you can be in absolute control of what you wish to do…after all, you've been controlling us men for as long as we can remember! For readers that are dreaming of becoming one of the legion of slaves that devote themselves to you, how might they best go about showing their sincerity and willingness to obey and serve you Princess?
PR: It's very easy. Pay me when I say to. If you can't comply with that, I'll ignore you. If you really want to please me then just pay attention – I will often post to my Twitter opportunities for buying me something in particular or even researching something for me. Also, send gifts.
sbs: More than reasonable expectations for the privilege of serving someone as beautiful and dominant as yourself Princess Rene. Thank you so much for taking the time to answer my questions and give some insight to our readers about the woman of their dreams. With your permission, may I please ask one final question?
PR: You may.
sbs: If we were conducting this feature in person, with me kneeling before you, how would it end?
PR: If we were conducting this interview in person? I would grin at you, in a self-satisfied way, eyeing the sweat on your upper lip and the blatantly obvious bulge of your crotch. I would then calmly ask you to produce your wallet, opening it wide for me. I'd procure every last bit of cash and probably your credit cards too while you helplessly looked on. I'd then stand above you and tell you to look me in the eyes. I'd bend down close to your face and tell you to thank me. You'd quiver and say "thank you, Princess." I'd laugh and send you on your way… but knowing you, you'd probably stammer and beg for me to spit in your face. I'd agree but only after giving you a sharp kick in the nuts. I'd spit in your face and force your mouth open letting my saliva spill over my soft pouty lips right into your greedy mouth. You'd swallow it down and probably instantaneously cum in your pants. …Good thing we didn't do this in person!