"I will mindfuck you until all you can think about is pleasing me".
That about tells you everything you need to know about today's wickedly sexy Feature Domme, Miztress Sophie.  She is a bratty blonde Goddess with a cruel streak that you will get to read all about.  She takes great pleasure in your suffering, and in your efforts to impress her by enduring more.  You want to bring a smile to that gorgeous face and listen to her satisfied laugh as you cower on the floor, your intact balls a distant memory, don't you slaves? Read every word of Miztress Sophie's wonderful interview below, and be sure to visit every link to learn more about the woman you won't be able to stop thinking about.  Thank you Miztress…putting this feature together, and getting to know you, has been a privilege.  I will admit, however, your final answer terrified the hell out of me! lol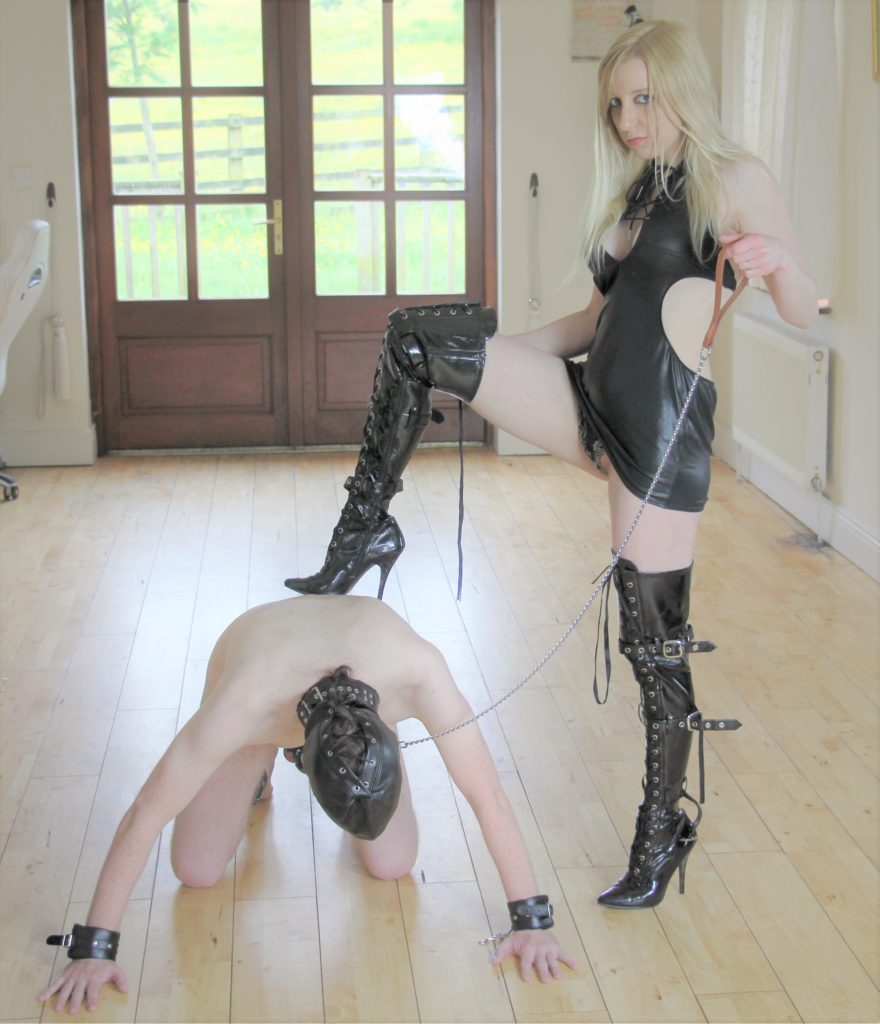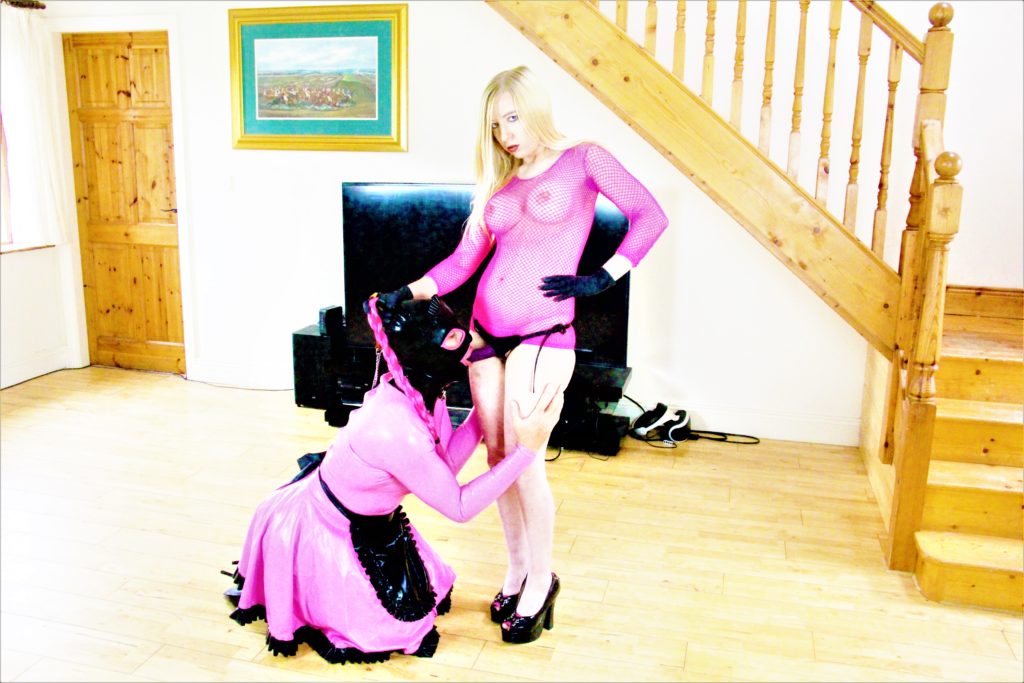 slaveboysmith: For any who follow you, it is very evident you control men with ease. Has that always been the case?

Miztress Sophie:  Yes it has always come naturally to Me, it was never something I had to learn. Even as a little girl, I learned to control My dad and ever since then, men just always did what I told them to do. The power is in the mind, in the eyes, in the way I behave, the energy I emanate. Submissive men are natural receptors of this "language of dominance" and they react instinctively.
sbs: Are you naturally dominant in every aspect of your life, or is Femdom more a roleplay for you when interacting with slaves?

MS:  It's kind of the opposite, I'm dominant in all aspects of My life really, and sometimes I'll roleplay being nice. Although I'm not a very good actress in this respect, I must admit, so even though I try to play a nice girl, My dominant personality always shines through and causes a stir.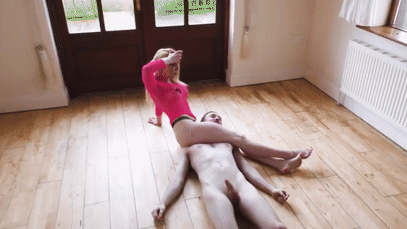 sbs: Not all women are created equally, obviously, and you are most definitely as Alpha as they come.  What do you say to women who are jealous of your success, or bothered by the lifestyle you are afforded by your admiring slaves?

MS:  That's never been an issue. They are so far under My radar, I don't even see them. I have no time for haters or people who cannot accept different lifestyles or personalities. They are just beta-women. Being a beta-woman, however, is not worse or better than being a beta-male. Everyone has their role in the society and Mine is to capture minds of those who are submissive.
sbs: Is there a specific type of slave you find is drawn to you? Can all submissive men be persuaded to slip across that line into financial domination?
MS:  I am a source of dominant energy. The power that attracts men who, in their hearts and minds, are submissive. The question here is not what kind of subs do I attract but what kind of subs do I allow in My world. And the answer is really simple: those who obey, can take pain I love to administer and those in which I see certain potential of being trainable. Financial domination is just one of the tools I use to train weak males. You can apply it to everyone, and I assure you that in the end every slave can feel a real rush in being able to tribute Me.
sbs: Do you prefer to break and enslave men who might resist, or use well-trained ones that are already broken in?

MS:  Slaves that come house trained already are good, but they are too easy. I like a challenge and molding a man into the perfect slave can be quite a challenging task. It's something I take great pride in when done properly. And which lady doesn't want to have a slave that is perfectly suited to Her needs and expectations, ha? When I train them from the ground up, I am certain they can serve Me exactly in the way I am accustomed to.
sbs: Beyond financial domination, which is an obvious favorite, do you have other specific fetishes you enjoy exploring with your slaves?

MS:  I do like hypnosis and mind control. These are effective and fun ways to train a male. You would be amazed how satisfying it is to see a man's mind being shaped and molded exactly to your needs. To build in triggers that can later be used to instantly make him obey and love it. Another thing I like is CBT and ball busting. Tying a man's hands to a hook in the ceiling, teasing him a bit and then kicking his balls until he passes out… oh my, this gives Me shivers.
sbs: Can you describe the feeling you have when you have control of a slave, desperately doing whatever it takes to please you? Is it a rush, or just an expected outcome you've grown used to?

MS:  It's completely circumstantial, I can't really give a generalized answer. It all depends on who the slave is and what mood I'm in. But the feeling of satisfaction and power is always there, even when I'm not "in the mood" or out of sync with the slave. However, when everything clicks, I feel like the Goddess descending upon Her disciples.  
sbs: How can you tell when you've completely broken someone and they are unable to resist you?  Is there a "tell" of some kind that lets you know you've taken total control?

MS: Oh, everything is in their eyes. You can't really hide it and it's obvious once you see it. It's as if all the layers of their internal firewall collapsed and what you see is the bare core of their love for Me and their worship of Me. They see Me as their true Goddess, fearing Me and hoping I will let them continue their servitude. But there is also fear, that I can take this feeling away…
sbs: Have you ever been recognized in public? If so, how does the slave react to seeing his ultimate Goddess in person?

MS:  That happened a few times. The first thing I always notice is the excitement in the slave's eyes. As if they wanted to immediately drop to their knees and kiss My feet but social inhibitions and other people stop them from doing so. And then there is this unspoken eye-to-eye communication, this feeling of non-verbal submission which I actually love to see there.
sbs: For slaves looking to impress you, what is the best way for them to show you they are sincere in their desire to serve and spoil?

MS: I love tributes and gifts like any other Goddess 🙂 I expect My slaves to come prepared and figure out what kind of tribute I desire. And it better be impressive!
sbs: Is there anything else you would like to tell your admiring worshipers reading this interview?

MS: Stop reading and come serving Me you morons! LoL. You can start by visiting My exciting clip store and buying a bunch of My wonderful fetish and ball busting clips. And if you're feeling adventurous enough you can star in one of My clips! This is the opportunity of a lifetime to engage with Me, and get My attention by serving Me in person, which is priceless. You can also visit My Niteflirt page and play PPV games I've created especially for you. 

sbs: If you would oblige me one final question…if we were conducting this interview in person, how would it end?

MS: It would end you being tied to a hook in the ceiling, naked, with a hood on your head, and Me kicking your balls so hard…. and you would love that, wouldn't you? Lol.