She's as beautiful and sensual as she is cruel and demanding.  Mistress Sydney's clips are Femdom masterpieces in which slaves, both male and female, are used for her pleasure, and that of her Femdom friends.  A true lifestyle Domme you won't soon forget, Mistress Sydney recently sat down to respond to questions posed to her by this very fortunate slaveboy.  Enjoy this wickedly erotic Temptress and be very afraid of falling under her spell…you may never recover!

slaveboysmith: What can you tell me about your journey to becoming one of the most sought after Dommes for admiring slaves to serve? At what point did you first realize the power you held over men?
Mistress Sydney: I realized my power over men first when I was 12. The journey began professionally almost 6 years ago, lifestyle, 2 years ago, and would be similar to a caterpillar who needed to go through metamorphosis to become a full-fledged butterfly…in latex.
sbs: Would you say you are naturally dominant, or is it more of a role play when you are in session?
MS: Naturally dominant. I can't imagine myself in an Alpha roleplay 24/7, that would just drive me or anyone crazy. I don't dominate men who don't ask to be dominated. Reality VS Fantasy. Remember, submissives pay me to dominate them. Why would I do it for free 24/7?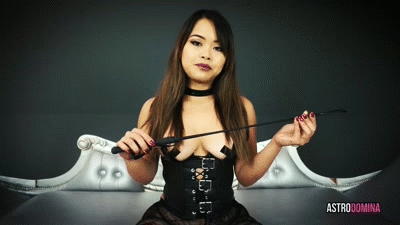 sbs: What skills do you think a successful Dominatrix such as yourself needs to have?
MS: Intuition, an open mind, and a genuine ability to understand what makes men weak.

sbs: Can you explain what makes a man want to be a slave? Is there a specific type of slave you find is drawn to you?

MS: Nature, willingness, a sense of adventure and sexuality.  A slave that is drawn to me would include those who are lost and need that female beacon of light to guide them and give them a life purpose, in the most dominating way.

sbs: Can all submissive men be persuaded to slip across that line into financial domination?
MS: Yes. And they don't even see it happening.
sbs: What are your favorite fetishes to explore with your slaves? What about your favourite type of clip to film?

MS: Corporal Punishment, Mind Fuck, Puppy play, Ballbusting/Trampling, Sissification, Bondage, Sounding, Strapon/pegging, too many to mention! For clips, the challenging and intricate videos are always fun to make! I fucking love challenges!
sbs: Is it different for you in person vs online sessions?
MS: VERY different.
sbs: Can you tell me how my first session with you in person would look?
MS: About like this…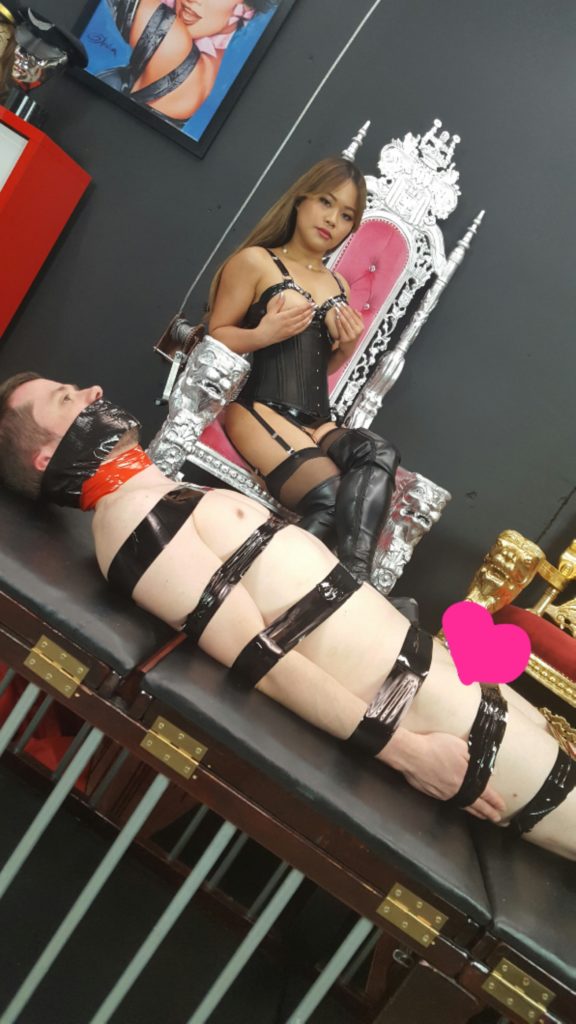 sbs: Are there any negatives involved in being a Dominatrix? If there was one thing you could change about being a financial dominatrix, what would it be?

MS: The risk of identity exposure and family/friends not accepting your lifestyle. One thing I'd change? That I run my own damn bank and credit card merchant! "AstroBank" or AmeX (American Dominatrix) card.

sbs: Do you ever do sessions with other Dommes involved? Any Dommes in particular you're interested in working with?

MS: Absolutely! The more the merrier, I always say. Nobody off the top of my head right now… Domino! But she's retired.

sbs: What is the cruelest thing you have ever done to a slave?
MS: Oh goodness. Probably lock someone up in chastity for 6 months? There's others I can't really say 😉

sbs: How do you know when you have truly broken someone and are completely in control of them? What about how it makes you feel to know you have absolute control over an eager slave?

MS: They will do anything and everything for me. However, they are doing it out of pure fear and not for my happiness or their arousal. And I don't get any personal pleasure from that. An eager slave? Well that's easy…my pussy gets wet!
sbs: Cash or gifts? What type of tribute do you prefer from your slaves to show they appreciate you and are sincere in their desire to serve you?
MS: Cash 2. Gifts You can purchase gifts from SpoilAstroDomina.com or send cash tributes to my mailbox address!
sbs: Have you ever been recognized in public? How does the slave react to seeing his ultimate fantasy Domme in person?
MS: Yes. They usually look intimidated. I don't blame 'em. I've been told I sometimes make men nervous 😉

sbs: Is there anything else you would like to tell your admiring worshipers, and future slaves, reading this interview?
MS: I keep it simple bitches.
sbs: One final question, Mistress Sydney…If we were conducting this interview in person, how would it end?
MS: You staring at my heels when I walk out.

TWITTER: Click here

YOUTUBE CHANNEL: Watch here

VIDEOS: Go here

GET MY NEWSLETTERS: Sign up here
SKYPE SESSIONS: Go here 

WISHLIST!: Sign up here