My name is Mistress Petrana, a lifestyle and pro Dominatrix as well as fetish model and Financial Domme. I am originally from The Czech Republic, but am currently based in the modern and international city of Rotterdam in The Netherlands. I mainly conduct sessions in a beautiful and well known dungeon, the Doma Suite in The Hague (see the website: http://domasmsuite.nl/english ) I am also willing to travel if the slave sponsors the trip. My slaves worship Me and love Me for My tall and perfect figure, my elegant and classy behaviour. I have also uniquely long toes, dangerously long legs and natural, long sharp fingernails. For Me, Femdom is a way of life, a way in which I can freely express Myself and truly feel like the Goddess I am. I live with one of My personal slaves. He has been permanently collared and serves Me everyday.


slaveboysmith: For any who follow you, it is very evident you control men with ease. Has that always been the case?
Mistress Petrana: More or less yes. Before I started being active as a pro Domme and Findomme I was purely a lifestyle Mistress. During puberty I found that I was different from other girls, I did not want to serve guys. Girls were constantly talking about cooking and taking care of their boyfriends. I just did not understand that at all. Later in My 20's I had also experienced how extremely unhappy I'd become when in a vanilla relationship. I love My freedom and power. Being a dominant is just natural to Me. My life is much more pleasant and easier when My pets work for Me. I give them tasks and punish them so they become even better slaves for Me.
sbs: Are you naturally dominant in every aspect of your life, or is Femdom more a roleplay for you when interacting with slaves?
MP: I am a natural dominant although My style of domination might be different from other Dommes. For example, I really hate being vulgar. I think I have a natural aura of authority and I demand slaves show Me respect. There are also certain rules I impose on My slaves about how they have to behave in public when they're with Me. I decide everything in My life and I also make all the decisions concerning the lives of My slaves. I am a very controlling person, sometimes I am like a strict CEO who has a very clear view of what direction the company should be heading. I am also quite strict when it comes to slaves having to ask Me for permission for anything that doesn't directly benefit Me or is of interest to Me. They must understand at all times that they live for My pleasure and amusement, everything that has to do with them comes secondary and should first be approved by Me.
sbs:  Not all women are created equally, obviously, and you are most definitely as Alpha as they come. What do you say to women who are jealous of your success, or bothered by the lifestyle you are afforded by your admiring slaves?
MP: Well, if they are jealous silently I don't mind. It's their lives and all the negativity makes their lives worse and sad. Sadly, I have had a few bad experiences where some women were jealous of Me. I have got a certain amount of class, so I don't want to go into the details here. Let's just say that in life sometimes these types of things happen. I believe in karma, so what goes around comes around. I just focus on My own life and only look at the positive sides of it and other people. Others should do that as well and the world would be a much happier place. Some women who are not in the lifestyle just don't understand the needs of dominant Women. I live as a true Goddess and I am really not interested in the (personal) life of their husbands or boyfriends. I refuse to be someone's second mother or babysitter and I refuse to be forced by a guy to go and experience the stupid things he likes in life. I decide what I do, always. I live only once and I am not afraid to be who I am.
sbs: Is there a specific type of slave you find is drawn to you? Can all submissive men be persuaded to slip across that line into financial domination?
MP: I love challenges so I prefer intelligent slaves who are a little bit more dominant in social life. It's like playing a nice game with them to seduce and manipulate them. So they will end up doing anything that I want. They understand the needs of a dominant Lady. They know that My needs and My luxury lifestyle are much more important than their own lives. It depends on what kind of financial domination, but I see that all slaves who are drawn to me understand that being a true slave means to eventually give up control completely, mentally, physically and financially.
sbs: Do you prefer to break and enslave men who might resist, or use well-trained ones that are already broken in?
MP: Hm, that is a very interesting question. I have natural charisma and beauty so I don't think I need to force or convince anybody to worship Me and serve Me. Men very quickly just realize that I am the Goddess and they submit to Me. Every Mistress is different so I have to keep training My slaves anyway to make sure they understand exactly how to serve Me best.
sbs: Beyond financial domination, which is an obvious favorite with most Dommes, do you have other specific fetishes you enjoy exploring with your slaves?
MP: I find public games very interesting. It's about the adrenaline rush, power and humiliation. Recently I was torturing a slave in a changing room in a shopping centre. He could not scream because everybody would have heard him, so I was laughing at him about how inferior he was to Me. I slapped him across his face rather hard quite a few times and pinched his nipples. I also squeezed his cock and balls which I had previously told him to lock in a chastity device. He had humbly handed over the key of the device prior to our shopping spree, so the pour soul was rather helpless. I made him wear women's panties so it was nice for Me to humiliate him with that as well. I very much enjoy these types of "everyday Femdom activities". For Me, it doesn't necessarily have to be in a dungeon to have a good time with a slave, these things continue throughout the day for Me, on a day to day basis in real life. I also just love slaves with a foot fetish. There are many erogenous zones on My feet so I really enjoy it when a humble, naked slave is at My feet, kissing, licking and massaging them. When done right, it really excites Me. Leather worship, spanking and caning are other activities I enjoy a lot. Keeping My slaves in chastity deeply satisfies Me because pleasure is only for Me! Inflicting pain with My beautiful long nails especially on nipples. Breath play with My feet and face sitting. As I said before, I live with one of My personal slaves and we are building our FLR. I continuously test and expand his capacity to endure My torture and also keep him under a very strict regiment in order to train him even better. These are just a couple of the things I like in BDSM and Femdom. I am very much open to meeting new people and exploring other kinks and fetishes. For Me one of the beauties of this lifestyle is to constantly meet new people with other wishes and fetishes and explore those together.
sbs: Can you describe the feeling you have when you have control of a slave, desperately doing whatever it takes to please you? Is it a rush, or just an expected outcome you've grown used to?
MP: It gives Me a rush and especially when the chemistry between Me and the slave is good I get into Domme space. It awakens My deepest and darkest instincts.
sbs: For slaves looking to impress you, what is the best way for them to show you they are sincere in their desire to serve and spoil?
MP: Slaves wanting to have a session with Me in a dungeon must realize that I receive a lot of messages per day. So they should make sure to be to the point and clearly describe what they want and where. It is very important to check My whereabouts as I do travel quite a bit. All serious (online) slaves must send Me a tribute in advance instead of bothering Me and promising Me things that will never happen. Genuine slaves buys My clips, send Amazon gift cards and sponsor My Femdom lifestyle. You have to work hard for Me!
sbs: Is there anything else you would like to tell your admiring worshipers reading this interview?
MP: Firstly I would like to mention that I am a proud Lady-citizen of Womania Empire, a new project of OWK and info can be found on http://womaniaempire.com  My potential new slaves may humbly ask Me how they may serve Me. Remember, work hard for Me, work on My promotion to become more powerful, sponsor My trips to Femdom parties, holidays, photo shoots, fetish outfits, My Femdom lifestyle. Spoil Me with BDSM toys and work hard to make My life better. I have room for one or two additional personal slaves, but I am very demanding and picky. I believe that slaves have to work for their Owner and can never be egocentric nor egotistical. Mistress' needs are your first priority, always!
sbs: If you would oblige me one final question…if we were conducting this interview in person, how would it end?
MP: We would have been sitting in a nice, classy restaurant. By now you would be paying the bill, helping Me into My coat and then bowing down to politely kiss My foot to thank Me…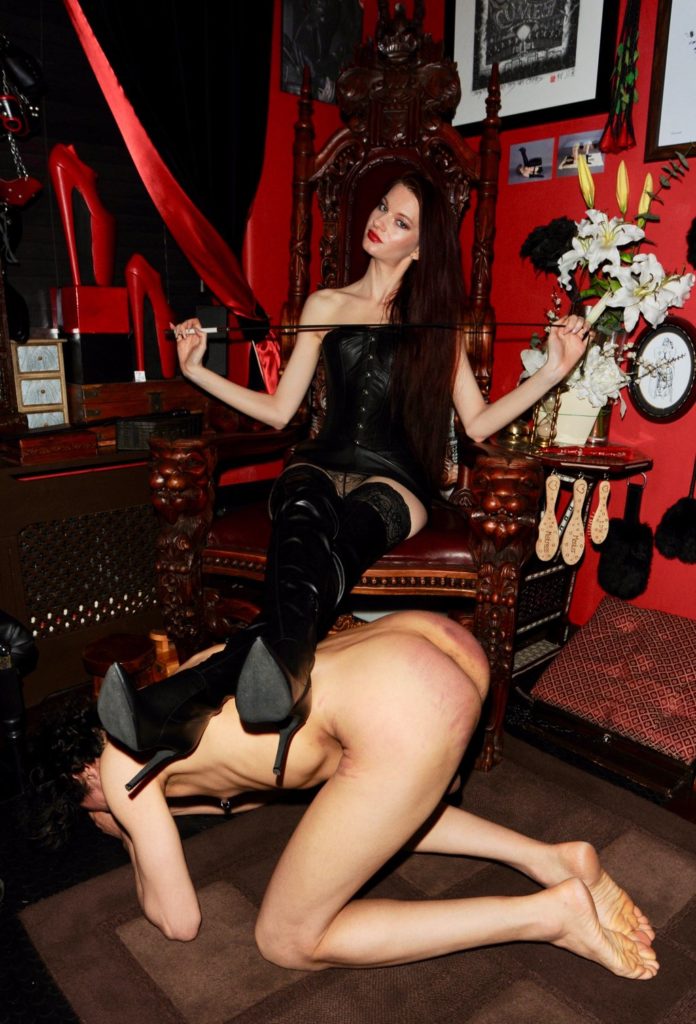 OWZ Guest Galleries of Mistress Petrana
Pay Tribute to Mistress Petrana
Arrange a Session with Mistress Petrana