For the 2nd time, I was granted the privilege of interviewing the one and only Mistress Mandy Flores.  It becomes immediately obvious as you read her responses why she is one of the most sought after Femdoms on the planet.  And speaking of which, for those able to, Mistress Mandy will be attending the AEE in Las Vegas in January, and will be signing autographs and accepting cash from admiring worshipers at the IWC booth from noon to 2pm on January 21st.  Don't miss this opportunity to be in the presence of true greatness.  I wish I could attend myself.  Something tells me being before Mistress Mandy in person would be something truly memorable, if even for just a moment! Enjoy this feature, click the links to find out more about what you can do to serve Mistress Mandy, and make plans to travel to Vegas in the upcoming month…make it your Christmas gift to yourself 😉
slaveboysmith: Joining me today at DommeAddiction is the legendary Mistress Mandy Flores. A lot has changed since I last had the privilege of featuring you, Mistress. I understand you've just returned from a wonderful Hawaiian vacation with your favorite slaveboy. What can you tell us about your time in the sun and the experience of having a doting slave accompanying you on vacation?
Mistress Mandy Flores: Perfect, absolutely perfect. I was treated to an enormous beautiful penthouse suite/cabana and flown 1st class from Seattle. Anything I desired to buy was bought for Me, each evening or return from walking outdoors, My feet were washed and massaged and then worshiped by My slave. Again, absolutely perfect.
sbs: That does sound amazing for both you and your very privileged slave, Mistress. I imagine servitude like that requires a slave to prove himself worthy of such an honor over a long period of time.
MF: Absolutely. I do not take on just any slave. My inbox is filled with "please let me serve You" and "ruin me Mistress" oh and of course the stupidest, most common question…."How can i serve You?". Really I already know as soon as I read that question what they really mean is how can I serve them! As if I am here to be their puppeteer, controlling their orgasms, telling them what to do all fucking day long, being subjected to their pathetic cock pictures and whiny little "i am nothing, give my life meaning" bullshit. If you think you are going to serve Me you better start by pleasing Me, and pleasing Me when you aren't here to serve Me in person means serving Me with your wallet. I have a website, if you haven't even bothered to join there, if you aren't able to produce receipts validating you have purchased My videos and are supporting My empire, then why in the fuck would I waste a single moment of My time on you?
The ones who begin the conversation with a tribute. The ones who begin at least with "what would you like me to purchase for You right now Mistress?"…those are the ones I know are sincere. Those are the ones that are willing to commit. Those are the ones I will spend My time on.
As far as being allowed in My presence…you must have proven yourself over a significant period of time. I don't care for those who are in a hurry to grovel at My feet. If I do not know you well, if you haven't offered complete submission and proven it through your substantial contributions and gifts, then the most you could ever hope for is a paid session with Me, you would never get the time and close proximity that My true slaves have gotten. I have personal connections with them, they are like My precious pets, they receive more from Me than most people in My life do.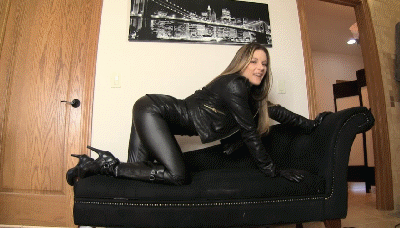 sbs: Thank you Mistress for making your expectations so clear. Any slave wanting to exist in your world now has clear directions. From good slaves to bad, may I ask you the status of slave X at this moment?
MF: He had some terrible family issues, and has stepped away from this world, possibly for good.
sbs: For those who have been living under a rock and didn't follow the saga, can you give us a summary of what happened with slave X and the clips that launched a lawsuit?
MF: No you can do that 🙂 You wrote a nice article for DommeAddiction a while ago that told the story.  Include the link like a good slaveboy.
sbs: Yes, Mistress. I'll write it up as you direct me to. Always by your rules Mistress 🙂 Here is the link Mistress Mandy slave X feature

MF: 😉 Good boy.

sbs: I had to look back to see that my first chance to interview you was in May of 2014 for my own blog. Can it really be that long? What has changed in that time in terms of your approach to having men worship and serve you, Mistress?
MF: I'm even more selective. I barely can tolerate all the free loaders that have come along in the last couple of years. Let Me be clear…If you jerk off to Me, if you watch My videos or get off on My pictures, don't come along saying you are My biggest fan unless you have been BUYING those videos or have been a member of My site. Seriously, any of you right now that have ever stroked to Me but contributed nothing, go to My website right now and join or go to iwantmandyflores.com  and BUY something. Don't bother contacting Me and saying you want to serve or that you're a huge fan if you haven't done it.
sbs: I imagine there is a huge filtering process for any Domme, especially one of your prominence, separating the time wasters from those who sincerely want to serve, spoil and worship you.
MF: Also since then My original true slave ray has passed away. Someone who should have been an example of what it means to truly serve, to genuinely belong to your mistress regardless of what she does for you.
sbs: I'm very sorry once again about his passing, Mistress. As someone looking in vicariously, it was obvious what you meant to him, and also how much his presence as a slave pleased you. Do you have a slave who has, not taken his place, but grown in value to you?
MF: My lipstick slave from England.  He has surpassed ray in so many regards, and his contributions financially are more than double what ray was able to provide me, though the percentage of income ray dedicated to me was nearly 60% of all his monthly income.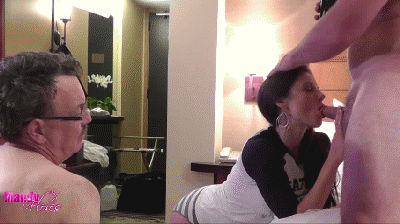 sbs: Both are very impressive and set a high standard for other slaves to live up to. This is the slave that took you to Hawaii, I assume?
MF: Yes. The pinnacle of servitude and adoration towards his mistress. Seriously, you think you want to serve Me in that way? Pay for first class airfare and accommodations for both Myself and My man, cater to My every need and treat Us to incredible restaurants and entertainment. That degree of selflessness had gained him access and time with Me, connections with Me that no one has gained previously.
sbs: It's always insightful speaking with you Mistress. You are as intelligent as you are beautiful and have great views of the Femdom interaction. Changing gears a little to your fetish clips and online persona, if you could only choose one, do you have a favorite fetish to act out with slaves in your clips?
MF: Tough to say. I enjoy tormenting them a little lol. Forced bi involving them servicing My man is fun as well. 
sbs: I can tell you enjoy pushing men's limits and nothing does that more than forced bi in my opinion. Is this something you do often Mistress?
MF: Not in some time actually. I don't feel the need to have every slave prove their devotion that way. Then there are those who desire badly to feel a man's cock in their mouth, rim them and taste their seed…those slaves must earn that first.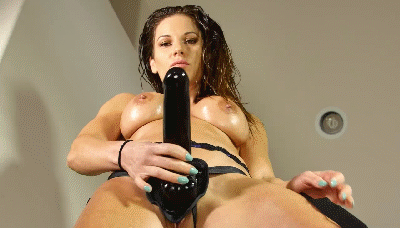 sbs: Earn the right to suck another man's cock and swallow his load…it's quite the influence you have on your slaves, Mistress Mandy! I wanted to ask you about your most recent clip releases. Do you have a favorite that is a "must buy" for any Mistress Mandy admirer? I know you're tempted to say "all of them" and I wouldn't disagree lol, but is there one that stands out?
MF: I really liked the "Experience" video.  I just feel like it's beautifully done and it's very personal. Other than that it's really hard to say. My executrix videos sell very, very well, but you really have to be into that particular fetish to appreciate them.
sbs: I love your Executrix clips, as you know. I just finished reviewing one for DommeAddiction  in fact. There are much worse ways to go for sure 😉 Your "Mandy Flores Experience" clip was epic, Mistress. Thank you for the privilege of reviewing it.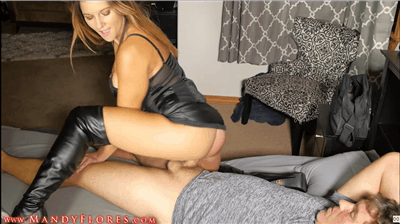 MF: you are welcome.
sbs: What can you tell our readers about this clip, Mistress? You obviously enjoyed making it a lot..LOL I had no idea a woman could squirt like that!!
MF: This clip, it's really special for the Domme world I think. I haven't seen one from another girl that allows such a vivid and personal view into a Domme pleasing Herself, like being able to be there right with Me. I think it would be a great challenge for anyone who truly adores Me to put this on an HDTV and see it in crystal clear HD (which you should order direct from Me because ALL the clip sites required it to be reduced for bandwidth issues) AND TRY to stroke with Me the entire hour without cumming. It was a custom order and he asked for beautiful film work and I think We pulled that off.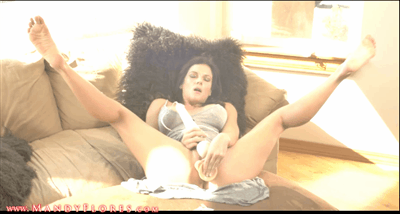 sbs: As a very happy viewer of this clip, several times, in fact, I would say you nailed it Mistress. It is a truly erotic and sensual glimpse into a world we slaves can only dream about. Stroking for an hour while watching you like that? That's a tall order for any slaveboy 😉
MF: Indeed 🙂
sbs: As a promo slave, it seems each day brings a new Fin Domme to Twitter. How do you feel about the influx of women vying for slave tributes and spoiling?
MF: Oh Jesus it's so ridiculous. I get it, I mean we all started somewhere, but there is a huge difference between being a Domme and just being some stupid bitch sitting at home saying "Bow before your computer monitor!". Real dominatrix's actually do what they talk about. Alexandra Snow beats the living fuck out of slaves, losers, and subs. There's no hesitation about tying up and destroying their ability to father children….. sign the waiver, and kiss your shit goodbye. Mistress T lives the Domme existence, doing things that 99% of the rest of those so called "Dommes" are too prissy for, or terrified to do in case someone might recognize them. Jasmine Mendez has a non stop tour of destruction and worship that the teenie bedroom Dommes couldn't stomach if their lives depended on it. Just because some idiot decides to jerk off to you and call you Goddess doesn't mean you are anything close to those who truly deserve that title. Fuck, even doing a damn foot worship session is beyond so many of these girls. They can back off and call themselves a Princess if they want, but if you aren't going to fully interact you shouldn't be calling yourself a Dominatrix.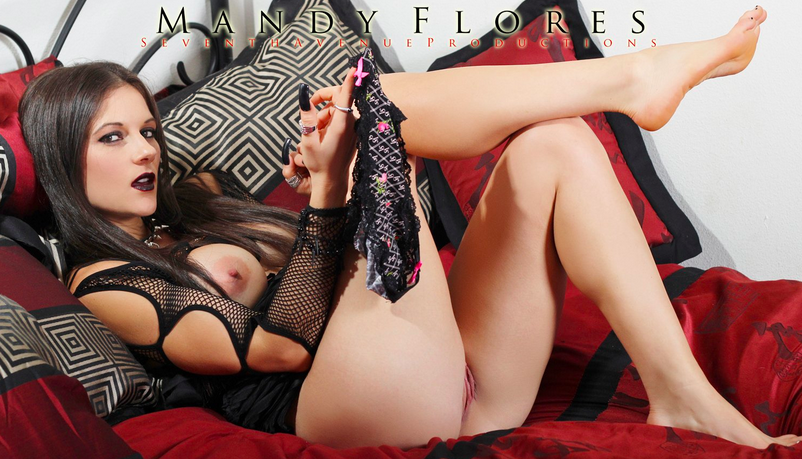 sbs: You've named some of the industry's Top Dommes in your response, Mistress. A veritable "who's who" of Femdom. Of course, I know well from your clips and our conversations of some wicked things you've subjected your slaves to. You can be as sadistic as you are sensual. Would you say that's the distinction between Femdom and Findom…that element of real time sessions?
MF: Not between FEMdom and FINdom, those are apples and oranges…. Female Domination is just that, Financial Domination is not exclusive to women. But yes, I do believe that someone who hasn't actually physically conducted some type of true domination should show respect to those who truly deserve that title. For example, you may notice My clip stores and website do not say "Mistress" Mandy Flores. I knew when I began getting tributes from slaves and sissies that it hadn't made Me an Insta-Domme, and I respected those that truly were Dommes by not trivializing the title. I realize I have since earned the respect that comes with those titles, but I made absolutely sure to have earned it before I allowed slaves to refer to Me in that way.
sbs: You have certainly earned your standing as one of the absolute Elite Femdoms, and most deserving of the title of Mistress in this slave's humble opinion. Are you more likely to find a lack of respect from new Dommes, or a willingness to learn from you in a mentoring kind of fashion? Have you mentored other Dommes?
MF: I have given a little advice but really, if they cannot figure it out for themselves and be successful on their own they are wasting theirs (and My) time. Nobody held my hand and showed Me what to do, nobody had to teach Ceara Lynch how to control a man's mind. You either discover it in yourself or you go find something else to do, it's not something that can be instilled in them.
sbs: With all that you've accomplished, and the elite status you've achieved, it would be easy for you to become complacent. But knowing you as I do, that's not you at all. What's next for you Mistress?
MF: There are so many different manifestations of success in the FemDom world it would be hard to say what is truly Elite status. Having over 100,000,000 views, across tube sites alone, generates quite a bit of recognition in itself I guess. I am very comfortable where I'm at, and have no argument that I have achieved a level of success that I can be certain is coveted by many. But there is always more to achieve when you are driven.
I definitely have some things planned for this next year. One is a revamped website, but the other 2 pretty major projects I have in store are top secret! One is something that no one else at My level is doing currently so I am going after it really not knowing what kind of return I will get out of it. Go big or go home right?
Also, I'm always looking for ladies and couples to work with for My video production so if any of you out there think you are up for it be sure to email me at Mandyflores@live.com
sbs: Well that would be one of the bigger teases I've seen from you, and there's been a lot! Not even a hint at this secret project Mistress? Something to titillate our readers?
MF: Let's just say I'm expanding into new areas. You'll be able to find Me more places, and worship Me in a more convenient manner for many.
sbs: Well I think I speak for many who are thrilled at that Mistress. You are elite in my eyes, and many others who view the name Mandy Flores as synonymous with Femdom and erotic fetish play.
With your permission, may I please ask one final question Mistress?
MF: Yes, you may.
sbs: When I interviewed you previously, I don't believe I asked this. If we were conducting this interview in person, how would it end?
MF: With you kneeling in front of Me offering your wallet and kissing My foot of course.

Links to Mistress Mandy Flores: