She is beautiful, she is greedy and she knows men don't stand a chance around her.  Add that all up, and in an instant, today's Feature Domme, Mistress Kasha, will have you hard and vulnerable…a dangerously precarious situation for any slave.  Fast forward and know that with every glimpse of her beauty, every purr of her sensually seductive voice, you fall deeper under her spell.  Soon you will find yourself offering tributes, buying her gifts and serving her wishes…all because you simply can't imagine not being of service to this beautiful Goddess.  Settle in, read every word Mistress Kasha has for you today, and when you feel like you know enough about the woman that will soon own you, bow down and follow every link to find out how you can become important in her harem of adoring slaveboys.  You do want Mistress Kasha to notice you and include you as one of her devoted pets, don't you boys?

slaveboysmith: Joining me today for a special feature interview is the sexy and beautiful Mistress Kasha. Thank you so much for taking time to speak with me today Mistress. How are things in your amazing world these days?
Mistress Kasha: Things are great! Getting better every day 😉
sbs: I can imagine. How long have you been a Femdom Mistress, and what was it that brought you to it in the first place, Mistress?
MK: I've been into Femdom since way before I knew the technical term for it. I guess officially about 2 years! I was raised by only women and they were all tough, strong and needed no man. As a teenager I always dated guys that were of some use to me up until early adulthood. At 18 years old I began bartending in a sports bar where my short skirt uniform made me lots of tips! That's when I first discovered I could turn a natural talent into money and coming from a humble background I always lusted over money and material things. The longer I did the job, the more I began learning how to weaken men by smiling and flirting and of course with my gorgeous body and it became addicting! I first entered sex work at the age of 20 when I started stripping and was a natural from the start! I was great on stage, knew how to talk to men, how to dress etc. it just all came so naturally to me. Some women will say they feel stripping or sex work in general is degrading but to me it's just the opposite. I've always had a dominant no nonsense personality and have never taken anyone's shit. Girls will sometimes bend to a customer's will in hopes of making more money but never me, and money was always good! I tried camming at around 21 and hated it! Being told what to do over a screen just didn't work for me lol. I've always thought that I deserved to be spoiled just for being the Goddess I am! I quit after about a week since stripping was much easier and profitable. I often had submissive customers at the club, they could feel the dominant vibes from me and they were my absolute favorite! I'm a sadist at heart and slapping the shit out of someone for money turned me on lol! So I discovered Findom about 2 years ago and knew it was for me. Not only am I young and hot but I'm self-made and live a fabulously easy life!
sbs: Is there a specific type of slave that is drawn to you? Are there specific fetishes you enjoy most?
MK: Definitely cucks! I have a great man in my life who is an Alpha male in every way, when I say Alpha I mean to other men, no man is superior to women in my eyes, and I love a slave who knows his place beneath us! I hate the typical dick hating angry leather-clad Mistress stigma and like subs who appreciate and get turned on by my sex life! I also attract a lot of wealthier subs because they can see I'm not living in a messy room at my parent's house lol
sbs: I'm sure many a slave dreams of being worthy of you only to realize they are destined to be a cuckold. Can all men be persuaded to cross the line into financial submission?
MK: We all know a lot of men suffer from some sort of entitlement, and there's a lot of women at fault for this. A man who willingly admits his place can always be persuaded. The others, well they can be manipulated too lol. I've scammed my fair share of sugar daddies lol.
sbs: I can't imagine saying no to you would come very easily for any man, Mistress. Once a slave reaches the point where you've assumed total control, can you describe how you know you have them completely? Is there a "tell" of some sort?
MK: Yes! I am unapologetically greedy. I know I've hooked a sub when he is sending wayyy beyond his means, which happens all the time.
sbs: You're obviously very beautiful, and I think we've established that men cannot say no to you. Is a slave's surrender just something that is expected and routine now, Mistress, or is there still a rush for you?
MK: It's definitely expected but large tributes still are a rush every single time! It literally turns me on!
sbs: I'm probably not alone, but I'm imagining you getting aroused with your Alpha as you rake in cash tributes from all those cucks that aren't worthy of you.
MK: Oh definitely! We both love it.
sbs: Do you see slaves in person as well as dominating and draining them online, Mistress Kasha?
MK: I do! I love shopping sessions and do them often with subs who have a high cc limit or who have saved up enough. I do cash meets also and attend foot night parties as a feature.
sbs: Is there something in particular that you haven't yet done with/to a slave that you really want to? Call it a Femdom bucket list, if you will 🙂
MK: Yes! I want a sub to take out a mortgage, give me the funds with a lawyer or notary present so it's documented, and pay it back for years! It's my ultimate Findom fantasy!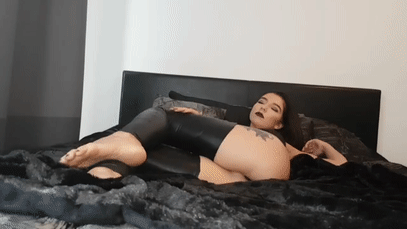 sbs: OMG! That is quite the scenario. An almost lifetime of financial domination…paid with every mortgage payment. I can only imagine the thoughts racing through the minds of the lawyer as they witness you completely draining your slave.
MK: I know! The thought of it excites me so much!
sbs: Any slaves out there brave enough to undergo this kind of extreme financial slavery should crawl to you and make themselves known. Is there one thing you would change about being a Dominatrix, Mistress?
MK: No! I love the diversity of Dommes and I love dominating in my own way.
sbs: It's nice to know you enjoy what you do, and you're obviously very talented at breaking down men's will power. Do you prefer to break and enslave men who might resist, or use well-trained ones that are already broken in?
MK: I'd say I definitely enjoy the thrill of the chase when it comes to newbies but only to a certain extent! I have to know it'll be reeeaally worth it which I'm pretty good at gauging especially in person!
sbs: I'm sure that you make men want to please you with ease, Mistress. When you're in public, do you ever come across admiring slaves? If so, how do they react to seeing the woman of their dreams in person?
MK: No that hasn't happened yet. I'm still fairly new so I've had people email me about seeing me but never has someone approached me and to be honest it'd be a bad idea lol. I shut people down pretty quick when I'm out. But as far as meeting up with subs when it's planned I always hear that I'm prettier in person and have a very strong, sensual presence.
sbs: You do indeed, Mistress. I can sense that just in interviewing you. Thank you so much for granting me the permission to kneel before you today. For slaves wishing to submit to you, what is the best way for them to show they are sincere in their desire to serve?
MK: The best way to reach me is by purchasing my Kik messenger ID on iwantmistresskasha  and leaving a tribute, the bigger the tribute the more chance of getting a quick reply! Also they can subscribe to my OnlyFans and I'll send a paid message of my choosing! If it goes anywhere from there is entirely determined by their willingness to please me!
sbs: I'm sure that our readers are eager to show you just how willing they are to please you. You're beautiful, sexy and dominant. How could any man resist? With your permission, may I please ask one final question, Mistress?
MK: Sure!
sbs: Thank you Mistress. If we were conducting this interview in person, rather than online, with me kneeling before you as I ask the questions, how would it end?
MK: With you handing me money and me leaving 😉