That porcelain skin, light blonde hair, tattoos and a body that was made to leave men drooling.  Everything about Mistress Dahlia Rain is about female superiority and dominance.  It was my great privilege to sit down and ask questions of the beautiful Mistress.  Thank you Mistress Dahlia for taking the time to tease, delight and torment this interviewer as we carried on through the questions.  You are truly enticing and irresistible as our readers are about to see. 
slaveboysmith: Today I have the distinct privilege of interviewing the gorgeous and wicked Mistress Dahlia Rain. Mistress, thank you so much for taking the time today to speak to our DommeAddiction readers.
Mistress Dahlia Rain: Aww that's so sweet and so true. You're welcome!
sbs: It is such a privilege Mistress. Forgive me for being more than a little nervous. My first question is about how you got to where you are today. I've found that every Domme's story is a little different.
DR: Well that is an extraordinarily complicated question, isn't it? For simplicity sake, I'll assume you're asking how I became a Pro-Domme… I had been in the BDSM/fetish world for several years as a lifestyle player before being recruited by a private door to door foot Fetish company over Fetlife because he thought that I had nice feet! I worked for that company for several months before deciding I could do much better and much bigger things on my own, independently. I loved doing kink work and decided to leave the vanilla work force behind and pursue fetish work full time. It was a chance to do something I have fun doing and I am passionate about.
sbs: It was a rather fortuitous decision for us admiring slaves that you made that choice, Mistress. We're very glad you did 🙂 Have you always been a dominant person in your everyday interactions, or do you see it more as a role you play in sessions with slaves?
DR: I have always had a dominant personality of sorts. My loud personality has always kept me the center of attention from childhood. I have always found myself a leader amongst my friends and peers and always had large goals and the wherewithal to achieve them.
sbs: That personality is most definitely evident in your interactions with slaves online that I have witnessed Mistress. Speaking of slaves, is there a particular type of slave that is drawn to serve you? Do you have a favorite type of slave yourself?
DR: You know, I have both heard from others and also found for myself, that because I am such a genuine and real person (as a Femdom and in general), that I attract genuine and real submissives. Those interested in a true FLR and striving for a real power exchange. I have been fortunate to have found the best kind of slaves…reliable.
sbs: And they in turn are privileged to serve such a remarkable Mistress. Do you have certain fetishes you truly enjoy, and is it different between real time sessions with slaves and online activities such as Femdom clips etc.?
DR: That is a no brainer. The difference between real time sessions and online/clips is huge. I find many Dommes stick to one or the other but to really make an impact you usually do both. It gives your subs the opportunity to really get addicted and crave more of you. As for fetishes I truly enjoy, I consider myself a fetishist so I really love most things Fetish- especially some of the more taboo ones… But also, something new is something exciting to me. I love acting out on new fetishes. Recently I've been playing with vore a lot more. If you want to know more about my deepest, darkest kinks you'll have to come be my toy to find out.
sbs: That is a very tempting offer Mistress. Your slaves speak of their devotion to you on Twitter and it's impossible not to wonder what it would be like to kneel before you. Can you describe what it feels like to have a slave reach that breaking point where they are incapable of resisting you even slightly? Is it a rush for you still, or is it expected as it's happened for you so often?
DR: Occasionally I have a one off session that I never see again. More frequently a sub becomes a client and sees me on a regular basis for sessions, but the most rewarding for them is when I truly break them in. When all the stars align and I am able take over their mind and life they feel such fulfillment and joy. It's a beautiful thing! It's like a drug on both sides. It's just they only begin to feel life when they've given it up to someone else.
sbs: Is there an obvious indication that has happened? Is there a "tell" that lets you know you have broken them down and own them completely Mistress?
DR: With every relationship it is a little different but I can tell you there is a greater reason, it's called a power exchange… I personally feel that it's an energy you can both actually feel during a session. It's metaphysical. I can tell when they are nothing anymore without me. It's very special. Sometimes they can't even admit it openly yet, but I know they are hooked.
sbs: Is it more rewarding for you to break a slave if he resists at first rather than complying immediately? Some Dommes speak of the satisfaction of breaking a man who views himself as an Alpha before they bring him to his knees. Is this true for you Mistress?
DR: I think it is a different kind of rewarding. To be honest finding a truly "Alpha" male is a rarity. Most of the time an "Alpha" male is just a man who is hiding behind social ideas of masculinity and have their own fears and doubts in their sense of self. To break an "alpha" male you have to teach them that they don't have to fear social repercussions of being a man belonging to a woman (not visa versa) and that MY opinion is of greater value and importance. You're battling with a combination of stubbornness and years of societal programming for the most part and this is usually very deep seeded in one's psyche. When I can change that mindset it doesn't just make me feel powerful and fulfilled it makes me feel like I'm helping to alter society as a whole.
sbs: There's no question, society would be far better off if men truly submitted to women and let go of previously held societal norms. Well said Mistress. Speaking of society, have you ever been recognized in public? If so, how does a slave typically react to seeing the Domme of their dreams in an unexpected setting?
DR: Believe it or not, I've been recognized and approached more by other Dommes in public! They often come up and say hello and are very welcoming in the spirit of sisterhood. If recognized by a sub, they rarely have the balls to speak to me. Usually I'll get a message a few days later saying "I saw you at so-and-so but didn't want to bother you" or "I was afraid to say hello… I hope to meet you someday" I like that they don't go all fanboy on me and know their place.
sbs: I'm sure it would be rather intimidating to see you in public. Best to humbly crawl away and not disrupt a Mistress' day. Do you work with other Dommes, either in clips or sessions? Any particular favorites you'd like to mention for this feature?
DR: I actually don't have any Domme's that I work with.

sbs: Is that something you might do in the future or do you prefer to dominate your slaves solo, Mistress?
DR: Usually when I collaborate with other Domme's it's only for Femdom studios but who knows what the future holds.
sbs: The future is no doubt extremely bright for you Mistress. You are a remarkable woman. I've thoroughly enjoyed asking you these questions today, but our intention at DommeAddiction  is to always promote the Goddesses we feature.  For slaves looking to impress you, what is the best way for them to show you they are sincere in their desire to serve and spoil?
DR: For slaves looking to impress me, the best way for them to show me they are sincere in their desire to serve and spoil is by sending both a gift of something I want from my wishlist and financial tribute and by doing a bit of research to figure out what I want.
sbs: Thank you so much for taking time to answer my questions Mistress Dahlia. Is there anything else you'd like to tell your admiring followers and lustful worshipers?
DR: Yes, keep your eyes peeled because there's a lot more Dahlia to come whether you like it or not 😉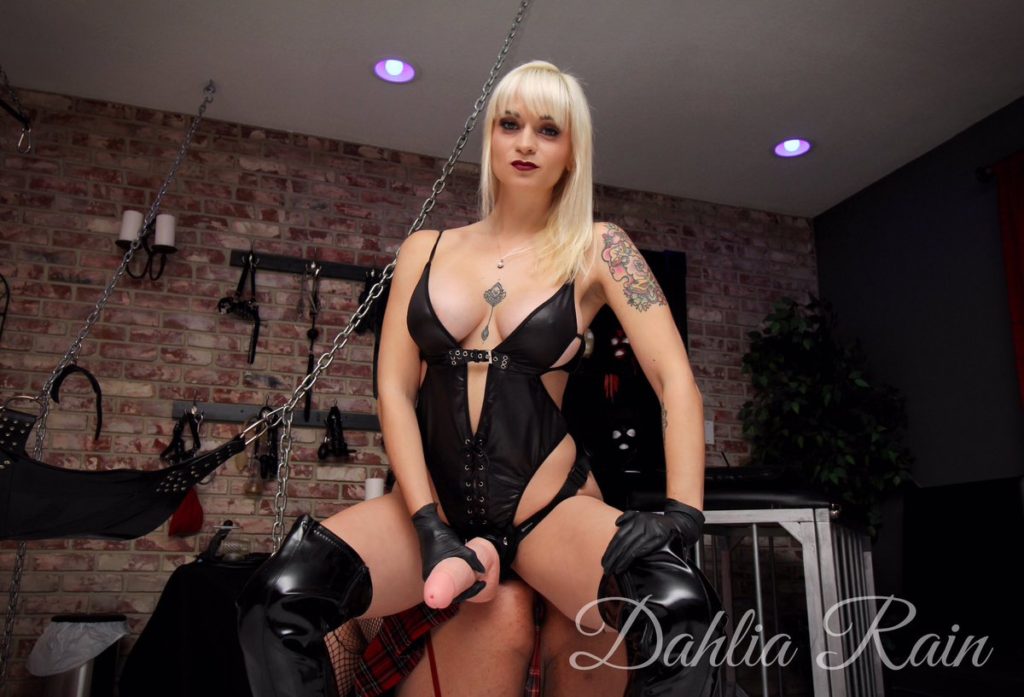 sbs: I have little doubt that slaves will eagerly await anything you offer them Mistress. You are quite a woman. With your permission, may I ask one final question please?
DR: Yes, you may.
sbs: If we were conducting this interview in person, how would it end?
DR: How would the interview end in person? You'd thank me profusely AND fall to your knees kissing my feet. I'd pat your head, laugh and push you to the floor. You'd looked shocked and I'd walk away giggling, leaving you stupefied.