Any time I interact with today's Feature Domme, Mistress Brittany Marie, I find myself lost in just how remarkably beautiful and sensual she is.  She is the gorgeous girl next door who has figured out perfectly how to leave men weak and vulnerable to her considerable charms.  It's easy to be overwhelmed by how beautiful she is, forgetting that she can turn into the Bitch Goddess of your dreams in an instant when you least expect it.  Her ability to tease and tempt is unmatched and she will steal your heart, leaving you willing to do virtually anything to please her.  If you haven't already done so, settle in and get ready to fall deeply under Mistress Brittany's spell.  It's a wonderful place to be, and I've taken up permanent residence as a devoted follower of this extraordinary woman.  Thank you again for allowing me to return to my knees before you, Mistress Brittany.  Interviewing you once was slave heaven, and as I mention in the interview, having the chance to do it again is just remarkable.
slaveboysmith: Having the opportunity to interview a woman like Mistress Brittany once is something any slave would cherish. But to be granted a return engagement with one of the most breathtaking women on the planet, well that just seems greedy on my part. Yet, here we are. Mistress Brittany, welcome back to DommeAddiction!
Mistress Brittany: Thank you! It's not greedy when you want to share My beauty and power with the online world.
sbs: That is very true, Mistress. Sharing your perfection with our readers can be seen as a very generous act, I guess. You are truly gorgeous, and I'm sure I'm not the first to tell you this, but you never seem to age! How old are you, if I may ask, and what's your secret to looking so young?
MB: Believe it or not, I'm turning 28 on October 25th. Making me officially in the adult industry for a decade now. It helps living a rather relaxing lifestyle. Plenty of water, massages and other pampering at the spa, beauty sleep, a smidge of exercise, and enjoying my free time. I'm also very blessed with a high metabolism so I can eat whatever I want without gaining a pound it seems.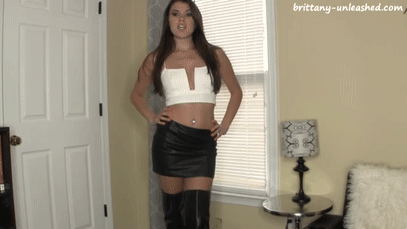 sbs: Whatever you're doing, trust me, it's working! Your clips range from seductive and bratty teasing style clips, to more recently, edgier Femdom themes in which you show a little more ferocity than perhaps previously. Is there a specific fetish or genre of clips that is your absolute favourite, Mistress Brittany?
MB: Obviously findom is my favorite, what Dommes' isn't?! Other than that, I've been really into a lot of cum eating, tease and denial, foot fetish, and humiliation lately. Although I do enjoy a lot of other fetishes as well. It seems the trend of videos released, for Me anyways, are based off of my slaves and what they inspire. You guys can 'sometimes' be useful without your wallet. *gasp* I know, it is rather shocking.
sbs: We slaves love nothing more than to be useful to a beautiful Goddess like you Mistress Brittany. You certainly love to tease and seduce based on the clips of yours I've purchased and reviewed. What do you have upcoming that our readers can eagerly anticipate? Any big plans for the upcoming year?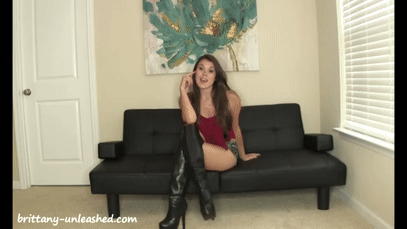 MB: I'm a natural born tease, always have been, always will be. For the month of October, I am releasing a new clip every single day, versus my 4 a week I usually do. A LOT of teasing, edging, draining, and of course Halloween clips, in the spirit of October. Right now I think the most anticipated clip is one where I got some of my subs involved. I keep getting emails asking when it's going to be released; they're very eager about their public humiliation *laughs*. For the coming year there will be more amazing clips, of course, but I'll be adding my phone lines on IWC, and will be doing Skype sessions for very good boys. Both of which I get asked on a daily basis if I do, so you'll finally get the chance, if I deem you worthy or course!
sbs: As you know, I requested…okay begged, you to allow me the privilege of a Skype session to review here a while back. Please keep me in mind and I promise I'll be a VERY good boy! You are an amazing tease and completely irresistible. With so many men falling to their knees before you, both real time and online, do you have a favourite memory of an interaction with a slave that still makes you smile?
MB: Oh my gosh, where to even start with that one! So many to choose from! I think one that really stands out is a slave paying for my tuition for a semester. Most slaves send cash and gifts, which there is no argument that I love, but when a slave literally invests in me and my future, that stands out and makes a mark. And let's be honest, college tuition at a great university, doesn't come cheap. He paid a hefty amount that day.
sbs: Now that definitely takes the irresistible naughty schoolgirl you play so well to a whole new level! Has that slave continued to serve and worship you, or was it just a memorable stop by?
MB: As many drive-by slaves as there are, this one has been around since shortly after my clip store on IWC opened a few years ago.
sbs: It's hard to imagine any man ever leaving once you enslave them Mistress. Because this is our second interview, I'm going to ask a few different questions if you don't mind. If you weren't a Domme what would you be doing instead?
MB: Honestly that's hard to imagine, as I love what I do! However, I'm really tech savvy and enjoy a good investigation. So I could see myself working for the FBI/government doing computer forensics. I also have a major love for animals and would LOVE to have a rescue shelter of some sorts. Then I also really enjoy plants and flowers, so maybe spending hours in a greenhouse coming up with new cross species of plants and flowers. Who knows, maybe I'm working on all three of these things right now, while also being an online Domme 😉
sbs: I wouldn't doubt your ability to do anything you set your mind to, Mistress. I'm just very glad, as are so many others, that you've decided on the pathway you have. If you could have one celebrity bound and helpless, able to do anything you want with them, who would it be, and why?
MB: It's a toss up! So many attractive celebrities it's hard to choose just one! It would be between David Beckham—so hot and love that accent, and Tom Brady—again hot and would like to teach him a few plays. Having them at the same time would be even better *laughs*
sbs: Well since this is your interview, let's assume that they are both bound and ready to play with. What might be in store for your dream slave duo?
MB: Bare facesitting for countless oral orgasms while they worship my glorious holy holes. Pegging them from behind while the other watches in anticipation, never allowing them to cum. Coercing them to suck each other off and swallow at my command. This would be the only orgasm they would receive that day, from each other. There would also be some flogging, as "manly men" are usually the biggest wimps when it comes to pain, and couldn't handle a paddle or caning. Teasing them with my touch until they are begging for release, but denying them before locking them in chastity and sending them home to their wives. All while having to deny their wife sex, having the thought that they got off to another man, and still aching for me and wanting to return.
sbs: Wow! I'm almost speechless after that answer, Mistress Brittany. I have no idea if they read DommeAddiction or not, but if they do, Gisele and Victoria better watch out for their men!
MB: Or perhaps it's the men that need to watch out for their wives. Do a complete switch and have the outcome be like one of my newer videos "Kissing The Mrs."

sbs: I saw that clip and it instantly went onto my wishlist for a future review! The idea of you seducing wives and girlfriends away from slaves is very erotic, Mistress. Do you have female submissives that worship and serve you? If so, how is it different from your interactions with male slaves?
MB: It's definitely a hot clip! Turned myself on while filming it. *laughs* I don't have any females subs, at least that I'm aware of. I know some like to really keep their identity under lock and key, which is fine, I respect their privacy. So for all I know I do have a female sub and she just blends right in with the boys.
sbs: I would find it inconceivable that you wouldn't have some female admirers who wish they could kneel before you. You're completely irresistible, so how could they not? It will be interesting to see how sales for  Kissing the Mrs. go, and I wonder how many of those will be female admirers. Let me swing the questions in a different direction…you've obviously been spoiled well by your adoring slaves. I would assume that has allowed you to travel extensively. If you could go to one place right now for a holiday, where would it be?
MB: I couldn't agree more! The top place on my list for my next travel adventure would be Bali. Would love to be in a private villa on the beach, soaking up the rays in my sexy little bikinis. Then adventure awaits going on a safari and seeing all the beautiful temples.
sbs: You deserve it all Mistress. I'm sure our readers will be eager, as always, to make your dreams come true, as you do for theirs. I meant to ask this earlier, but somehow you distracted me, lol. Have you ever been on the other side of the Femdom relationship as a submissive? And please accept my apologies if that wording is a little awkward on that question…I was lost thinking about you in bikinis, to be honest!
MB: I've never been on the other side of a Femdom relationship being a submissive, in real life or online. Although, I guess I could be labeled as a switch in this industry because I do Femdom and vanilla adult work, but it never is true submission. It's either the girl next door/girlfriend experience or the Domme. Now I've been asked to do submissive custom content, but always decline. I'm naturally dominant, so getting into a true submissive mindset is next to impossible and would leave the content lack luster because I wouldn't be able to play out that role.
sbs: One thing that comes through in your videos and in my interactions with you is that everything is real. You enjoy what you do and are truly an Alpha in every way, so that answer makes perfect sense, Mistress. As we wrap things up, please remind our readers who are probably throbbing as they read your feature, how can they best show their dedication and devotion to serving you as your slave?
MB: It's an obvious answer, but one that always needs repeating. Show your dedication, devotion, and servitude in the form of cash. Compliments mean nothing, unless they are in tribute form. I know I'm hot, I look in the mirror everyday, so your words mean nothing unless they are backed up by opening that wallet nice and wide for me and handing over what I rightly deserve. Next on the list would be visiting my wishlist and shopping by highest priority first. It's selfish of you to send me lingerie, when there is still a high priority item on my list; that's a gift for you, not me. Then of course there is shopping my Femdom clips on iwantbrittanymarie.com  where there are hundreds of clips with more being added every week. There is no excuse to not have any in your fetish clip collection. Don't have exactly what you're looking for?  I suggest ordering a custom and we can explore your kinky little fantasy. I also recommend getting my KIK for those that want and need daily/weekly instruction and interaction. I'll carry you in my pocket and guide you into complete submission.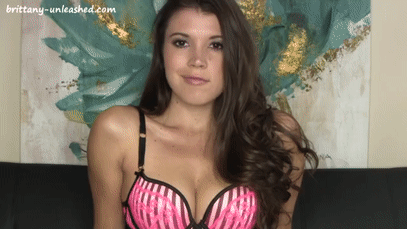 sbs: Oh my…I have to admit that the idea of having you lead us into absolute submission sounds amazing! I don't believe I asked this question of you previously, Mistress Brittany, so please allow me now. If we were conducting this interview in person, with me kneeling before you as I asked each question, how would it end?
MB: Because you previously have asked me that question, I would kick you in the balls for forgetting. It would leave you throbbing and aching for me in more ways than one 😉