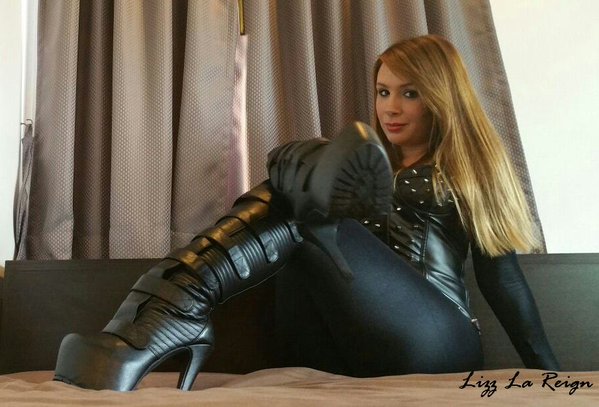 She is sexy, beautiful and obviously loves dominating men.  I had the distinct pleasure of interviewing gorgeous German Goddess Lizz La Reign recently.  Enjoy this feature and enjoy the words of a woman you can't help but fall to your knees before!
"I am the Mistress of your dreams.
My hot sexy body, coupled with my domineering demeanor, will make you weak.
My stern personality, together with my German penchant for exactitude, will have you doing my bidding in no time.
My alluring German accent will drive you crazy.
Submit, Now!! THAT'S AN ORDER! (one that you willingly rush to obey)"

Lizz La Reign
slaveboysmith: In all the interviews I've conducted, the story behind how a particular Domme got to where she is now, adored by many slaves while dominating men is always a little different.  What can you tell me about your journey to becoming one of the most sought after Dommes for admiring slaves to serve?
Lizz La Reign: When I was 19, a friend of mine confessed that she was making money by demanding money from men online. I was aroused by the idea. First I started chatting with submissive men and wanted to know all about it. However, I extremely enjoyed the feeling of being in power and soon afterwards, I started filming clips.
sbs: Are you naturally dominant in every aspect of your life? At what point did you first realize the power you held over men?
LLR: When I was 16, I used to be one of the most popular girls at my high school. I noticed all those nerds and ugly guys staring at me, knowing they could never have me. I loved that feeling of power; it was a kind of rush. For example, I seduced some guy to "borrow" his motorcycle, and after some months he agreed that I could use it for as long as I wanted.  I kept it for about 2 years until I made my driving license for cars. That experience gave me an idea of how much power I hold over men. But even in my relationship, I am the one who is in charge, so you can say I am a naturally dominant person.
sbs: What are some of your favourite fetishes you enjoy bringing to life in your amazing video clips?
LLR: I love to be seductive. I love to seduce slaves into doing whatever I want. I really enjoy showing off my body and using my beauty as a kind of weapon. Like every "real" woman, I love to be spoiled with lots of money and, of course, get my feet worshiped.
sbs: Your clipstores show a broad spectrum of clip genres.  Is there one type of clip you enjoy making more than all others?
LLR: Definitely blackmail! I am a blackmail specialist 😉 But I enjoy other genres as well, like financial domination or cuckolding.
sbs: Have you made many clips interacting with other Dommes and models?  If so, do you have a favourite you've enjoyed working with?  
LLR: No, not yet. I'm living in Germany right now. Most Dommes who sell clips are located in the US or UK. Maybe, by chance, I will do that some day.
sbs: How does it make you feel knowing that men around the world are aroused by, and lusting after your perfect beauty as they watch you? Is it a rush, or just an expected outcome you've grown used to?
LLR: The idea still thrills me! After I discovered the German Findom scene, I wanted to get slaves from all over the world, so I started filming clips in English language. When the first clip orders from countries like Australia or South Korea came, I was like "WOW!" Now I've gotten used to it but I still love the idea of having slaves all over the world.
sbs: Would you ever meet a slave in real life, or are r/t sessions something you have decided will not be in your future?
LLR: I have done that already. I met one of my biggest fans in October 2015 and he paid me 3k Euro for being allowed to lick the soles of my shoes. Actually, he was not allowed to kiss the skin of my feet, only the soles of my shoes. I believe slaves shouldn't be allowed to get to close to their Mistress. There will be more meetings in January, but I only meet slaves who have served me online for a long period of time. Another slave who is living on the island of Fuerteventura/Spain invited me and my man to stay at a luxurious hotel on the island. He paid for our flights, 2 weeks at a 5 star Hotel, the car rental and handed over another 1k cash to blow, just for being allowed to meet me in person. The actual meeting was like 15 minutes in a shopping center. This guy owns all of my clips, and he is a great fan as well.
sbs: Have you ever been recognized in public? How does the slave react to seeing his ultimate fantasy Domme in person?
LLR: Yes, when I was in Berlin, some guy from Luxembourg visited the city at the same time. He saw me and my stud taking pictures in the centre of Berlin near the Reichstag, but he was to shy to talk to me. He told me later when we were chatting.
sbs: Clip sales, wishlist purchases, tributes, or something else? What is the best way for an admiring slave to make an impression and show they're serious about serving you?
LLR: I love tributes. If a man just pays because he admires me that's what I like most. If he buys clips, he acts in his own interest because he wants to get his own selfish pleasure while watching them, but if he just tributes money purely to please me, that's the best ! At the moment, I love getting tributes at my iWantClips or Clips4sale stores, but I like Amazon Giftcards from the German Amazon website as well. By the way, international slaves can login to the German Amazon website with their international password and the German site can be operated in the English language!
sbs: Anything else you wish to say to your admiring slaves, and potential new ones who may crawl to you after reading this interview, Miss Reign? 
LLR: If you want to get my slave, be honest. If you lie to me, that's it. If you seek me out for blackmail, be careful what you wish for. I don't toy around at all. In Germany we are very precise ;-). The best way to contact me is to send a major tribute, get down on your knees and wait for my response.
She's exquisitely beautiful and dressed in sexy boots and tight fitting outfits that show off her every fantastic curve, men don't stand a chance.  Surrender to the desire she brings out in you and admit it…you want to bow down and serve Lizz La Reign!
Twitter: https://twitter.com/LizzLaReign
iWantClips Store: https://iwantclips.com/store/8355/Lizz-La-Reign-English-Store
iWantClips Store: https://iwantclips.com/store/7621/Lizz-La-Reign-German-Clipstore
Clips4sale Store: http://clips4sale.com/studio/81021/Lizz-La-Reign-Productions
Yoogirls Store: http://www.yoogirls.com/store_view.php?id=1620
Kinkbomb Store: http://www.kinkbomb.com/studio/lizz-la-reign
Wishlist: Spoil Lizz La Reign