"You have no choice, relinquishing all control feels so good as you are mesmerized by my voice, my curves and my sadistic mind. Nothing feels better than to obey."  Today's Feature Domme, Krystal Goddess, knows what she wants, knows your place in her world, and will settle for nothing less than absolute submission.  Are you man enough to bow before your beautiful Goddess? Will you sacrifice everything to please your busty Latina Goddess?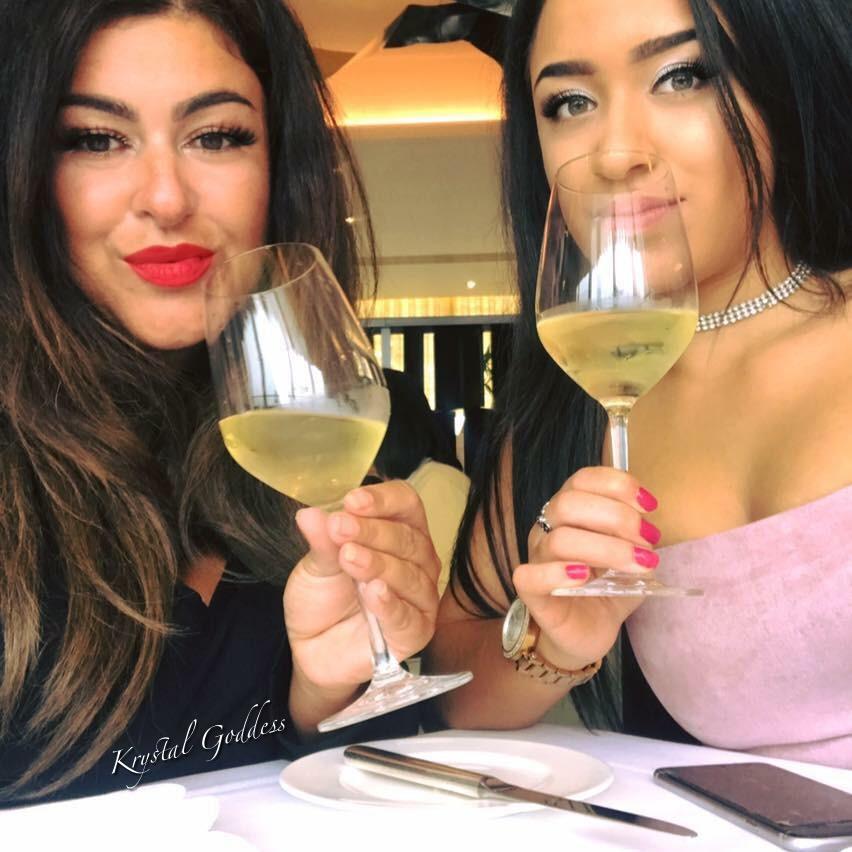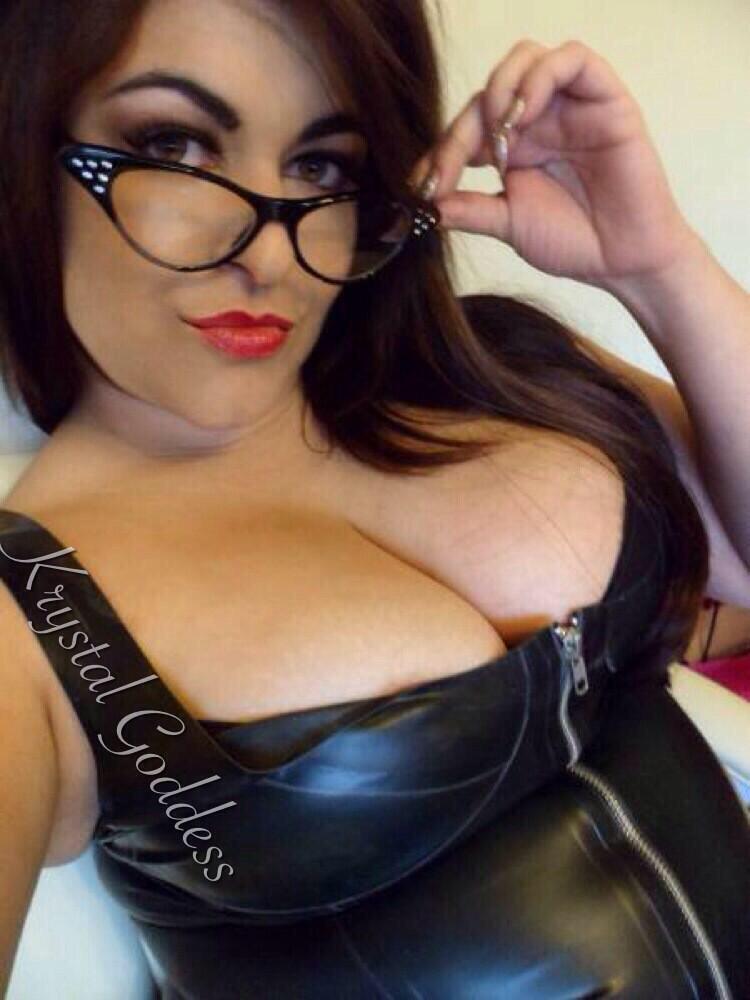 slaveboysmith: Joining me today at DommeAddiction is the very beautiful Goddess Krystal. Thank you so much for allowing me to kneel before you and interview you, Goddess!
Krystal Goddess: Great, let's start. I will say it's Krystal Goddess though, as not to be confused with anyone else 🙂
sbs: My apologies. I'll edit that for sure! Each time I ask the question about how a particular Domme became the woman they are today, the response is always a little different. What can you tell our readers about your journey to become a Femdom Goddess?
KG: It's funny as I have always been a bit of a Bossy boots from childhood. My Mother is a strong sassy single parent so I learned to be independent and strong from her from a young age. When I got to high school it was evident the effect that my attitude had on boys that I didn't know even existed and they would leave cards, love letters and even money posted in my locker. I got off on that and definitely used it to my advantage. That did change though when I fell in love and ended up in a mentally abusive, male Dominant relationship. I lost myself for a couple of years after high school, my confidence went and I ended up like a modern day Cinderella. It took so much to get out of that relationship but it gave me my daughter and taught me so much, even at such a young age, it made me stronger than ever and appreciate my worth as a Female.

You have no choice,
Relinquishing all control feels so good as you are mesmerised by my voice, my curves my sadistic mind.
Nothing feels better than to obey.#Fuckoverfriday @RT_Pig @womenruleonly @RT_sissy @RTsubby @DirkHooper @cashpointmeetuk pic.twitter.com/kzox13ruuC

— Miss Krystal Goddess 💎 (@LatinaGoddessFD) December 15, 2017
sbs: Did your experience as a submissive have an impact on your style and preferences now as a Domme?
KG: I just want to be totally honest, laid bare and show how it built some of the foundation of who I am today. My experience being submissive wasn't consensual at all and I was made to feel inferior as a Female. I have educated myself since and fought back..So it has shaped me today as now I am a true believer in Female Supremacy. Everything happens for a reason, so it was a learning curve for me.
sbs: I'm sorry you had to experience anything non-consensual, but we're all very happy you have become the Femdom Goddess that you are. What differences do you notice between real time, and online, domination?
KG: So my experience started properly with a one off Financial Domination cash point meet many moons ago. It was one of my ultimate highs and cemented my huge urge to be in control. But to answer your question, they both turn me on. Most of my experience has been online for safety aspects and when I am comfortable that a boy has proved himself, then I will happily have real time with him. I see it now as a next step. I love public humiliation and it's such a turn on to tease and boss around subs and slaves in public.
sbs: I'm imagining a coffee shop and suddenly a man at your feet worshiping your boots while other patrons look on in shock lol. What's the most humiliating thing you've had one of your slaves do in public for you, Goddess?
KG: You aren't far off! But try a 5 star hotel restaurant. The satisfaction I get from making boys worship my heels in public is immense and I have done so in some of the busiest parts of London. I also have loved being out shopping or eating with a successful vanilla looking boy, knowing he is wearing panties underneath and giving him wedgies in public, hearing him yelp loudly and people looking on in shock. I also love to use remote control electric shock cock rings and butt plugs whilst out in the finest places… I'm giggling thinking of all the fun I have had with that also.
#assworship #Titworship #chastity #TeasesndDenial #Breastworship #bigboobs #Humiliation #FemDom #FinDom

Photos /clips

You pathetic little vermin's better get over & subscribe to see more!https://t.co/I6NZNM34G4 @RT4FD @FinDommes @DirkHooper @rtfindom @FemdomDaily pic.twitter.com/M8s1Wg4dBO

— Miss Krystal Goddess 💎 (@LatinaGoddessFD) December 13, 2017
sbs: The fact that you are enjoying it so much makes it all the more erotic, and humiliating, I'm sure. Is there a particular type of man that finds themselves crawling to you, begging to serve? Are there specific fetishes that you are seen as preferring in your slaves?
KG: I'm fortunate really, I prefer quality over quantity. I don't have hundreds and hundreds of boys begging to serve but I have the right ones..Strong, highly intelligent and successful, with a great sense of humour, along with obedience, that's a must as I really have so much fun with my Domination. I'm sensual and sadistic, but have a wicked sense of humour and don't take myself too seriously. I will add, the longer I am a Dominant female the more boys come to me in my vanilla life (not knowing what I do) and become submissive to me. Friends/family members all baring their submissive and kinky souls.
sbs: Friends and family members? So no one is immune to that urge to kneel before you then? Is there still a thrill when a slave breaks and surrenders themselves to you completely, or is it just an expected outcome you've become used to?
KG: Yes family members confessing all their deepest darkest fetishes…sometimes I astound myself! Maybe my Dominance just oozes out in day to day life. To be honest it is expected from any boy I meet but some are more satisfying to break, like for instance, a Dom Policeman. That was fun.
Have you had the pleasure of serving Krystal Goddess yet?#financialdomination #FinDom #FemDom #latinaGoddess @womenruleonly @DirkHooper @RTsubby @RT4FD @RT4Tat2 @FinDommes @RT4Dommes @maxgeorge100 pic.twitter.com/XRQwCFp9Dl

— Miss Krystal Goddess 💎 (@LatinaGoddessFD) December 12, 2017
sbs: Now that sounds intriguing. Details, Goddess?
KG: I bet 😉 Through a vanilla friend I met him, and I could tell straight away he was Dominant by his relationship with his partner and the way he treated other women. Hard nosed man, not particularly my type but I always like to test others and of course my own abilities. I think the flirting, showing my Dominance and showing him something he was not used to having drew him in.
sbs: I can imagine he was thrown off guard if he typically is dominant to the women in his life. Without asking too many details, though I would love to, can you tell us what became of this former Alpha man once he fell under your spell, Goddess?
KG: Well the boy in question is still a Dominant Alpha to others and is now my owned boy in private and has been for almost a year now. I love seeing the difference in him when around others and then I walk into the room.
sbs: I can just imagine the thoughts that go through his head, the conflict over what you can do to him and turn him into. Can you describe the feeling for you, knowing that you have a man completely vulnerable, totally exposed and ready to do whatever it takes to please you?
KG: It's a ridiculous high, the control, the power I have over him, especially when others are around. The look we share, the knowing. Such a truly delicious turn on for me.
Deeper & deeper into my #cleavage trap you fall

Stay there puppet there's nowhere else you'd rather be.

@retweet_slave @RT_paypiggy pic.twitter.com/o36PeQuRLH

— Miss Krystal Goddess 💎 (@LatinaGoddessFD) October 9, 2017
sbs: He's a very lucky man to have found you and be able to express his true desires. Other than breaking so called "Alpha" men down to their truest form, what other fetishes do you particularly enjoy, Goddess?
KG: I enjoy lots of things. I'm finding new kinks and fetishes all the time. But foremost I love public humiliation, Financial Domination, training boys to be good sissies for Goddess and anything really control based where I can inflict a bit of pain to the boys close to my heart.
sbs: Control is what it all comes down to, it seems. And it can be intoxicating I'm sure. Speaking of control, I couldn't help but notice a tweet in which you mention Double Domme sessions with your beautiful daughter. This is not something you see every day. What can you share with our readers who may have been more than a little curious about this dynamic?
KG: I know right? How special is that? Well my Daughter has known what I do since she was 18 years old and I have always taught her about Female Supremacy. Now she wants to explore a bit so what better way than to do it together? At the moment she is just getting used to using her power and she has joined me for some cash point meets and some public humiliation sessions but she might be joining me at Madame Caramel's Black Whip Club in the near future and possibly the FemDomBall in London in October (which I can't wait for). We shall see, she has a lot going on in her life so will see how she feels.
sbs: That is something that I am sure our readers will find seriously enticing. Any plans to session together real time if your daughter decides that is something she wishes to pursue?
KG: Yes it is something that could be in the cards, when/if she wants to carry forward with her new status. There's a certain empowerment that comes with Dominating men with my Daughter that I have never really experienced before. It's fantastic, so watch this space. Also to be with somebody I trust wholeheartedly. Also we have the same wicked sense of humour, so double trouble haha!
The #cleavage that owns your wallet.#cleavagebank #latinaDominatrix #FinancialDomination #MondayMotivation pic.twitter.com/zPx0AXbW5n

— Miss Krystal Goddess 💎 (@LatinaGoddessFD) November 20, 2017
sbs: That would truly be an overwhelming experience for even the most seasoned of slaves, I'm sure. For those reading this, whether they desire to serve and worship you singularly, or are intrigued by the prospect of serving both you and your gorgeous daughter, how can they best show their sincere desire to serve in approaching you, Goddess?
KG: Well, good well-mannered obedient slaves/subs/sissies can email me at krystalgoddess@ymail.com and introduce themselves. Tributes of course get my attention and I accept all Giftcards. My website is under construction at the moment, but boys can subscribe to see exclusive photos/clips/chat at onlyfans.com/latinagoddessfd  or follow me on Twitter at twitter.com/latinagoddessfd
sbs: Thank you so much for taking the time to answer my questions today Goddess. With your permission, may I ask one final question?
KG: Of course.
sbs: If we were conducting this interview in person, with me kneeling before you, how would it end?
KG: Kneeling in front of me, you would definitely have blue balls by end of our interview. I would make sure of that! I would allow you to thank me for my time, kiss my shoes and then I would get up, walk over you in my stilettos leaving you yearning, teased and denied, desperate for more.