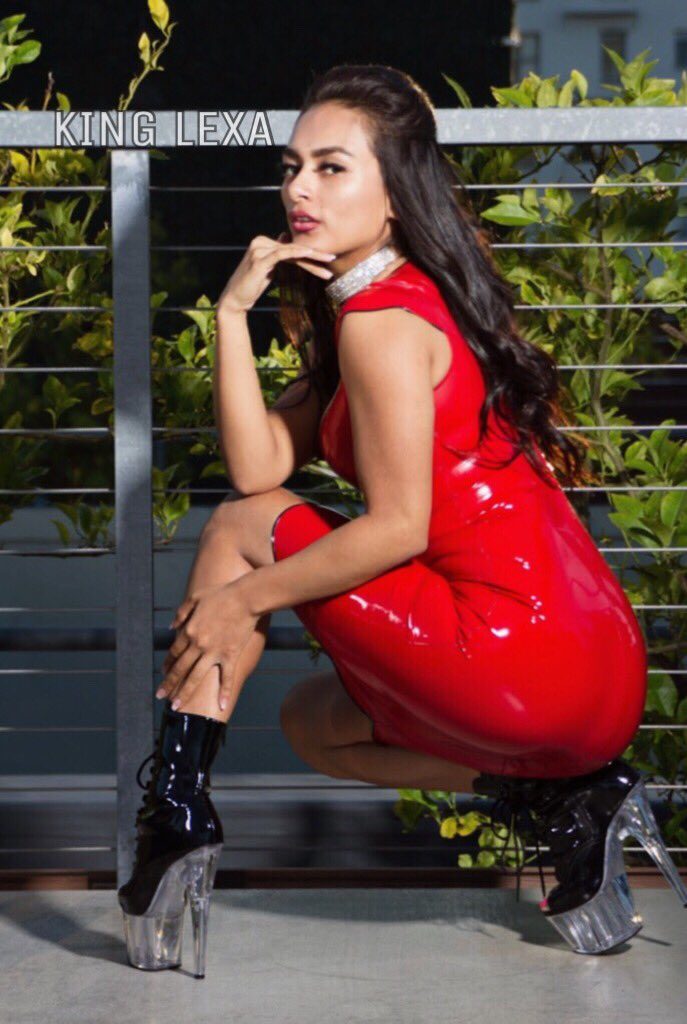 As sadistically cruel as she is beautiful, today's Feature Goddess is the immensely sexy and overwhelming King Lexa.  I will admit, I was more than a little nervous in her presence and for good reason.  She is as dominant and strict as any woman I have faced in this process, and she has a remarkable way of keeping us weak men on our toes.  Her beauty is astounding, and wanting to bow before her is natural.  Without further adieu, kneel and approach with caution…King Lexa is your Superior in every way…never forget that!

slaveboysmith: In my time as a slave interviewer for DommeAddiction, I have knelt before Queens, Princesses and many other variations of Femdom royalty. But today I have the distinct pleasure of kneeling before a King…welcome King Lexa. Thank you so much for granting me permission to interview you today.
King Lexa: Your welcome, slave.
sbs: In carrying out interviews for DommeAddiction, I've had the privilege of hearing a variety of stories of how a woman became the Femdom Goddess they are today. What can you tell our readers about your journey?
KL: My whole life, I have been using and abusing men. When I became a professional, I took it to a different level. Now it can be said I'm as intense as it gets. I lure men with my hot fit looks. It's just what I do. What I decide I do after that well… you'll just have to find out!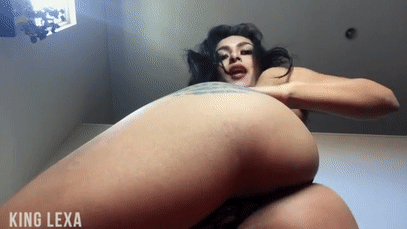 sbs: I have a feeling that would be an unforgettable experience and one that would leave a mark, so to speak. Is there a particular type of slave that is drawn to you? Does it differ between slaves that worship you online vs real time sessions?
KL: I feel like my biggest audience is definitely in the forced play, strap/sissy play & the degradation side of BDSM for i.e. forced consumption, toilet training, etc. That would be for both online and real time. I just started working on my online presence. Based on my clip store sales I have a bigger audience in forced bi and forced consumption/toilet training.
sbs: If you would grant me permission to, I'd love to know more about forced bi and what you enjoy about it from a Domme perspective.
KL: I personally enjoy forced play in general whether it's forced bi, forced consumption… literally anything that requires me forcing you I LOVE. Why? Because it takes a true dominant to get you to do something that you don't really want to do. Anyone can just sit back and get their feet licked. I love getting my feet licked but I don't consider that dominance. I want to grab you by the fucking throat and make you suck my feet against your will; now that's my kinda kink.
sbs: I think it's becoming clear why the title of King is so appropriate for you! Given your previous responses, you seem to enjoy a challenge, but do you prefer to break and enslave men who might resist, or use well-trained ones that are already broken in?
KL: I enjoy both, but differently. One is more passive, the other one brings out a more aggressive side to me which I really enjoy showing as well.
sbs: I will admit you are very intoxicating to be in the presence of King Lexa. It's easy to see why men fall to their knees and obey your every command. You are breathtakingly beautiful, sexy and dominant. Does it ever become routine that men drool over and worship you, or is it still a thrill?
KL: It's expected. It still thrills me in some way but it's always expected.
sbs: Are you dominant in all aspects of your life or just in sessions with slaves, King Lexa?
KL: Yes. All I do is this. This is no side job, this is my whole life.
sbs: You're very obviously a woman that has seen men break before her on many occasions. How can you tell when you've completely broken someone and they are unable to resist you? Is there a "tell" of some kind that lets you know you've taken total control?
KL: When they're begging me to stop.
sbs: To stop…or to never stop?
KL: To stop. Guess it depends on the scenario.
sbs: I can imagine. Does it excite you when a slave pushes beyond their perceived boundaries because they know it will please you?
KL: Yes, that's exactly what excites me. I'm an expert at pushing boundaries.
sbs: I can say from personal experience that the hottest encounter I have ever had as a slave involved taking a bigger strapon and more pain than I thought I could because I wanted to please. That is a powerful experience for both sides I would guess?
KL: I would agree!
sbs: Switching gears, a little, have you ever been recognized in public, and if so, how did the slave react to seeing the Goddess of his dreams outside of a session?
KL: I have been once. But he had sessioned with me already. I doubt anyone that has seen my clips would come up to me in public for privacy reasons.
sbs: Not if they know what's best for them I'm sure. For slaves reading this interview, falling under your spell with every response, how can they best show they are sincere in their desire to serve and worship you, King Lexa?
KL: 1) Paying for my time and attention 2) Submitting to my needs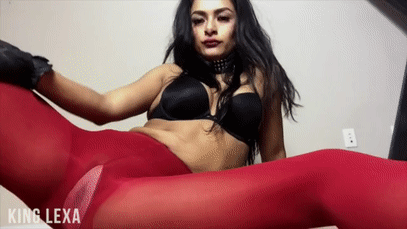 sbs: Sounds simple…and perfect. Is there anything else you wish to say to your admiring and loyal subjects, King Lexa?
KL: I think it's important for them to know I'm bilingual. I speak fluent Spanish. I also dominate men in Spanish. I'm a perfect mix of Peruvian and Japanese.
sbs: That is an exquisite mix, and once glance in your direction tells any man that you are extraordinary. With your permission, may I please ask one final question of you?
KL: Ask away.
sbs: Thank you King Lexa. If we were conducting this interview in person, with me kneeling before you, how would it end?
KL: I'd spit in your face and strut away leaving you trembling!