Irresistibly sexy, irrepressibly dominant.  If first impressions leave lasting marks, today's feature Domme, Goddess Valora, will leave you breathless.  She is drop-dead gorgeous, deliciously cruel and wickedly manipulative.  Whether she seduces you into doing exactly as you are told, or puts you in bondage and makes you beg for mercy, you're sure to never forget this wicked beauty.  It is our distinct pleasure to bring you today's feature Domme, the devilishly sexy, Goddess Valora.  Enjoy!

slaveboysmith: Thank you for granting me permission to interview you today, Goddess Valora.  Can you share with our readers how long have you been a Dominatrix, and what it was that brought you to this role?
Goddess Valora: I have been a professional Domme for 2 1/2 years. I have dominated men my whole life so it only made sense that I turn it into a career.
sbs: Would you say you are naturally dominant, or is it more of a role play when you are in session?
GV: In my real life I am a very happy, friendly person, but I don't take shit. I think I take attitude into sessions with me. My sadistic side gets hidden from day to day so it's great to be able to play mean with my submissives. 
sbs: Can you explain what makes a man want to be a slave?
GV: Power exchange. Sexual surrender is one of the most powerful mind games one can play. But being a submissive and being a slave are two different things. Submissives surrender, but it's more for a temporary time then they go back to reality. Being a slave is having your rights stripped away and being owned as property by someone.
sbs: What are your favorite fetishes to explore with your submissives/slaves?
GV: I like humiliation, abusing them with me feet, tease and denial, chastity, strap on cock worship, gagging, puppy play, SPH, CBT, ball busting, face slapping,… come to think of it, it's a really long list lol
sbs: It is indeed…and that's a good thing! Is it different for you in person vs online sessions?
GV: Of course. I like in person sessions more sometimes because it's more fun. It's hands on and it's easier to develop a relationship with that person. I think online sessions are great too, but they're a bit more intangible, whereas in person sessions leave a lasting memory.
sbs: What skills are recommended to become a successful Dominatrix such as yourself?
GV: A strong understanding of BDSM is the most important thing. I don't care if you're an online-only Domme, you NEED to understand sexual power exchange and the importance of limits. I hear horror stories from subs about sessions they've had in the past where the safe word was said and the Domme didn't stop. That is assault. If you have hatred in your heart and you've sought out being a Domme as some sort of "revenge" you need to drop your crop and seek out a mental health specialist.
sbs: Well said Goddess and important to remember at all times.  Are there any negatives involved in being a Dominatrix?
GV: There's pros and cons to anything. I won't go off on a big rant about pet peeves but I'll simply say these two things:
Don't just talk about it, be about it. And if you want to just talk, you better be compensating me for my time.
Neither myself nor any other Femdom is a mind reader. Be very specific about what you like and what your limits are. You might think you don't have limits, but you do. This is YOUR fantasy. We make it come to life with the information you provide.
sbs: How do you know when you have truly broken someone and are completely in control of them?
GV: When they're mindless drones who beg me every day for attention.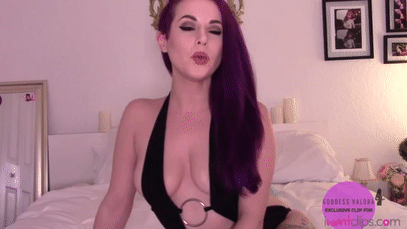 sbs: What role does social media such as Twitter, Skype, etc.  play in your business?
GV: Twitter is my #1 social media site. I gain new clients and customers from it and it's also a great free advertising outlet. Skype is just mainly for online sessions and a way for my regulars to message me.
sbs: For submissives reading this interview, what is the best way for them to show you they are sincere in their desire to serve and spoil? 
GV: Send me a tribute along with your first email. Again, don't just talk about it, be about it.
sbs: That sounds more than reasonable, Goddess.  Is there anything else you would like to tell your admiring worshipers, and future slaves, reading this interview?
GV: If you're serious about booking with me, email me. GoddessValora@gmail.com. If you're in Tampa Bay and you want a session with the real deal, hit me up.
sbs: Should I find myself in Tampa in the future, your words echoing in my head, can you tell me how my first session with you in person would look?
GV: You bow to me. I take you into the dungeon. I go over things that were discussed in the email, safe words, and payment. I start with warm up and then start the session.
sbs: And if we were conducting this interview in person, how would it end?
GV: You'd be on your knees thanking me for my time 🙂