Today's Feature Domme is a very familiar presence at DommeAddiction, and definitely one of our absolute favourites! Goddess Taylor Knight has the ability to completely overwhelm men with her beauty, seductive sensuality and strong, dominant presence.  But the focus of today's feature is to look at the effect she has on other women, women who eagerly beg to worship her perfect feet, kneel before her and offer themselves as her devoted slavegirl, and devote themselves to her pleasure and servitude.  Breaking men into whimpering sluts for her amusement is absolutely routine for Goddess Taylor, but watching her in complete control of a beautiful slavegirl is something to behold.  Enjoy a glimpse into how easily Goddess Taylor Knight turns other gorgeous women into Taylor's Angels and watch how adoringly they serve her wishes.  Thank you again for gracing our site with your presence, Goddess.  It is indeed our absolute pleasure to promote and serve you ourselves.  You are extraordinary and a pleasure to serve!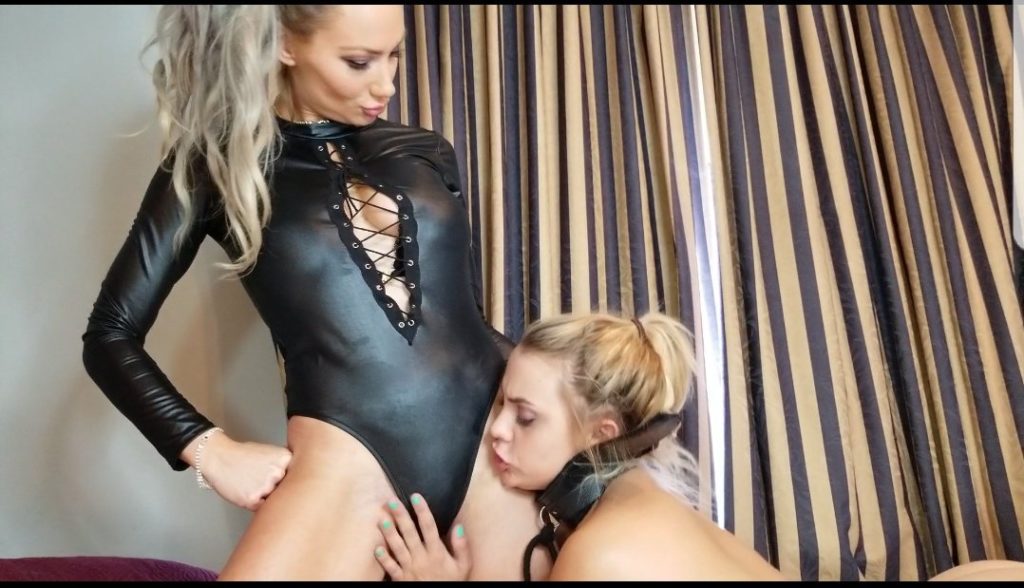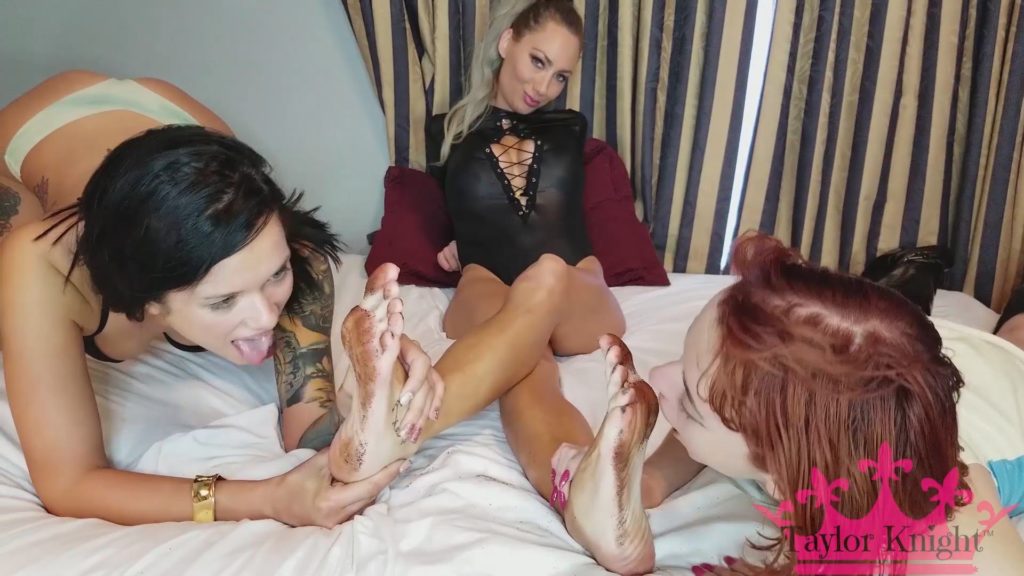 slaveboysmith: Today at DommeAddiction, we welcome back the one and only, Goddess Taylor Knight. Goddess, the first time I interviewed you it took me several days to recover. Please go easy on me this time! You tend to overwhelm any man just by your sensual presence!
Goddess Taylor: Aww thank you slaveboy. As long as I still leave you guys trying to catch your breath & in shock, I guess that means "I still got it…"
sbs: Oh you still have it, and it never went away! Trust me on that Goddess. You leave men in your wake, throbbing and lustful, no doubt, but you have a similar effect on many women too it seems. What can you tell our readers about your favourite little play pet, Miss Janna Hicks?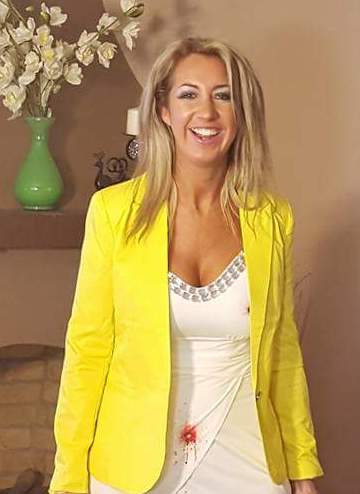 GT: Aww she is a super sweet girl. We met years ago on set, (I was actually the sexy assassin – go figure, & shot her in the throat) she died sooo good & I could tell she was not only an amazing actress, but a sweet person. Our relationship grew from there. I liked the fact she felt protected around me, we would travel & do shoots together, and eventually started dating. (Later on she told me she was calling me her GF for the longest time, before I even thought about her like that). Anyhow, we dated maybe, 6mo? You may have to ask her. She was Bi- more dominant w/ men but yet super sub w/ me. Def a true switch. We still maintain a very close friendship, and she will always be crowned as my #1 slave girl. Although all of the girls are great, she just has this spot in my heart.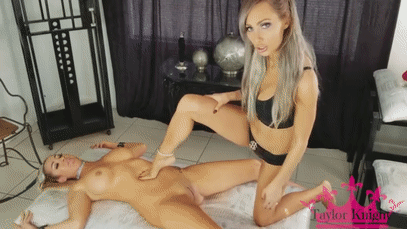 sbs: Well the chemistry between you two is very obvious in those pictures, and in the clips I've seen with you two in them. Does she serve as your slavegirl off camera as well as in scenes, Goddess? Without invading your privacy with her, can you share a little about what you enjoy doing with your favourite pet?
GT: Honestly off camera she is nothing like my male slaves. I believe women should be treated with respect always, and that is an element that is hardly there with my males slaves. Besides her cooking me breakfast, and giving me awesome massages, I would say she is treated more like a friend that I am protective of. If anything,  I cannot treat females in the same manner as my male slaves, even if some of them crave that.
sbs: I think that's exciting knowing the hierarchy of power in your world, Goddess Taylor. You, of course, are the ultimate Alpha, with your slavegirls next, well above any male slaves. Have you ever dominated a male slave in the presence of Miss Janna, or any of your other slavegirls?
GT: Yes, all of my slaves have the privilege to pick any of the Taylor's Angels on my site for a double dom or slave/girl slave/guy sesh. It makes the session that much more humiliating, and intense for the male slave. Such a kind Mistress I am.
sbs: You are very kind to allow us slaves to serve you, let alone serve with other Angels. I can imagine how humiliating it might be. I've had the privilege of reviewing a couple of clips featuring you with other Dommes and slavegirls, including Janna. Do you have plans to shoot with any other Dommes our readers might be excited to hear about?
GT: You know I am super picky about releasing my clips: exp my sessions in public. But since it's the holidays, I am filming 2 of my double dom sessions & releasing them public for your interview. You're welcome!
sbs: That clip looks amazing, Goddess! I can't wait to check it out, as I'm sure our readers will as well. Can you describe the feeling you get when you have a gorgeous slavegirl at the end of your leash, eager to please and serve you?
GT: It is absolutely a great feeling, I actually get so much more excited about my girl fans, than my guy fans. When I go to expos/conventions I most definitely have more females run up to me to kiss my feet lol. I think the guys are nervous they may get smacked, if they tried. This year I brought a guy friend w/ me, whom I think thought it was only for camera etc. At the end of each night, when he helped me bring my bags back to my room, he would say something like "OMG how do you get all these women kneeling before you" Or "Everyone treats you like you are royalty, like a Queen, how do you do it?" I would just laugh.. I don't know honestly. I was always super popular growing up. Had guys do my homework, and the girls would always try to be my friend, bring me small gifts to show their appreciation. Older girls got excited to drive me to cheerleading practice just to be seen with me. The thing is I was always NICE to everyone. I would teach every girl I knew the importance of female empowerment. Never feel like you need a man to "make you feel safe" or support you in life, because being born a woman is the best gift we could have asked for. One day we will rule the world, lol- Shit like that… I was raised that way by my mother-in-law whom I always looked up to. So even when I was mainstream modeling, and catching cheating husbands for the Maury show- It was no surprise to my mom that I was, at that time (online) dominating men. She would always ask, any interesting gifts this week? LOL
sbs: Are any of the women who eagerly lust for the opportunity to kneel before you and worship your feet, or more, married but wanting more? Is there anyone out there you would truly love to have at your feet that has, to this point, not been willing to or able to?
GT: As far as married, so far none are married, Yet..As for the 1st girl pictured, Arielle, she was begging to serve me since the last fetish convention, I just have not been able to make it work out yet as she is in Vegas now. Next year at the con I will be sure to get something in, and I am sure you will see it.
sbs: I'm quite certain she's very eager to find her way to you and be your slavegirl. It seems men and women are equally as vulnerable to your considerable charms, Goddess. I know you've just returned from an absence, so what is next for you beautiful Goddess?
GT: Hey, yes I took a couple weeks off after a very long tour. Now I get to spend the next 3 months at my South FL home, enjoy the holidays, New Years, and get lots of fun sessions in between then. Then once it warms up, I will head up to NYC again 🙂
sbs: You were certainly missed during your time away, and we're all very pleased to be back in your presence, Goddess. Thank you so much for allowing me to kneel before you and catch up. I know we will be talking again soon, but in the meantime, it has been a remarkably enlightening view you've granted us of your relationship with the women who worship and serve you. Is there anything else you'd like to say to our readers who adore you and live for every bit of information about your spectacular life?
GT: I just want to thank them for all of their support, and for helping me win all these amazing awards this year. And for completely emptying my Amazon Wishlist this year for the holidays! I almost thought it was an error when a slave sent me my list and 75+ items were GONE. BUT nope My PO box was so filled! I will continue to keep surprising you guys, we have a new SUPER hot Angel we will be announcing for the new year. She will be in the premier of our new Baywatch Femdom revamp as soon as the ocean gets a bit warmer. I know you guys will just drool when you see this Princess! I try to only shoot the hottest Femdoms & slave girls around, and she is no exception. To a safe, happy, amazing, & prosperous 2018 to all of my fans & to DommeAddiction, of course.
sbs: Thank you so much Goddess and that certainly does leave us eager with anticipation for what is to come for you! We talked outside the interview of an issue that is of great concern for you, and many others, I'm sure.  What would you like to say to your fans and loyal followers worldwide regarding Twitter's recent introduction of the dreaded "shadowban"?

GT: Since I am a Findom/Hypno Dom specifically, many guys message me, asking if there is anyway to serve me, besides financially or putting up with extreme pain in my sessions & giving up all control. I never really had an answer for that, but with this current shadowban on Twitter, and the fact that 1/2 of my fans can no longer find me or my posts, I have a slave task that even a broke or nervous to get into hardcore domination slave can do. And that is become a Twitter or Instagram promoter. Make a fan page for me, and keep it up! I am always supplying new, hot pictures & clips. Get them out there. Grow my following & help my fans find me easier. Get active on Femdom forums. Anything you can think of to keep this page @GoddessTaylorK, my new Twitter page @FloridaFindom, and as always my website is MistressTaylorKnight.com.  Just email me & let me know you would like to be a promo slave, and I will send you my banners, as well as my Twitter codes. Be creative. This has happened to so many Femdoms in the past few months & it's not fair. We work hard just like anyone else. The content we post is not porn, its Female Supremacy & that is what we are passionate about. We enrich & enhance the lives of all of the lucky boys that serve us. Social media is obviously against us – only recently, and we need to fight back…But we need your help!! So let's work together in this new year, & not let a social media algorithim decide what we can, and cannot do or post. Our pages are just as important as any other. ALOT of work goes into them, and helps you get an indepth look at our lives & keep our personal life public for FREE. I was always against ever starting a pay site or an OnlyFans page, wanting to keep everything available for free in social media. That's how much this lifestyle means to me. Sadly, if Twitter & IG continue to shadowban or block Dommes, we will have no choice but to switch to these pay sites. So it is up to each and every 1 of you to keep us continuing to have the reach we did before the crackdown 6 months ago. There is power in numbers, so get the word out boys. xoxo
sbs: It seems only fair that we devoted slaves give back considering all that your presence in our lives gives us, Goddess. Thank you so much for allowing me to interview you again. Being in your presence always overwhelms and I could get used to kneeling before you regularly. With that said, if we were conducting this interview in person, with me kneeling before you, trying desperately not to stare at your gorgeous feet and legs, how would it end?
GT: I am sure with you being a devoted promo slave, as you have been, and the fact that I just explained the importance of the work you do for me, I would absolutely let you worship my Glorious 41″ long legs, and my perfect, heavenly feet 😉