From the moment this interview began,  today's Feature Domme, Goddess Stella Sol, had me wrapped around her little finger.  I knew she was blonde, beautiful and that she was one of the hottest women I have ever laid eyes upon.  What I hadn't expected was the intellectual stimulation and intelligence that came with it.  Throughout the interview, Goddess Stella toyed with me as she teased and controlled me.  She dictated the direction of questioning, and her answers were both informative and erotic.  I know you'll enjoy reading the interview below, and I know that it was one of the most enjoyable I've conducted.  Thank you again, Goddess Stella, for the immense privilege and pleasure of interviewing you.  I have a strong feeling we'll be in contact again very soon as I learn more about you and the world you own.  Enjoy getting to know a little more about this amazing Goddess and be sure to follow each of her links to learn more about how you can be of service to your perfect Blonde Seductress, Goddess Stella Sol!
slaveboysmith: Joining me today for a feature interview is the very beautiful and dominant Goddess Stella Sol.  Thank you so much for taking the time to answer my questions today.
Goddess Stella: You are welcome.

sbs: I will admit that until recently I had not crossed paths with you.  Are you relatively new to the Femdom scene, or have I just been missing out all this time?
GS: I've been very active in the Femdom scene in my personal life as well as in my camming career, but recently I've switched over from being a full-time cam model to a full time Domme. This world thrills me to no end, and it comes so naturally that it was inevitable I would end up here.
sbs: In the interest of full disclosure, and to be professional, I did a little "research" prior to this interview and purchased your wonderful Serve and Jerk clip from your iWantClips store.  To say I was a little nervous after watching would be an understatement.  You are certainly perfectly suited to dominate and seduce men!
GS: I am glad you enjoyed it and that it did what it was designed to do, as I assume your "research" enabled you to follow my direction and the video worked like a charm. You'll need to elaborate more about what I sparked in you that triggered this nervousness.
sbs: Hmm well I will be doing more thorough research on the clip as I prepare to review it, of course, but to say you are a beautiful woman wouldn't do you justice.  You are stunning.  You have a breathtakingly perfect body and you're very obviously in tune with what makes men weak.  I guess I wondered if perhaps I was a little in over my head as I watched you in Femdom action, as I'm sure most men feel in your presence.  For any who follow you, it is very evident you control men with ease.  Has that always been the case? Do you recall first becoming aware of the power you hold over us men?
GS: It is no secret to anyone who knows me that I control men for a living and by nature. For the most part, this has always been the case. I am strong, beautiful and alluring to men of all types. I am the bait and the shark at the same time. Enrapturing hearts then eating them. Those that wish to be controlled can find me and all of them find joy in my way of dominating. Their joy turns me on more than forcing control where it simply doesn't fit. My very first realization of this dominant power was in preschool when I started off having two boyfriends at once. I would take turns kissing and teasing them at the same time. I would find hiding places and make them show me little dick tricks and even make them kiss each other too. When we'd play chase, if one could catch me I would let him be the one to take off my shirt. I was constantly in trouble with the daycare and my parents. I was quite literally born hyper sexual, and I was, and still am, very bossy when I want to be.
sbs: My goodness, an early start has led to amazing things.  I can only imagine what you were like as you got older, developing into the gorgeous woman that you are now.  We men never stood a chance! Is there a specific type of slave that you find is drawn to you?
GS: It's all about the chase. Men are animals who hunt and peck holes. lol. Make it too easy for him and his mind gets lost without direction. The types of slaves most attracted to me tend to be very fun-loving guys who sincerely enjoy enriching their lives through my guidance and the influence my sexuality has on their own senses. Idiots, even rich ones, can be so draining and delusional about our dynamic, so I purposely work towards alluring men who are complex, kindhearted, and amusing. However, I will take a buffoon's money and play on his weaknesses, fears, humiliation needs all the same, but those clowns definitely must offer A LOT more to keep me interested in working with them. My best slaves have patience and actually over respect me at times. But still lurking somewhere is the perfect blend of slave.  Try me. I'm ready for you! 
sbs: Can all men be persuaded to cross that line into financial servitude?
GS: Only the men who have a real desire to serve a Goddess, and can afford the necessary means to support a financial dominatrix's services.
sbs: And of course only men who show themselves worthy of serving someone as amazing as you.  Beyond financial domination, which is an obvious favourite, do you have other specific fetishes you enjoy exploring with your slaves? Does it vary depending on whether they serve in person or online?
GS: Online is very mental but still creates a ton of potent energy that is very thrilling. I do enjoy all kinds of JOI, orgasm denial, sissy training, sensory play, role-play, cuckolding, and pegging. I love how men will do ANYTHING I want just to make me happy. It's a rush. Plus, I am fully aware of my abilities as a woman so I take full advantage of it through fetish play online and in person when the mood strikes me and my playmates have earned it.
sbs: That leads perfectly into my next question.  I think we've established that you are a breathtakingly beautiful woman who, no doubt, deals with men fawning after her every day.  Has having men throwing themselves at you, eager to earn your attention and do whatever you demand of them become routine and expected, or is there still a thrill when they submit to you and obey?
GS: This is where the ignore fetish comes in "handy", so to speak. HAHA! There is a major rush when a man can't help himself in my presence anymore and becomes infatuated with me. I think there's something really special about feeling compelled to shower a beautiful, hardworking woman like myself with gifts, financial support, admiration and other forms of support that make her dreams come alive. Naturally this is the expected outcome but I don't chase after anyone so if a slave is far too self-serving to stay focused on my wants before his own then he can get lost.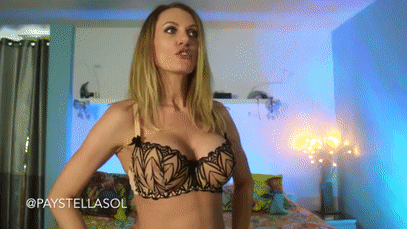 sbs: I can't imagine you having to chase even a little bit, Goddess.  You are alluring and draw men to you with ease, I would imagine.  If my experience is any indication, the addiction starts rather quickly! For those that fall under your spell, how can you tell when you've completely broken someone and they are unable to resist you?  Is there a "tell" of some kind that lets you know you've taken total control?
GS: Oh YES, but what good magician gives away all of Her $ecret$. 😉 Let's just say my instincts are sharp and penetrating so I always address things straightforwardly. I know to listen to men's words and watch their behaviors. When he wants to give me control of his life he will be obvious about it, and if he's shy at first, he will either fall away or keep working to gain my attention.
sbs: And you wondered why I was nervous ahead of this interview? Lol What do your instincts tell you about me, Goddess?
GS: Let's just say you have some questions coming your way as well. 😉 You have good manners and a lot of respect for women as well as the men who like to play in this lifestyle with us. You clearly do care about the s/D community and have a vested interest in helping it evolve. I think your savvy approach to getting time and attention from women in the Domme industry is well played. The fact that you did buy some of my content to "research" and show respect says that you're not fake or rude. That makes you smarter, more submissive, and more appreciated than the average bear.
sbs: You either have amazing instincts or have done some "research" of your own, Goddess.  Thank you so much for the compliments and this work that I do is indeed a labor of love.  For those of our readers who, like me, fall deeper under your spell with everything that I learn about you, how might they best show their sincerity in their desire to serve and obey you?
GS: I would suggest keeping up on my work, buying it, watching Stella Sol evolve. Afford the money necessary to me to find out what I'm about, but do it in a way that's clever and works to enrich the experience for us both. Freeloaders get ignored instantly and are miserable to deal with so don't be that guy. This doesn't happen overnight or for free. My best slaves will testify that I deserve the best and the ripple effect that I have had on their lives does make working hard for me and living in my shadow a true honor.
sbs: Thank you Goddess, I will say this has been one of the most enjoyable interviews I've conducted, though I still cannot believe I declined seeing you on cam while we conducted it! Is there anything else you wish to say to your admiring worshipers reading this interview?
GS: It has been a pleasure.  My advice? Live in the now!  Step forward and submit yourself to me. Serve and reap the reward of my energy to you. Tomorrow will be a different day. Each day its own golden opportunity. Serve. Give. Do! Join me now. Don't hesitate. Don't watch. Jump in and enjoy giving to my life without delay. Make me happy and receive your reward now, often and always. Serve Goddess Stella, you know you want to.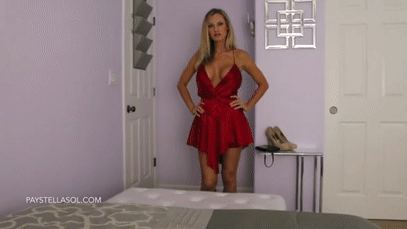 sbs: That is sage advice beautiful Goddess.  With your permission, may I please ask one final question of you?
GS: Yes, you may.
sbs: If we were conducting this interview in person, with me kneeling before you, how would it end?
GS: It would end with you being allowed to confess to me your real "anticipation" before this interview, as well as how you expect to feel and address it afterwards. I would test you and have you show me on all fours how far you will bow to kiss at my high heels knowing I might walk away forever. I would leave you there to think alone for 10 minutes and then spend the rest of the evening and weekend obsessing over this interview.