From the first image I saw on Twitter of beautiful Goddess Sonia, I was hooked.  This was one of the most beautiful and desirable women I have ever laid eyes upon and I simply had to know more about her.  Bringing her to DommeAddiction for a feature interview was one of the highlights of my work here.  She is as enjoyable to speak with in an interview as she is devastatingly beautiful.  Her responses are thoughtful and provocative, and she was a dream to work with in bringing this together.  Living as far away as I do, I hadn't given a lot of thought to visiting Atlanta, though I will say it's crossed my mind now that I know Goddess Sonia is waiting there to bring me to my knees and make me a better slaveboy.  Gaze up at her, those long magnificent legs, and feel the supremacy radiate from her.  Her smooth, ebony skin is like heaven and she is as beautiful as you will ever dream up.  Today's Feature Domme is an extraordinary woman that I have grown to adore as I have had the privilege to get to know her.  Trust me when I say, you will fall under her spell.  The only question is…how hard will you beg? Enjoy fellow slaves, Goddess Sonia is something to behold!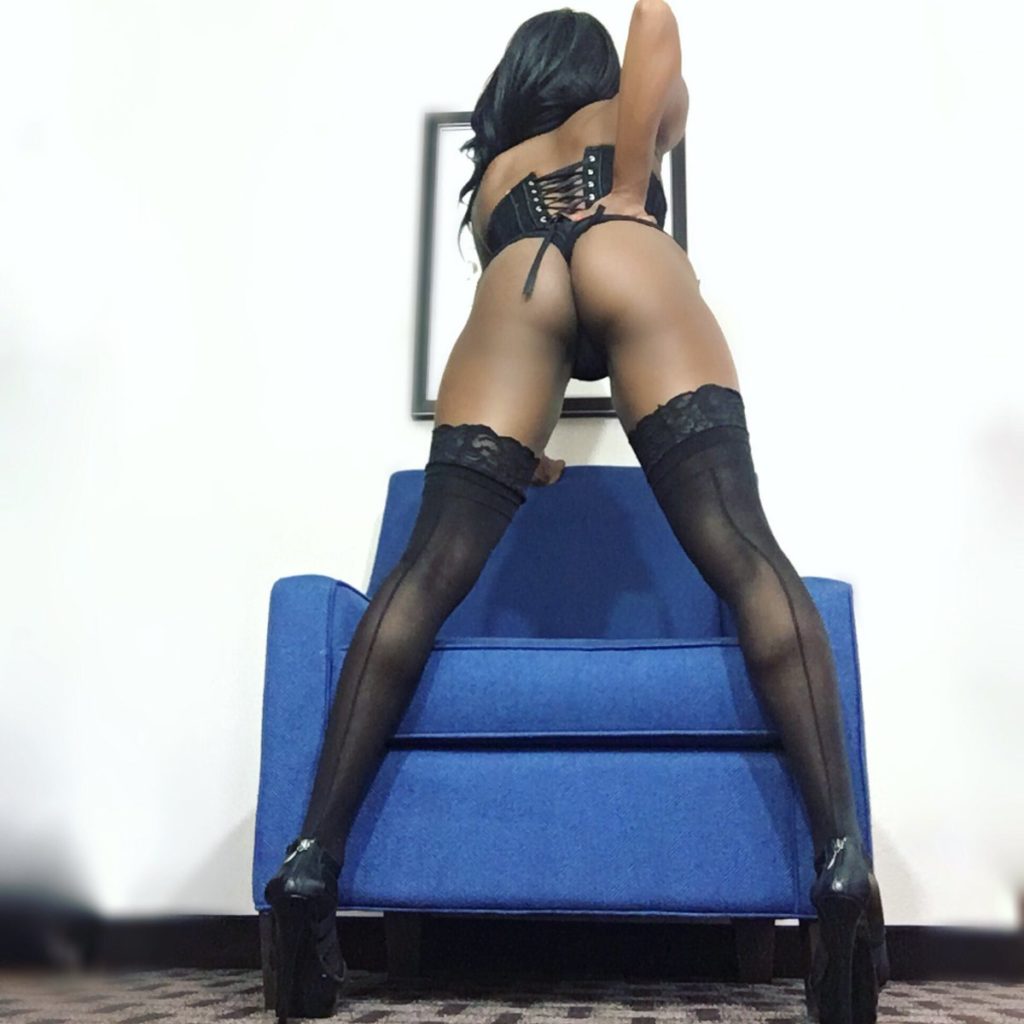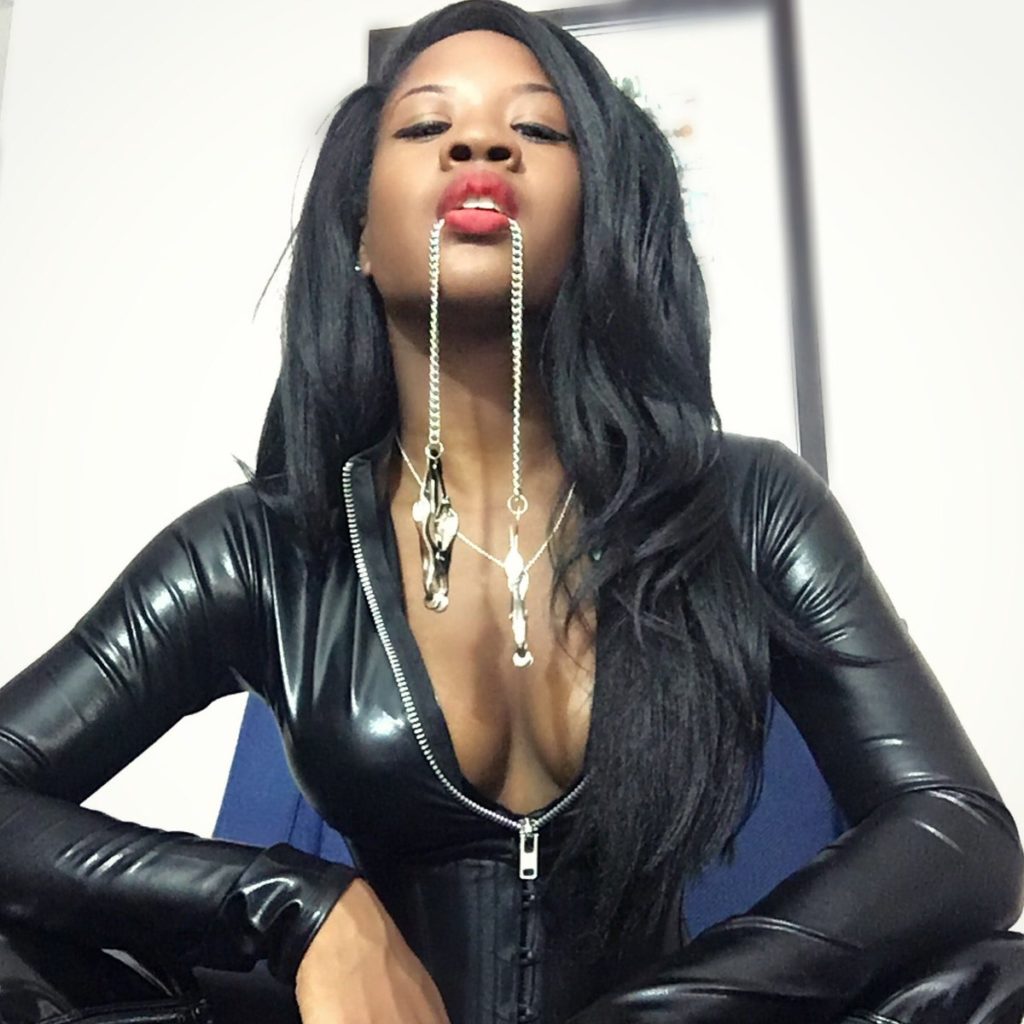 slaveboysmith:  Joining me today for her very own feature interview for DommeAddiction is the extraordinary Goddess Sonia.  Goddess, it is both a privilege and pleasure to welcome you.  I will admit, I have hoped for this chance since following you on Twitter some time ago.
Goddess Sonia: That's funny. I get a lot of subs that follow my actions for a while before actually approaching me. I must come off as intimidating… 😉
sbs: You are extremely beautiful and a little overwhelming, I'm sure.  But we men simply cannot resist.  On your Twitter and here on Skype, you are known as Atlanta's Premier Black Dominatrix.  Can you tell our readers a little about how you became the Dominant Queen you are today?
GS: I believe that Domination has always been in my blood. I learned more about female domination after discovering that a family member of mine worked as a Dominatrix in one of New York City's most famous dungeons. That was when I was in high school. From there I dabbled in BDSM in my personal life, mostly in the realm of financial domination, CBT and mindfucking. I also read a lot (I'm big on research and understanding the psychology behind my favorite kinks). I dreamed about one day being a World Famous Dominatrix. My confidence grew as I got older to actually be open about who I really am and here I am today!
sbs: You most certainly have arrived, Goddess. Would you characterize yourself as a more sensual Domme, or leaning towards being more strict? Would this vary from online interactions when compared to real time dungeon sessions?
GS: Just like any good Domme, I'm a bit of both. Being sensual comes very naturally to me, but so does being strict. In all aspects of my life, I have to have my way and in the Dungeon, its no different. However it varies more from person to person, as well as my mood. Sometimes I feel sexier and sometimes I want to be vicious, whoever decides to session with me is at the mercy of such whims.
sbs: Sexy or vicious…we can't resist you. When you session with slaves, are there certain fetishes you would say are you favourites, Goddess?
GS: Yes, CBT is an all time favorite, especially stretching balls on the rack or with weights. I'm also a huge fan of nipple torture. I enjoy any kind of session where a sub is rather noisy about his level of discomfort. I also enjoy foot and boot worship.
sbs: Having seen some of your posts on Twitter with you wearing boots, I think we may have some eager volunteers looking to worship.  So beautiful.  You must have men throwing themselves at you and seeking attention in all aspects of your life.  Has the surrender become routine, or is it still a thrill to bringing a man to his knees, making him submit and obey your every command?
GS: It's a thrill depending on what he can offer me once on his knees. When you are a Woman or Goddess getting so much attention from men, it's true that it becomes very routine, even boring. It's thrilling to come across subs that actually know how to approach me respectfully, serve and shower me with all that my Divine, greedy heart desires.
sbs: I will definitely ask more about that a little later, Goddess.  When you bring a man to that point of submission, breaking down any resistance, is there a "tell" that lets you know you've taken absolute control?
GS: It's a look in his eyes. Interestingly enough, it's the same for all men, no matter how old they are, where they're from or who they are. It's a glassy eyed look of awe and wonder followed by quiet mumbles of 'yes Goddess' to anything I say. That's when a boy is deep in subspace. It's fascinating to observe.
sbs: Mmm having been there myself on more than one occasion, I understand completely.  That must feel amazing to bring another person to that level.  For slaves who are eager to experience this kind of total submission to you, what is the best way for them to approach, showing they are sincere in their desire to serve you, Goddess Sonia?
GS: It's not compulsory, but the boys I like best always approach me with a gift or a tribute. That automatically shows that you're not a timewaster and you're really sincere in your interest to serve. From there, there are many ways to serve. Slaves that are too shy or intimidated to interact can buy clips. Slaves that want real interaction can call me on NiteFlirt, session with me online on SkyPrivate, or book a real time session with me by filling out the application on my site. I also have an exclusive stable of personal slaves that get special attention and privileges, but few can ever aspire to that level of servitude…
sbs: I will be sure to include links to all ways our eager readers can show you they are serious and aspire to serve you Goddess.  Let me change gears a little here.  If you could have one celebrity in your dungeon, bound and ready for you to do anything you wish with them, who would it be?
GS: Micheal Fassbender, hands down. He's been my celebrity crush for quite some time. He also seems very dominant so he'd be fun to break. Having him on his knees looking up at me as he worships my boots with that subby look in his eyes is a delicious thought…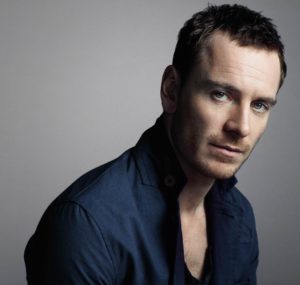 sbs: Perhaps he's an avid DommeAddiction reader, and maybe we can arrange something 😉 Any thoughts on what you might do with Mr. Fassbender if he were willing to enter your dungeon? Or perhaps you don't want to tip him off as to your plans 😉
GS: Lol. I'd do pretty much everything.
sbs: Of course you would…and I'm sure he'd love every second of it.
GS: He'd be completely at my mercy for whatever torture I could dream up. There would definitely be some foot worship, boot worship, flogging, CBT. Caning and whips would depend on whether he could be marked or needed his skin fresh and clear for an upcoming film 😉
sbs: Mmmm he's a very lucky man…or soon will be! Would you ever consider bowing down and switching into a submissive role? If so, what Femdom Goddess out there would you trust and admire enough to choose to kneel before them?
GS: Hmm interesting question. You said Goddess, so that's not an immediate no. I wouldn't switch for a man under any circumstances. But even for another Domme, I'm afraid I wouldn't make a very good sub. I'm a complete control freak, I can't see myself kissing feet or boots and I don't like to be in pain so that minimizes Her options a lot! Lol. Might be open and slightly curious about some sensual domination/ sensation play.
sbs: Who would you say there is out there that would be able to find the right buttons to push to bring you under control? I know I'm putting you on the spot and will likely pay for it if I ever do session with you, lol, but our readers really would love to know 😉
GS: Hahaha I'd make you pay dearly for asking me to reveal such private fantasies…there are a couple of very sexy Dommes that I admire quite a bit but you won't be getting any names, naughty boy!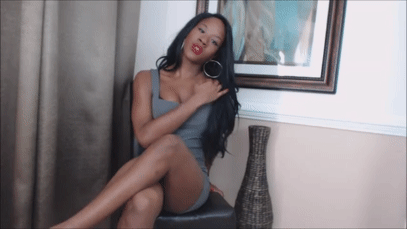 sbs: Mmmm okay I know well enough to back away before I get hurt lol.  We spoke of your desire to bring Michael Fassbender to his knees and turn him into a proper submissive.  What celebrity out there do you think would make an exceptional Femdom Goddess?
GS: Do you remember Omarosa from the Apprentice? She's not a major celebrity but I think she would make for a very strict, unyielding Dominatrix. She's brass, assertive and domineering. She might've missed her calling…
sbs: I will be visiting Google very soon to find out who that is, as will any of our readers who don't know her.  I'm sure there are many celebs would could be very persuasive Dommes if they had chosen to.  You've likely experienced much more than most of Femdom interactions and fulfilled a lifetime of fantasies for others and yourself.  Is there something you haven't done yet that is on your Femdom "bucket list"?
GS: I'd absolutely love to travel abroad and work as a Dominatrix, especially in Belgium, Germany , France and the UK (that's where the majority of my online subs are from). I've always loved to travel but seeing the world while also whipping my international boys into shape will be a wonderful experience!
sbs: Did you say Canada, Goddess? (Wishful thinking)
GS: Lol. I think I may have one or two boys in Canada. Plus, I'd love to go to Montreal Fetish Weekend…
sbs: I can imagine the excitement in that city if you said you would be visiting.  Many Dommes do set up travel schedules and have men worldwide worshiping and doting upon them.  Perhaps that will happen soon.  Where do you see yourself 10 years from now? Will you still be involved in Femdom, or is there a next phase planned for you, Goddess?
GS: I have very ambitious plans. In the next 10 years, I'll be building up my fetish modelling portfolio and should be on the cover of a few fetish magazines. I'll have my own very well designed, luxurious play space. I also envision having a solid, exclusive stable of loyal slaves and creating content and interacting with a highly elite audience; CEOs, oligarchs, sheiks and the like.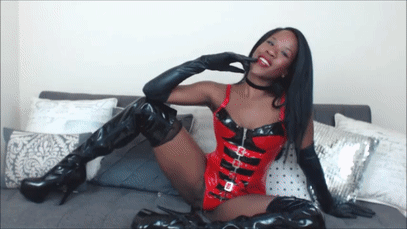 sbs: From just the short time I have gotten to know you in putting this feature together, Goddess, I have no doubt you'll fulfill all of your dreams and goals.  You are an amazing woman!
GS: Thanks! I don't have any doubts either 😉
sbs: What is one thing that people who are getting to know you, are lusting to begin, might not know about you that they should?
GS: People or submissives?
sbs: Submissives aren't people? 😉
GS: Lol. They are, of course. I'm trying to understand if you're looking for a fun fact about me? Or a Domme fact?
sbs: How about both 😉
GS: Lol. Fun fact is, I have a twin sister but she is not a Domme.  Some people have asked me if I'd conduct sessions with the both of us. I think it's a really cool idea, but she wouldn't be into it! Domme fact, I want to take this as far as I can possibly go with it. I want to be an icon in the fetish world. The Naomi Campbell of Domination!
sbs: My Goddess…one of you is already making me nervous.  I can't imagine twin, perfect Goddesses ensuring total destruction! I like that, the Naomi Campbell of domination.  It has a nice ring to it, doesn't it Goddess? Though between us, I think you're even hotter and more beautiful.
GS: Yes that would be amazing and I've asked her but it's a hard no lol. Thanks, I consider that to be quite a compliment!
sbs: My pleasure and I'm very sincere in offering that humble opinion.  Before I ask you permission to ask one final question, is there anything else you would like to say to the many slaves that will be reading this feature and be dreaming of becoming your slave?
GS: I'd tell slaves to not be afraid to approach me respectfully. There's no real reason to be fearful until you're in my grasp…
sbs: Oh my…well I will admit that my nervousness has subsided.  Well it had, right up until that last response! With that said, with your permission, may I please ask one final question, beautiful Goddess?
GS: It should subside but only a little…Yes you may.
sbs: It's a good nervousness, I think.  The kind that ensures you behave and are properly respectful of your Superior.  If we were conducting this interview in person, with me kneeling before you, rather than over Skype, as we are, how would it end?
GS: If you were conducting this interview in person, it would end by me dismissing you and you thanking me for my time. You'd place a gentle kiss on each of my boots. Then you'd crawl out of the room on your hands and knees, nude except for the shackles I placed on you earlier.
Application to Serve Goddess Sonia